You Say Smoothie, We Say Soosmie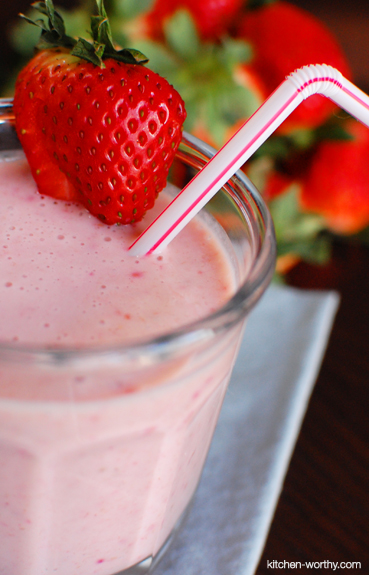 There are some things you can count on in our house.  There will always be:
1. French Roast coffee, freshly ground and brewed, once in the morning, and once in the afternoon.
2. Sunday Morning Pancakes.
3. Daily Soosmies
Soosmies?  You probably call them Smoothies, but in our house, they're Soosmies.  We started making our smoothies about six years ago, way back when we were living in Southern California, and the hubby was heavy into his cycling and our daughter was still a toddler.  It became an easy way for him to refuel after riding from our house in Redondo Beach way up into the hills of Malibu and back again.  For my daughter, it was a yummy way to get some extra calcium and fruit.
Years later, after my son was born, we were still making smoothies.  It turned out that he really disliked cows milk, rice milk, almond milk, any milk.  But he looooved smoothies.  So of course, we went with it.  Smoothies every day!  He was the one that dubbed them "Soosmies," because that was how he pronounced it when he was little.  The name stuck!
Our daily Soosmies evolved into a way for all of us to load up on extra calcium and fruit.  It's become our ritual, and we have afternoon Soosmies, usually after a long school day or after coming back from a workout.  When there are days that happen to slip by and we don't get our daily fix (like if we're on vacation), we go into Soosmie withdrawal.
You already know that we love Wallaby Yogurt here at our house.  Because of our Soosmie habit, I buy 5-6 of the 27 oz yogurts every week.  I know, it's a lot!  Soosmies are also a great way to use up any extra fruit (I always freeze any ripe, leftover fruit), and it's always fun to experiment with different combinations.  The high yogurt content in our Soosmies makes them exceptionally thick and creamy.
Here's how I make a standard Banana Berry Soosmie.  It's really versatile, so have fun experimenting with your favorite fruits!
Banana Berry Yogurt Soomies (Smoothies)

Ingredients:

1 1/2 cups soy milk*
1 1/2 cups vanilla yogurt**
3-4 ripe bananas (cut in 1 in chunks)
1 cup frozen strawberries (cut in 1 in chunks)
3/4 cup frozen raspberries
{Or substitute any of your favorite frozen fruit.  We also love peaches, mangoes, blueberries, blackberries, and pineapple!}

Directions:

Place ingredients in your blender in the order listed.  Blitz away and serve!

My favorites:
* Trader Joe's Vanilla Soymilk - a very nice, smooth soy milk that does not have a chalky aftertaste.
** Wallaby Organic Vanilla Bean Yogurt or Trader Joe's Organic Low Fat Vanana Yogurt
19 Responses to "You Say Smoothie, We Say Soosmie"
Pingback: Kitchen Confidante » Five Little Things
Leave a Comment