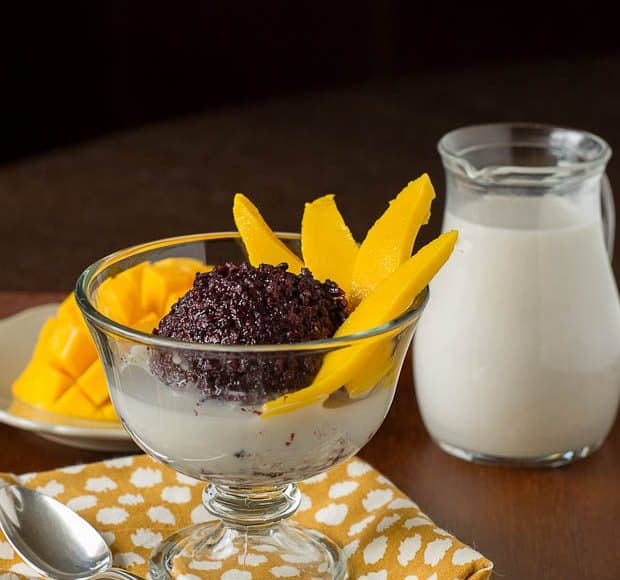 Sweet Coconut Sticky Rice with Mango
In just a few hours, I will be boarding a plane headed back home. New York. A place that I speak of so fondly here, from where so many of my most favorite food memories come, and one that I visit far too infrequently. Life…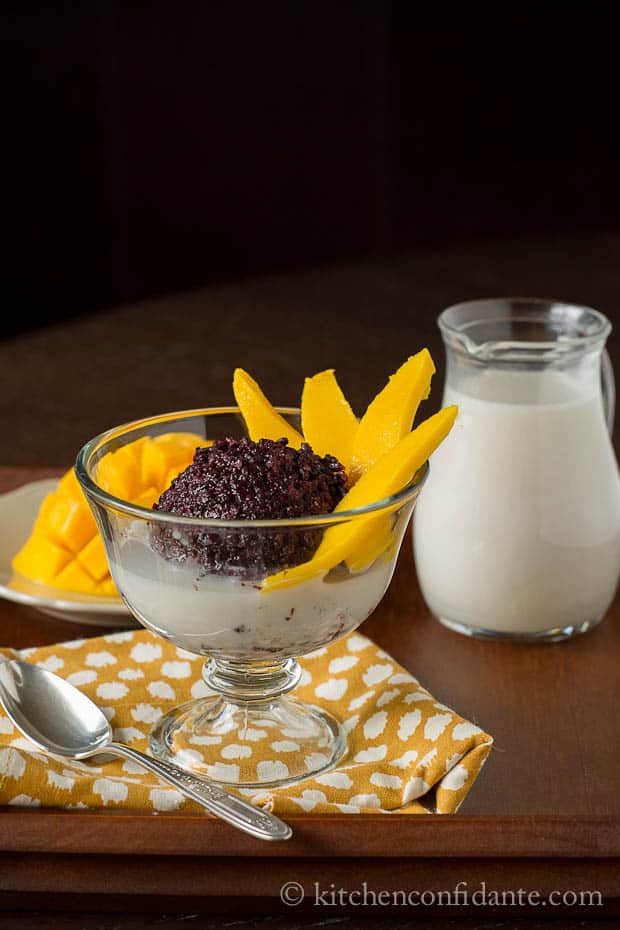 Sweet Coconut Sticky Rice with Mango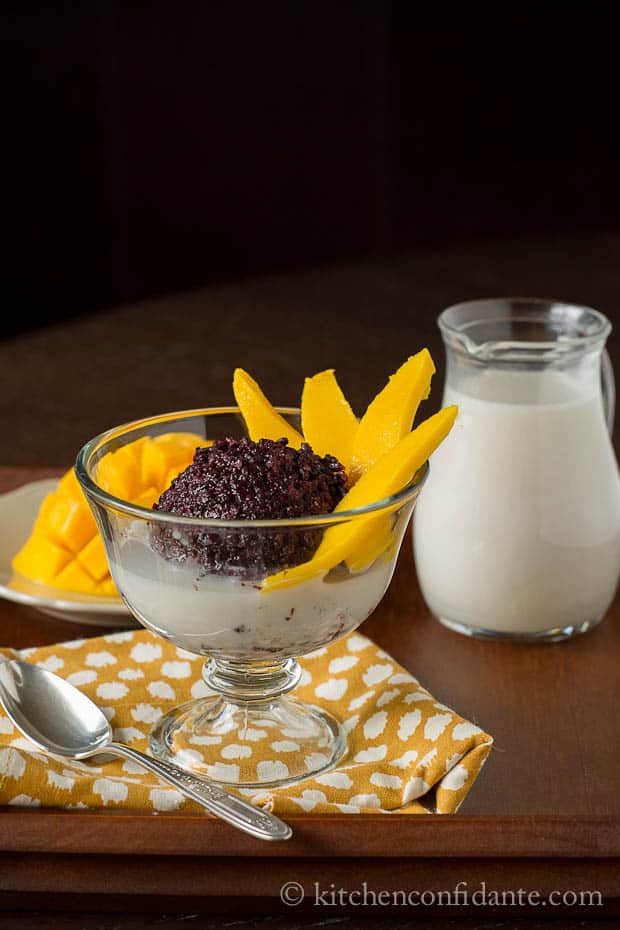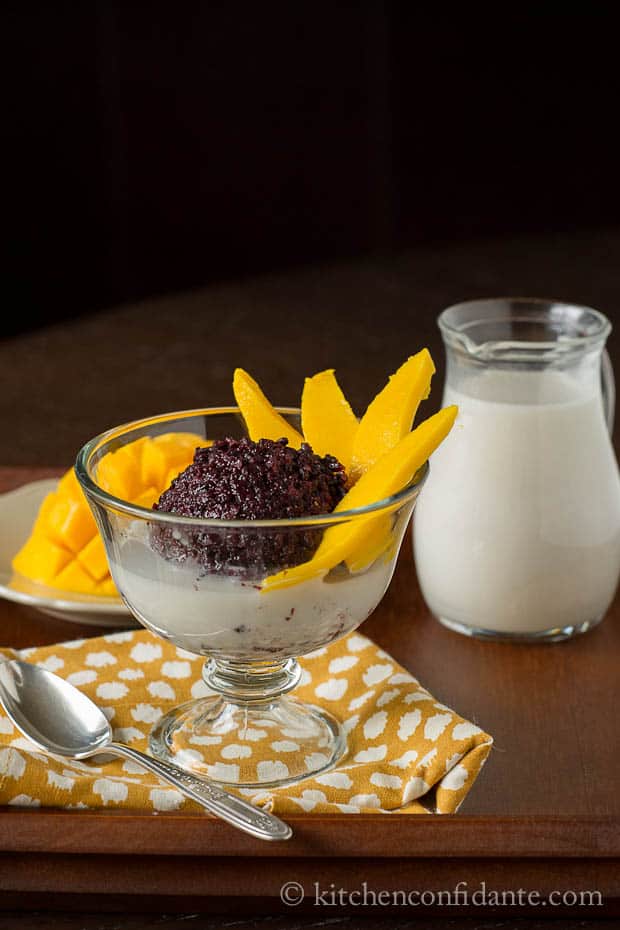 In just a few hours, I will be boarding a plane headed back home. New York. A place that I speak of so fondly here, from where so many of my most favorite food memories come, and one that I visit far too infrequently. Life with the family gets busy and somehow, years can pass before I return home.
Of course, there will be friends and family to see, and new tastes to explore. I find that the city always transforms in my absence, restaurants come and go, and food fads arrive in a blink of an eye.
But the biggest reason I am returning home is to attend the International Association of Culinary Professionals 2012 Conference. It will be a very busy long weekend, and I am anticipating one full of learning, delicious bites, and friendship, new and old. And to make it even more exciting, I recently learned that this, my very humble blog, is up for a Peoples Choice Award for Best Culinary Website or Blog! I can't even begin to tell you how honored I feel to see Kitchen Confidante listed among such amazing finalists. For those of you who have stopped by my Facebook page and left sweet comments of support, I just want to say thank you so very much. Connecting with each and every one of you is the most rewarding part of sharing my love for food.
I mean that.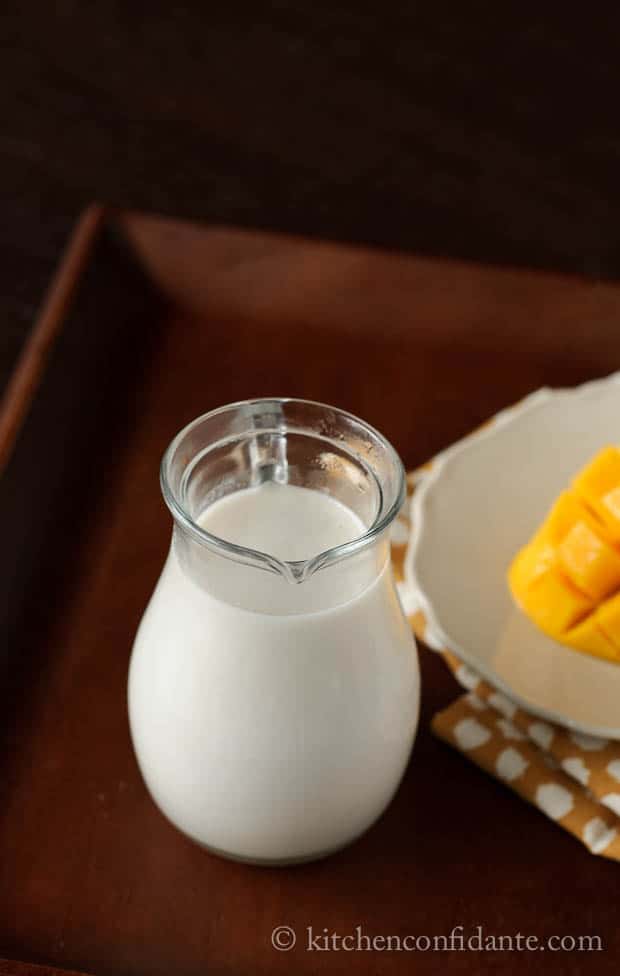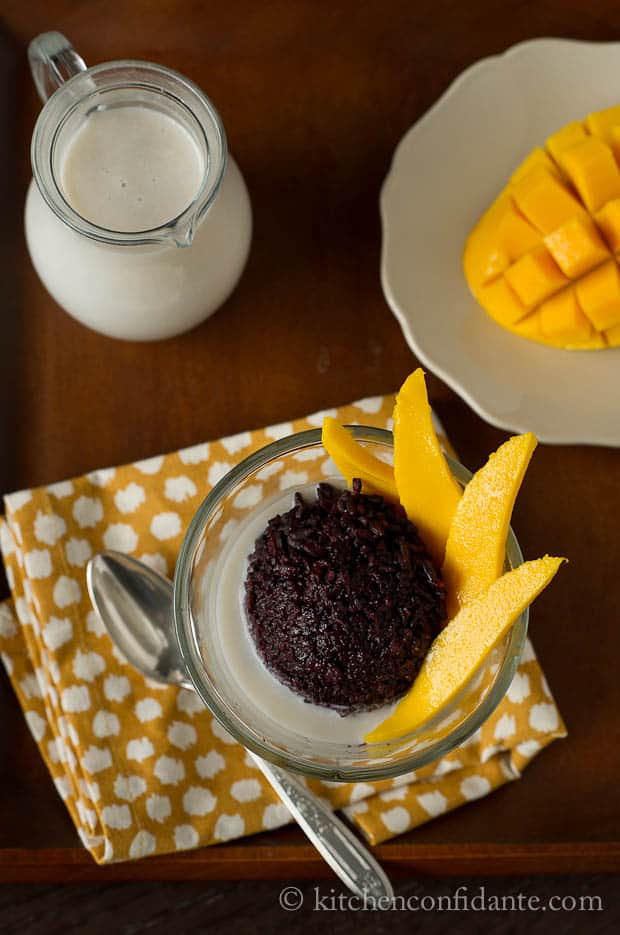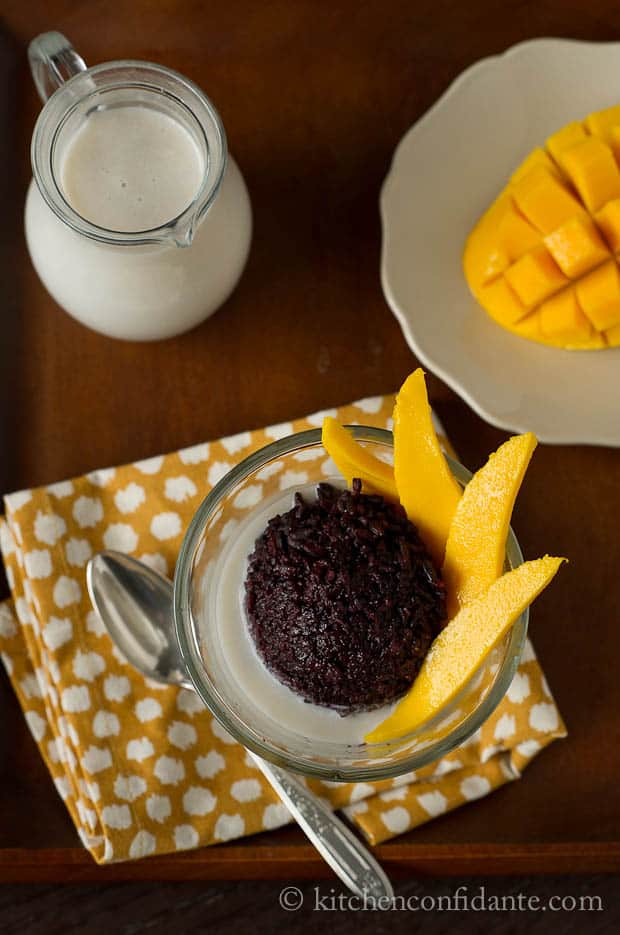 As I made plans with my friends and family back home to meet for dinner, the very important question of what do you want to eat? came up. My oh my, such a difficult question to answer – so many foods, so little time.
I began to crave a dessert that can be found at many of the wonderful Thai restaurants scattered throughout Manhattan, and decided, why wait? If you've never had a bite of Sweet Coconut Sticky Rice with Mango, it's time to try. Think of it like a coconut rice pudding, warm and fragrant with sweetened coconut milk and ripe mangoes. As I pack my suitcases, I leave you with sweet spoonfuls, and I can't wait to share my adventures with you when I return.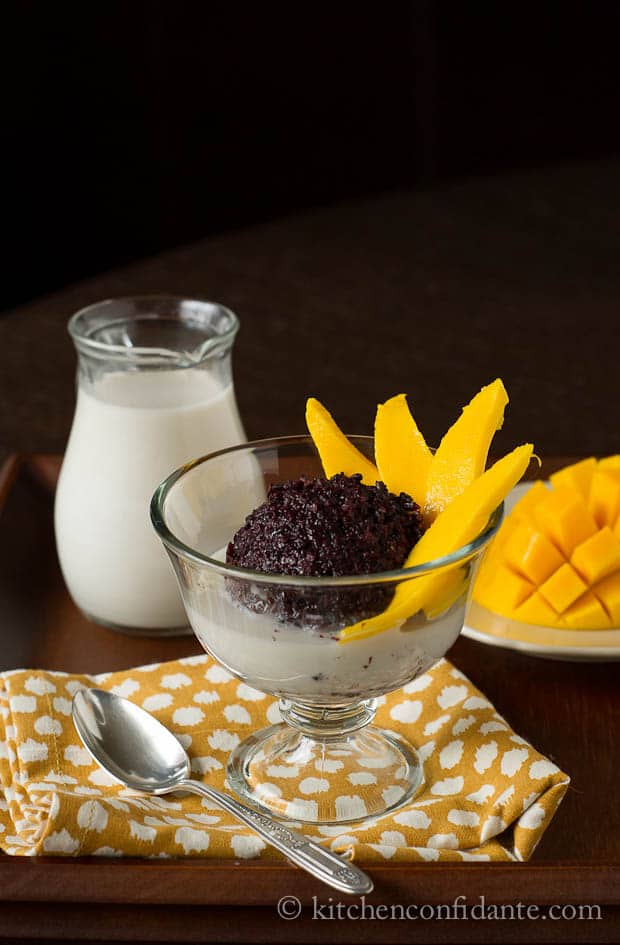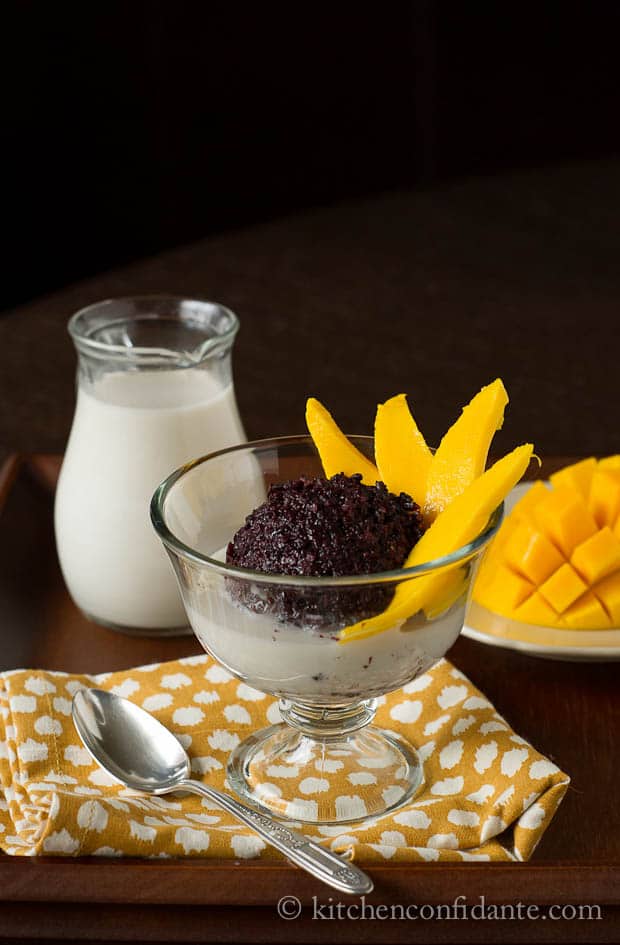 Sweet Coconut Sticky Rice with Mango
Like a deconstructed coconut rice pudding, I made this with a gorgeous violet sticky rice from the terraces of the Philippines. But any good quality sticky rice will do. The secret to making the rice as sticky as possible is soaking it, at least 4 hours, or ideally, overnight.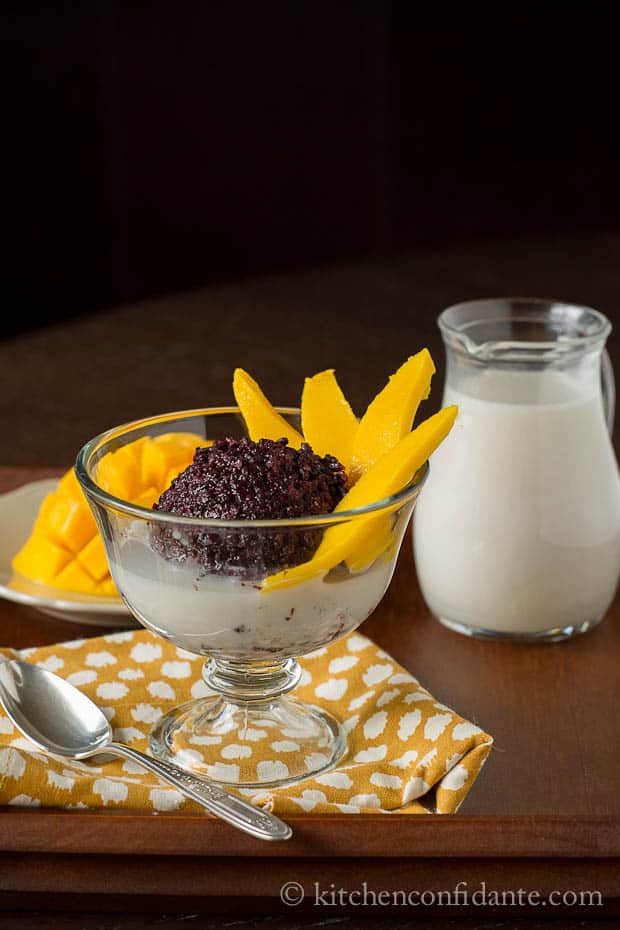 Print Recipe
Ingredients
1 1/2 cups sticky rice, soaked overnight in water
1 1/2 cup coconut milk
1/3 cup sugar
2 ripe mangoes, sliced
Instructions
Steam the sticky rice until tender - you may use a steamer, rice cooker, or if you prefer, in a small saucepan on the stove.
In a small saucepan, warm the coconut milk and sugar until the sugar is fully dissolved. Be certain not to boil the coconut milk.
When the rice is ready, stir in 1/2 cup of the sweetened coconut milk and let it sit for about 15-20 minutes. The rice will absorb the milk.
Using a large ice cream scoop or a mold, divide the rice into small bowls. Arrange the mango slices on top or to the side. Pour the coconut milk over the rice, and serve with additional coconut milk and mangoes on the side. Serve while warm.