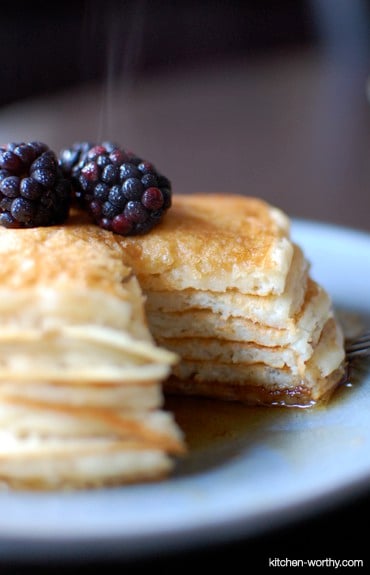 Sunday Morning Pancakes
We have a tradition at our house.  Every weekend, we have pancakes.  Every Sunday, to be exact. Our pancake of choice: Buttermilk Pancakes.  We always have Buttermilk Pancakes. Then our individual flair sets in.  My husband is generally partial to dusting his pancakes with powdered…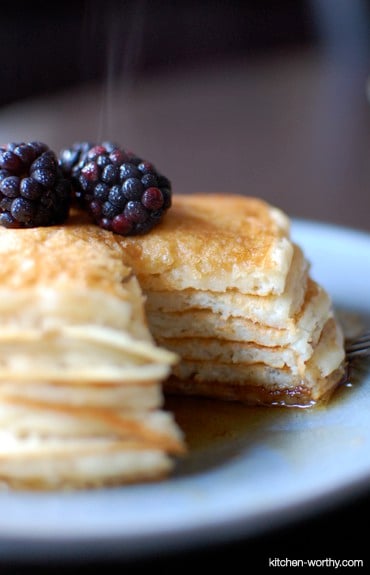 Sunday Morning Pancakes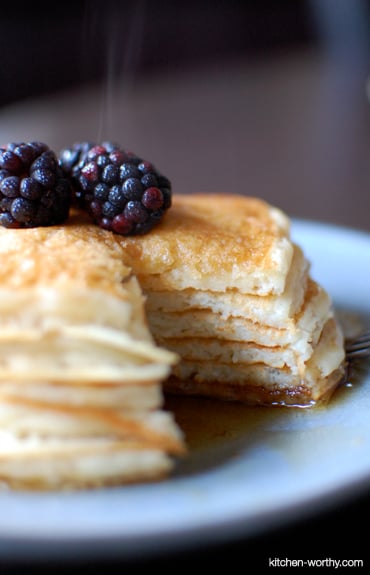 We have a tradition at our house.  Every weekend, we have pancakes.  Every Sunday, to be exact.
Our pancake of choice: Buttermilk Pancakes.  We always have Buttermilk Pancakes.
Then our individual flair sets in.  My husband is generally partial to dusting his pancakes with powdered sugar.  The kids like to make pancake "tacos" with strawberry preserves.  Myself?  I'm a traditionalist; I prefer a generous drizzle of pure, unadulterated maple syrup.  Specifically, Grade B maple syrup, because the rich flavor of Grade B is more suited to pancakes than its lighter Grade A counterpart.
The recipe I use is actually Martha Stewart's Best Buttermilk Pancakes, and time and time again, they have proven to really be the best.  They are light, fluffy, and so adaptable.  When I want to indulge, we drop in some chocolate chips.  The batter also holds up very nicely to berries or mashed bananas.  The key is to pour the batter on your griddle, then drop in the fillings.  It also helps to let the batter sit a little bit.  If you can stand waiting, your pancakes will be a bit fluffier.
I make a generous amount every weekend, and if there are any leftover, I freeze each pancake between slivers of parchment paper.  When the kids want pancakes for breakfast during the school week, I can easily warm them up in the microwave.  It's been many years since I bought frozen pancakes or a box of Bisquick.
Sometimes I make a half batch if we're not that ravenous, or if I still happen to have a stash of frozen pancakes (rare, but it happens).  If you are cooking for fewer, here is the half batch recipe:
Martha's Best Buttermilk Pancakes
half batch recipe, adapted from Martha Stewart Living, January 2001. Find the original recipe here.
1 cup all-purpose flour
1 teaspoon baking powder
1/2 teaspoon baking soda
1/4 teaspoon salt
1 1/2 tablespoons sugar
1 large egg, lightly beaten
1 1/2 cups buttermilk (I prefer Clover – it really makes a difference in taste and rise!)
2 tablespoons unsalted butter, melted, plus ½ teaspoon for griddle
Heat griddle to 375 degrees.  If you plan to keep pancakes warm in the oven, heat oven to 175 degrees.
Whisk together flour, baking powder, baking soda, salt, and sugar in a medium bowl.
Add egg, buttermilk, and 2 tablespoons butter using a whisk. Do not over mix; the batter should have small lumps.
Test griddle by sprinkling a few drops of water on it. If water bounces and spatters off griddle, it is hot enough. Using a pastry brush, brush remaining ½ teaspoon of butter onto griddle. Wipe off excess.
Using an ice cream scoop or ladle, pour pancake batter (about half a cup), 2 inches away from one other. When pancakes have bubbles on top and are slightly dry around edges, about 2½ minutes, flip over. Cook until golden on bottom, about 1 minute.
Work in batches, keeping finished pancakes in the oven.  Serve warm with your favorite toppings!