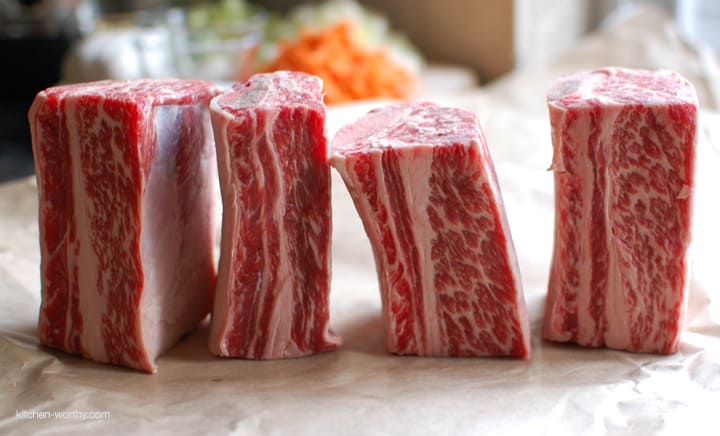 A Good Day for Short Ribs
Beer Braised Short Ribs 2 tablespoons vegetable oil 3½ to 4 pounds short ribs salt freshly ground black pepper 1 dried bay leaf 4 small carrots, cut into ¼-inch pieces 2 stalks celery, cut into ¼-inch pieces 1 medium onion, cut into ¼-inch pieces ½…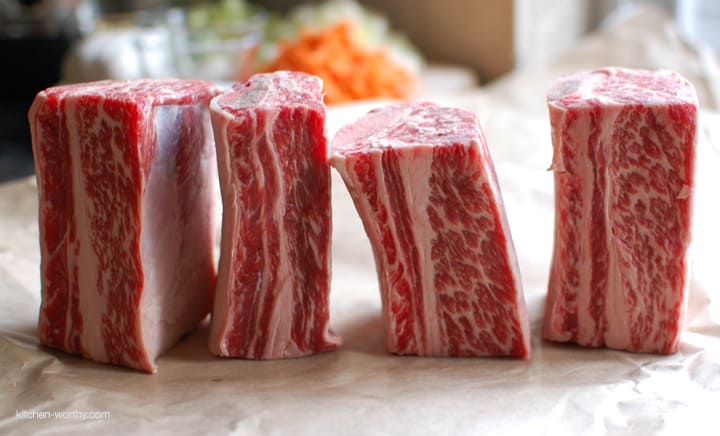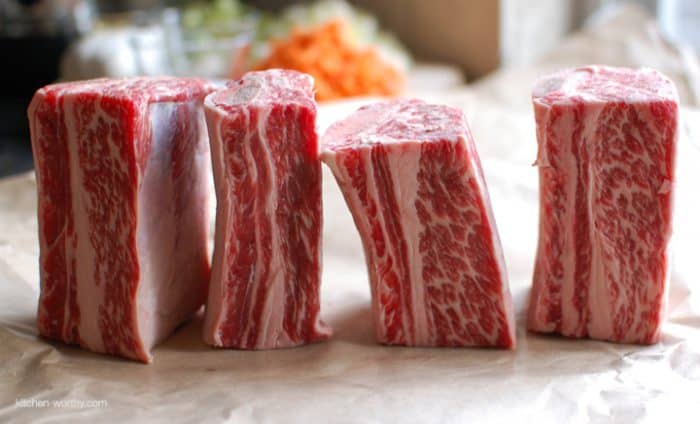 A Good Day for Short Ribs
There was something about today that just called for comfort food. The misty California morning, thoughts of snow throughout the country, and even the start of the winter Olympics made me crave something rich and slow cooked. I had some beautiful short ribs that I bought the other day from my favorite
butcher
, as well as the time to give it the attention it deserves.  Look at these ribs!  They remind me of Stonehenge.
I normally braise my short ribs in a good wine, usually a cab, and I typically follow a recipe from Martha Stewart. But to be honest, I didn't have any bottles I felt like parting with, if that makes any sense. They were just too good to open, at least early in the day.
But I did have some tasty bottles of stout, favorites of some good friends of ours. I have wanted to try braising ribs in beer, and have heard good things about Dave Lieberman's Braised Hoisin Beer Short Ribs.
I decided to marry the two influences for today's version of short ribs.  Are you ready?
To start, I pulled out a bottle of Barney Flats Oatmeal Stout, generously seasoned the short ribs with salt and pepper, and browned the ribs on all sides in a dutch oven.  You should have heard the sizzle!  This is the most critical part – the browning seals in the juices, so you really want to take your time.  Once the ribs were browned, I pulled them out of the pan and set them aside.  I removed the excess fat and left just enough in the pot for the next step.
Beforehand, I assembled a basic mirepoix of diced onions, celery, and carrot.  I also minced half a head of garlic, and got a bay leaf, flour, and some tomato paste ready.
Vegetables were added to the pot, seasoned with a little salt and pepper, and sauteed until until the onions were translucent.  The tomato paste and flour were stirred in.  Then in went the whole bottle of creamy stout and about a cup of stock (today I opted for chicken).  Time for the ribs to go back in for a swim.  The pot was brought to a simmer, then covered with a lid and popped into a 275 degree oven for 3-4 hours, at which point the meat was tender and slipping off the bones.
Ultimate comfort food on a winter's day.
Here's the irony of it all; by the time I was done cooking, the temperatures had climbed to the low 60's!  Not that I'm complaining or anything.
Beer Braised Short Ribs
2 tablespoons vegetable oil
3½ to 4 pounds short ribs
salt
freshly ground black pepper
1 dried bay leaf
4 small carrots, cut into ¼-inch pieces
2 stalks celery, cut into ¼-inch pieces
1 medium onion, cut into ¼-inch pieces
½ head garlic
2 teaspoons all-purpose flour
2 teaspoons tomato paste
12 ounces of a good, rich beer
1 cup chicken stock
Preheat oven to 275 degrees. Place an ovenproof casserole or Dutch oven over medium heat. Add vegetable oil, and heat until it is very hot but not yet smoking. Season short ribs generously with salt and pepper.  Add short ribs to the pot, working in batches if necessary (take care not to let the short ribs touch – you run the risk of them steaming rather than browning). Cook ribs until browned, about 10. Do not rush! Remove ribs from casserole, and set aside.
Remove any excess fat, leaving just about 2-3 Tbsp in the casserole.
Add carrots, celery, onion, and garlic to oil in the casserole, and cook over medium heat, stirring occasionally, until vegetables are softened and golden, about 10 minutes.  Season with a little salt and pepper.
Add flour and tomato paste to the casserole, and stir to combine. Deglaze the pan with the beer; stir with wooden spoon until all browned bits have been scraped from the pan and the bottom of the casserole is clean. Simmer, then add stock (chicken or beef).
Return browned ribs to the casserole and add the bay leaf. Bring the liquid to a simmer over medium-high heat. Cover the casserole, and place it in the oven. Cook until ribs are very tender, about 3 hours.
Serve over rice pilaf, or as a ragu with noodles.  Good old french bread will also do very nicely!