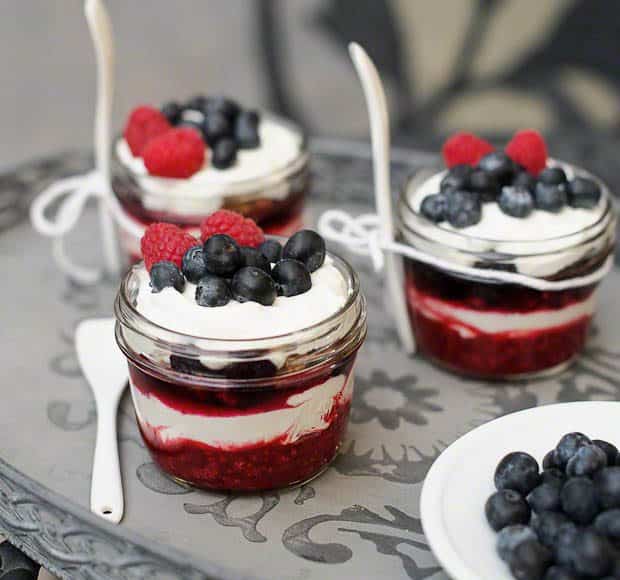 Berry Parfaits
Berry Parfaits are summer by the spoonful! Layers of blueberries, raspberries, cream, and crunchy crisp are like a berry crisp turned inside out!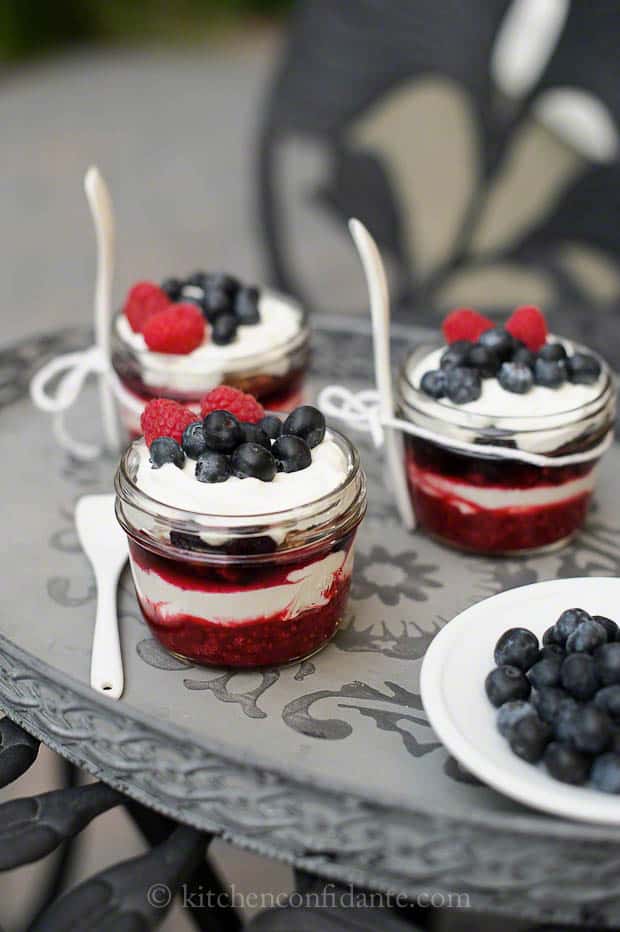 Berry Parfaits
Even when the berries aren't in season, what I love about these Berry Parfaits is that you can use frozen raspberries and blueberries. That means you can enjoy these treats all year round!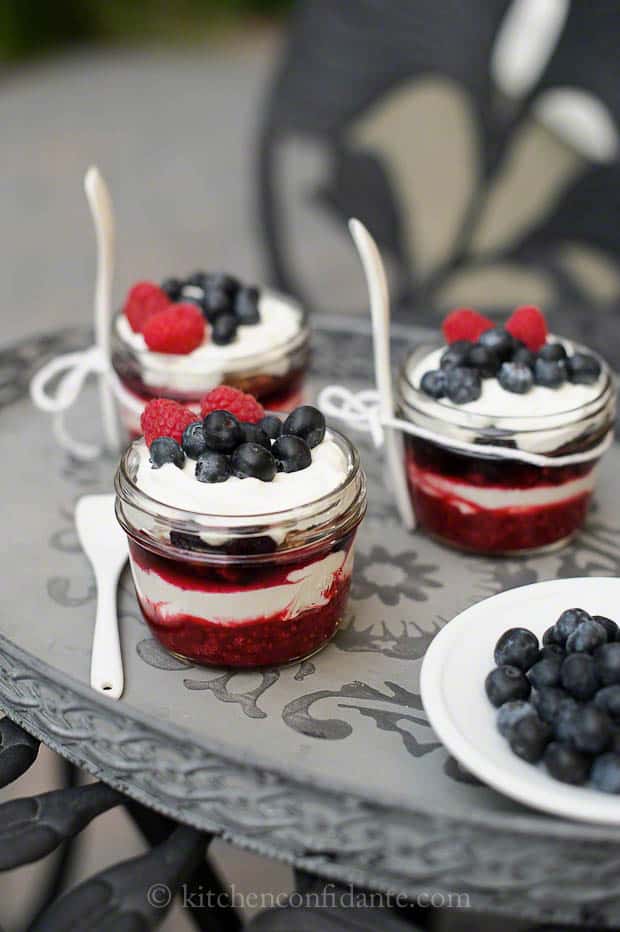 I've been doing a little summer sorting. Going through my drawers, purging those tops that have been hiding in the back corner since my last purge, picking through my daughter's closet and holding up her too-small tops, wondering, when did she grow out of this? Setting aside items to donate – those barely used shoes that simply could not compete with the childrens' growth spurts.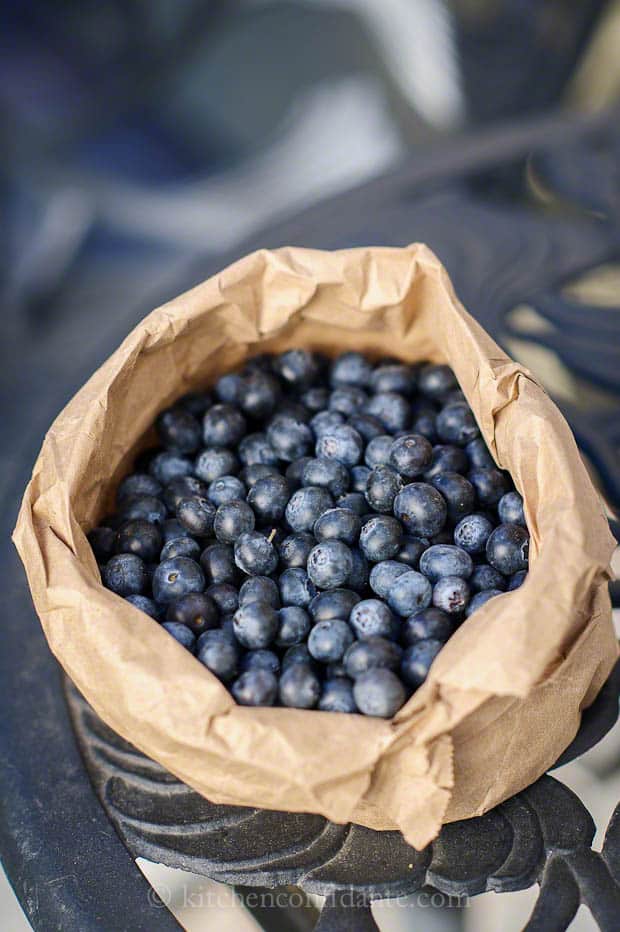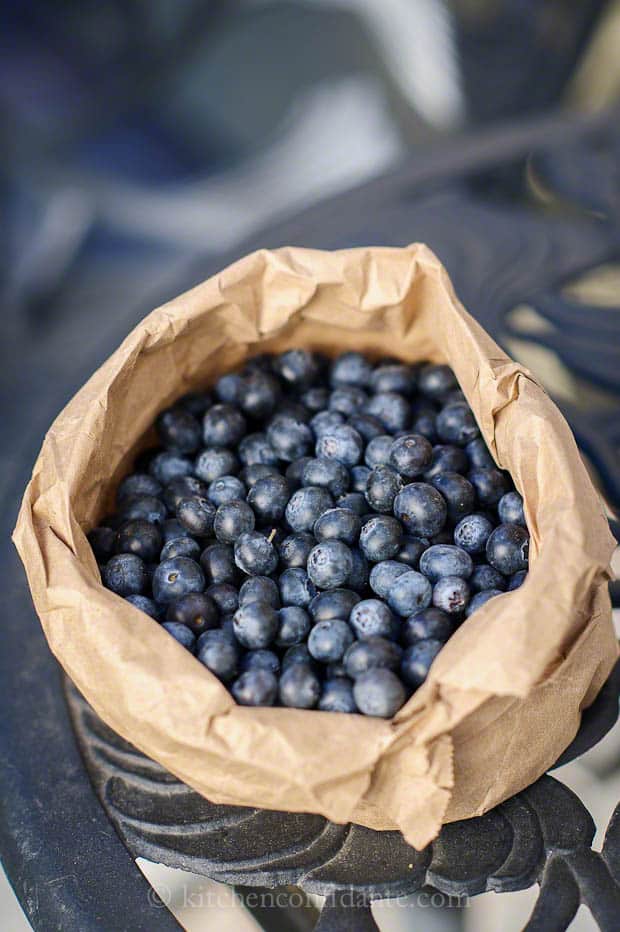 My photos have been getting a once over, too. Again, it's one of those tasks I have been meaning to tackle, and avoiding, because the sheer number is daunting, but perhaps also out of anxiety of what I may see. Going back through my archives, I see some awful pictures… and then I see some good ones.


For several months, I have been meaning to assemble a portfolio of sorts, but that task was pushed to the side. I would dodge it, perhaps because of a little fear of judgment. But I am getting too old to worry about that sort of thing, and besides, as I grow and develop in the pictures I take, I realize I should embrace what I love.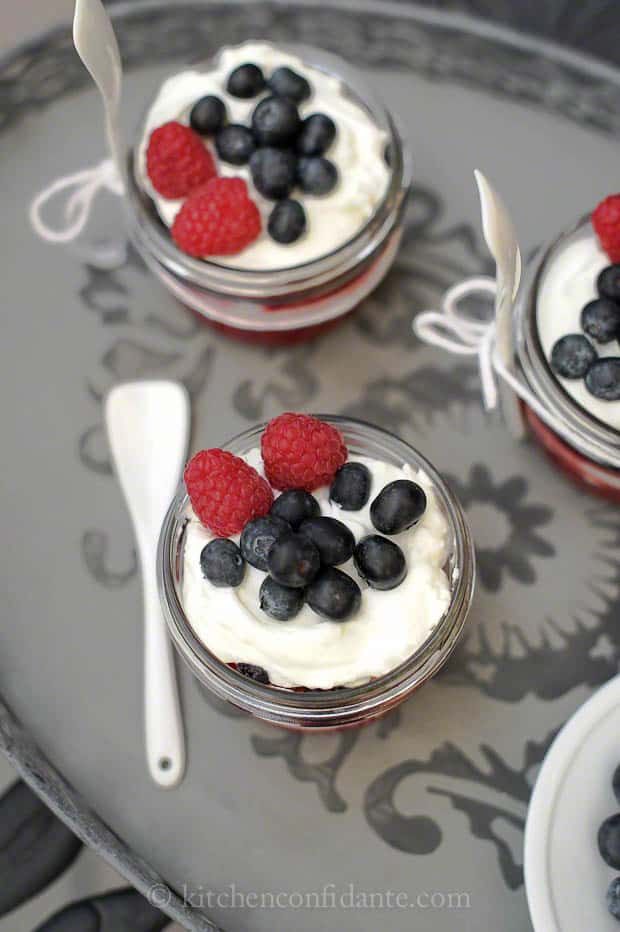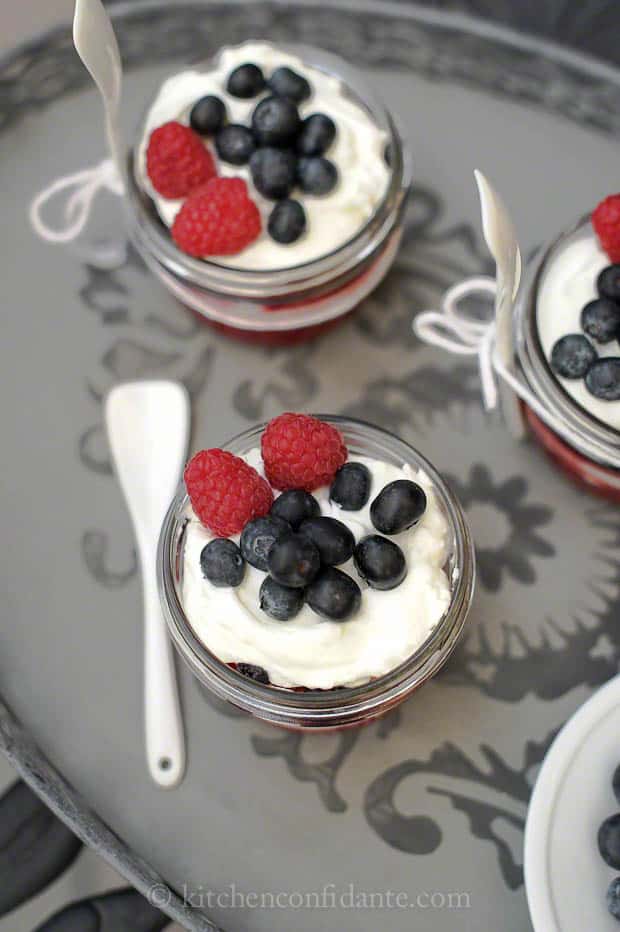 My food has been a joy to capture through a lens. So are the families who have asked me to capture their special moments. Going through my catalog of pictures made me realize that the more pictures I make of food and families, the less I take of my own children. I need to fix that.
I want more pictures of my daughter in that special shirt before she outgrows it. And my son's toes in those little leather flip flops. I need to bring the focus back to them.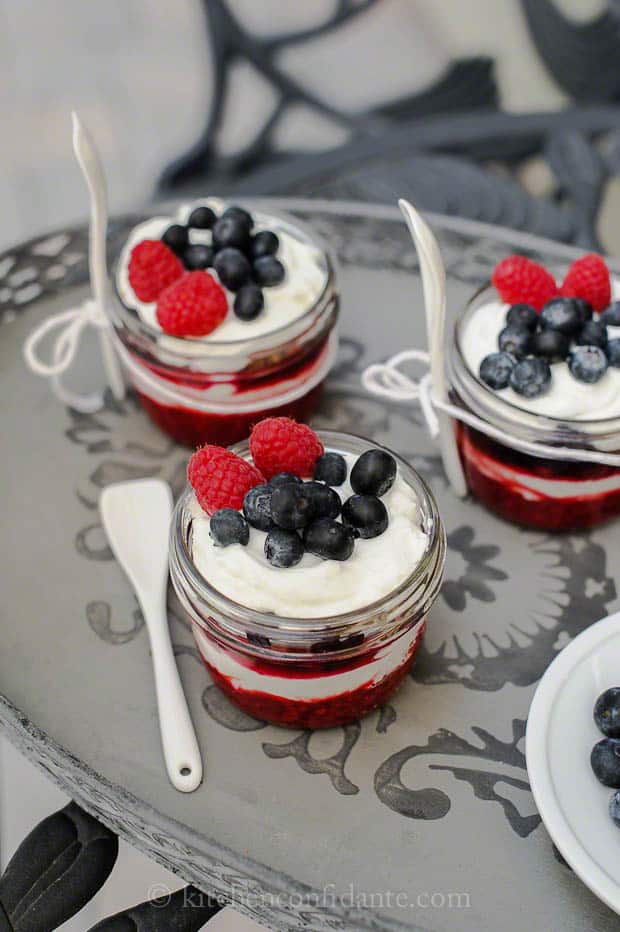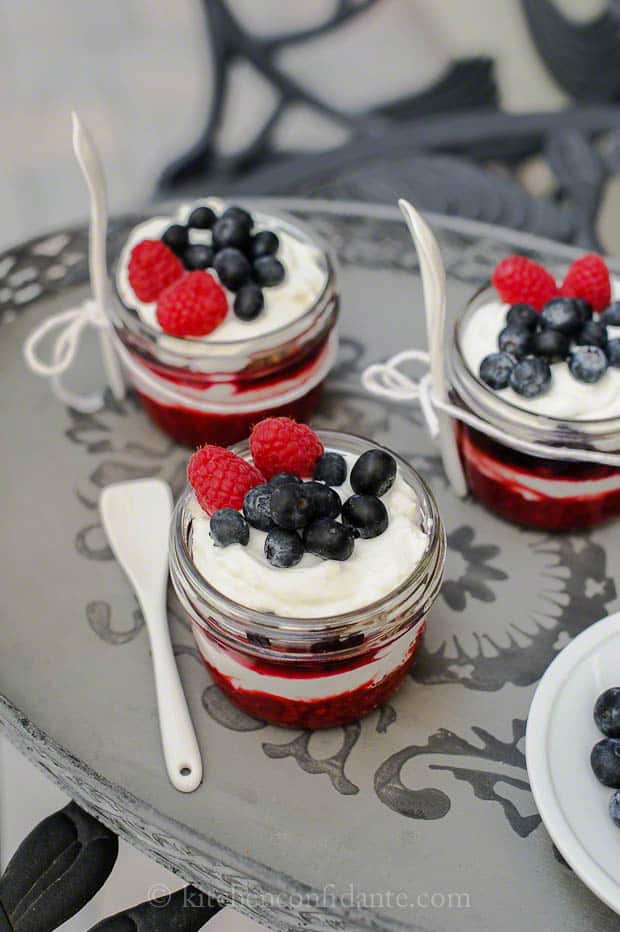 I would love to share something sweet. These Berry Parfaits were made to be featured on My Way Home for Wayfair this month. Beautiful blueberries and raspberries are layered between fluffy clouds of cream and crunchy crisp – much like a berry crisp turned inside out.
But you know what I love best? Even after the sweet berry season has passed, you can still make it with frozen berries. Make summer last all year long. And you know how I feel about having sweet moments last.
MORE BERRY RECIPES TO TRY

Mixed Berry Fruit-on-the-Bottom Yogurt Cups
Berry Jicama Salad
Blueberry Goat Cheese Scones
Blueberry, Feta and Honey-Caramelized Onion Naan Pizza
Summer Sangria with Rum
Berry Parfaits
Even when the berries aren't their best, what I love about these parfaits is you can use frozen raspberries and blueberries. That means you can enjoy them all year round!
Ingredients
For the Fillings
1

cup

raspberries

fresh or frozen

1

cup

blueberries

fresh or frozen

1/4

cup plus 2 tablespoons

sugar

divided

2

tablespoon

lemon juice

divided

1 1/2

cups

heavy cream

3

oz

Philly Cream Cheese

1/4

cup

confectioners sugar
For the Crisp Layer
1/3

cup

flour

1/3

cup

packed light brown sugar

3

tablespoons

butter

1/4

cup

rolled oats

regular oatmeal

1/4

teaspoon

cinnamon
Instructions
Filling Layers
In a glass bowl, combine the raspberries, 2 tablespoons sugar and 1 tablespoon lemon juice and stir well. Do the same in a separate bowl with the blueberries, 1/4 cup sugar, and 1 tablespoon lemon juice. Gently press the berries with a masher to release some juices. Cover tightly with plastic wrap and let it sit in the refrigerator for about 2 hours (or overnight).

In the bowl of an electric mixer with a wire whisk, beat the heavy cream, cream cheese, and confectioners sugar until it turns to stiff peaks. Transfer to an airtight container and chill until ready to assemble.
Crisp Layer
Preheat oven to 350°F with a rack placed in the center of the oven.

Make the crisp layer. Combine flour, sugar, and butter and using a pastry blender, two forks or a food processor until it looks like coarse crumbs. Add oats and cinnamon and mix a little more. Spread in a pie pan and bake about 10 minutes or until just brown and crumbly.

Assemble the parfaits. When the berries have softened and released their juices, place about 3 tablespoons of raspberries and some juice in the bottom of 6 6-oz serving cups. Add 1/4 cup of the whipped cream mixture to each and smooth the tops. Place about 2 tablespoons of crisp on top. Add about 3 tablespoons of blueberries on top. Repeat with another whipped cream layer. If making ahead, cover each parfait glass with plastic wrap and chill in the refrigerator. This can be done up to one day ahead.

Before serving, garnish with fresh berries. Serve with additional crisp on the side, if desired.
Nutrition
Calories:
466
kcal
|
Carbohydrates:
42
g
|
Protein:
4
g
|
Fat:
33
g
|
Saturated Fat:
20
g
|
Cholesterol:
112
mg
|
Sodium:
123
mg
|
Potassium:
149
mg
|
Fiber:
2
g
|
Sugar:
29
g
|
Vitamin A:
1255
IU
|
Vitamin C:
9.9
mg
|
Calcium:
71
mg
|
Iron:
0.8
mg