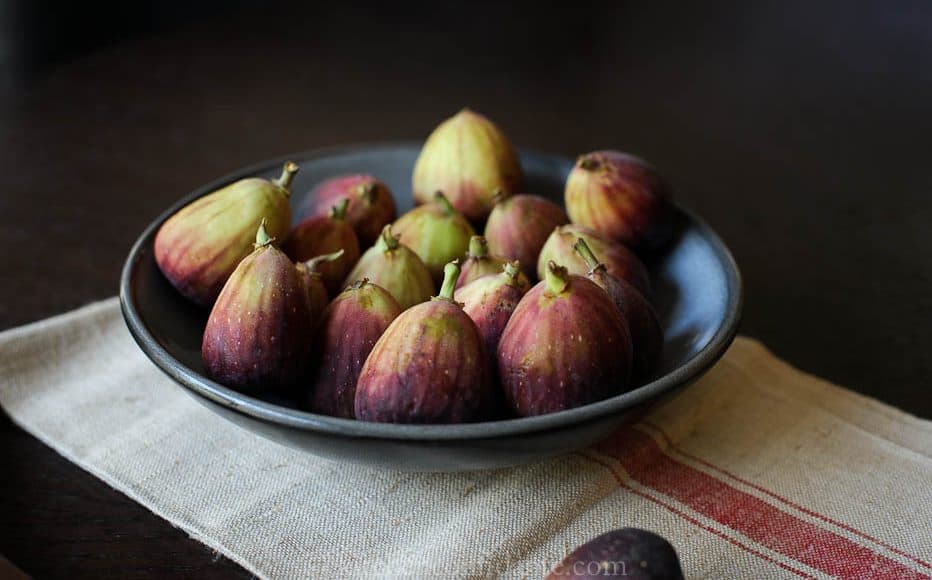 Balsamic Fig Jam Recipe
This balsamic fig jam recipe combines all of my great loves – fresh figs, spending time with dear friends, and having the perfect fresh topping for any breakfast bread… or a sneaky spoonful throughout the day.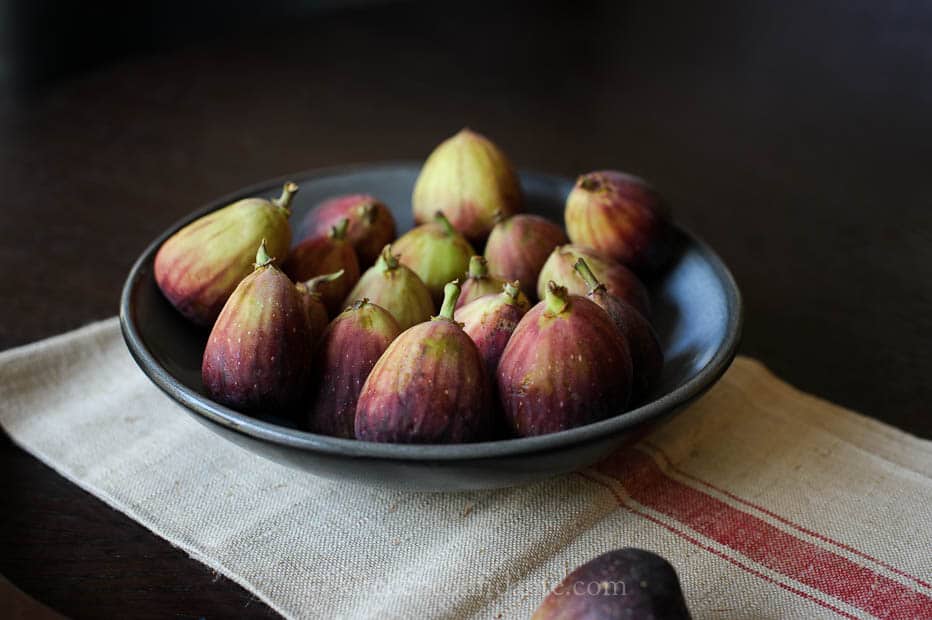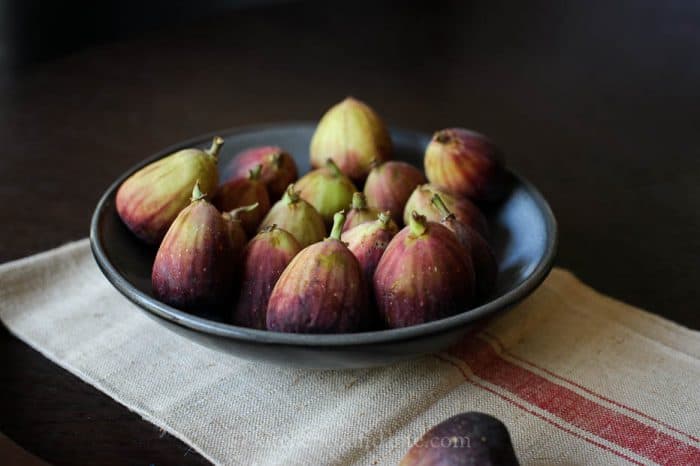 Balsamic Fig Jam Recipe
Who doesn't need a homemade jam to spread on toast, english muffins, or pancakes? Figs are one of my favorite fresh fruits, and after you try this balsamic fig jam recipe, I bet they'll be one of yours too.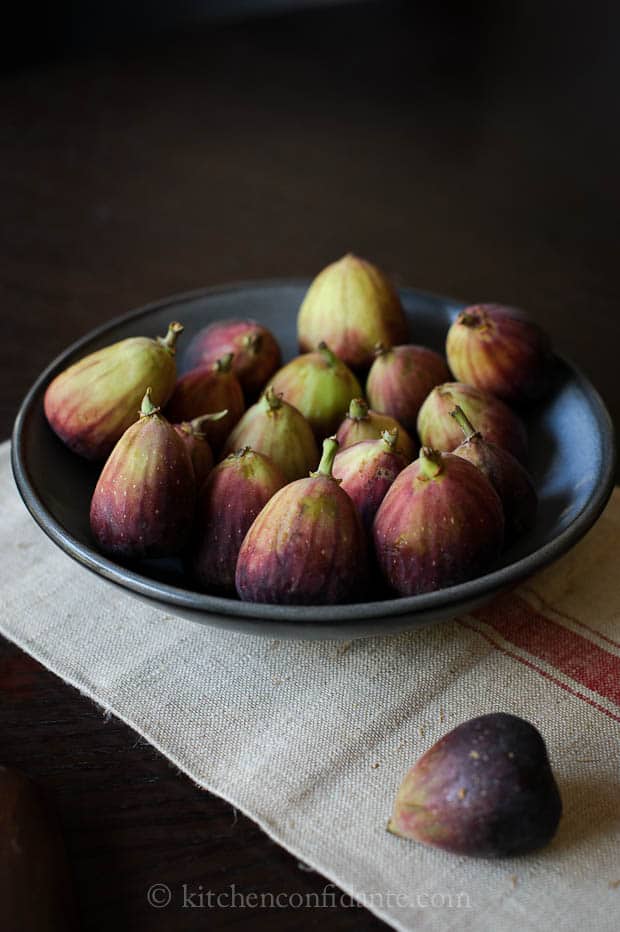 This post first appeared July 8, 2012 as part of the Simple Sundays series. I hope you enjoy this favorite from the kitchen of a dear friend!
I was a little star struck the first time I tasted a fresh fig. That might sound a little funny to you, but it's the closest analogy I can find. Imagine a little girl who equated figs with Fig Newtons – a chewy cookie with a filling that was sweet and mysterious. Growing up in New York, fresh figs were not a common sight in the markets – ever. To me, "fig" sounded like a cute name for a packaged good. It wasn't until many years later when I bit into my first fresh fig, and it was like meeting my favorite actor in person for the first time. I was struck with its beauty. I quickly learned to pick the perfect ones for best flavor – read all of my tips here, or listen here!
Unsurpisingly, figs really are much better in real life. Fresh figs have found a very special place in my heart. As a matter of fact, they're one of my favorite fruits of summer. Living now in California, I feel very blessed to have access to an abundance of figs this time of year. It's the one fruit I find myself wistfully craving in the winter months; consequently, fig season can never get here fast enough. I nibbled on them the other day, some plain, some smothered with goat cheese and drizzled with honey. I would have been happy eating nothing else.
Yesterday, I was excited to join Azmina from Lawyer Loves Lunch as she hosted a jamming party for mutual friends in the food blog world. It has been a year since I have seen Lisa, Gina, Jean, and Stephanie, and we gathered in Azmina's bright kitchen to catch up while chopping summer fruits and learning the finer points of jamming.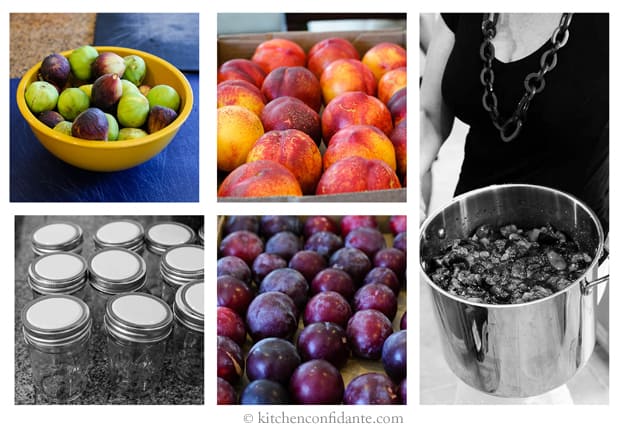 But of course, you can't have a roomful of foodies together without delicious food. Everyone brought delicious and fresh dishes to nosh on as the fruit bubbled on the stove. All except me. I had been working on what was to a be a beautiful tomato tart that morning, only to have an accident as I pulled the hot crust from the oven. That incident left me with a broken crust and burns on my arm. Nothing like driving to Azmina's house with an ice pack on my arm and aloe in my purse! Regardless, I took solace in the fact that if anyone would understand, it was my friends who were quick to share their baking battle scar stories. Thanks, you guys – the food you brought was undeniably delicious.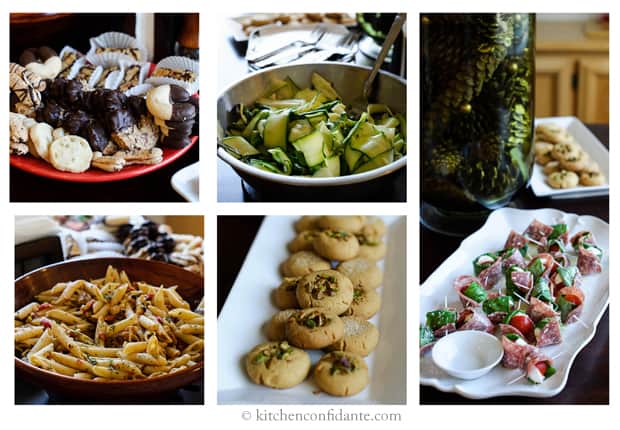 My dearest Lisa, who lives fairly close to me and writes Authentic Suburban Gourmet, has the most divine Balsamic Fig Jam Recipe. The first time I met her, she gifted me with a jar of this sublime creation. Today, my eyes grew large as I saw her unpack pounds and pounds of gorgeous figs to make her jam. Gina brought amazing plums and nectarines from orchards in Brentwood and Santa Rosa. Obviously, it was hard to not sneak in a few bites as we chopped up the beautiful fruits.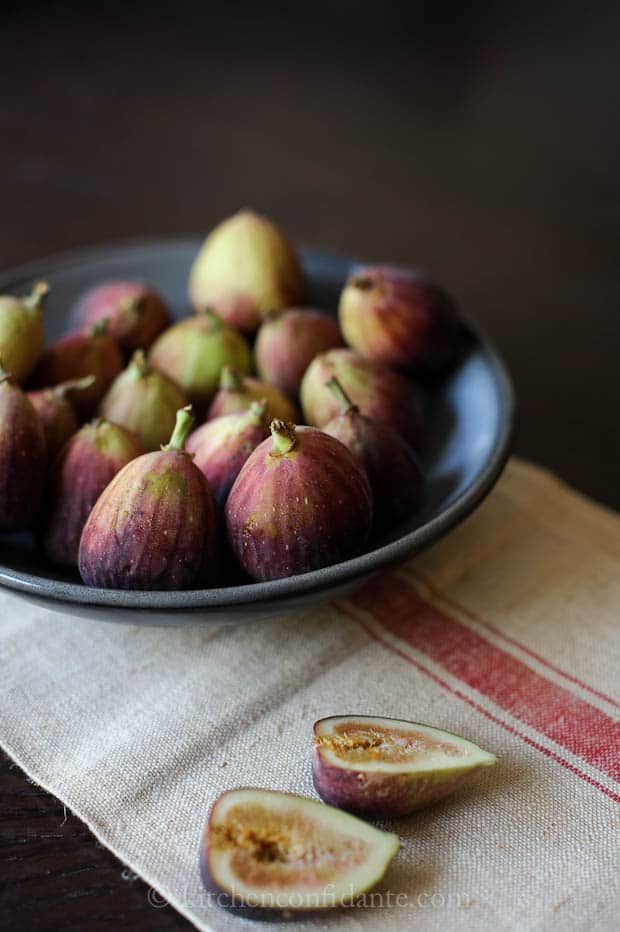 Sadly, I could not stay the entire afternoon, but it was so nice to see everyone and chat and learn from one another. Don't worry though – I did bring home a jar of the fig jam recipe.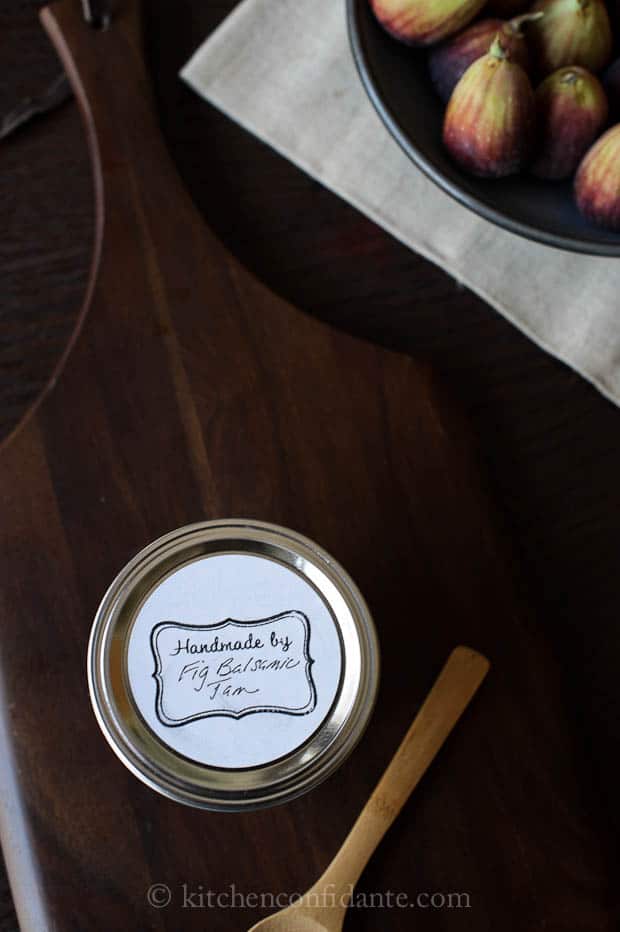 Smothering a piece of toast, it is a sweet and simple treat any time of day. I already placed a dollop on an English muffin for breakfast this morning; I can't wait to play with it some more later today. I need to try Lisa's gorgeous Fig Jam Straws. They would be fabulous with a glass of wine and some slivers of cheese. Or I may just eat the jam by the spoonful once in a while.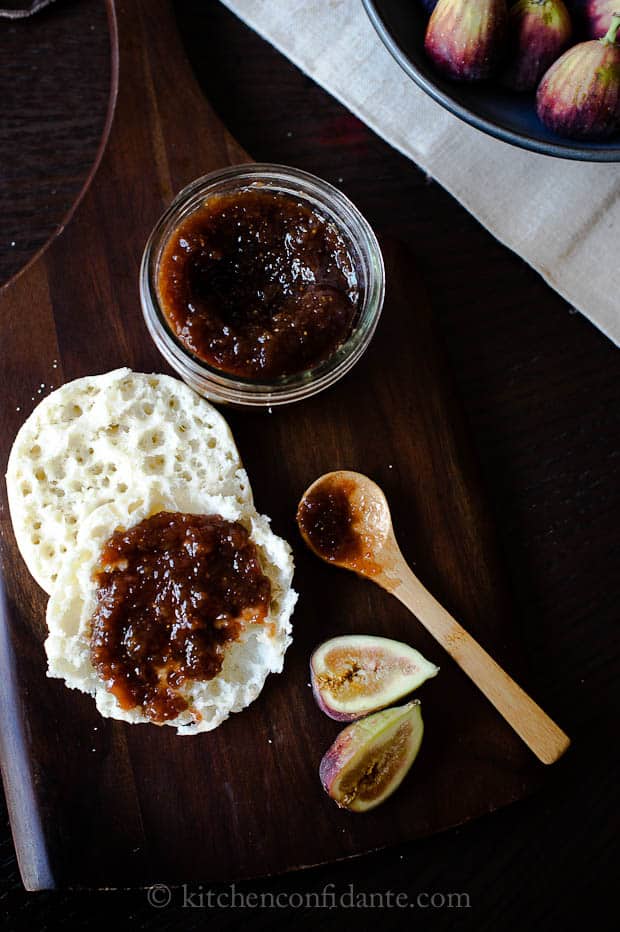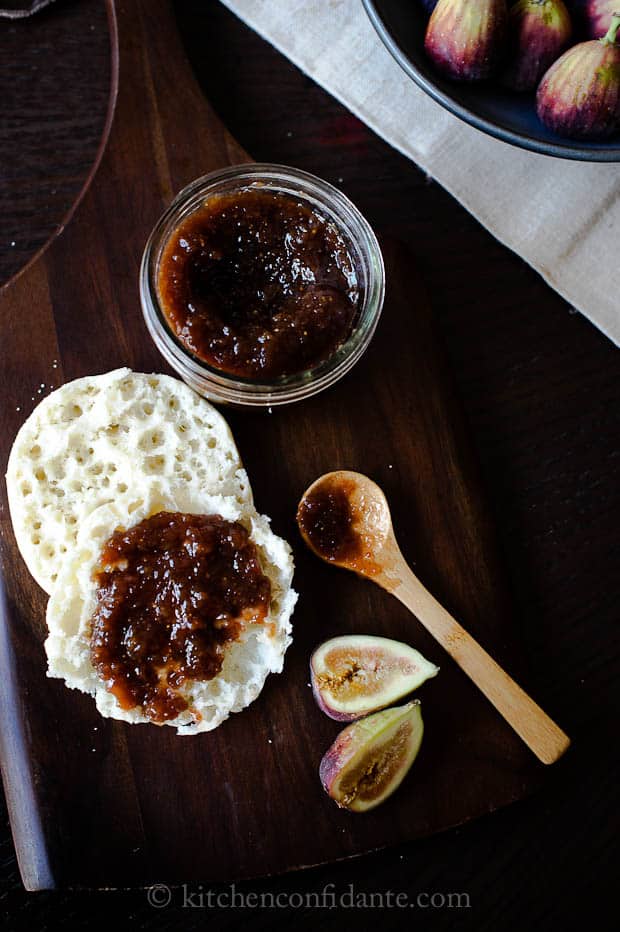 Balsamic Fig Jam Recipe:
If you would like to make this on your own (and you must!), please visit Lisa for the Balsamic Fig Jam Recipe. Her recipe as written includes a little lemon juice. That was omitted in yesterday's jamming party, with equally delectable results.
Other ways to satisfy your fig craving:
Fig and Almond Butter Smoothie | Simple Sundays
Chocolate Banana Fig Bread
Roast Chicken with Fig Chutney Sauce
Savory Fig and Grape Tart
Balsamic Fig Jam
Lisa's fantastic recipe will knock your socks off. Go ahead and make sure you have these ingredients handy, then head over to her blog for all of the instructions along with tips and tricks to great jamming!
Ingredients
6

Pounds

Fresh Figs – remove stem and cut into quarters

4 ½

Cups

Sugar

1 ½

Cups

Balsamic Vinegar
Instructions
Head to Authentic Suburban Gourmet for the instructions to this recipe!
Notes
The nutrition facts for this recipe are for one 8-ounce jar.
Thank you to Authentic Suburban Gourmet for sharing this recipe with us! Head to her blog to learn how to make it for yourself!
Nutrition
Calories:
470
kcal
|
Carbohydrates:
118
g
|
Protein:
4
g
|
Fat:
2
g
|
Saturated Fat:
0.3
g
|
Polyunsaturated Fat:
1
g
|
Monounsaturated Fat:
0.4
g
|
Sodium:
23
mg
|
Potassium:
1348
mg
|
Fiber:
16
g
|
Sugar:
100
g
|
Vitamin A:
773
IU
|
Vitamin C:
11
mg
|
Calcium:
211
mg
|
Iron:
3
mg