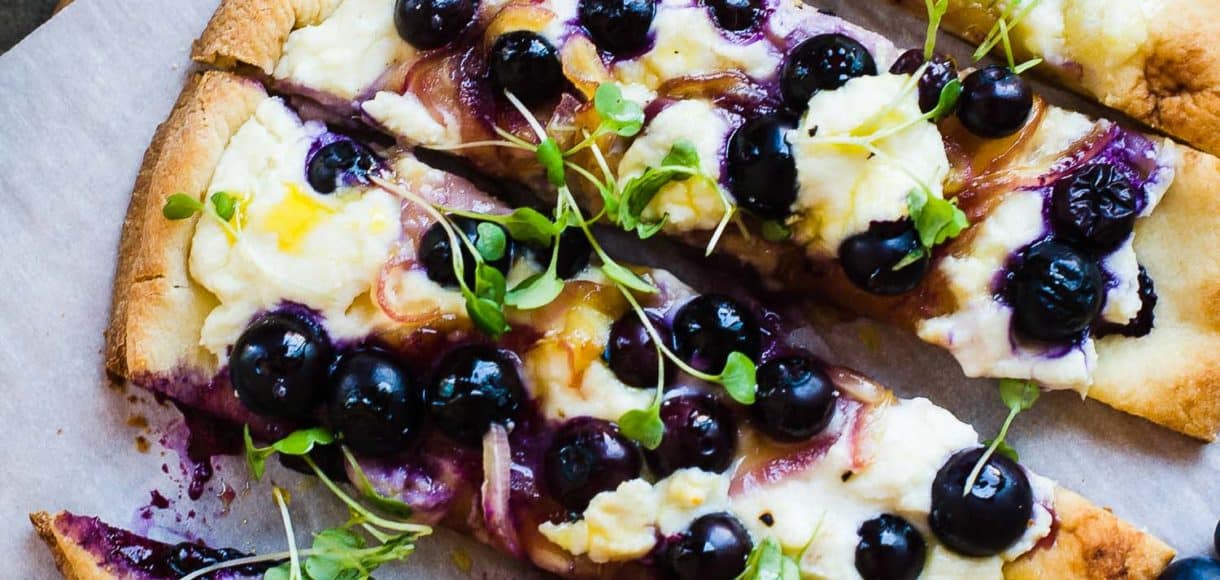 Blueberry, Feta and Honey-Caramelized Onion Naan Pizza
This recipe for a savory Blueberry, Feta and Honey-Caramelized Onion Naan Pizza will surely surprise your tastebuds! I saw a dear friend today. It had been too long since the last time we met, way too long. I'm not quite sure how that happened, but…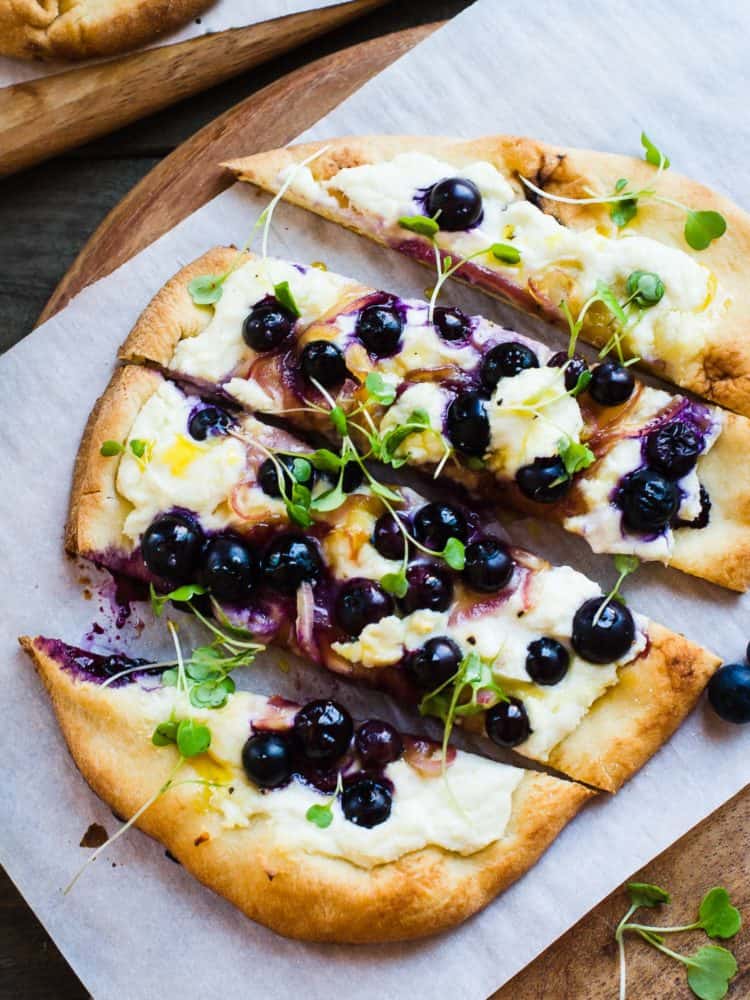 Blueberry, Feta and Honey-Caramelized Onion Naan Pizza
This recipe for a savory Blueberry, Feta and Honey-Caramelized Onion Naan Pizza will surely surprise your tastebuds!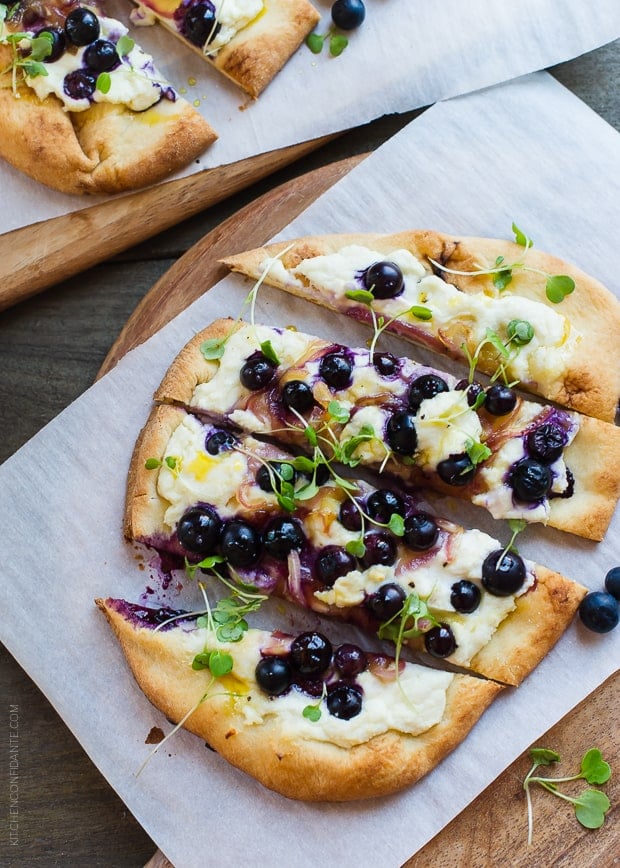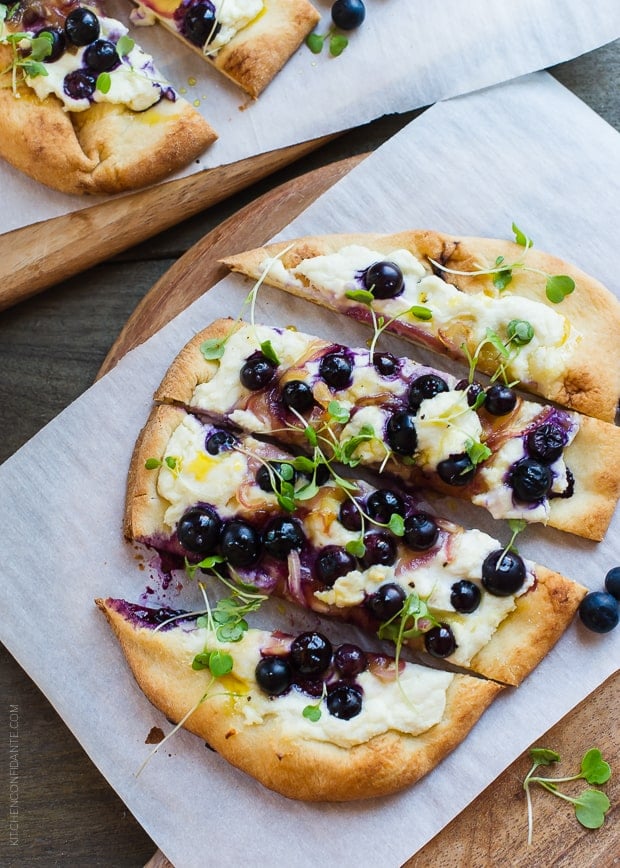 I saw a dear friend today. It had been too long since the last time we met, way too long. I'm not quite sure how that happened, but as I hugged her and marveled at how her children have grown so much, I made a quiet promise to myself that I will never let time slip like that from me again.
Life has a terrible habit of getting in the way, and as much as I embrace social media and the idea of staying connected through it, I realize that it can keep us apart. Seeing pictures of friends on Facebook is not the same as giving each other a hug in person, looking into their eyes, and hearing their laughter in person.
Living through the seasons reminds me of this, in an odd sort of way. When the berries and stone fruit return after many months, you remember that absence all the more, and want to waste no time in savoring every moment you can while they are here.
You may wonder if I will ever stop with the blueberries, but I just can't. Finding new ways to enjoy blueberries in savory dishes has occupied my thoughts these last several weeks, as you already know. So when I pulled out these gems from the oven the other day, I was on cloud nine. Plump blueberries bled their inky juice on pizzas that were smothered with ricotta and feta cheese and honey-caramelized onions. Each bite was everything I love when I make a savory fruit pizza – salty, sweet, savory and spicy, all melted together.
If there is one blueberry recipe you must try this summer, please promise me you will try this one. Do it while they are here, and share it with a friend. Pizza is always better that way.
Eat Seasonal
It's that time again! I love joining Becky from Vintage Mixer and our friends to share dishes that embrace eating seasonal! June is all about berries, and so much more. Check out these recipes for more #EatSeasonal inspiration.
Blueberry Mint Gin Cocktail by Vintage Mixer
Bourbon-Cherry and Almond Dutch Baby by Floating Kitchen
Breakfast Strawberry Shortcakes by Completely Delicious
Strawberry and Mango Kale Salad by Project Domestication
Spinach Salad with Grilled Strawberries, Asparagus & Walnuts by Simple Bites
Blueberry Greek Yogurt Waffles by The Lemon Bowl
Rhubarb Crumb Bars by Bless This Mess
Chocolate Cherry Cake with Chocolate Oat Streusel by Climbing Grier Mountain
Mini Lavender Pavlovas with Summer Berries by Cafe Johnsonia
Super Summer Detox Salad by Well Plated
Cumin Orange Shrimp-Stuffed Cucumber Boats by Cookin' Canuck
Blueberry Buckle by Foodie Crush
Blueberry, Feta and Honey-Caramelized Onion Naan Pizza
A savory pizza that will surely surprise your tastebuds! Promise me you'll make try it!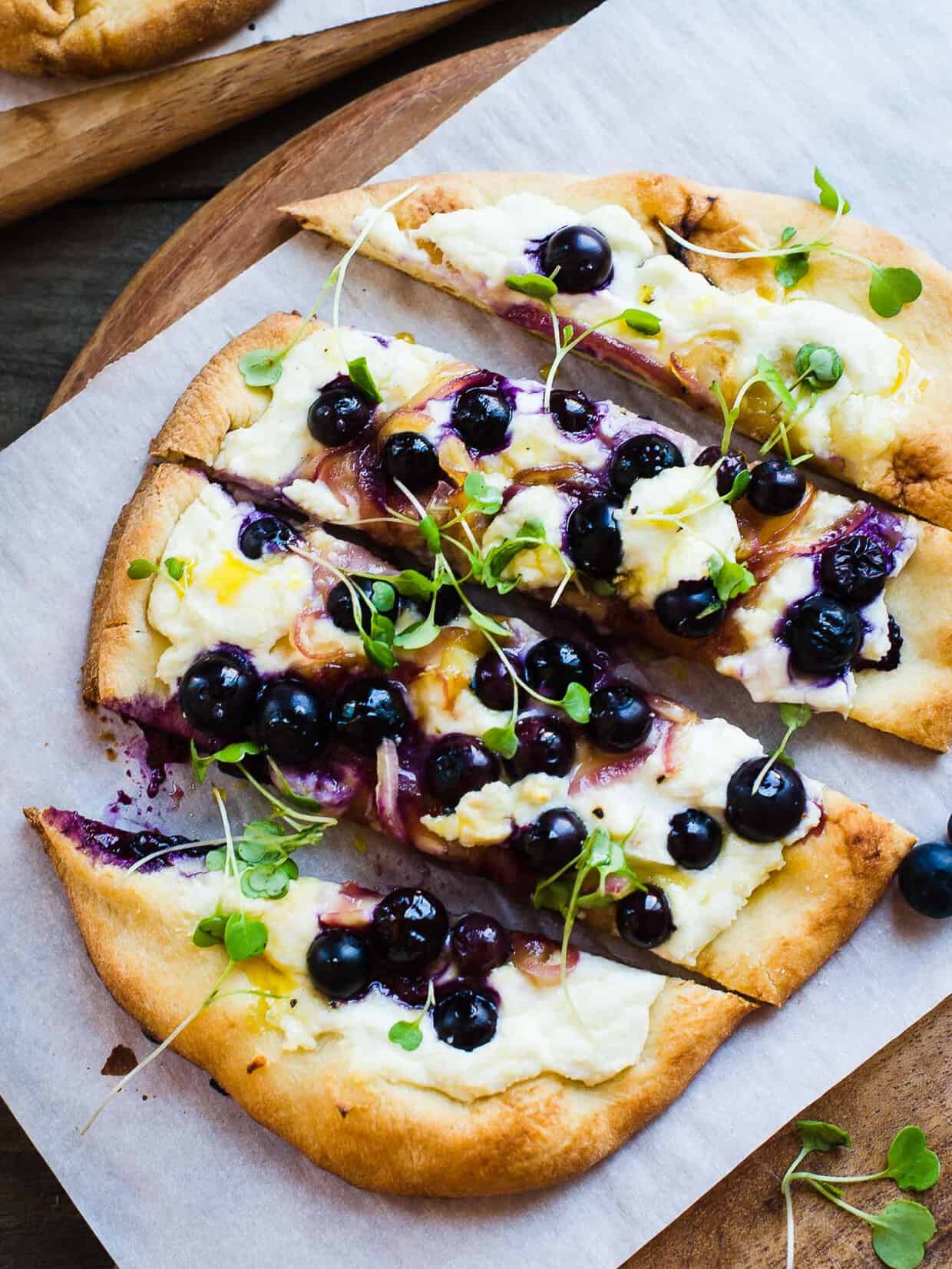 Print Recipe
Ingredients
2 naan flatbreads (see notes below)
1 teaspoon olive oil
1 cup thinly sliced red onion
kosher salt
pinch red pepper flakes
2 tablespoons honey
1/2 cup ricotta cheese
1/2 cup feta cheese
1 cup blueberries
micro arugula (or regular baby arugula)
Instructions
Preheat oven to 400°F. Line a baking sheet with parchment paper. Arrange the naan/flatbread on the baking sheet and lightly spray or brush with water. Set aside.
Heat the olive oil in a medium pan over medium low heat. Add the onion and season with a pinch of salt to taste and red pepper flakes. Cook the onions until it is wilted, about 3-5 minutes and stir in the honey, letting the onions caramelize. Remove from heat.
While the onions cook, stir the ricotta and feta cheese in a small bowl. Spread the ricotta mixture over the naan/flatbread, and top with the honey caramelized onions. Sprinkle the blueberries on top.
Place the naan pizzas into the oven and bake for about 10 minutes, or until the blueberries are just about ready to burst, the cheese has softened, and the naan is toasted. Remove from oven, sprinkle with arugula and enjoy immediately.
Notes
I love using Stonefire Naan, Original.