Beyond Cabs and Zins
Last Friday, I had the pleasure of returning to Ridge Vineyards for the 2nd Edition of their Wine Bloggers Tasting at the Monte Bello tasting room. If you recall the monumental tasting from last March, you may be wondering how this tasting could possibly surpass…
Beyond Cabs and Zins
Last Friday, I had the pleasure of returning to Ridge Vineyards for the 2nd Edition of their Wine Bloggers Tasting at the Monte Bello tasting room. If you recall the monumental tasting from last March, you may be wondering how this tasting could possibly surpass that flight of wines.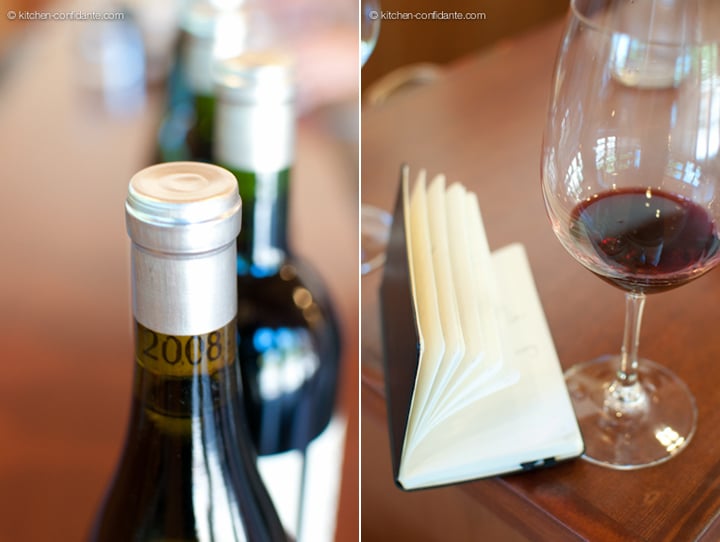 Ridge is, generally speaking, most often lauded for their award winning Zinfandels, Cabernet Sauvignons, and Chardonnays. But there is another group of wines that flies, as Monte Bello Tasting Room Manager, Christopher Watkins, says, "under the radar." He was eager to present us with a tasting featuring Rhone varietals, a selection of limited production wines that are offered exclusively as winery-direct or members-only.
These wines are available in the winery, online, and to those with a Ridge Membership, and are exclusively part of the Advance Tasting Program, which focuses primarily on limited, single-vineyard wines. Considering Ridge's total production, small by industry standards, these limited wines are even more special at about 1,000 cases yearly.
The tasting was assembled as mini verticals, highlighting Carignanes, Syrah/Grenaches, Syrahs, and Petite Sirahs. There was also a wonderful Chardonnay.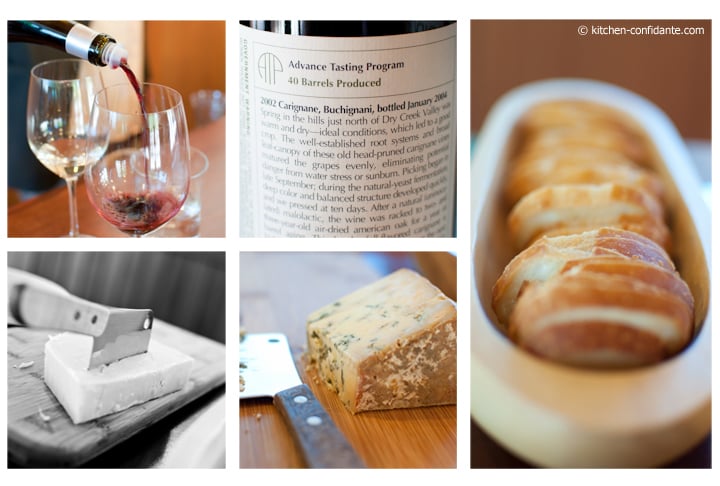 Before I begin to tell you about each one in detail, like I have mentioned in the past, I consider myself by no means a wine expert, but a wine enthusiast. When I taste a wine, I immediately begin to think of food and atmosphere. This is how I will continue to convey this wonderful experience to you! I also have to tell you, there were some fantastic cheeses at the tasting: a double creamy gouda, a Blue Stilton, and a farmhouse cheddar.  And of course, since it is the Bay Area, excellent sourdough.
Wine, cheese, bread. A beautiful balmy day in the Santa Cruz mountains. That's a lot of happiness in one mountain top tasting room.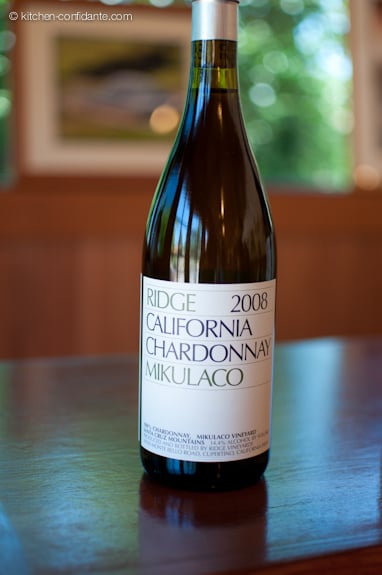 2008 Ridge California Mikulaco Chardonnay
The tasting opened with a little gem from the Mikulaco Vineyard. The 2008 Ridge California Mikulaco Chardonnay was bottled just a few months ago, in January 2010, but was surprisingly delicious for such a young wine. Full of crisp, pear flavors, this fruity Chardonnay was reminiccent of the Chardonnay from the Jimsomare designation that I tasted last March. I suppose this should not come as a great surprise, since it is also a product of a cool-climate vineyard; the flavor profile were hauntingly similar.
The Mikulaco Chardonnay is definitely a wine you could enjoy now, and I would love to have a glass with grilled shimp skewers, herbed garlic bread, and a refreshing salad of microgreens. Of course, it's not just a simple backyard wine – it would pair beautifully with a steamy bowl of Cioppino full of luscious mussels and clams. I could also see this along with a light dessert, such as a cool raspberry sorbet or granita.
Currently available at $25, the Mikulaco Chardonnay is an excellent wine for the price, and exemplifies the exacting standards that Ridge is known for with their higher profile wines.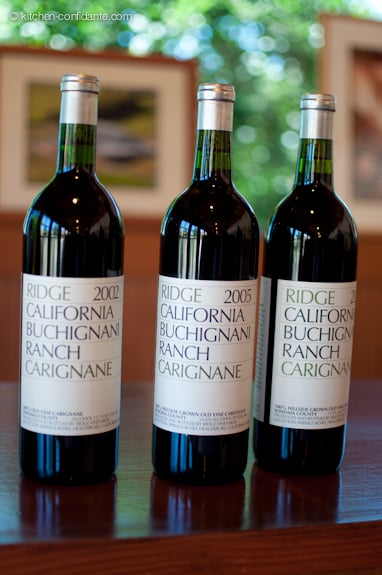 Ridge California Buchignani Ranch Carignane: 2002, 2005, 2008
As we moved on to the reds, we tasted a mini-vertical of Carignanes from Buchignani Ranch in Sonoma County. Eager to dispel the notion of the varietal as one that is not "ageable," the winemakers at Ridge believed that if they applied the same exacting methods, the varietal will respond. This mini-vertical certainly showed evidence that perhaps there is more to the Carignane than critics like to believe.
Starting with a 2002 Carignane, a vintage that is no longer available, I was greeted by an overwhelming bouquet of blue cheese. The pungent aromas had me salivating and craving for a huge hunk of stinky cheese. This bottle screamed to be paired with a decadent cheese souffle. As I continued to taste, the wine's character calmed down, and I envisioned everything buffalo: buffalo cheese, steaks, carpaccio.
The 2005 Carignane had a lovely personality with a more subdued cheese taste…a mild gruyere. It had complex aromas that made me imagine a rustic farmhouse, with an old Italian grandmother serving her homemade wine. It was a fascinating peek into how this varietal certainly was capable of aging.
The current release is the 2008 Carignane. Upon first sip, I thought (happily), "ooh, there's that cheese again!" – surprising myself at how I actually enjoyed that element to its aroma. The color was gorgeous, the wine itself was so seductive and earthy. I imagine that the young and zippy flavors will mellow to something truly lovely over time.  For $26, this wine would be a wonderful conversation piece at your next dinner party.
Ridge California Lytton Spring Syrah/Grenache: 2006, 2005
We began this mini-vertical with the yet to be released 2006 Lytton Spring Syrah/Grenache. The fruit for this wine is a 50:50 blend of Syrah and Grenache. As I brought the glass to my lips, I was greeted by eye-opening flavors of luscious blackberry and sweet licorice. And when I say eye-opening, I can best describe the experience as similar to biting into a York's Peppermint Patty. It's bold and tannic mouthfeel reminded me of some of the Lytton Springs Zinfandels, and I almost expected to encounter big globs of wine soaked grapes that may not have been completely pressed. I immediately craved grilled lamb, Mediterranean influenced fish, perhaps even a Greek gyro, dripping with meat jus and Tzatziki sauce.
In comparison, the 2005 Syrah/Grenache, which is no longer available, tasted quite different. There was no blast of fruit; instead, the fruity aspects of the wine were more reminiscent of plums. Much more sophisticated, I thought I tasted more Grenache than Syrah, and felt it was a more formal wine. The wine seemed to beg for a juicy, brined pork chop, and it tasted great when paired with a Blue Stilton.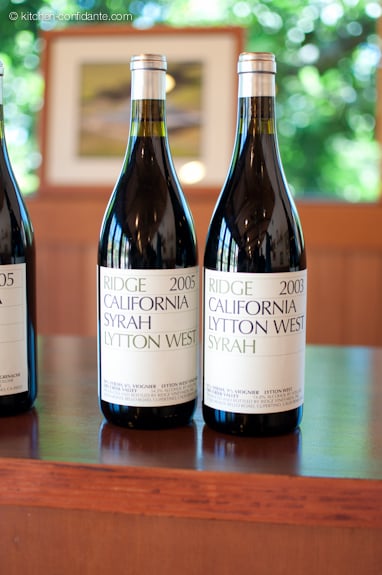 Ridge California Lytton West Syrah: 2003, 2005
When I taste a wine, I usually am able to formulate some impressions fairly quickly and am inspired by thoughts of particular foods. But to be frank, for the first time, I was completely puzzled.
The 2003 Lytton West Syrah had a very wild feel to me – as though the wine was walking a tightrope between minerality and floral flavors. I kept thinking, This wine needs to be tamed, it's like an unruly child! I will admit, this was not my favorite of the Ridge brood. But like most people, I believe that all children are inherently good, so I tried to be patient as I formulated my thoughts. In the end, I decided that this wine could work with a healthy, earthy salad, something with grains and beets.
I was relieved upon tasting the 2005 Lytton West Syrah. The younger sister to the earlier vintage was much, much better. I much preferred its more mellow personality. This Syrah would pair well with some smoked whitefish, Norwegian Smørrebrød (an open face sandwich) with herring, or a variety of charcuterie. I loved how the Syrah also tasted with the Farmhouse Cheddar!
Ridge California Dynamite Hill Petite Sirah: 2006, 2003
Last but not least, the final mini-vertical of the afternoon was upon us. Don't hate me for my corny humor (blame my dad), but these Petite Sirahs from the Dynamite Hill vineyard in Napa were, well…dynamite.
The 2006 Dynamite Hill Petite Sirah is yet to be released, but when it is, please do try to get your hands on it. What a lovely gem! It is dainty, with a gorgeous bouquet, and despite the fact that it will surely mature in the next few years to something phenomenal, I found it quite drinkable already. The 2006 Petite Sirah would go well with scallops, or a hearty bowl of linguine with clam sauce. I also could not stop thinking of a delicately layered lasagna with light coatings of bechamel.
The show-stopper, though, was the no longer available 2003 Petite Sirah. The maturity in this vintage was absolutely evident – it had definitely had time to grow up. I would have loved to enjoy that glass with a thick cut of baked cod with a hearty breadcrumb crust, a bowl of hearty New England clam chowder, or a roast duck. It's such a pity that this vintage is no longer available!
Tasting Favorites
What a fantastic tasting! There were definitely some surprises, and the overall excellent quality that Ridge is known for was definitely evident in this flight of Rhone varietals. My personal favorites were the 2006 Dynamite Hill Petite Sirah and the 2006 Lytton Spring Syrah/Grenache. Neither have been released yet, but when they are, I hope you get to try them and have a glass for me.