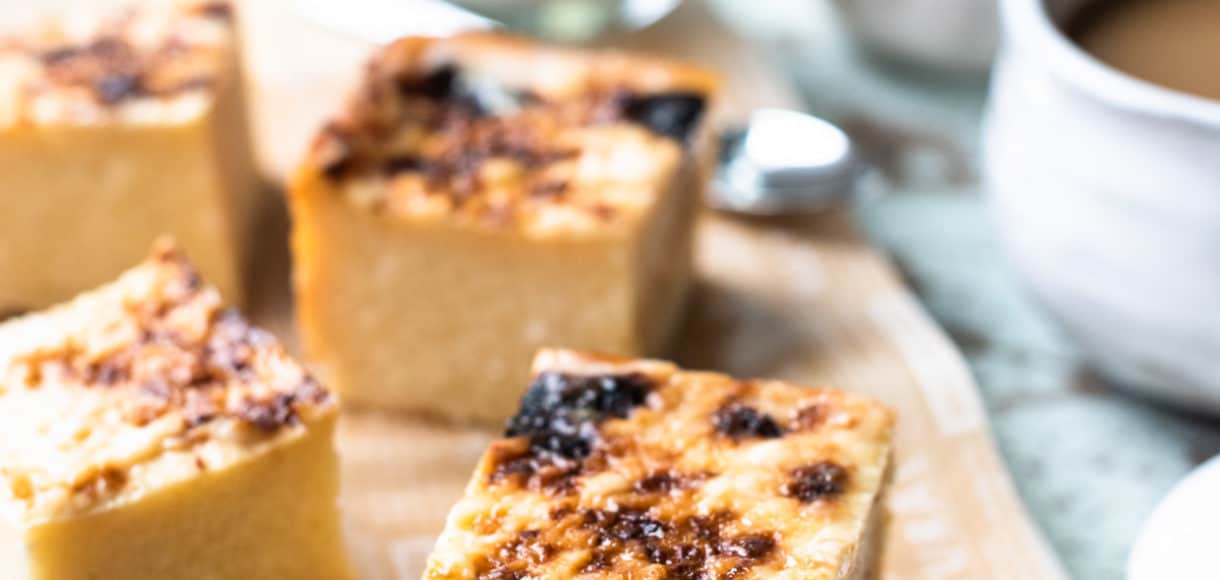 Cassava Cake
Cassava Cake is a classic dessert in the Philippines, made with grated cassava and coconut milk. This easy cassava cake recipe is topped with a condensed milk brûlée and is perfect for coconut lovers, plus it's gluten-free.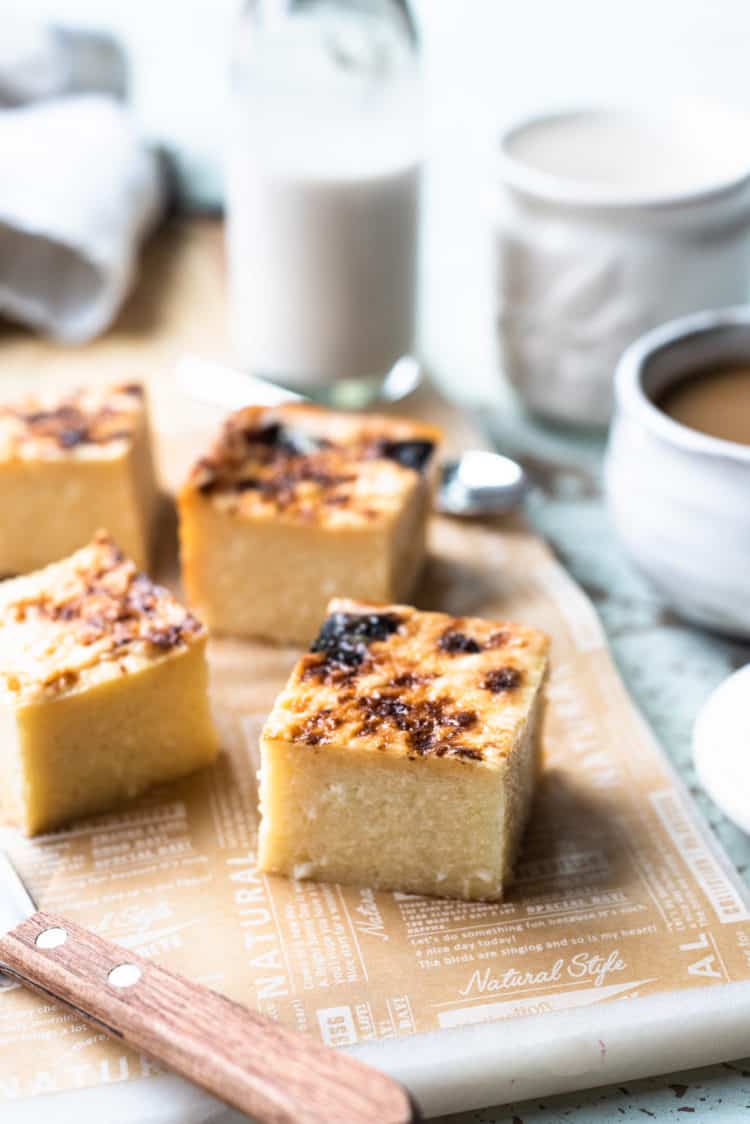 Cassava Cake
The last time I made cassava cake was four years ago, after I had spent a few days rolling hundreds of lumpia for a family gathering. While the lumpia is perhaps most kids' favorite (grown-ups, too), my children fell in love with that creamy, custardy cassava cake, and it clearly left its mark on their tastebuds.
More like a pudding cake, cassava cake is rich and decadent, and a coconut-lover's dream! Made with grated cassava, coconut milk, and condensed milk, it's also conveniently gluten-free, since cassava is the sole starch. Each bite is coconut and cassava heaven, and while my kids think it is a precious, special dessert, the truth is, it's really one of the easiest desserts you can make.
In the last couple of weeks, my daughter has been asking me to make cassava cake again, and being the coconut-loving mom that I am, I was grateful to her for the reminder. But I admit that it took me a while to finally make the cake; I thought I would have to time it with my next visit to the Asian market where I usually buy frozen grated cassava, which often seems out of the way when you're busy with daily life.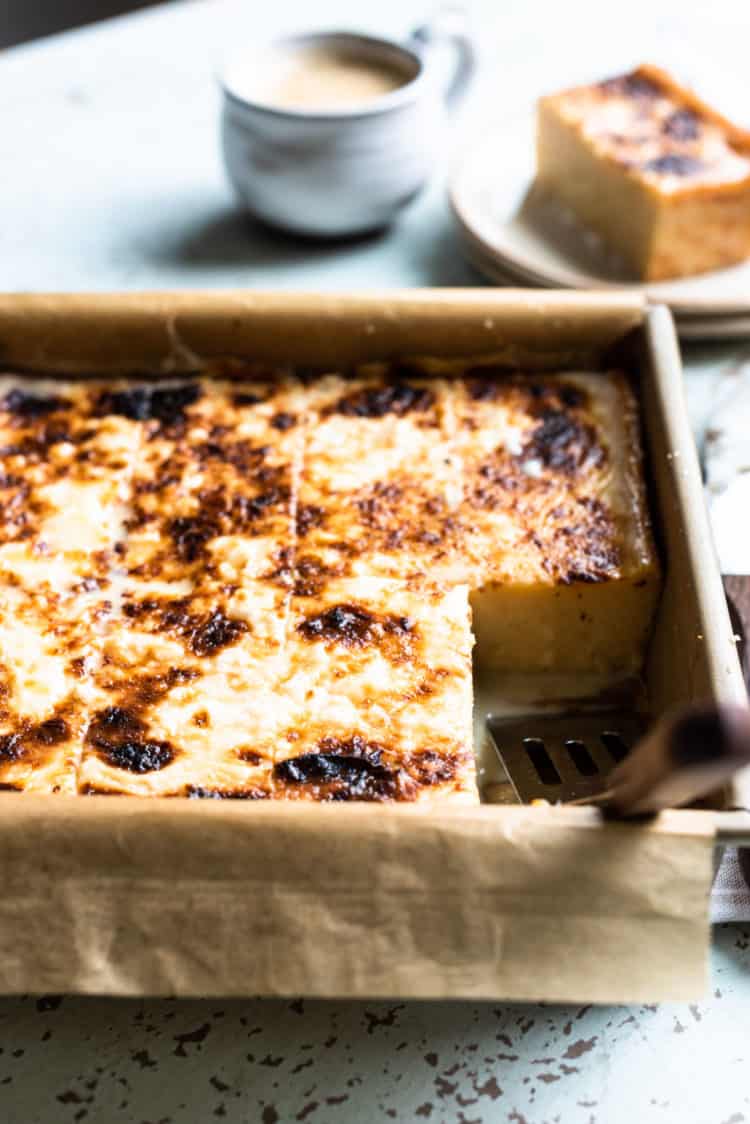 But as I was pushing my cart through my local supermarket the other day, a pile of brown tubers caught my eye. Could it be? I eagerly rushed over to get a closer look: "yuca" the label read, and my heart skipped a beat.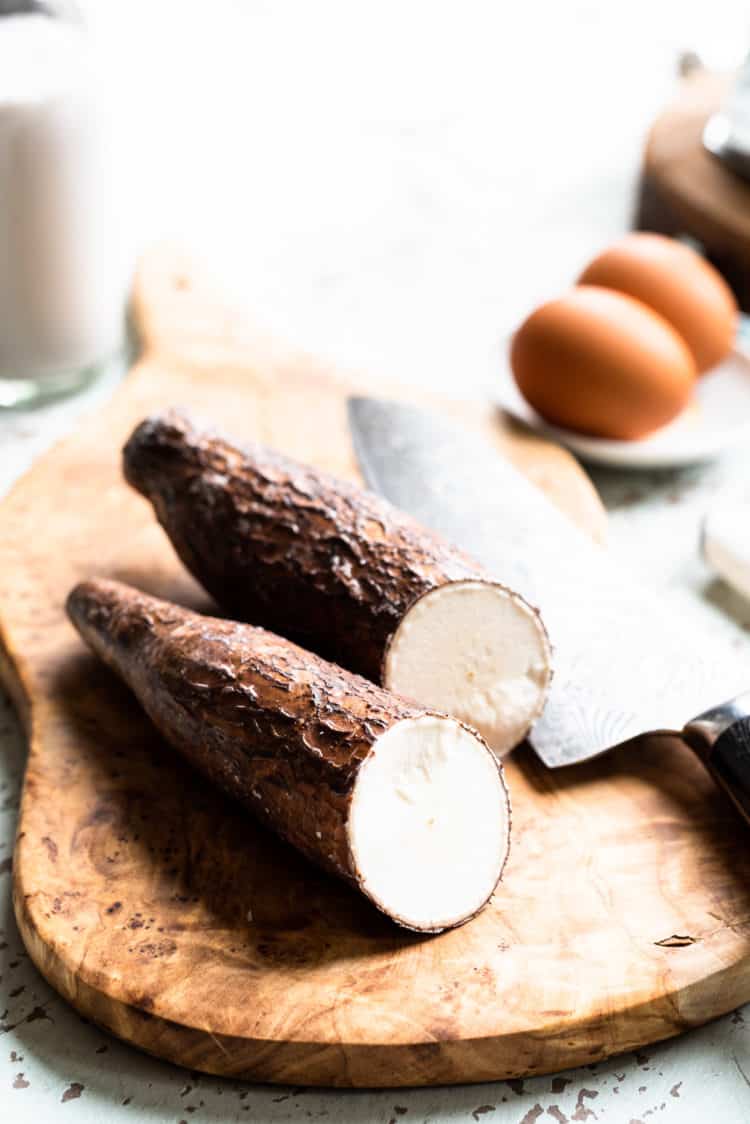 What is Cassava?
Cassava is a woody shrub and its roots, the cassava tubers, are a popular source of food in tropical countries. Also known as manioc or yuca (not to be confused with yucca, which is different), it's a very popular source of carbohydrates and starch. When cassava is ground to a powder form, it's known as tapioca.
Fresh vs Frozen Cassava
I am finding that fresh cassava (yuca) is becoming more popular at local supermarkets. It can easily be found in Asian and specialty markets, as well as larger chains like Whole Foods and Safeway here in California. However, frozen grated cassava is convenient (no grating necessary!), and you can find this in Asian markets such as 99 Ranch. Whether you opt for fresh or frozen, do be sure to remove any excess moisture from the grated cassava by draining in a sieve and pressing well.
What is Cassava Cake?
Cassava cake, when I describe it to friends, is more like a custard pudding cake, similar in texture to a crustless pumpkin pie. Since cassava is the main starch with no flour in the batter, it's a great option for gluten-free friends. Coconut milk is the main liquid, and I like to include grated coconut as well, so the flavor profile is very coconut-forward — think of it as a coconut custard cake!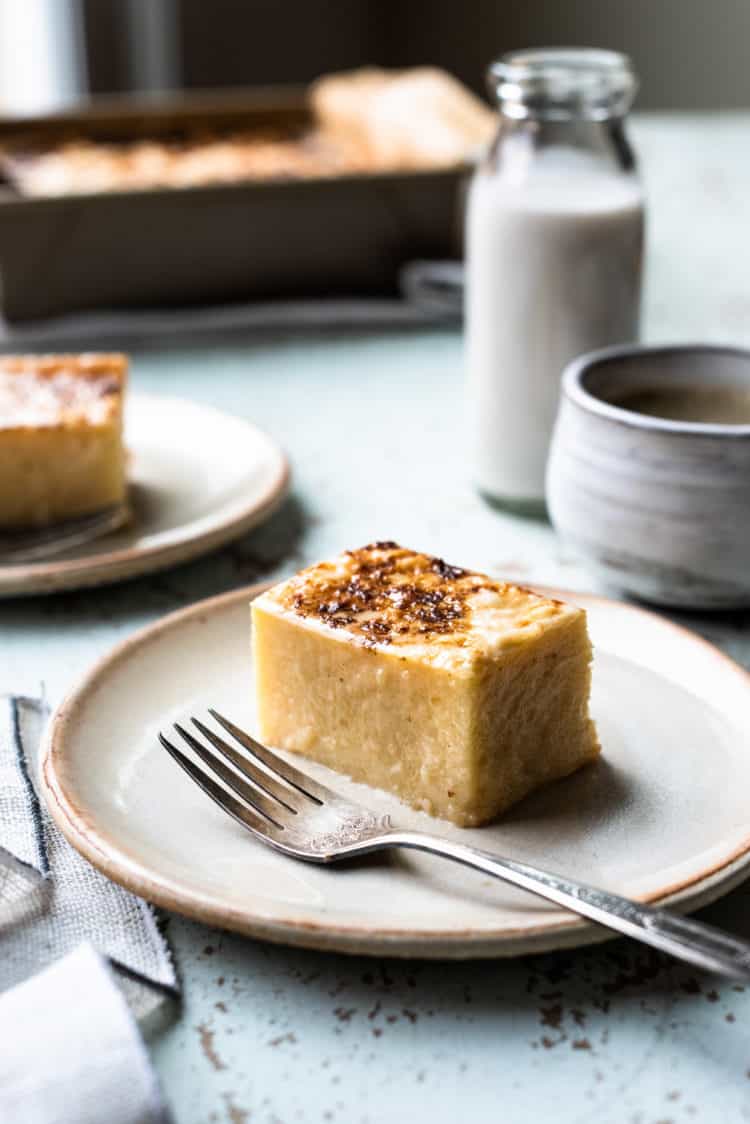 Many versions of cassava cake include a topping — usually condensed milk, condensed milk with macapuno (young coconut sport), or sharp cheddar cheese. If the latter seems strange, trust me when I tell you that the sharp, savory cheese topping mixes well with the sweet cake. For this cake, opted for a condensed milk glaze which I brûlée much like a creme brûlée.
Cassava cake needs time to set after baking, so much like a pumpkin pie, don't try to slice into it when you pull it out of the oven, or you will end up with a sloppy cake. Give it time to cool and gel together, and chill it overnight in the refrigerator. When ready to serve, remove from the fridge, slice, and serve at room temperature. That said, I personally love cassava cake when it's warm, so I like to warm it in the microwave before eating!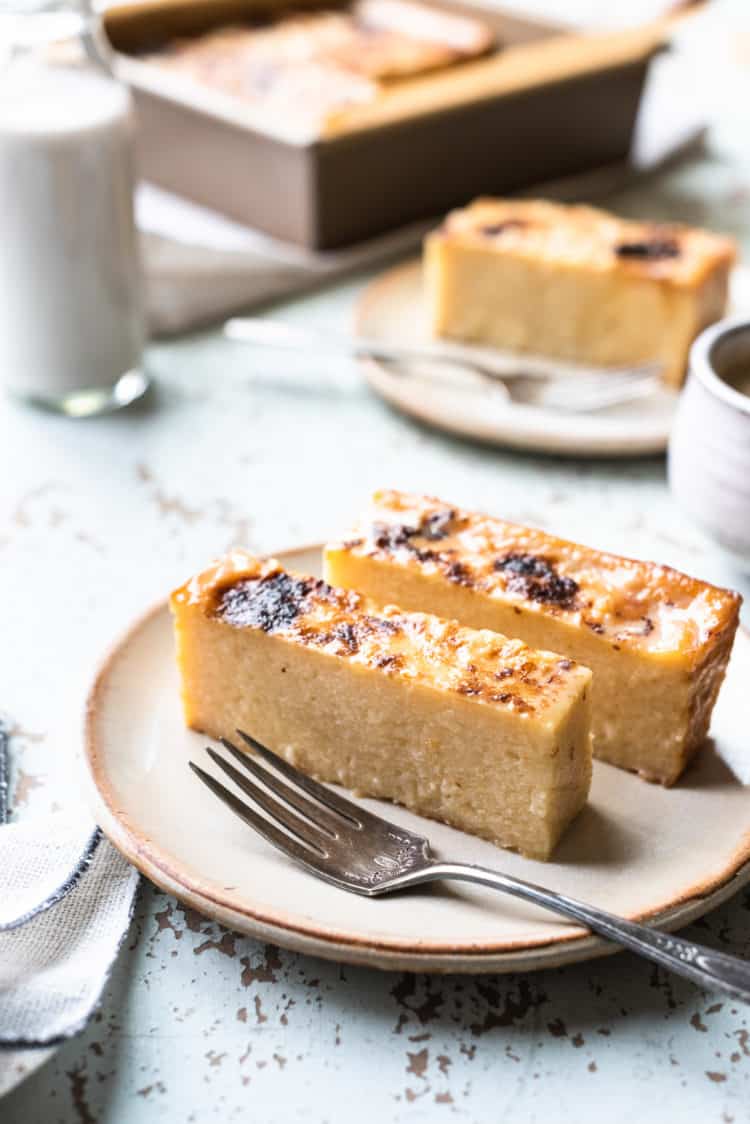 More Filipino Desserts to Try
Ginataang Mais: Filipino Coconut Rice Pudding with Corn
Bibingka: Filipino Coconut-Rice Cake
Coconut Leche Flan
Ginataang Bilo-Bilo: Filipino Coconut Tapioca Pudding
Cassava Cake
Cassava Cake is a classic dessert in the Philippines, popular for merienda (snack), and made with grated cassava. Try this easy, Filipino cassava cake recipe!
Ingredients
4

cups

yuca/cassava

peeled and grated (about 2 lb grated frozen)

1

cup

grated young coconut

2

large

eggs

beaten

12

ounces

evaporated milk

14

ounces

sweetened condensed milk

divided

13.5

ounces

coconut milk

1/4

cup

granulated sugar

1/4

cup

sharp cheese

finely grated (optional; cheddar is popular but parmesan also works well)
Instructions
Preheat the oven to 350°F with one rack placed in the center of the oven, and another in the upper third of the oven. Prepare an 8x8x2 inch baking dish by lightly brushing with butter or cooking spray and lining with parchment paper.

Reserve 2 tablespoons of condensed milk and set aside.

Drain the cassava in a sieve, pressing to drain any excess liquid.

In a large bowl, mix the cassava, coconut, eggs, evaporated milk, remaining condensed milk, coconut milk, and granulated until well combined. It will be a very soupy batter, similar to when making a pumpkin pie.

Pour the mixture into prepared pan and place in the center rack of the oven. Bake for 1 hour, or until the cake is set, with just a little jiggle in the center of the cake.

Remove from oven and pour reserved condensed milk on top, spreading to the edges to glaze. If using cheese, sprinkle evenly on top. Return to the oven on the upper third rack and broil for 2 minutes (or torch) until the top is golden, much like a crème brûlée.

Cool the cassava cake at room temperature for about 1 hour, then refrigerate until chilled, or overnight.

Slice into 16 even pieces and enjoy!
Nutrition
Calories:
272
kcal
|
Carbohydrates:
36
g
|
Protein:
6
g
|
Fat:
11
g
|
Saturated Fat:
8
g
|
Cholesterol:
42
mg
|
Sodium:
86
mg
|
Potassium:
376
mg
|
Fiber:
1
g
|
Sugar:
16
g
|
Vitamin A:
180
IU
|
Vitamin C:
12
mg
|
Calcium:
156
mg
|
Iron:
1.3
mg