Chocolate Buttermilk Belgian Waffles
Rise and shine with these Chocolate Buttermilk Belgian Waffles! "Whyyyyy does it feel like a weekday?" he moaned as he shuffled into the kitchen. "That's because it is. It's Monday." I realized I was being perfunctory and factual. Poor little guy. Turns out you can…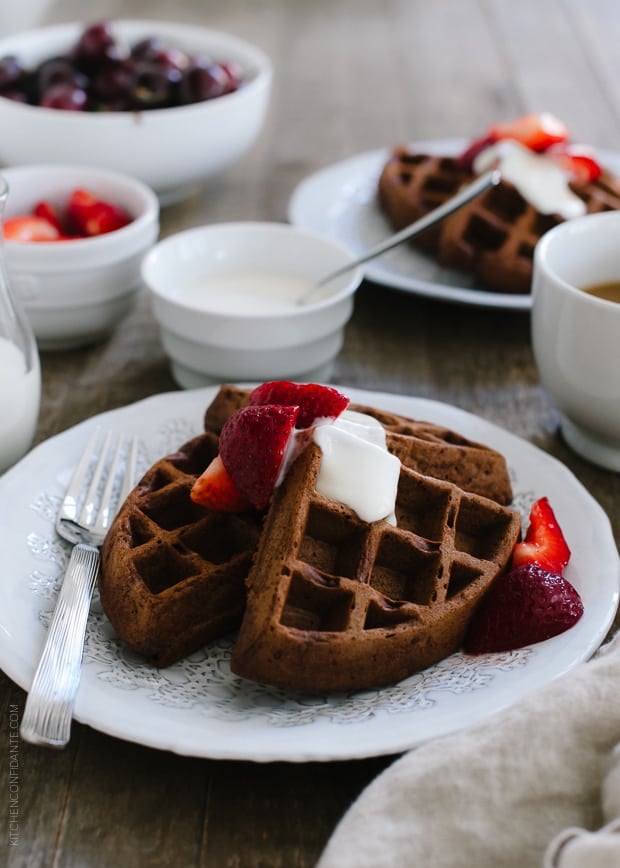 Chocolate Buttermilk Belgian Waffles
Rise and shine with these Chocolate Buttermilk Belgian Waffles!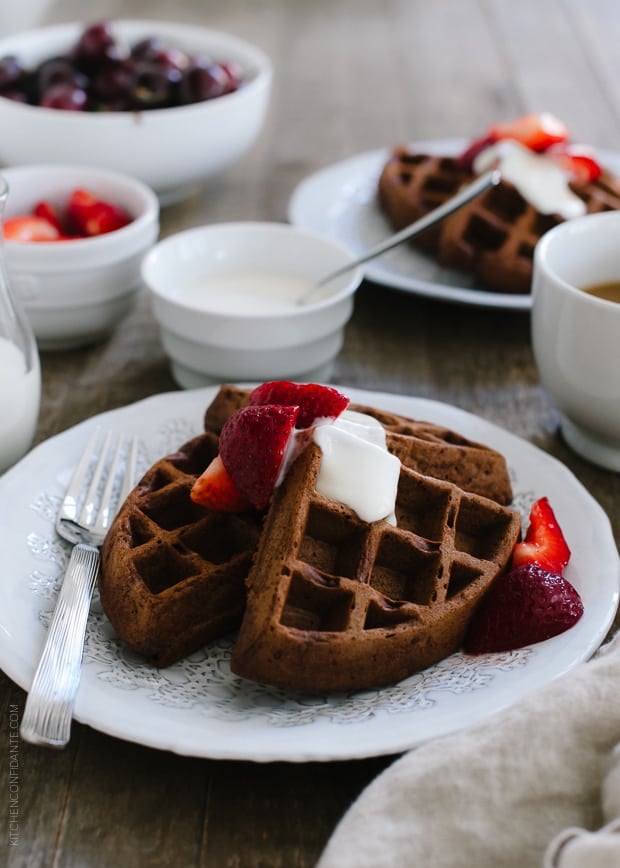 "Whyyyyy does it feel like a weekday?" he moaned as he shuffled into the kitchen. "That's because it is. It's Monday." I realized I was being perfunctory and factual. Poor little guy. Turns out you can have the case of the Mondays even when you're on summer vacation.
"Want a waffle for breakfast?" I offered, playing peacemaker.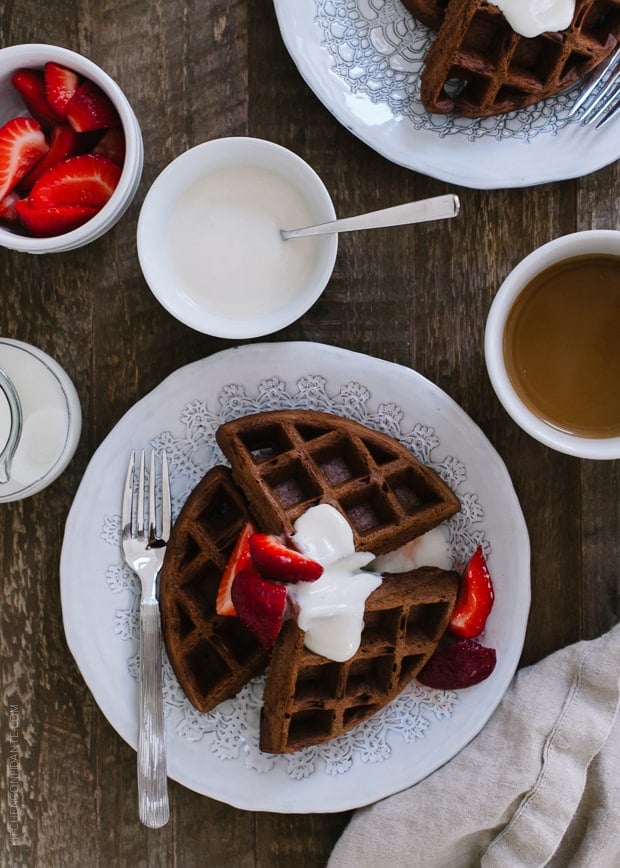 I had frozen half the batch of Chocolate Buttermilk Belgian Waffles I made over the weekend – he had been asking for waffles all last week and I kept deferring to the weekend. After all, who has time to make waffles during the week? Weekends are for waffles, that is, if you don't have the foresight to make extra to freeze just for mornings like this, when you need a little extra love to get you through the weekday blues.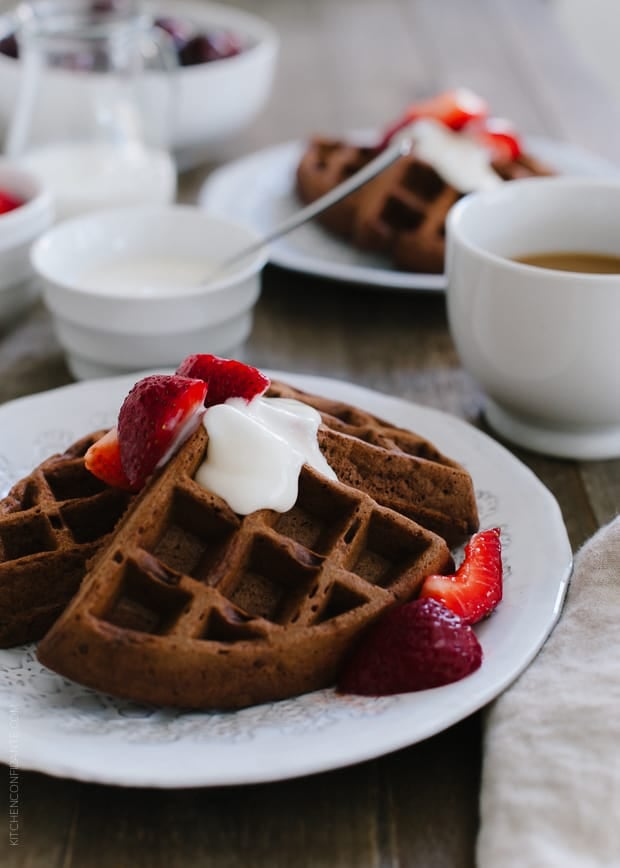 He readily agreed. After all, he was thrilled when I surprised him on Sunday morning not just with regular waffles, but deep dark chocolatey ones. The kitchen smelled like baked brownies and I couldn't resist stealing a triangle for myself to eat with a dollop of cream and berries. I loved seeing his eyes grow wide when he realized the waffles were chocolate, and I was secretly patting myself on the back for having frozen the leftovers. I warmed them up, they eased us into Monday, and brought a little sweetness of the weekend to our day.
Chocolate Buttermilk Belgian Waffles
Rise and shine with these Chocolate Buttermilk Belgian Waffles!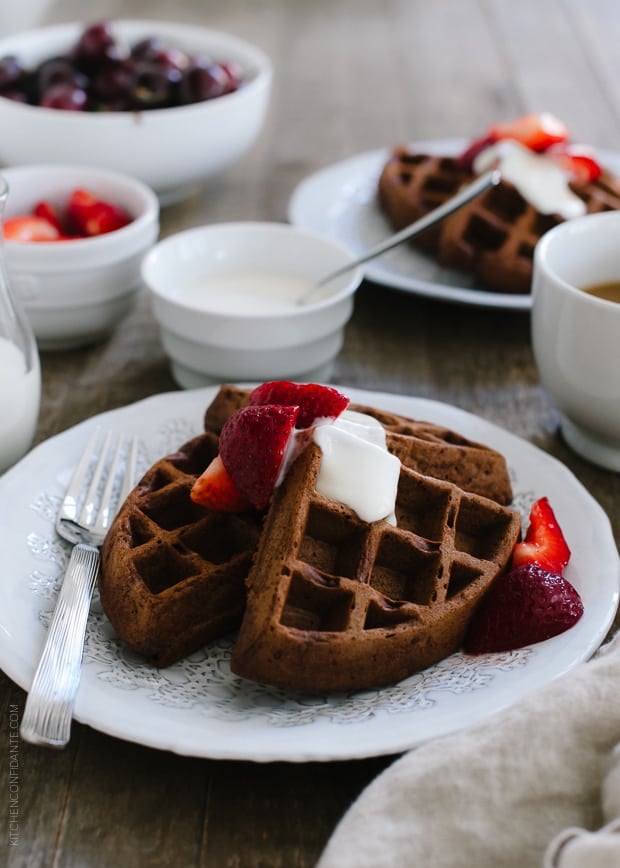 Print Recipe
Ingredients
1 1/3 cups all-purpose flour
1/3 cup cocoa powder
1/3 cup granulated sugar, to taste
2 teaspoons baking powder
1 teaspoon baking soda
1/2 teaspoon kosher salt
2 cups buttermilk
6 tablespoons unsalted butter, melted
2 large eggs
fruit topping, for serving
whipped cream, for serving
Instructions
Preheat the waffle iron. If you will not be serving the waffles immediately, preheat the oven to 175 degrees F and place an oven proof metal cooling rack in the center of the oven.
In a large bowl, whisk together the flour, cocoa powder, sugar, baking powder, baking soda, and salt. In a smaller bowl, whisk the buttermilk, melted butter, and eggs. Add the buttermilk mixture to the flour mixture, stirring until just combined; do not overmix, a few lumps are ok.
When the waffle iron is ready, pour the batter in the wafflemaker (about 1/2 cup per waffle, depending on the size of your waffle mold), and bake for 3 minutes. Transfer the waffles to the metal cooling rack (be sure not to stack waffles as this will make it soggy) in the oven until serving, or serve immediately. Enjoy with a fruit compote and whipped cream.
Adapted from Belgian Buttermilk Waffles with Glazed Bananas, Gourmet (June, 2005), via Epicurious.