Everybody's Doing It | Cilantro Pea Purée {with Seared Scallops}
Everywhere I turn, I see these: Fresh and sweet, I find these English Peas irresistible. Maybe it's because I only had them frozen growing up. Or maybe it's because they're just so darned cute. Either way, I feel as though I am finally paying peas…
Everybody's Doing It | Cilantro Pea Purée {with Seared Scallops}
Everywhere I turn, I see these: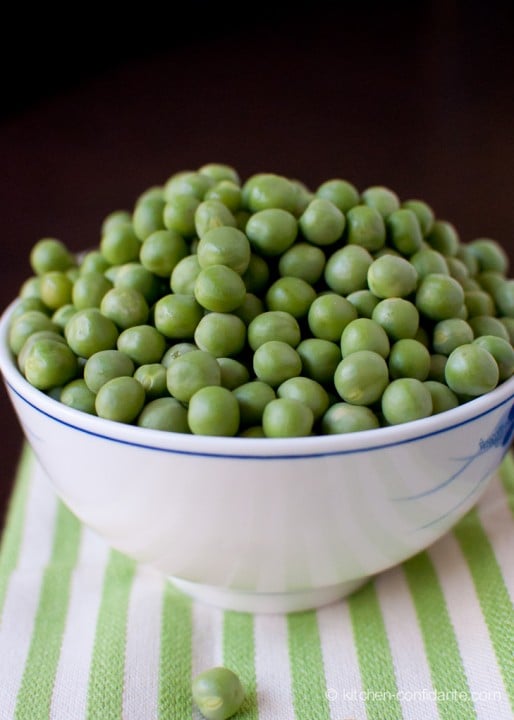 Fresh and sweet, I find these English Peas irresistible.
Maybe it's because I only had them frozen growing up.
Or maybe it's because they're just so darned cute.
Either way, I feel as though I am finally paying peas the attention they deserve. When you find English peas fresh in the markets, it is a rarity that brings a smile to my lips – seeing them confirms the arrival of spring. When I attended Pebble Beach Food & Wine last week, the element du jour was the Pea Purée. Since everybody's doing it, well, I had to, too.
This Cilantro Pea Purée with Seared Scallops is my homage to the many dishes that I encountered at the Pebble Beach Food & Wine Lexus Grand Tasting. You may think it should be named Seared Scallops with Cilantro Pea Purée, but the English peas are the shining star here. Paired with seared scallops, it may ooze elegance, but really, it's just all about ease and convenience. If you don't like scallops, try grilled shrimp or your favorite fish – this purée is a bed any seafood would love to rest on.
[framed_box width="625″ bgColor="#bfc3bc" textColor="#332D32″ rounded="true"]
Cilantro Pea Purée with Seared Scallops
Serves 4.
1 clove garlic
10 oz English peas (substitute frozen peas if you do not have fresh)
1/3 cup cilantro
2-3 tablespoons crème fraîche
1/3 cup grated Parmesan cheese, plus more for garnish
salt & pepper, to taste
1/3 cup plus 1-2 tablespoons extra virgin olive oil
8 large scallops
If using fresh English peas, steam in a steamer for about 10 minutes. If using frozen, defrost peas.
In the bowl of a food processor, start by mincing the garlic. Then add the peas, cilantro, crème fraîche, Parmesan cheese, salt and pepper. Process until smooth. With the processor running, add 1/3 cup of olive oil. Adjust the seasoning as necessary.
Season scallops lightly with salt and ground pepper. Heat a skillet over medium-high heat. Add 1 to 2 tablespoons olive oil. Sear scallops 2-3 minutes per side, about 5 minutes total.
Serve the scallops on a bed of pea purée and garnish with grated Parmesan cheese. [/framed_box]