Cookin' The Mint : Part II : A Vault of Culinary Treasures
Part 2 of 3, this post takes a closer look at the Cocktail Reception of Standing Ovations: Cookin' The Mint. If you missed Part 1, see photos and an overview of the event here. Okay, I lied. In my last post, I left off promising…
Cookin' The Mint : Part II : A Vault of Culinary Treasures
Part 2 of 3, this post takes a closer look at the Cocktail Reception of Standing Ovations: Cookin' The Mint. If you missed Part 1, see photos and an overview of the event here.
Okay, I lied.
In my last post, I left off promising to tell you more about the Chocolate Bazaar at Mezzanine that closed the evening's events at Standing Ovations Cookin' The Mint. And I will. I truly will.
But right now, I need to tell you more about the Cocktail Reception in the Mint Vaults. It's equally as delicious, in a savory, intoxicating sort of way.
After a very warm welcome from the event organizers, we wandered through the halls that previewed the From Earth to 5-Star Exhibit. If you are in town this May, I encourage you to experience this exhibit for yourself. Every weekend, there will be daily live presentations from Bay Area locals who dedicate themselves to food, such as Peggy Smith from Cowgirl Creamery and Steve Sullivan from Acme Bread. And it also offers a rare chance to take a guided tour of the Old Mint building itself.
As we made our way to the Mint Vaults below, the timeworn brick walls enveloped us in a hive of deliciousness. Each vault was as unique as the venue that offered their toothsome appetizers within. Along with a local food venue, each vault also exhibited a winery, and while the two were not paired, per se, they often worked together, some venues even tweaking their recipes to enhance their vaultmate's wine.
Let me tell you about some of my favorites.
Delicate roulades of Australian Yellowtail sashimi wrapped around soy infused microgreens were the star of the CleanFish table. CleanFish's Culinary Director, Polly Legendre, was a joy to chat with, and it was very exciting to learn more about their commitment to sustainable seafood based on trustworthy sources and respectful fishing. There is true accountability with the fish they are able to provide, and they are at the forefront of responsible fishing through the CleanFish Alliance.
54 Mint had my husband's favorite for the night – a bowl of meatballs large enough for a family of 30. He probably could have happily eaten the entire bowl that night and have been completely satisfied. They really were wonderful – light and flavorful, and swimming in a tomato sauce that was Italy in sauce form.
V. Sattui Winery was in the same vault as the famed meatballs, with a wonderful selection of wines. I had never tried their Riesling before and was most surprised. Their 2008 Early Harvest Riesling was absolutely fantastic. Bright and fruity, it reminded me of a dessert wine without the perfume. Their Riesling would be a perfect drink for welcoming guests at your next outdoor summer party.
Chez Papa Resto offered trays of ruby red Hand Cut Kobe Beef Tartare Canapes that were bites of sinfulness. The quivering masses of perfectly seasoned Kobe beef atop their beds of crisp toasts were absolutely perfect and one of my favorites of the night.
In the same vault, Peju Winery was poised to offer their 2006 Napa Valley Cabernet Sauvignon and 2006 Napa Valley Estate Syrah. I opted for the Syrah, and its berry aromas with hints of spice was just lovely with Chez Papa's canapes.
We had the pleasure of meeting the founders of Deerfield Ranch Winery, and the equally wonderful pleasure of tasting their 2007 Chardonnay. It is unlike many of the bold California Chardonnays to which we are accustomed. Deerfield Ranch's Chardonnay is much more subdued but still full of character. Most remarkable is their passion for producing clean, organic wines with low levels of histamines and sulfites, which are often responsible for wine headaches. This truly makes them quite unique as a wine producer.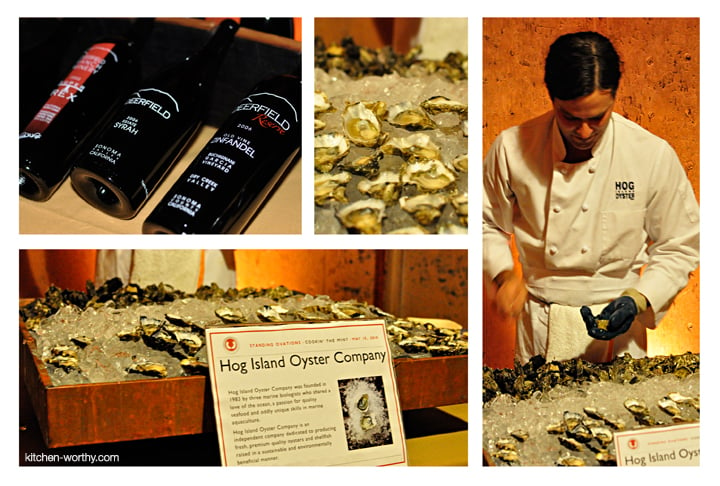 Deerfield's delightful Chardonnay paired perfectly with Hog Island Oyster Company, with whom they shared a vault.
The oysters were the pinnacle of freshness. Freshly harvested that morning, they were perfect specimens for shucking and eating raw on the half shell. I secretly wanted to plant myself in front of the bed of ice and just reach for each newly (and expertly) shucked oyster. Nothing compares to a fresh Hog Island Oyster, glistening and quivery, soft and tasting of the sea. Hog Island prides themselves on their use of the "rack and bag" method, a more tedious process common in France that results in oysters that are ideally shaped for slurping off the half shell.
The oysters were even more fantastic with a teaspoonful of their signature Hog Wash, their brilliant take on a Mignonette, with jalapeno, cilantro and lime. If you indulge in oysters in the near future, you must make their Hog Wash. You can find the recipe here.  I should mention that you can order Hog Island oysters, too, but if you are in the Bay Area, why not visit them, fresh at the source? They really are, hands down, the best oysters you will ever eat. Ever. Ever. I mean, ever.
On that tasty note, I absolutely promise to tell you about the one thing that can challenge me to think about something other than those oysters. Chocolate. The next post will take you to the Chocolate Bazaar at Mezzanine that rounded out the Cookin' The Mint experience.