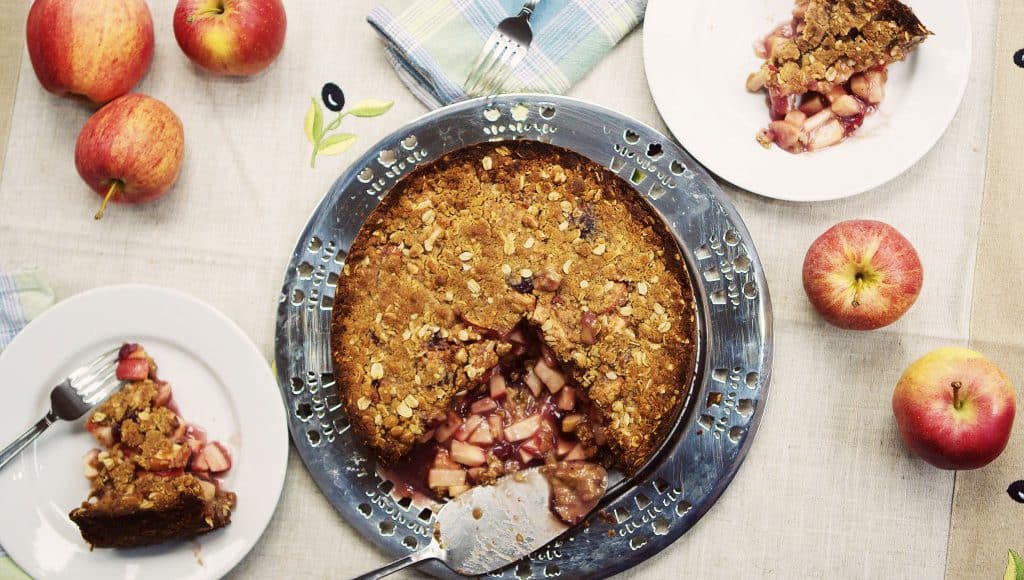 Cranberry Apple Torte | A Guest Post from A Thought for Food
Friendsgiving As we gather with friends and family around the holiday table this year, I wanted to celebrate the dear friends I have made through the wonderful world of food blogging. Over time, virtual friends have developed into real life friends, and I have come…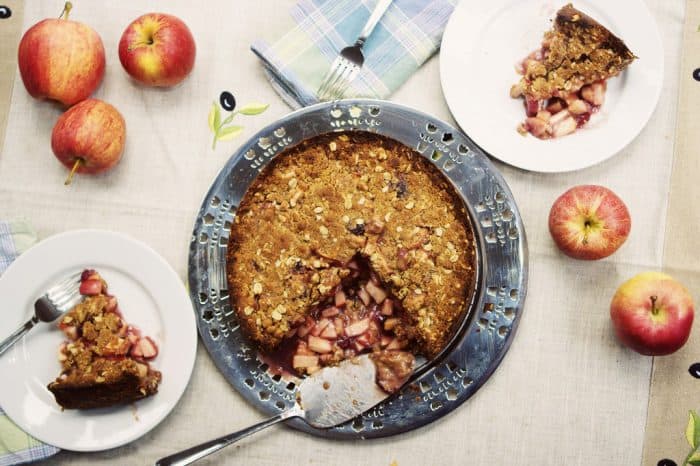 Cranberry Apple Torte | A Guest Post from A Thought for Food
Friendsgiving
As we gather with friends and family around the holiday table this year, I wanted to celebrate the dear friends I have made through the wonderful world of food blogging. Over time, virtual friends have developed into real life friends, and I have come to truly value their support and their love of food. I have invited some to gather at my virtual Friendsgiving table, where they share some of their fondest Thanksgiving memories.
Please welcome my second guest, Brian Samuels, the author and photographer behind A Thought for Food. I have come to know Brian since I began this blog nearly two years ago, and in that time, I can truly say that the warm and honest spirit that comes through his writing, photography, and indeed, food, is what you encounter when you meet Brian in person. He is thoughtful and caring, and I am so pleased that he is sharing some of his traditions with us today. I know I simply can't wait to make his family's traditional Cranberry Apple Torte for my own family to enjoy. Brian, welcome, and thank you.
One thing I love about the holidays are the traditions. Sometimes they're silly and sometimes we get a little too carried away with them. When it comes to food, my family has very specific traditions. The menu has pretty much been the same since I was a child, maybe with the exception of an item here or there.
There are the "KILLER" sweet potatoes that leave you rolling on the ground after you've finished your plate. And then there's this Cranberry Apple Torte, which one would assume would be consumed for dessert. But, no… this is a side dish that is served alongside slices of turkey and stuffing and gravy and… yes… the KILLER sweet potatoes.
"
At our Thanksgiving meal, traditions go beyond what's on the table. There is the point when we go around the room and say one thing we are thankful for. There are obvious responses to this: I'm thankful to have my friends and family in my life… and my health… and for my adorable little pup.
I'm also thankful to have a camera that gives me the freedom to express how I really see things. And I don't know what I'd do without my blog, so I'm thankful for that. And then there are all the wonderful people that I've met through my site, through Twitter, through food blogger events (Liren being one of them).
I'm thankful for all of these things and I'm sure if I sat here and thought about it more, I could write a whole book about the things that I cherish. But, for now, I'm just going to leave you with this recipe for the cranberry apple torte I mentioned before.
That reminds me… I'm thankful for food. Yeah, I can't forget that one.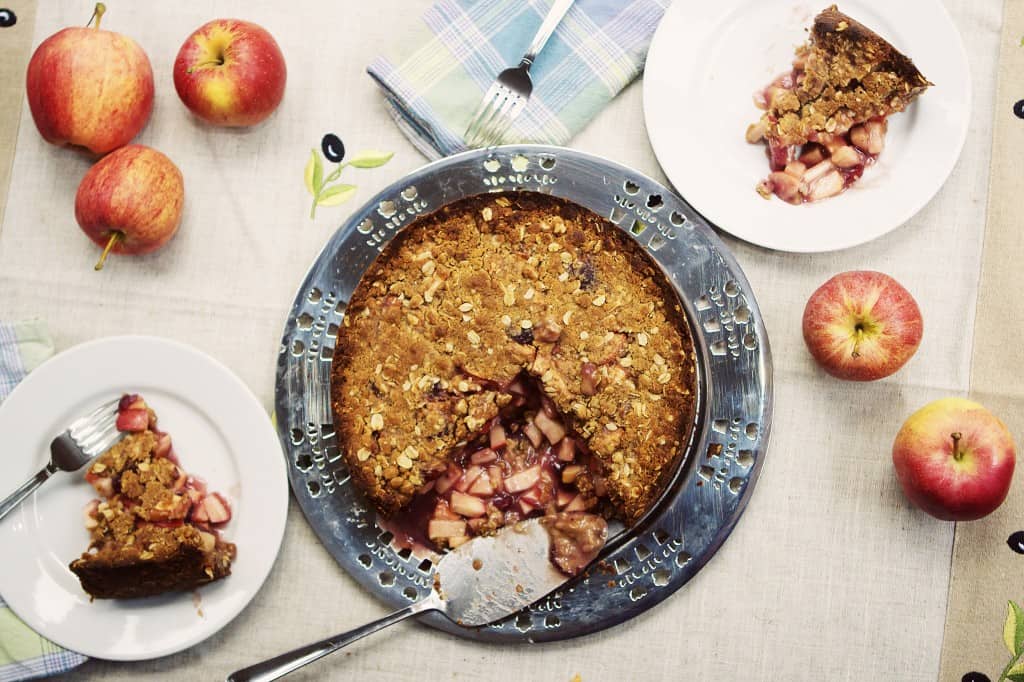 Print Recipe
Ingredients
Crust:
2 cups all purpose flour, sifted
2 cups dark brown sugar
1 1/2 cups oatmeal (quick-cooking or 1 minute type)
1 cup melted margarine (Brian's Note: The last time I made this, I did it with butter and it was quite delicious. However, if you want to keep it non-dairy, margarine can be used.)
2 teaspoons cinnamon
Filling:
4 Cortland Apples, peeled and cut into small chunks
1 (16 oz) can whole berry cranberry sauce
2 Tablespoons all purpose flour, sifted
Instructions
Preheat oven to 375 degrees. Heavily coat a 9-inch springform pan with nonstick spray; set aside.
In a large bowl mix the 2 cups flower, brown sugar, oats, margarine, and cinnamon. Reserve 1 1/2 cups of this mixture. Press the remainder into the prepared pan and halfway up the sides of the pan with the palm of your hand.
In a medium bowl, combine the apples, cranberry sauce, and 2 tablespoons of flower. Mix with a spoon. Pour the apple mixture into the crust. Sprinkle the remaining crust mixture over the top. Use the back of a spoon to gently press the crust coating so that it evenly coats the top and meets the crust that is coming up the sides. This is what will enclose the filling.
Bake for 40 minutes. However, if you bake it in advance, you may want to bake it slightly less so that you don't over cook it when you heat it later.