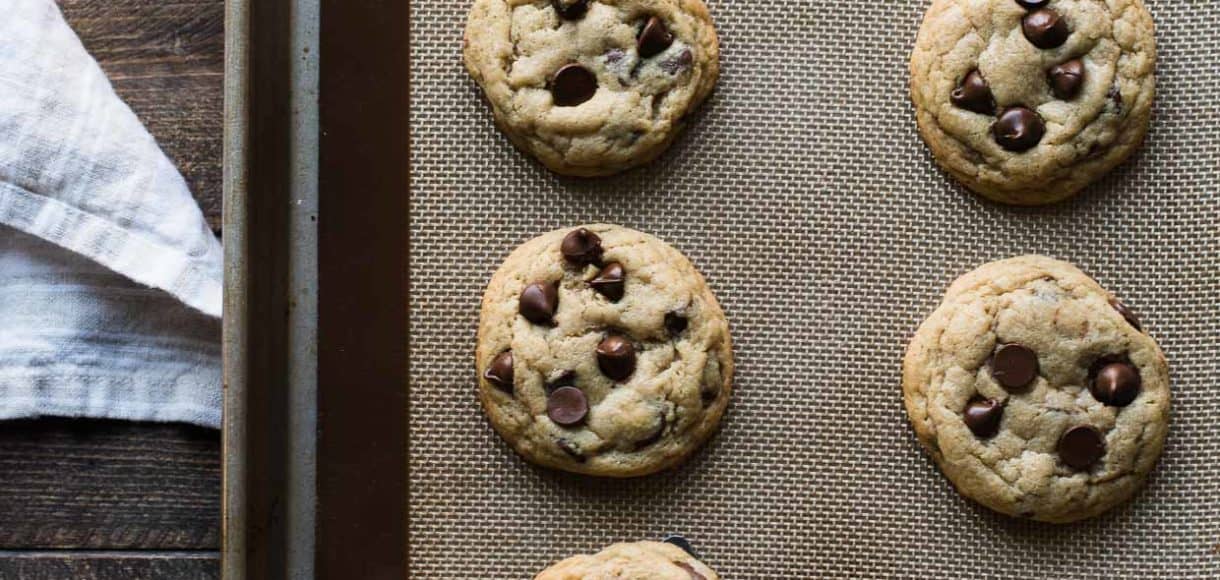 Cream Cheese Chocolate Chip Cookies
A combination of cream cheese, butter and one more special ingredient makes for a simple dough and perfectly tender cookies. This recipe for Cream Cheese Chocolate Chip Cookies is my go-to when I'm craving a cookie. "I'm tired of wearing jeans," she confessed this morning.…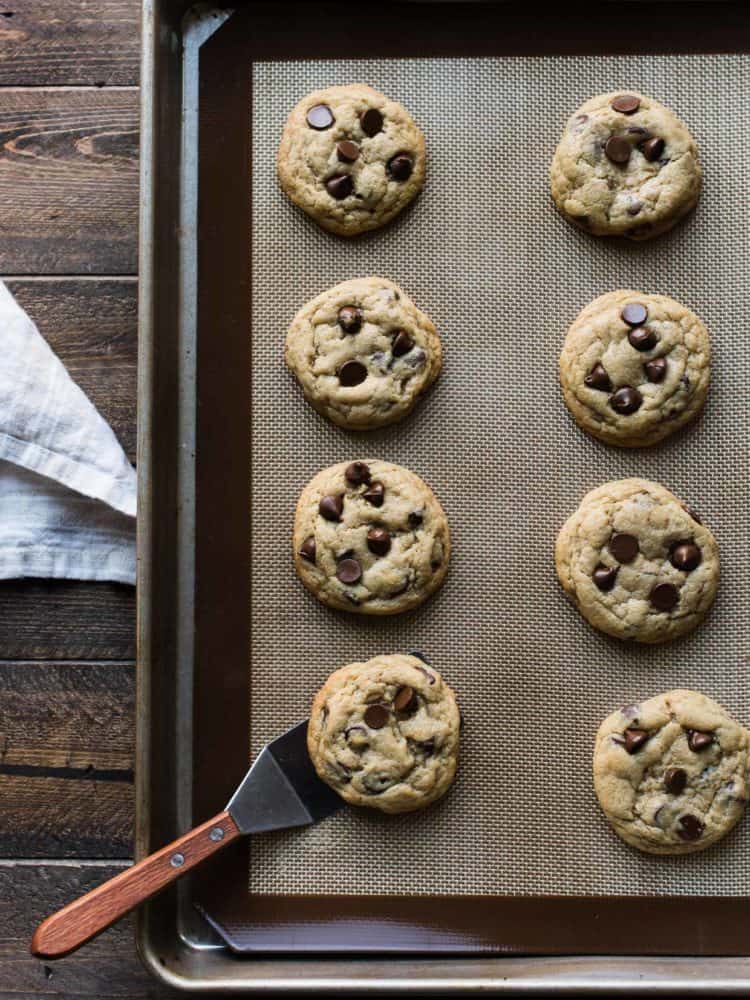 Cream Cheese Chocolate Chip Cookies
A combination of cream cheese, butter and one more special ingredient makes for a simple dough and perfectly tender cookies. This recipe for Cream Cheese Chocolate Chip Cookies is my go-to when I'm craving a cookie.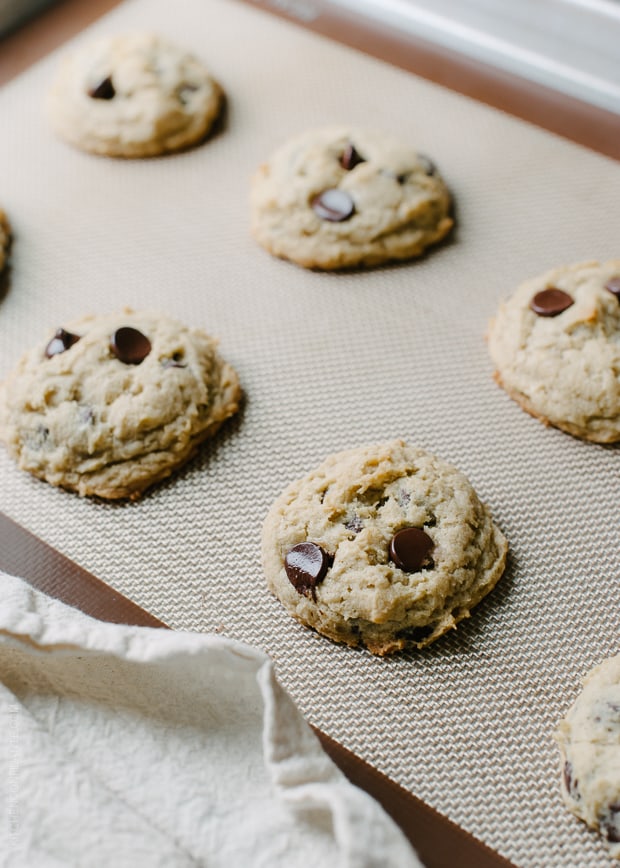 "I'm tired of wearing jeans," she confessed this morning. "Me, too," I agreed, as I handed her a freshly ironed shirt. It was secretly comforting knowing that my daughter and I are on the same page. The colder weather has become tiresome, almost annoying, especially with Memorial Day behind us. I distinctly remember "June Gloom" when we lived in LA, but I've now dubbed this month Moody May. I am so very ready to retire the jeans and the sweaters, and socks have definitely lost their glam.
It's easy to bore of most anything, and I almost hesitated whether or not I should share yet another chocolate chip cookie with you. But who gets tired of a chocolate chip cookie? No one.
I hope.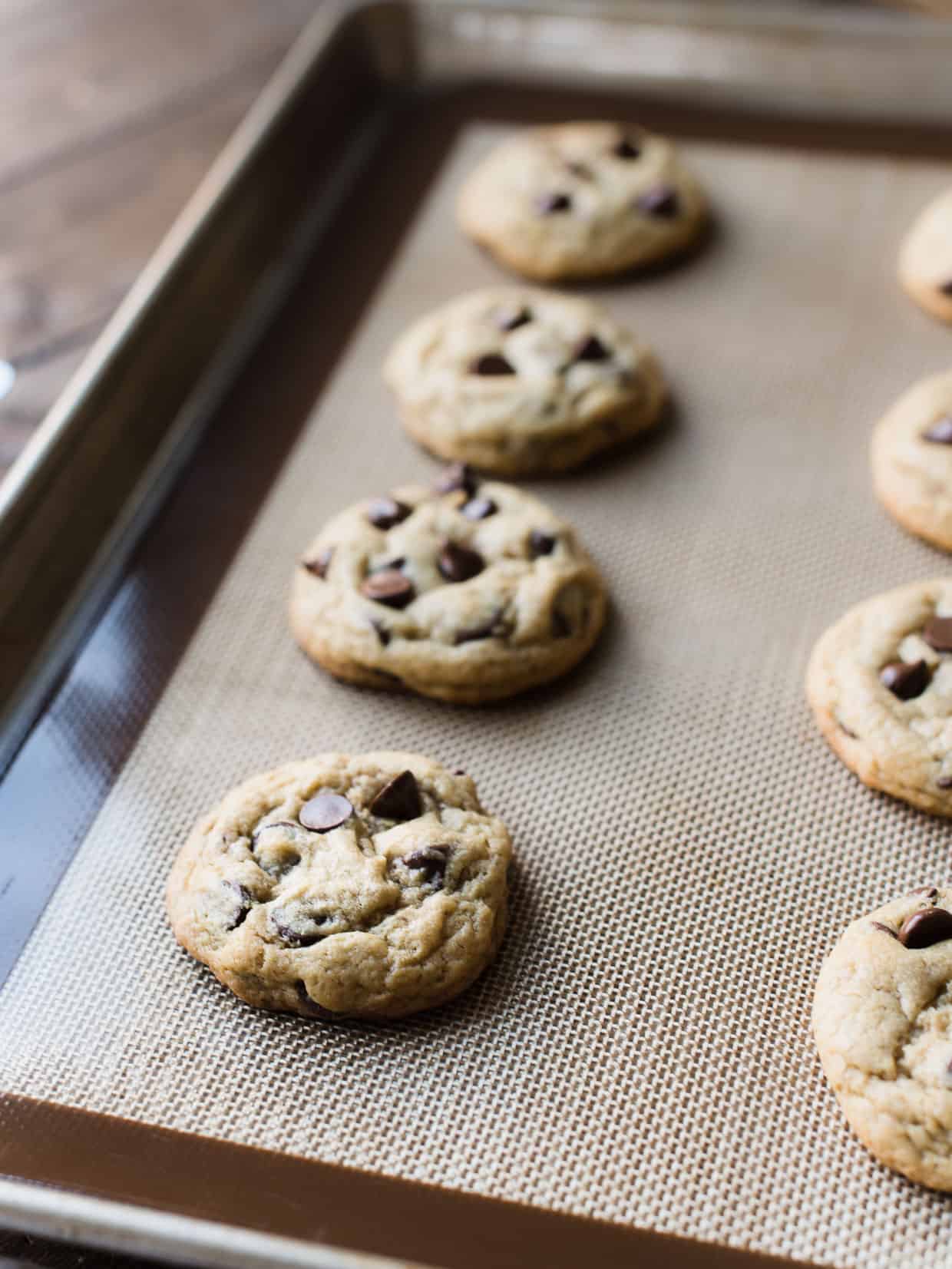 After I granted my daughter's wish for ribs last week, I turned to my son for his special request. Chocolate chip cookies were his heart's desire. Now who am I to deny him a cookie?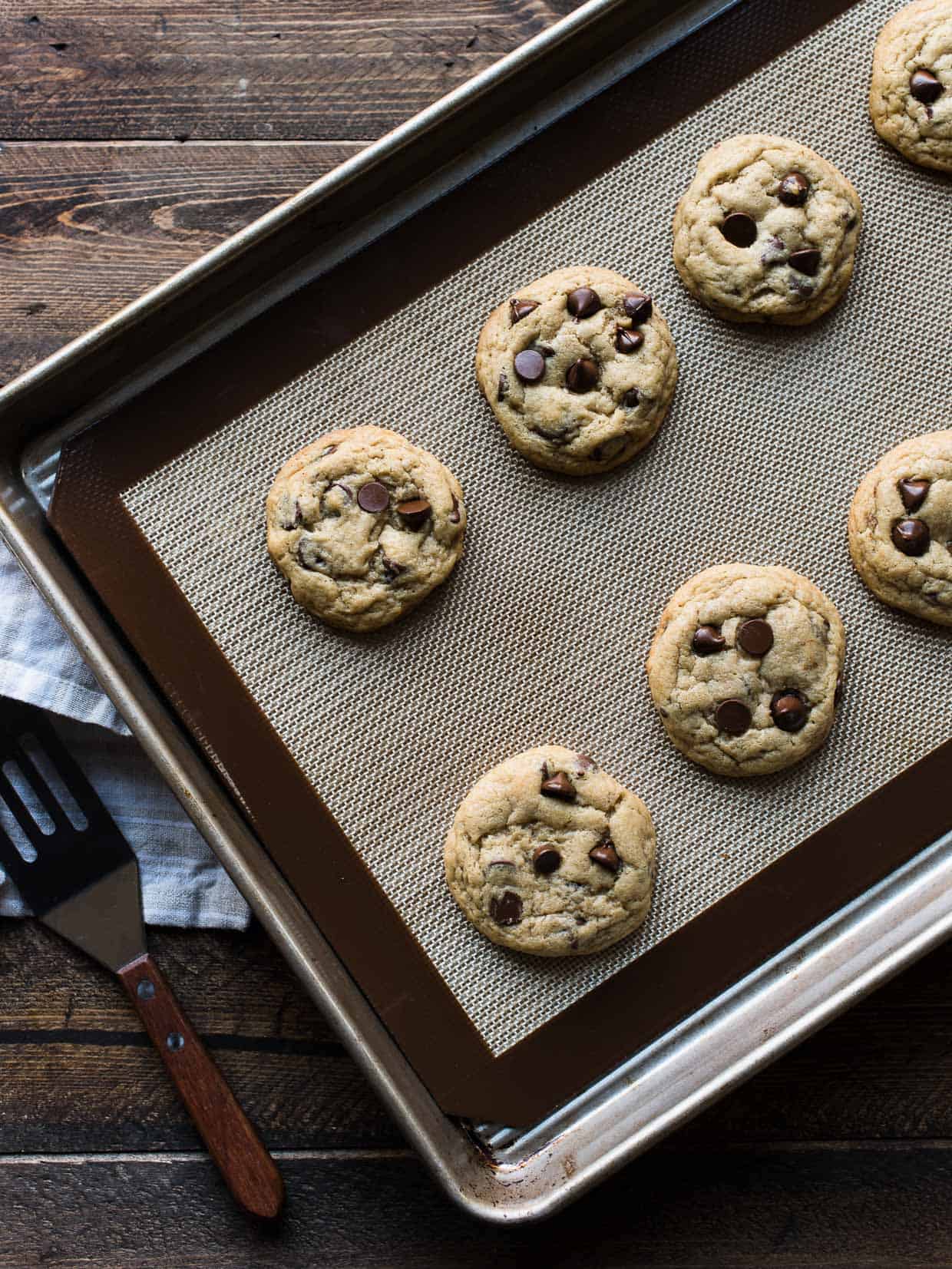 I've been making cookies with cream cheese in the cookie dough for a while now, but each time I find myself tweaking it just a bit more to make it simpler and tastier. These Cream Cheese Chocolate Chip Cookies not only have a blend of cream cheese and butter, but a special ingredient to insure a soft and tender crumb. Rather than going out and buying cake flour, I have learned that you can achieve the same results by incorporating some cornstarch with all purpose flour. Less fuss for me, and more cookies for all!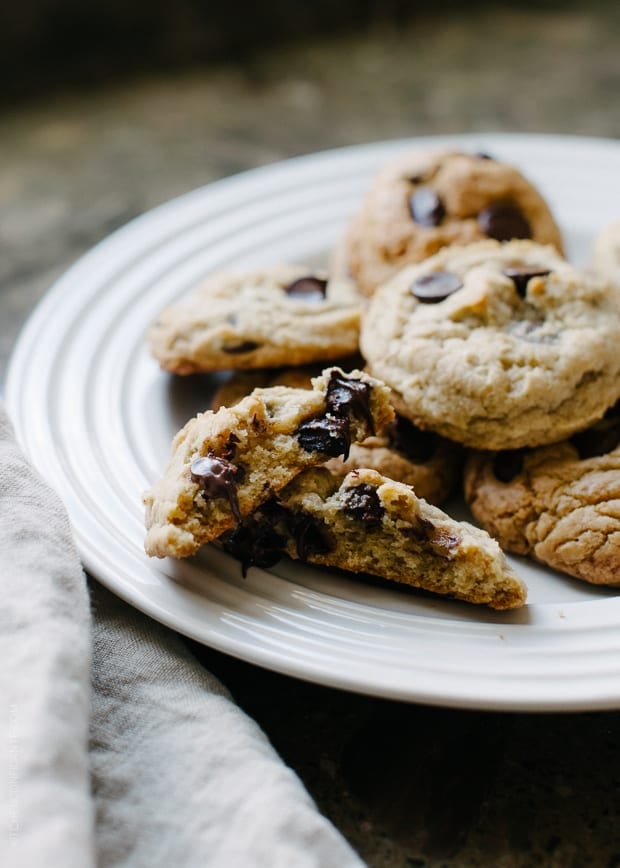 Moody May just got a little sweeter, don't you think?
Tender Cream Cheese Chocolate Chip Cookies
A combination of cream cheese, butter and one more special ingredient makes for a simple dough and perfectly tender cookies.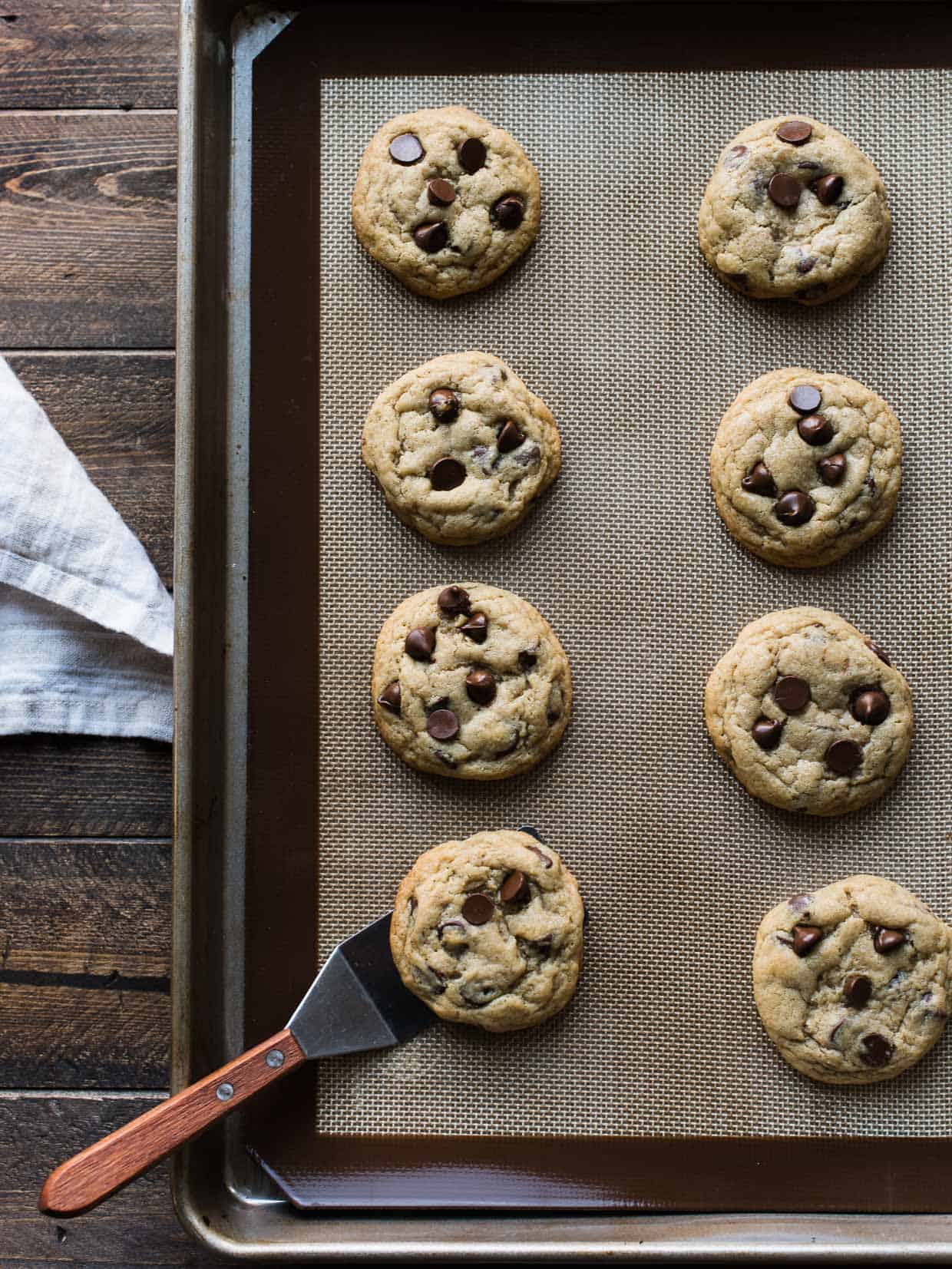 Print Recipe
Ingredients
1/2 cup (1 stick) butter, softened at room temperature
1/2 cup (4 oz) cream cheese (1/3 less fat), softened at room temperature
1/2 cup granulated sugar
3/4 cup brown sugar
1 large egg
1 teaspoon vanilla
1 1/2 cups + 1/3 cup all purpose flour
2 tablespoons cornstarch
1/2 teaspoon baking soda
1/2 teaspoon kosher salt
1 1/2 cups (12 oz) semisweet chocolate chips
Instructions
In the bowl of an electric mixer, cream the butter and cream cheese on high speed until thoroughly mixed and creamy, about 2 minutes. Mix in the granulated and brown sugars until fully incorporated. Beat in the egg and vanilla and mix thoroughly again.
In a separate bowl, whisk or sift together the flour, cornstarch, baking soda and salt. Slowly add this to the mixer and beat until just incorporated. Do not over stir. Fold or stir in the chocolate chips.
Cover the mixing bowl with plastic wrap and chill in the refrigerator for at least 1 hour (or overnight).
Preheat the oven to 350°F. and place the racks in the center of the oven. Prepare your baking pans with parchment paper.
Take a medium ice cream scoop (equivalent to about 2 tablespoons) to scoop out the dough and roll into a ball. Place the cookie dough 2-3 inches apart, about 8 per cookie sheet. Bake for 10-15 minutes, rotating the trays halfway through to insure even baking.
When the cookies are golden brown on top and a nice amber color on the bottom, remove the tray from the oven and allow the cookies to settle on their trays for a few minutes; they will be very soft initially. Gently transfer to a wire rack to cool.