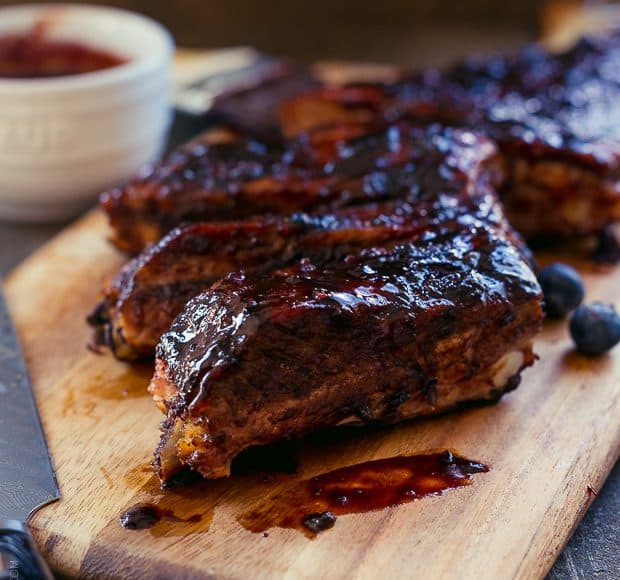 Baby Back Ribs with Blueberry Balsamic Barbecue Sauce
If there is one thing my daughter can eat with blissful abandon every single day of the week, it would be ribs. Ribs for breakfast, ribs for lunch, ribs for dinner. Viva la ribs! With our landscaping project finally complete, and the grill now in…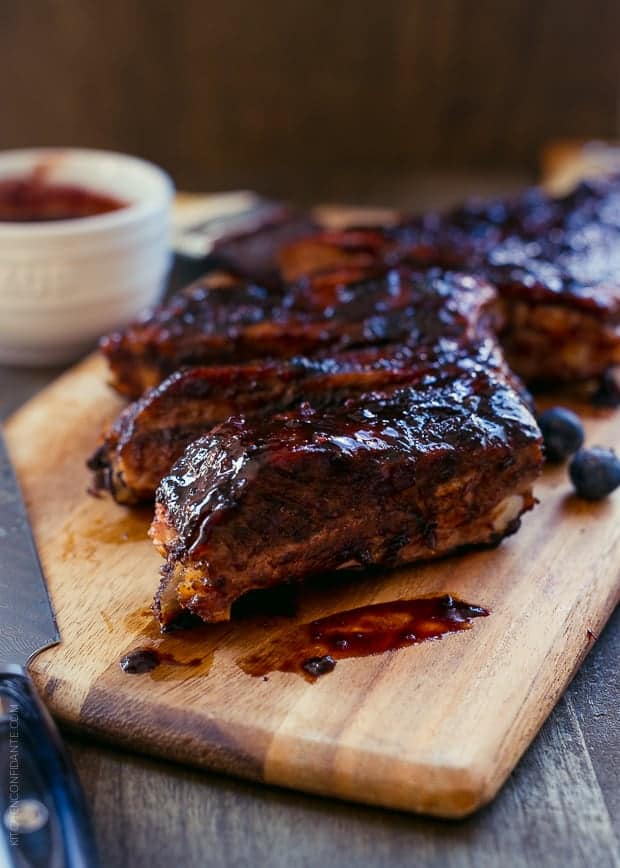 Baby Back Ribs with Blueberry Balsamic Barbecue Sauce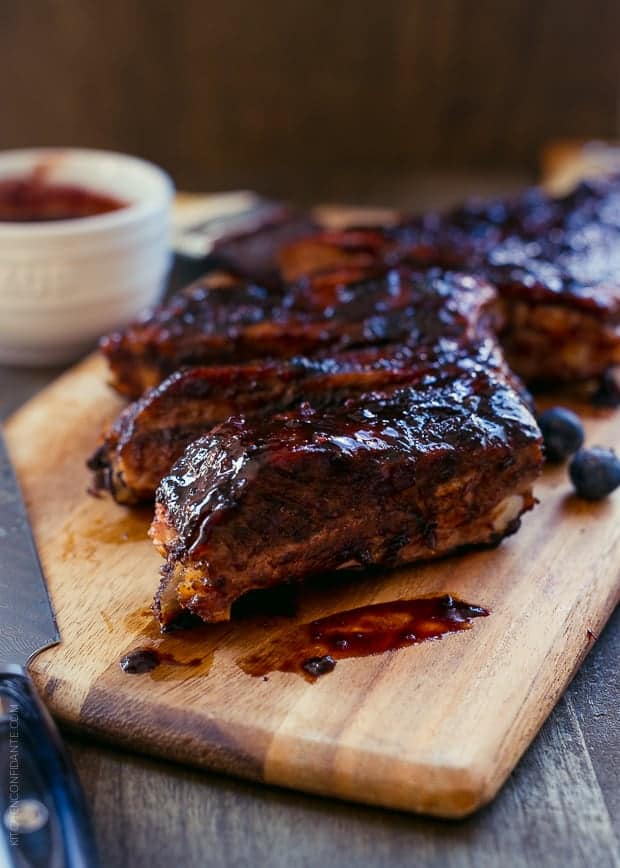 If there is one thing my daughter can eat with blissful abandon every single day of the week, it would be ribs. Ribs for breakfast, ribs for lunch, ribs for dinner. Viva la ribs!
With our landscaping project finally complete, and the grill now in its proper place in our new home, I asked her what we should grill to celebrate as I was tucking her into bed the other night. Her answer should not have surprised me.
So I waved my magic wand – ok, whisk – and made it happen. Specifically, Baby Back Ribs with Blueberry Balsamic Barbecue Sauce happened.
May we pause on this sauce for a moment? The minute she said ribs I knew exactly what I wanted to glaze over the meat, just as it begged to fall off the bones. I had some gorgeous blueberries that I knew would be perfect, transformed into a sauce so spicy and sweet, and irresistibly sticky. My whisk coaxed it into a sauce perfumed with inky balsamic vinegar, sweetened with a touch of honey, and mellowed with molasses. Red chili flakes and cayenne pepper were not spared, and I am willing to actually say that this is the best barbecue sauce I have ever made.
It didn't take long to call the kids down to dinner that evening. The smokey scent from the grill drew them down before I had a chance to call them. It was one night where we ate just ribs. No sides. Nothing else. Just all the ribs. And my daughter was in heaven.
Baby Back Ribs with Blueberry Balsamic Barbecue Sauce
This Blueberry Balsamic Barbecue Sauce is a must for your next barbecue! It's sticky, spicy, and a whole lot of savory!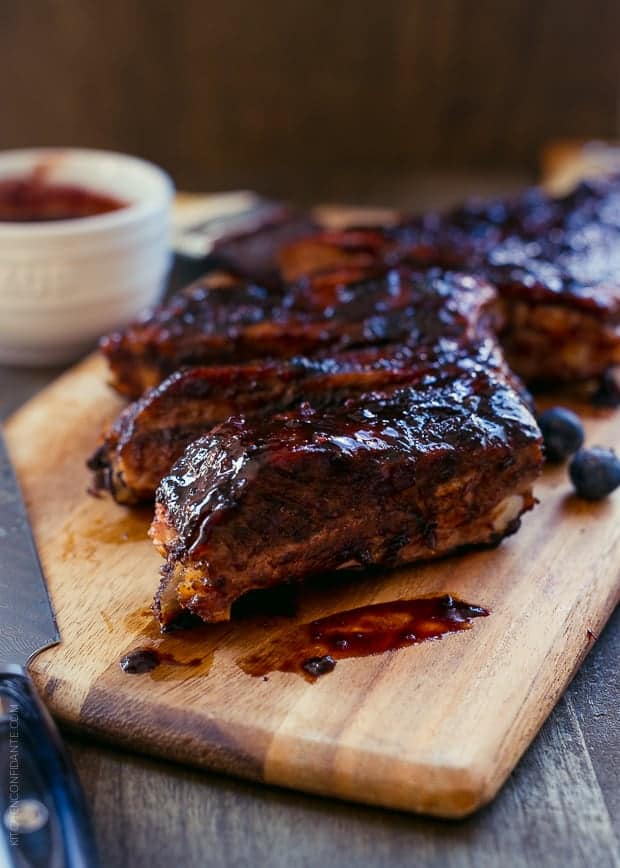 Print Recipe
Ingredients
For the Ribs:
2 racks baby back ribs
1 tablespoon paprika
1 tablespoon chili powder
1 tablespoon onion powder
1 tablespoon garlic powder
1 tablespoon cumin
1 tablespoon coriander
1 teaspoon cayenne pepper
1 1/2 tablespoons kosher salt
1 teaspoon freshly ground black pepper
For the Blueberry Balsamic Barbecue Sauce:
2 cups blueberries (fresh or frozen works)
2/3 cup balsamic vinegar
1/2 cup honey
1/2 teaspoon red pepper flakes
1/2 teaspoon cayenne pepper, to taste
1/3 cup diced shallots
2 cloves garlic, minced
1 tablespoon molasses
1/2 teaspoon kosher salt
1/4 teaspoon ground pepper
Instructions
Preheat the oven to 300 degrees F, with a rack placed in the center of the oven. Line a large rimmed baking sheet with aluminum foil and set aside.
Flip one rack of baby back ribs over and insert the tip of a butter knife under the membrane that covers the back of the rack. Wiggle the knife to loosen the membrane. Use a paper towel to hold one the and pull it off. Repeat with remaining rack.
Combine the seasonings in a small bowl and mix well with a spoon or small whisk. Sprinkle the rub generously on both sides of the baby back ribs. Place the ribs bone side down on the baking sheet and bake for about 2 hours, or until the ribs are slack when you lift them and the meat is almost ready to fall off the bone.
While the ribs are in the oven, make the barbecue sauce. In a medium saucepan over medium heat, stir together the blueberries, honey and balsamic vinegar. Bring to a boil, then lower heat to a simmer, and cook until the blueberries have burst and released their juices, about 5 minutes. Add the red pepper flakes, cayenne pepper (add in increments if you are sensitive to spice), shallots and garlic and let it cook for about 5-7 minutes more. If you have an immersion blender, blend the sauce together to puree the sauce into a smoother consistency. You may also use a blender or a masher.
Stir in the molasses, salt and pepper, and continue simmering the sauce until it has thickened, about 15-20 minutes. Adjust seasoning if necessary. Remove from heat and let it cool; it will thicken as it sits. The sauce may be used right away or stored in an airtight container in the refrigerator after cooling completely.
Preheat the grill to medium-high heat.
When the ribs are tender, remove from the oven. Brush the ribs with barbecue sauce on both sides. Reserve the remaining sauce for serving. Place the ribs on the grill, and cook for about 5 minutes, or until the ribs are caramelized, turning periodcally. Transfer the ribs onto a cutting board and brush with more sauce. Let it sit for about 5-10 minutes, then cut the ribs. Serve immediately along with the reserved sauce.
Dry rub adapted from Dry Rib Rub by Bobby Flay via FoodNetwork.com.