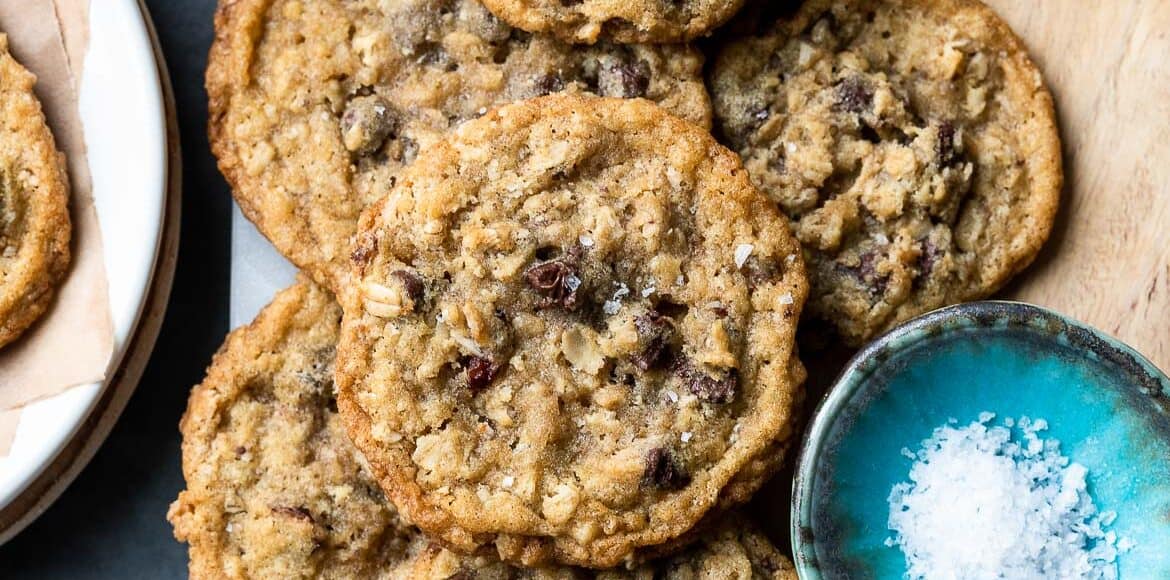 Chocolate Chip Cranberry Oat Cookies
These Chocolate Chip Cranberry Oat Cookies are comfort in a cookie. Chewy centers. Crispy edges. Gooey chocolate chips fresh-from-the-oven.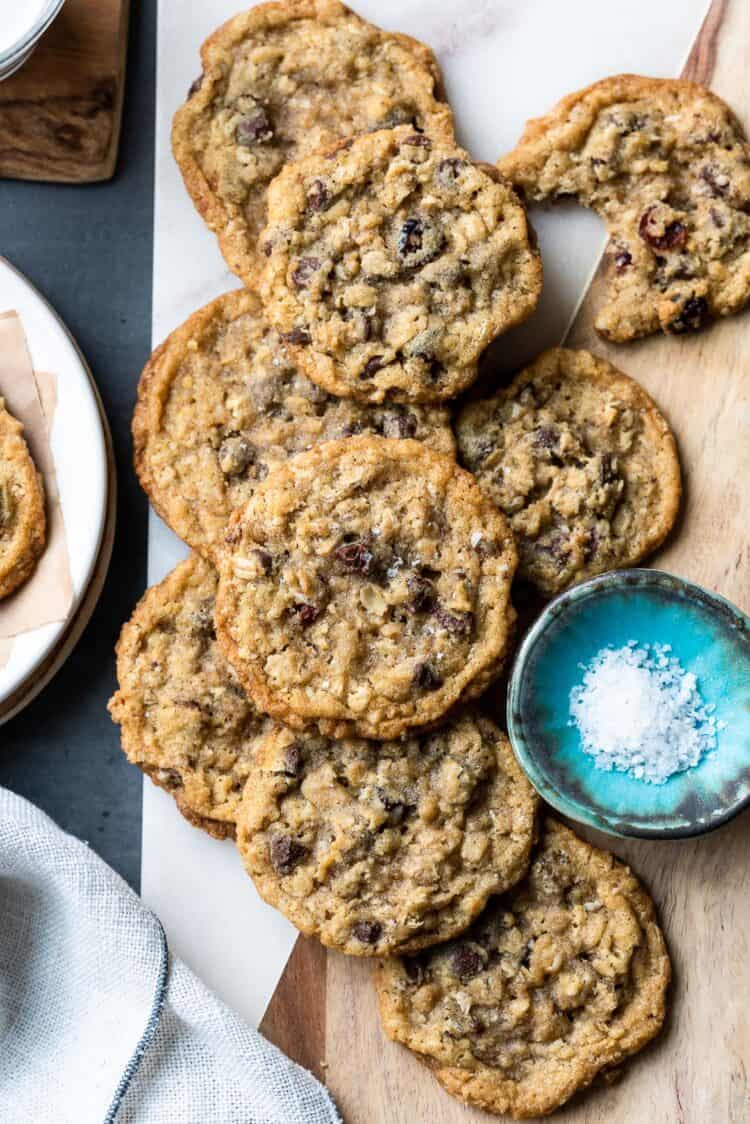 Chocolate Chip Cranberry Oat Cookies
Chewy centers. Crispy edges. Gooey chocolate chips fresh-from-the-oven. These Chocolate Chip Cranberry Oat Cookies are comfort in a cookie.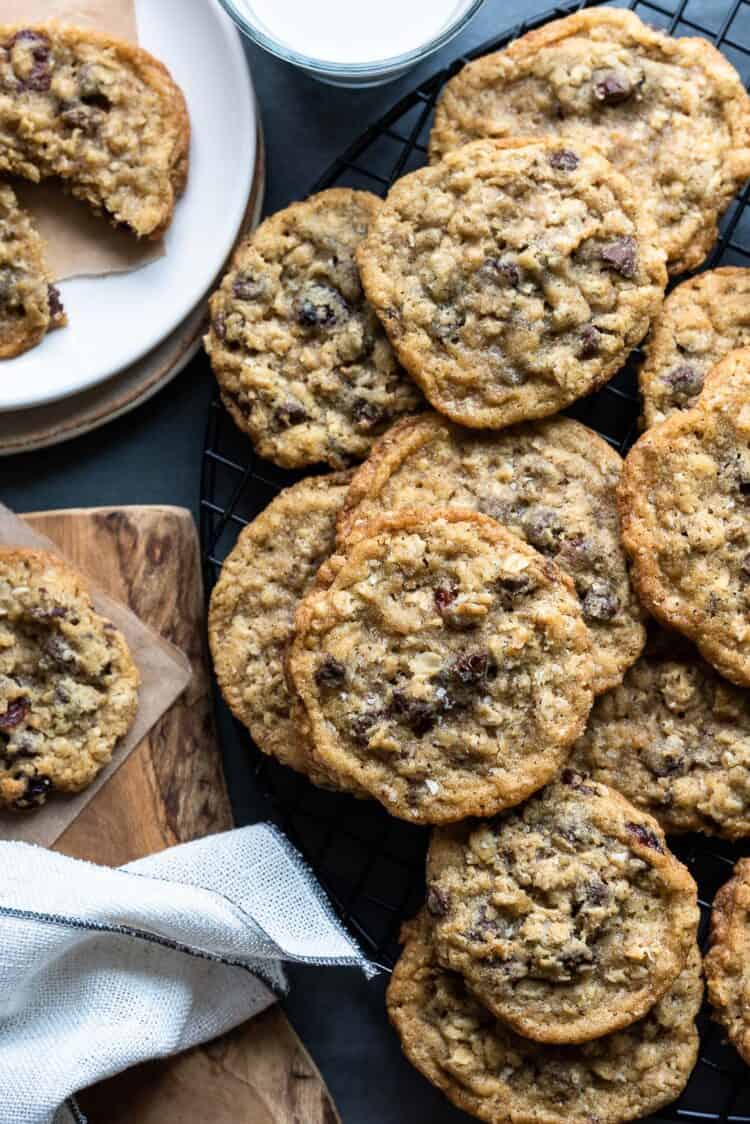 Note: This recipe first appeared on March 1, 2015. The post has been updated from the archives with updated content and photographs, as well as improved kitchen notes and recipe annotation. Please enjoy this favorite from my kitchen.
He came home from school on Monday, looking glum.
"What's wrong? Did something happen at school?" I fussed as we hung up his backpack on the hook.
"No, it's just…I missed you!"
"What? Really?"
"Yup. Can I have a cheer up cookie?"
I made a big batch of cookies last weekend, a whim, to satisfy this sudden craving I had for chocolate chips, gooey and fresh from the oven. I wanted a chewy cookie, with crispy edges.
So I made these.
Chocolate Chip Cranberry Oat Cookies. Or as my son calls them, Cheer Up Cookies. Because they really do.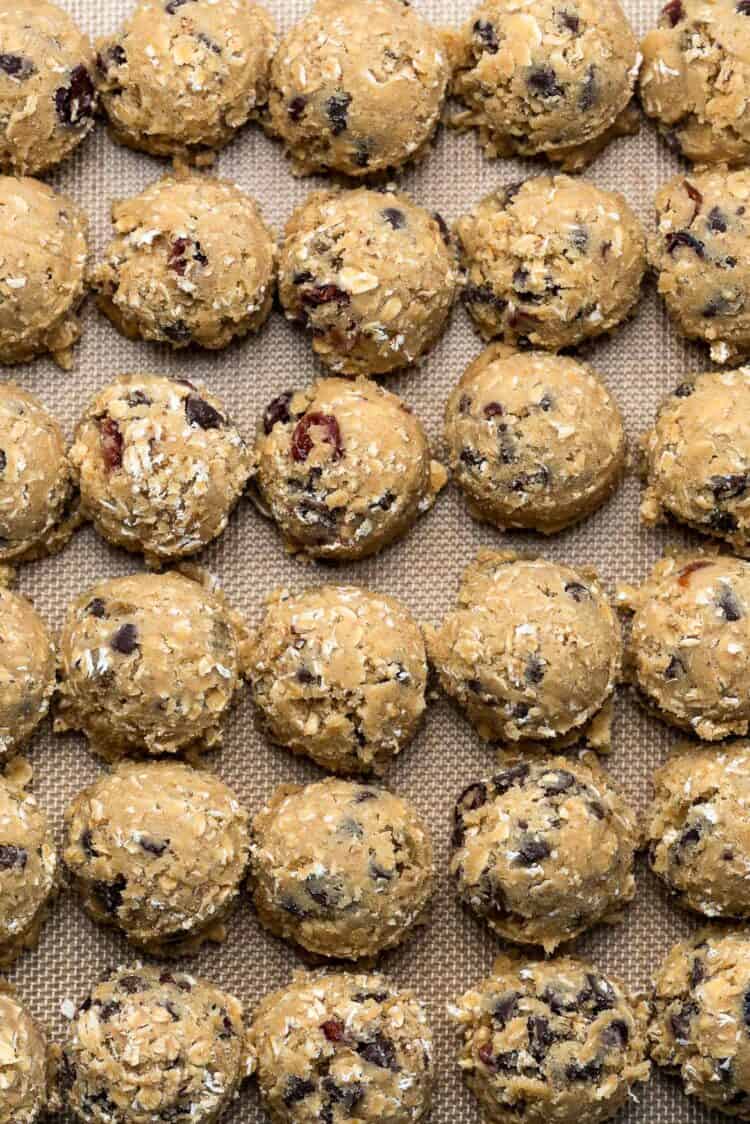 HOW TO MAKE CHOCOLATE CHIP CRANBERRY OAT COOKIES
Dried cranberries and chocolate chips are wonderful additions to these delightfully chewy cookies. You'll love how easy they are to prepare and bake. Cream butter and sugar together in an electric mixer, then add eggs and vanilla extract.
Flour, baking soda, oats, chocolate chips, and cranberries are gently mixed in before the dough is scooped onto a baking tray and chilled for just 15 minutes. Baked in batches, these comfort food cookies will be ready in no time for an after-school pick-me-up.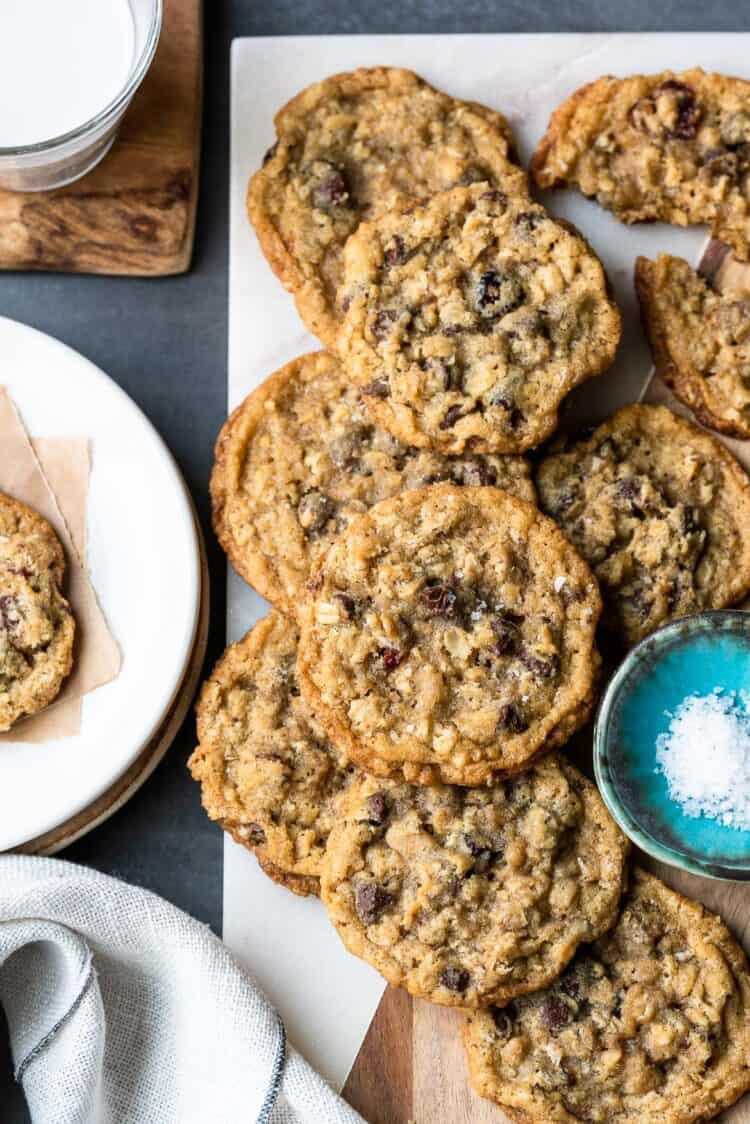 MORE COOKIE RECIPES
Coconut Shortbread Cookies
Almond Butter Oatmeal Cookies (Gluten Free, Dairy Free)
Simple Sundays | White Chocolate Chip and Currant Oatmeal Cookies
Cream Cheese Chocolate Chip Cookies
Chocolate Butterscotch Cookie Brittle
MORE AFTER-SCHOOL SNACKS
Raspberry Peanut Butter Energy Bites
Nutella-Dipped Frozen Bananas
Mixed Berry Fruit-on-the-Bottom Yogurt Cups
Taho: Filipino Silken Tofu with Sago Pearls and Syrup
Garlic Parmesan Bagel Chips
Chocolate Chip, Cranberry and Oat Cookies
Chewy centers. Crispy edges. Gooey fresh-from-the-oven chocolate chips. These Chocolate Chip Cranberry Oat Cookies are comfort in a cookie.
Ingredients
1 1/2

cups

all-purpose flour

1

teaspoon

baking soda

1

cup

(2 sticks) salted butter

(I like the flavor of the salted butter, but unsalted works just as well), room temperature

3/4

cup

golden brown sugar

3/4

cup

granulated sugar

1

large egg

1

teaspoon

vanilla extract

1 1/2

cups

rolled oats

1

cup

dried cranberries

1

cup

semisweet chocolate chips
Instructions
Preheat the oven to 375 degrees F. Prepare three baking trays with parchment paper or a silicone baking mat.

Sift together the flour and baking soda in a large bowl and set aside.

In the bowl of an electric mixer with the paddle attachment, mix the butter on medium speed until the butter is creamy and smooth. Scrape down the sides of the bowl occasionally. Add the brown sugar and blend well, until the mixture is fluffy. Stir in the egg and vanilla extract, then blend well.

With the mixer on low speed, add the flour and baking soda gradually, and mix until just incorporated. Stir in the oats, cranberries and chocolate chips, and mix until it is just combined.

Using a cookie scoop, small ice cream scoop, or two tablespoons, drop the cookie dough onto the baking sheet about 2 inches apart. Chill the dough for about 15 minutes in the refrigerator.

Bake the cookies in batches for about 12-15 minutes, or until the cookies are golden brown. Remove from the oven and let it sit on the baking tray for about 2 minutes before carefully transferring to a wire rack to cool. (See notes below)

Enjoy the cookies warm, and save any extra cookies by cooling completely and storing in an airtight container.
Notes
Adapted from Torie's Chocolate-Chunk Toffee Cookies, The Martha Stewart Living Cookbook (Martha Stewart Living Omnimedia, 2000).
Chocolate Chip Cranberry Oat Cookies Tips
Can I make the cookie dough ahead of time? Yes! The cooking dough can be scooped and chilled in the refrigerator for 15 minutes, then transferred to an airtight container and chilled up to a week in the refrigerator. You can also freeze the cookie dough. Bake from frozen, adding a touch more baking time, if necessary.
Let the cookies rest on the baking sheet before transferring them to a tray to cool completely. The cookies will come out of the oven looking thin on the edges and a little puffy in the middle, and very, very soft. Giving them a little time to rest on the cookie sheet allows the cookies to settle and flatten, cook a little more from the ambient heat of the tray, and firm up so that you can easily transfer them to a cooling tray. Otherwise, they may fall apart if you transfer them when they're too hot.
I don't have dried cranberries. That's ok! Golden raisins, regular raisins, and currants all work nicely, too!
Try it with a touch of sea salt! A little sprinkling of sea salt as they cool makes it even more delicious!
Nutrition
Calories:
182
kcal
|
Carbohydrates:
24
g
|
Protein:
2
g
|
Fat:
9
g
|
Saturated Fat:
5
g
|
Cholesterol:
22
mg
|
Sodium:
95
mg
|
Potassium:
68
mg
|
Fiber:
1
g
|
Sugar:
15
g
|
Vitamin A:
200
IU
|
Calcium:
14
mg
|
Iron:
1
mg