Diving into Marinades
Years ago, when my husband and I were newly engaged and relocated from Chicago to the Bay Area, I distinctly recall when we decided to outfit our first apartment out here with a little grill. It did not matter that we had such a…
Diving into Marinades
Years ago, when my husband and I were newly engaged and relocated from Chicago to the Bay Area, I distinctly recall when we decided to outfit our first apartment out here with a little grill. It did not matter that we had such a small balcony, we were so excited to take advantage of living in the land of nearly year-round grilling. We shopped at one of the local meccas for grills and came home with a cute charcoal grill, and started our love affair with outdoor cooking.
It was on this little grill, on this little balcony, that we began to cook our way through my father-in-law's fabulous marinade recipes. He is the king of marinades, and to this day, I find myself returning to his handwritten recipe cards during the course of our grilling season. One of my favorites is a rum marinade, that makes for a beautifully glazed and lusciously flavored Pineapple-Rum Glazed Grilled Pork Chop.
To me, using marinades is a wonderful way to cook over the summer; letting meats soak overnight means effortless prep work that results in rich flavors. It also means my husband is in charge of the cooking…which leaves me with more time to focus on making sweet treats!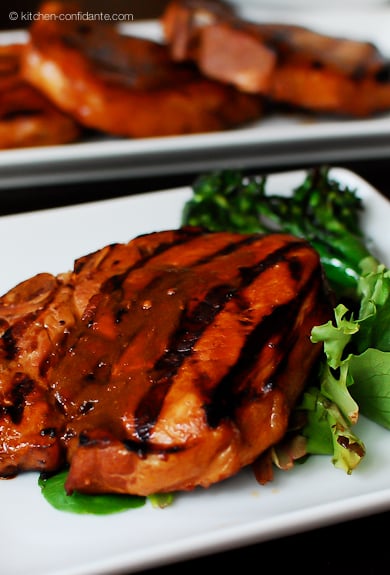 Pineapple Rum Marinade
For pork or beef. Makes 1 cup.
½ cup rum (such as Bacardi Light)
¼ cup soy sauce
¼ cup pineapple juice
2 tablespoons lemon juice
1 teaspoon dry mustard or Dijon mustard
1 tablespoon molasses
2 teaspoons ginger
2 clove garlic, crushed
½ teaspoon pepper
Combine ingredients and allow meat to marinate overnight. Grill meat to desired doneness, basting periodically.