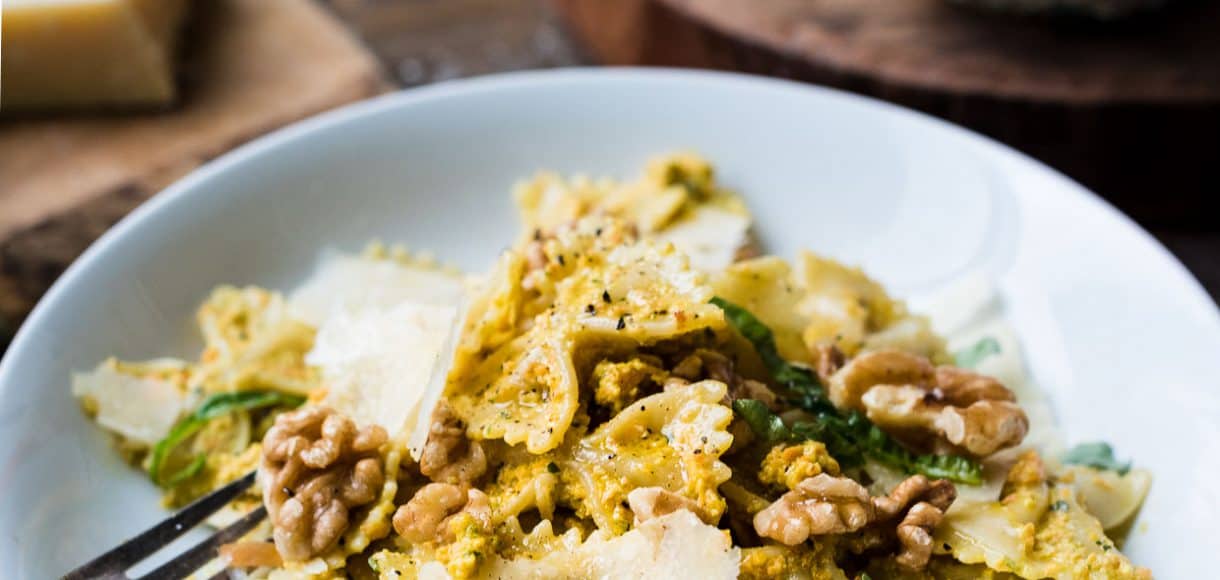 Farfalle with Roasted Carrot Pesto, Parmesan and Toasted Walnuts
Farfalle with Roasted Carrot Pesto, Parmesan and Toasted Walnuts provides a unique twist on pasta night everyone will enjoy.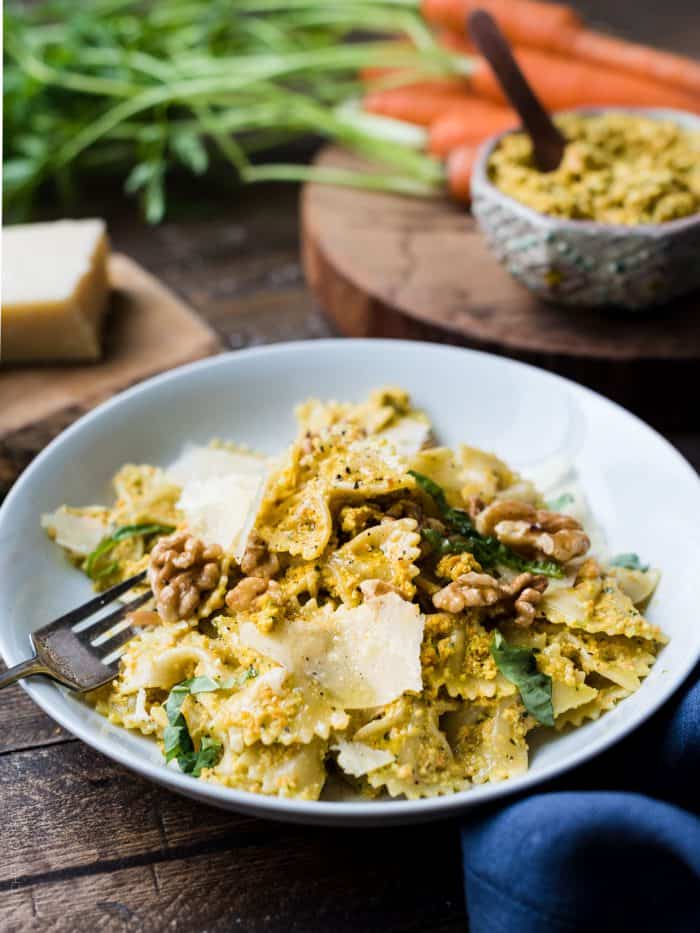 Farfalle with Roasted Carrot Pesto, Parmesan and Toasted Walnuts
A nod to spring, roasted carrots are the starting point for this unique twist on pesto. Serve up Farfalle with Roasted Carrot Pesto for a dish the whole family will enjoy! This post is brought to you by De Cecco pasta.
Perhaps one of the biggest assumptions about having both a food blog and children is that my children will eat anything I make. Let me dispel that myth. It is, sad to say, not true.
But if I took a snapshot of the foods they love and the dishes they are willing to try, then I honestly cannot complain, because they continually surprise me. For me, open-mindedness matters more than anything. After all, tastes change…and mature…and develop. I think back to my cilantro-hating 10 year old self every time I sneak even more cilantro into my cooking these days. Of all the surprising shifts in taste, this one is the most evident for me. Some may say I now need a cilantro intervention.
When it comes to herbs and bold flavors, one of the things my daughter has surprised me with is her love of pesto. Despite its typical green hues, she adores it on her sandwiches, and it always reminds me (and her) that you'll never know if you like something unless you try.
So what happens when pesto turns orange? From carrots? Well, it was time to test.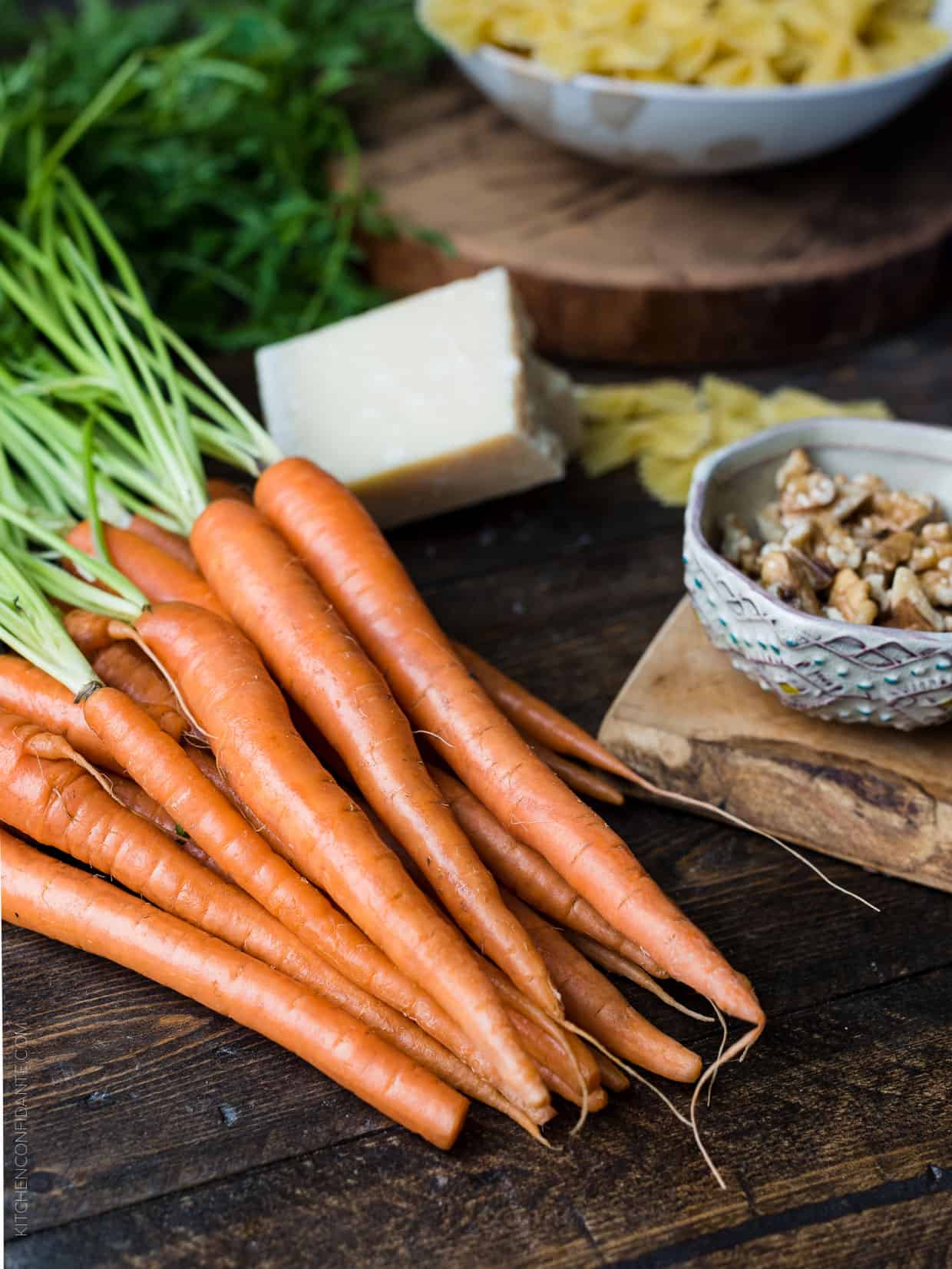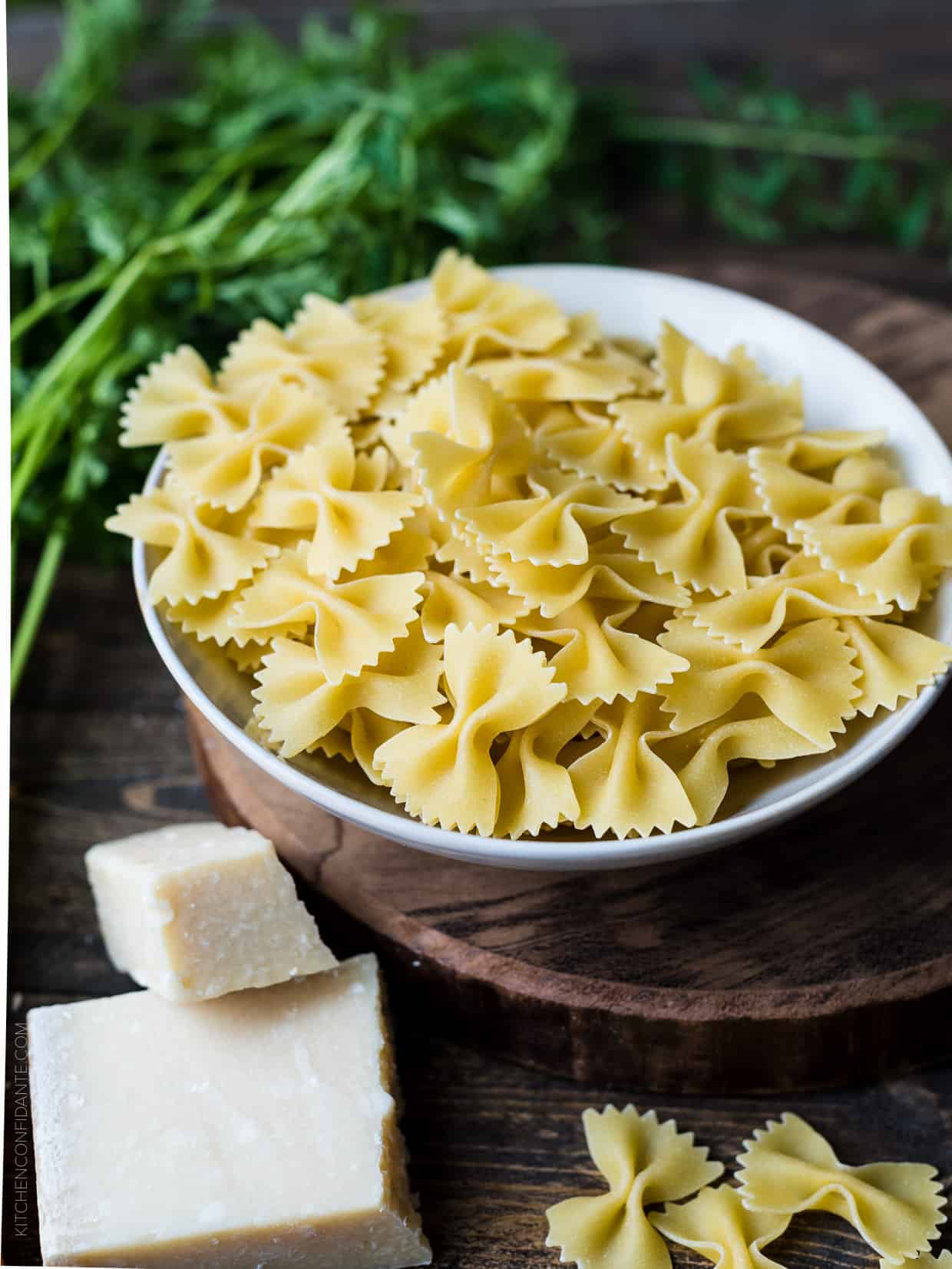 Pasta becomes a neutral party for parents when it comes to picky eaters, wouldn't you agree? Especially when they're beautiful farfalle! Who can resist pasta in the shape of butterflies, especially now that it is spring? I decided to make Farfalle with Roasted Carrot Pesto, Parmesan and Toasted Walnuts.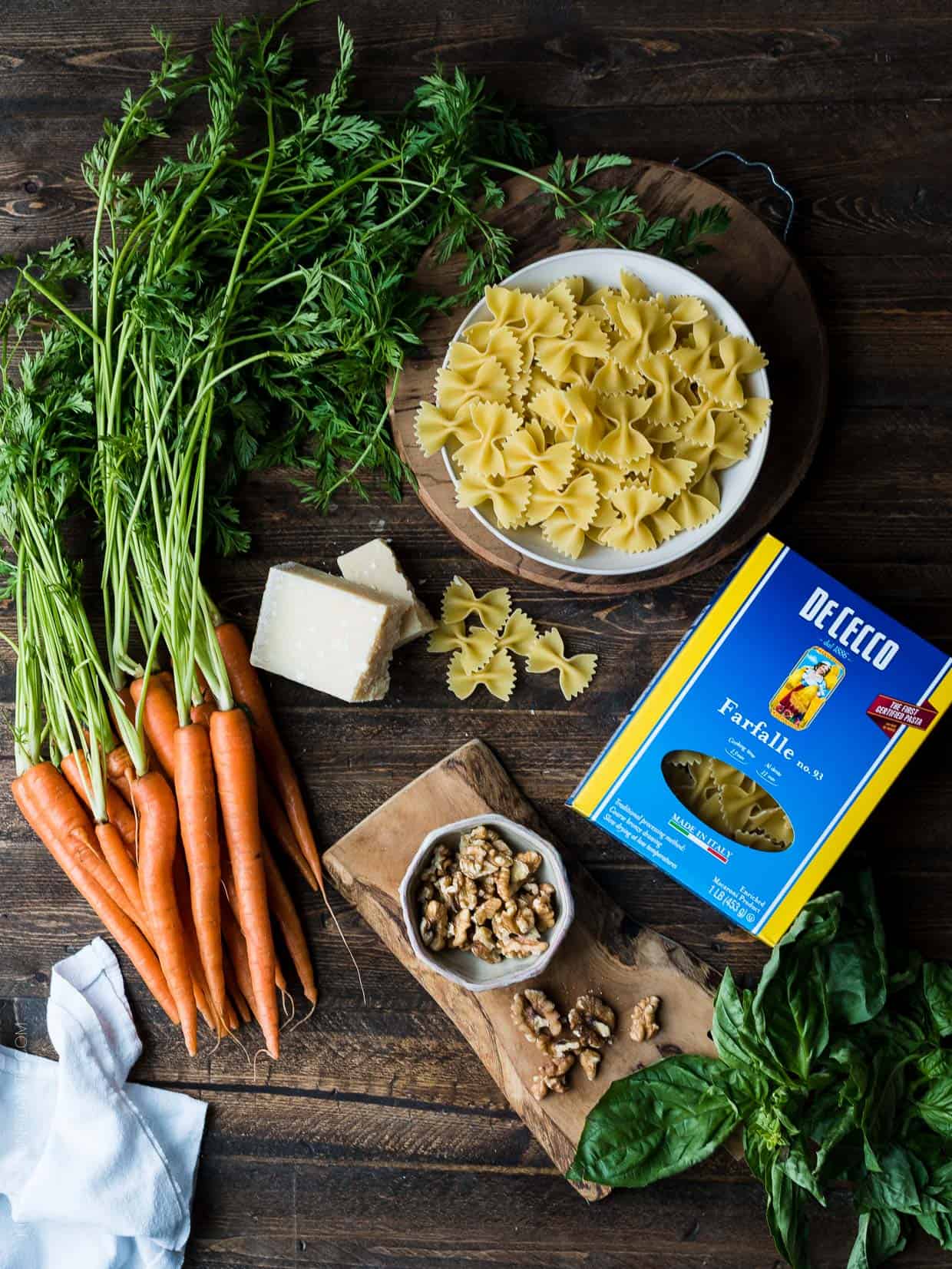 I have been a fan of De Cecco pasta for many years, and I have to say, my appreciation began the first time I tried their spaghetti and noticed how the texture and flavor was different…better. It wasn't mushy or bland, and really retained its texture in a way that made me notice. It was then that I learned that there was a real difference in premium authentic pasta compared to the ones I cooked in the past that made me discern all pastas from that moment on. The key is the 100% durum "coarse" wheat semolina and pure spring water De Cecco uses compared to the mainstream brands that also use flour. They have been making it this way for over 130 years, drying it slowly at a low temperature, which preserves both color and flavor. And because they make the pasta with a rough surface, sauces adhere better, too.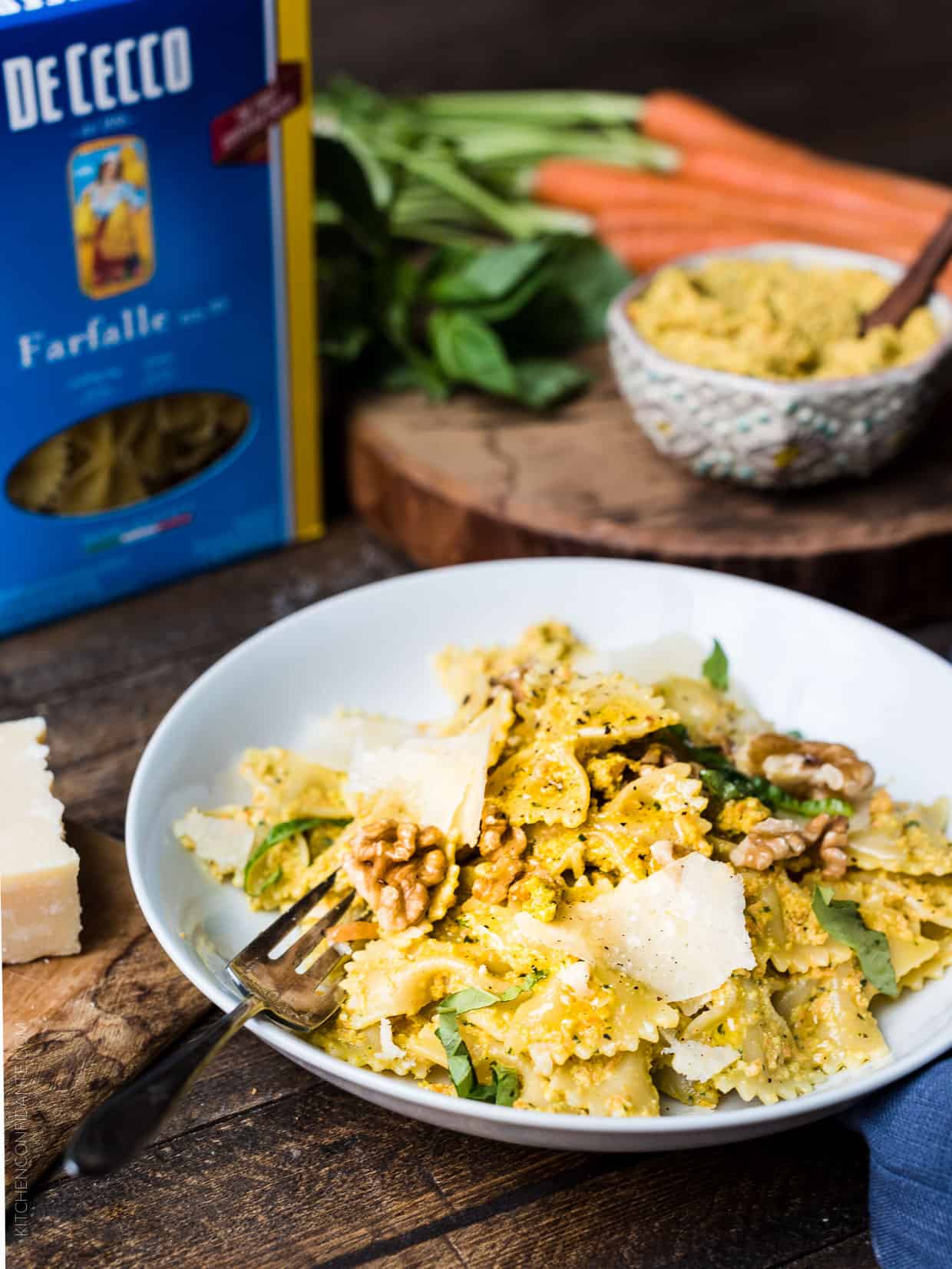 My daughter came into the kitchen to examine my work. "You should chiffonade the basil," she suggested. Ah she was right. She kept returning in intervals to see how the pasta was coming along and we each took the first bite. The Farfalle with Roasted Carrot Pesto was refreshing but nutty, and the way winter transitions to spring, and it made for a pasta dish that was very easy to tuck into. Better yet, it was a dish we all could enjoy, which is my favorite kind of all.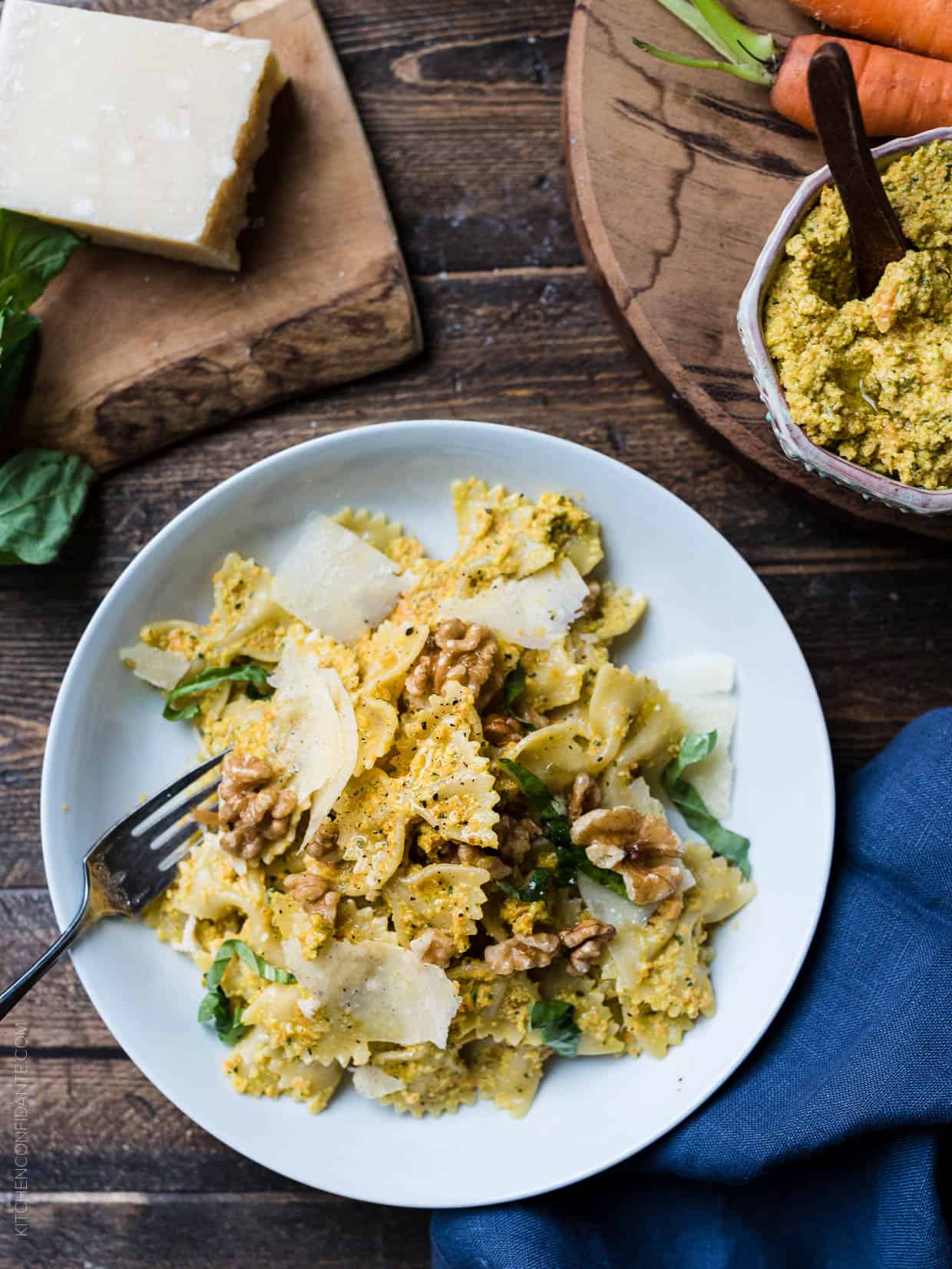 Disclosure: This post is brought to you in partnership by De Cecco and NBCUniversal. Thank you for supporting brands that matter to me; sponsored posts such as this help behind the scenes at Kitchen Confidante. All opinions in this post are, as always, my own.
MORE GREAT PASTA DISHES TO TRY
Vegetarian Pasta Puttanesca
Skillet Eggplant Lasagna
Vegetarian Pancit Bihon (Filipino Rice Noodles with Veggies)
Tomato and Mozzarella Ravioli with Tomatoes, Baby Kale and Artichokes
Fireworks Pasta Salad
Fettuccine with Chicken Sausage, Kale and Cannellini Beans
Farfalle with Roasted Carrot Pesto, Parmesan and Toasted Walnuts
Pesto lovers, have you ever tried carrot pesto? You'll love the fun twist in this easy recipe for Farfalle with Roasted Carrot Pesto, Parmesan and Toasted Walnuts!
Ingredients
1

cup

chopped walnuts

divided

1

cup

chopped carrots

about 6 carrots

1/3

cup

olive oil

plus an additional 2 tablespoons for roasting

2

cloves

garlic

1/2

cup

chopped basil

1/2

cup

grated Parmesan cheese

1 1/2

teaspoons

kosher salt

plus more to taste

1/4

teaspoon

ground pepper

plus more to taste

1

lb

De Cecco Farfalle Pasta

shaved Parmesan cheese for serving
Instructions
Preheat the oven to 400°F. Scatter the walnuts on a baking sheet and toast in the oven for about 3 minutes, or until fragrant. Take care not to burn them. Set aside, dividing half for the pesto and half for serving. Toss the carrots in 2 tablespoons olive oil and scatter on the same baking sheet. Roast the carrots for about 10 minutes, or until the color has deepened and they are slightly browned and tender.

Place the roasted carrots, 1/2 cup walnuts, garlic, basil, Parmesan cheese, salt and pepper in the bowl of a food processor, and process until smooth. With the food processor running, add the remaining olive oil slowly, until it is well blended. If you desire more creaminess, you may need to use a little more olive oil. Season to taste with salt and pepper if necessary.

Meanwhile, in a large pot, cook the farfalle pasta in salted water according to the package directions. Drain, reserving about a cup of the pasta water. Transfer the cooked pasta to a large bowl.

Dress the pasta with the carrot pesto, and toss well until it is evenly coated. Use some of the reserved pasta water to make it easier to coat the pasta, adding in small increments. Season to taste with salt and pepper and serve with additional toasted walnuts and shaved Parmesan cheese. Serve immediately.
Nutrition
Calories:
841
kcal
|
Carbohydrates:
93
g
|
Protein:
25
g
|
Fat:
42
g
|
Saturated Fat:
7
g
|
Cholesterol:
11
mg
|
Sodium:
1093
mg
|
Potassium:
509
mg
|
Fiber:
6
g
|
Sugar:
5
g
|
Vitamin A:
5612
IU
|
Vitamin C:
3
mg
|
Calcium:
210
mg
|
Iron:
3
mg