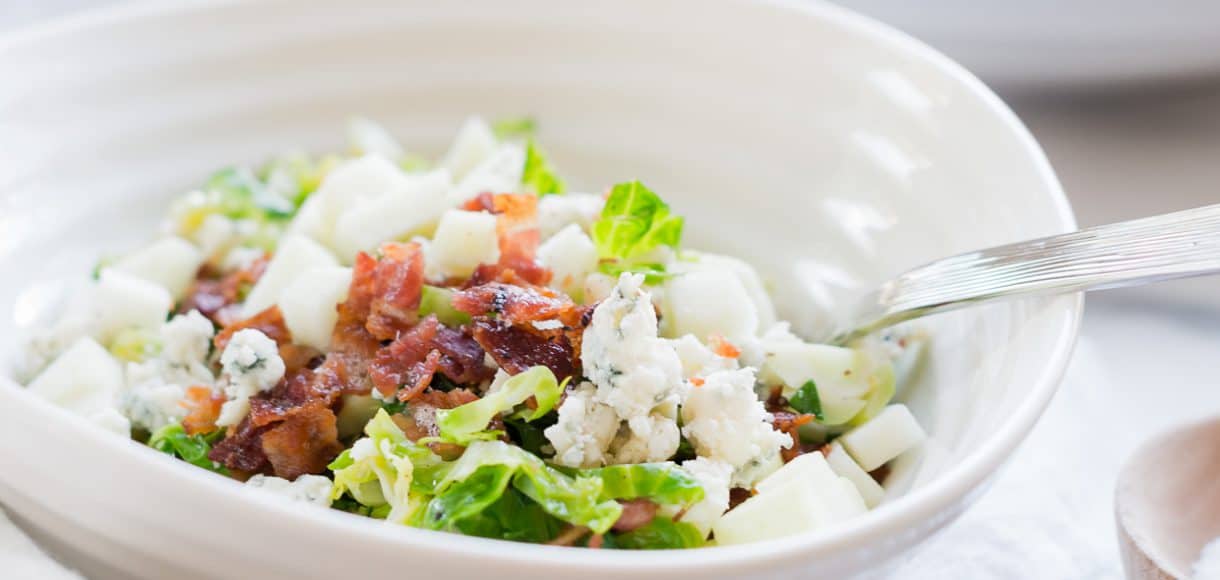 Shredded Brussels Sprouts Salad with Bacon, Apple and Gorgonzola
I couldn't sleep last night. Despite my exhaustion from the day, I knew the clock ticked towards midnight, and restlessness seized me. A feeling of anxiety began to take over, as I thought of the conference I will be speaking at this weekend, but contrary…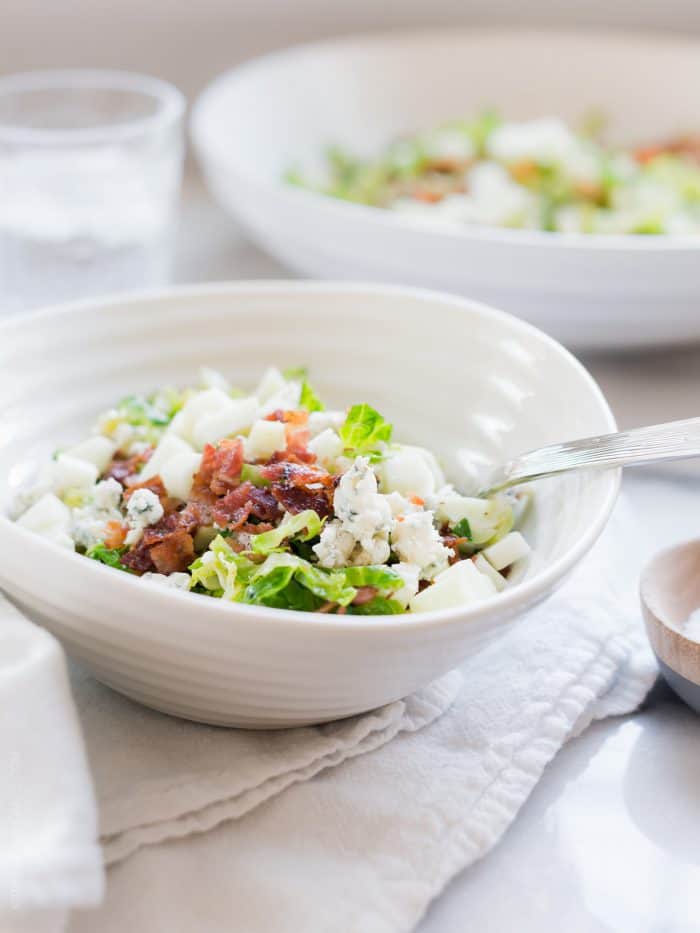 Shredded Brussels Sprouts Salad with Bacon, Apple and Gorgonzola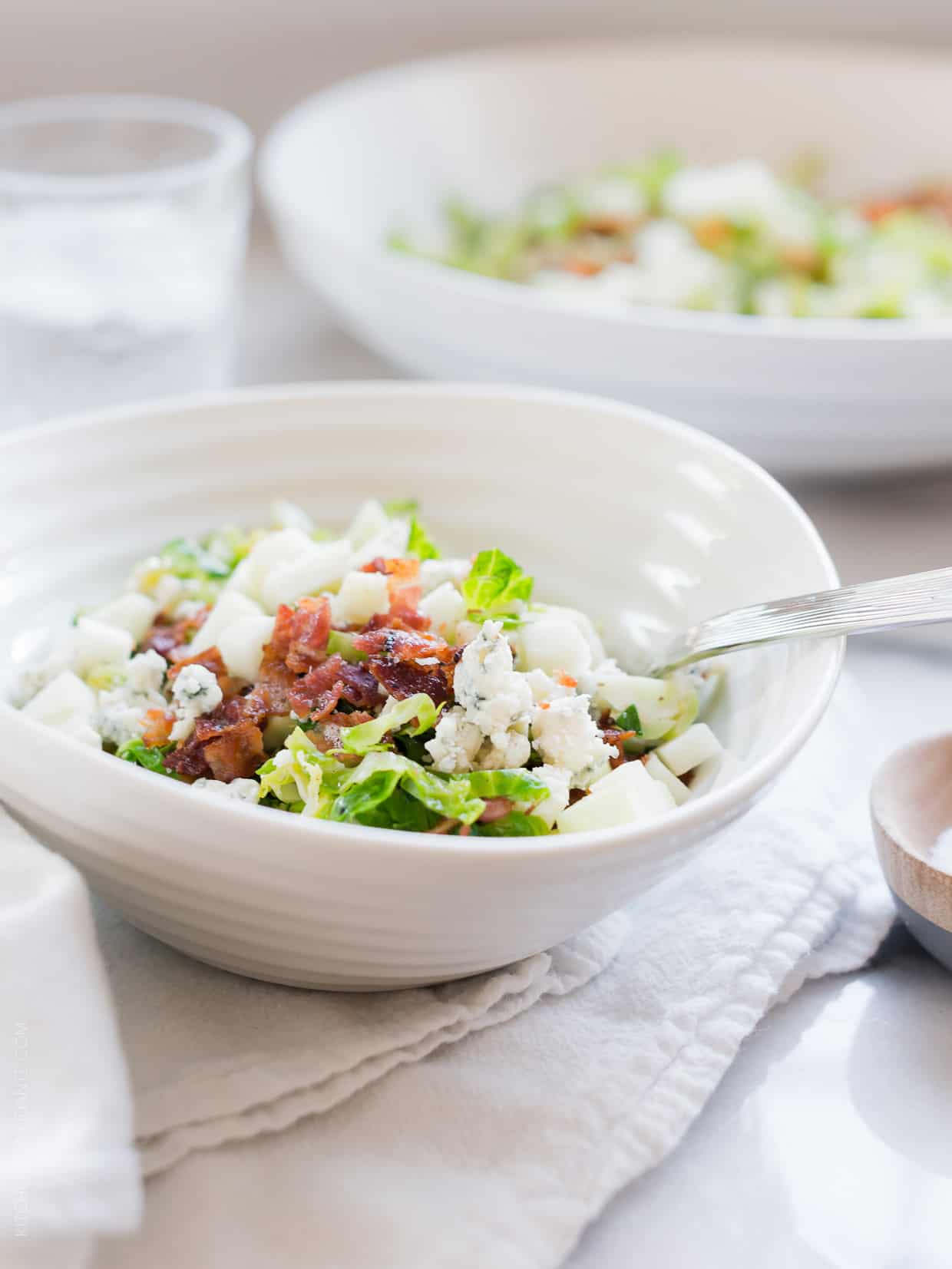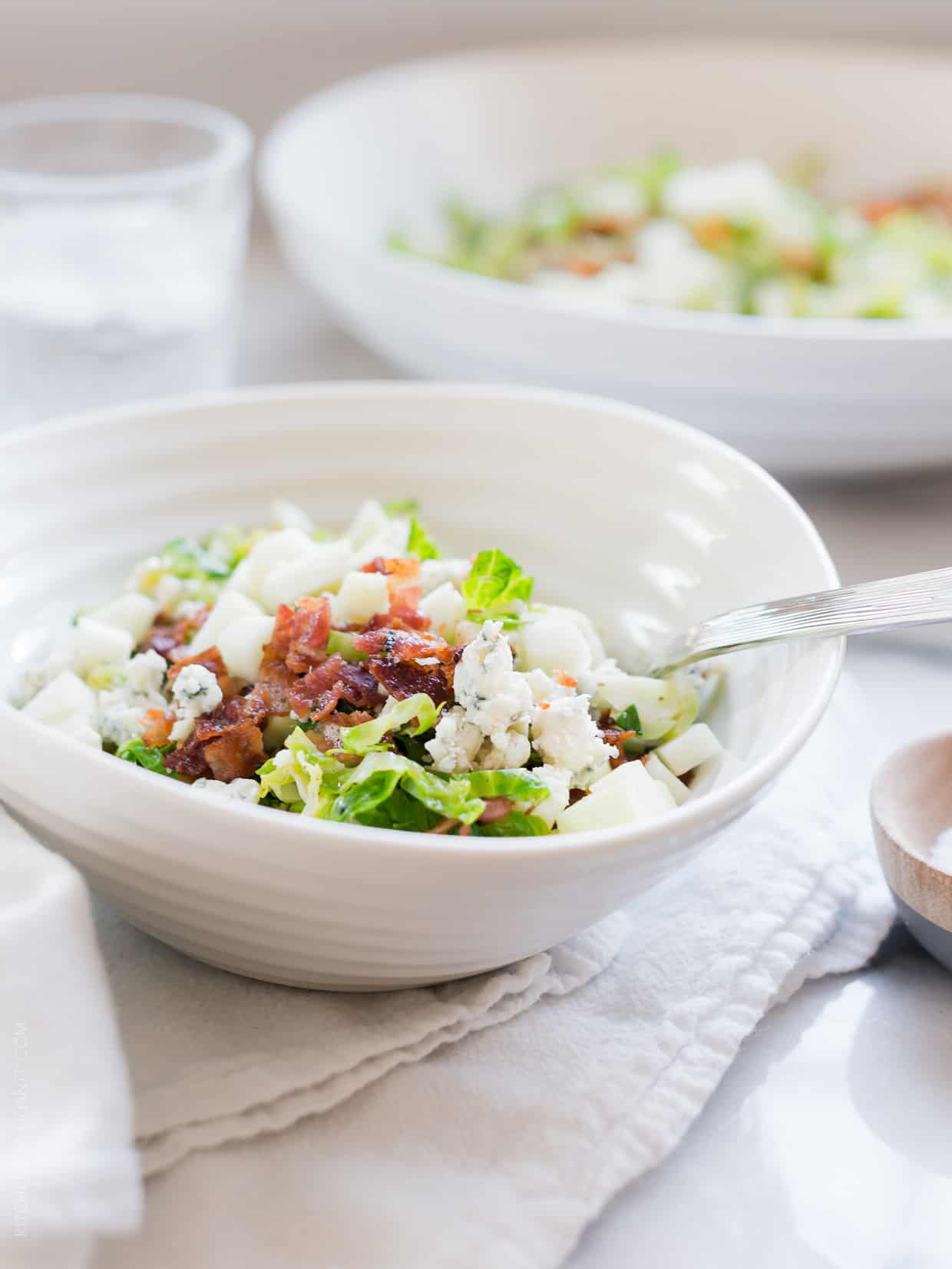 I couldn't sleep last night. Despite my exhaustion from the day, I knew the clock ticked towards midnight, and restlessness seized me. A feeling of anxiety began to take over, as I thought of the conference I will be speaking at this weekend, but contrary to what you might assume, I wasn't stressing about the panel or public speaking. It's the networking, the strangers.
This isn't my first conference rodeo. But the first time I attended IACP years ago, I will never forget what it felt like to be a blogger in a food world that was not yet ready to accept bloggers. It was all new, this blogging thing, to all of us. And the idea that blogging could parlay into business, well, that was harder for some to accept. Heck, I'll admit, it took me a while to even consider it as real. It didn't help that I attended some sessions where blogging was either blatantly dismissed or heatedly debated. I remember coming away from that conference not feeling welcomed, an outsider.
And now, several years later, I have had the good fortune of speaking on several panels, and this weekend, I will be speaking with some colleagues at IACP. Things have changed in digital media – it went from a curiosity to something more accepted. At least I hope. But I can't help but shake that worry, when I introduce myself and what I do – will you see me as an equal?
Most people I meet, I find, are kind hearted, and I have to trust that.
Have you ever met someone who you found instantly charming? Mesmerizing, even? But truly kind, through and through? They do exist, and some are more sincere than others. I met someone just like that – her name is Andie Mitchell. We met for the first time – in person, I should clarify – last fall at a blogging retreat in Deer Valley. But given that we live in this digital media space, I felt like I already knew her from her blog, her book
and her moving Andie Mitchell TED Talk.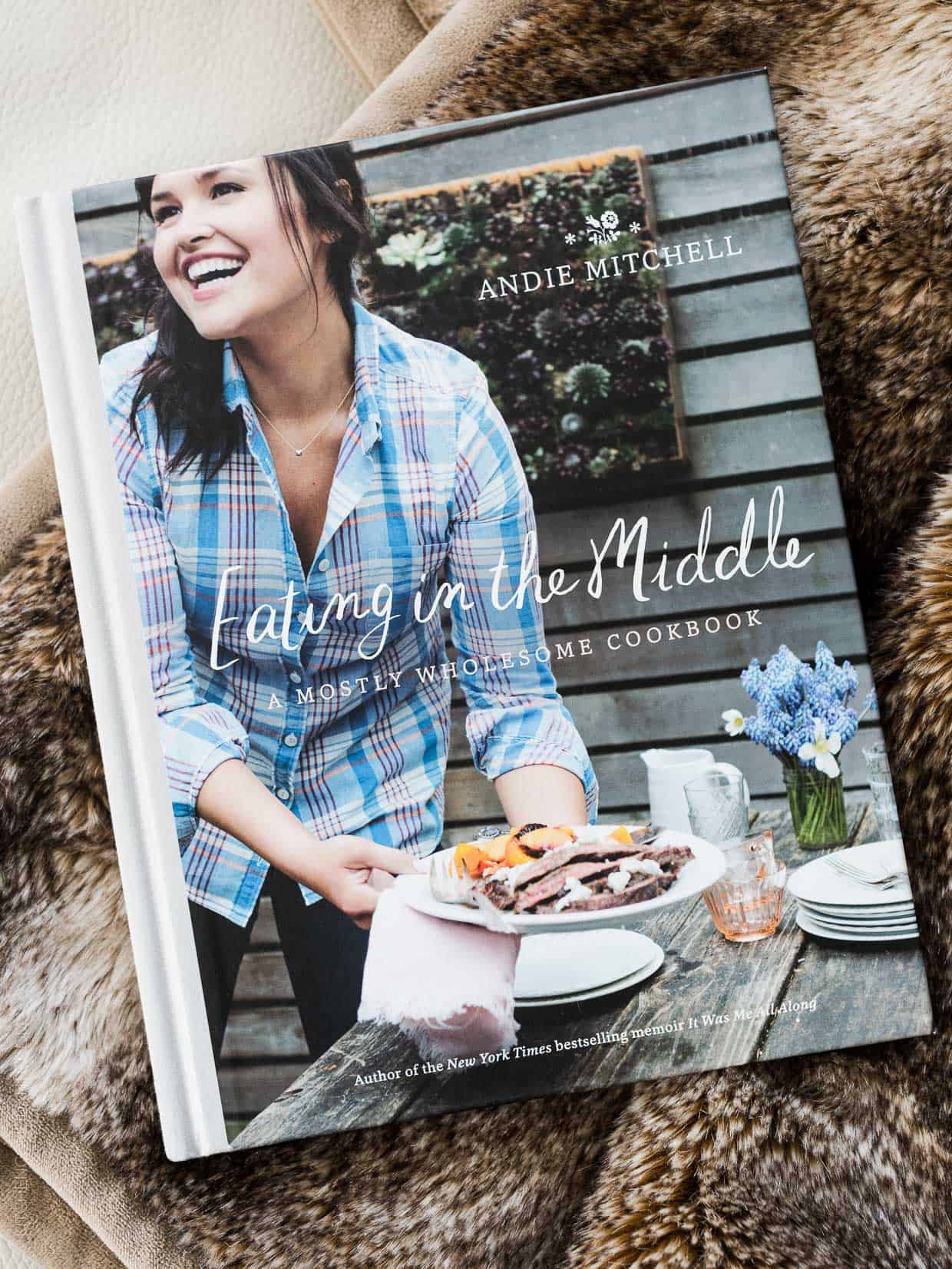 Andie is one of those inspiring women who makes you feel like an instant friend, and I couldn't be more proud of her when she followed up her best selling memoire with this cookbook: Eating in the Middle: A Mostly Wholesome Cookbook. Andie's style of cooking is a lot like mine – it embraces balance and a little bit of everything. It's not about depriving, it's about eating smartly and with joy. It's just like her.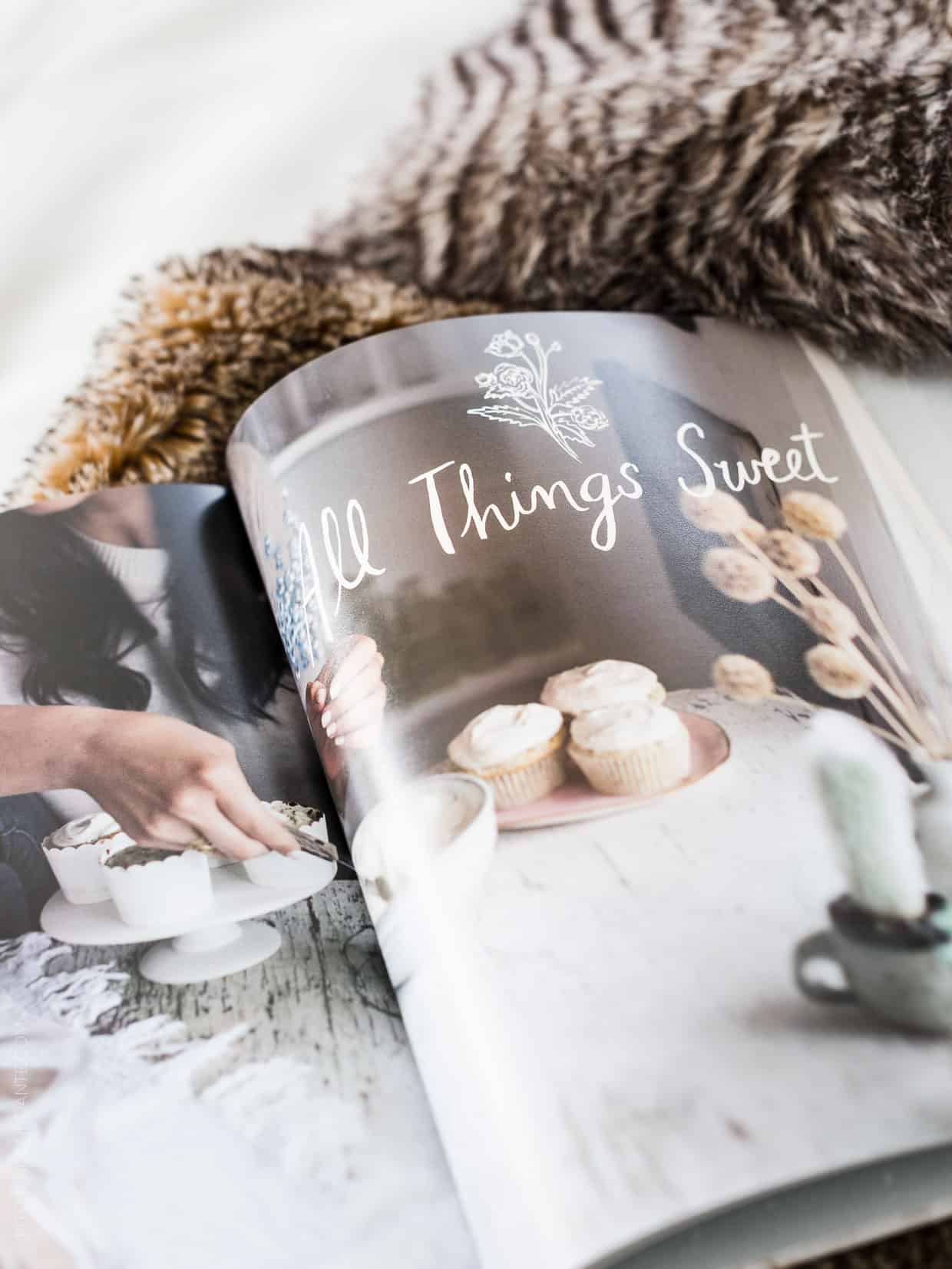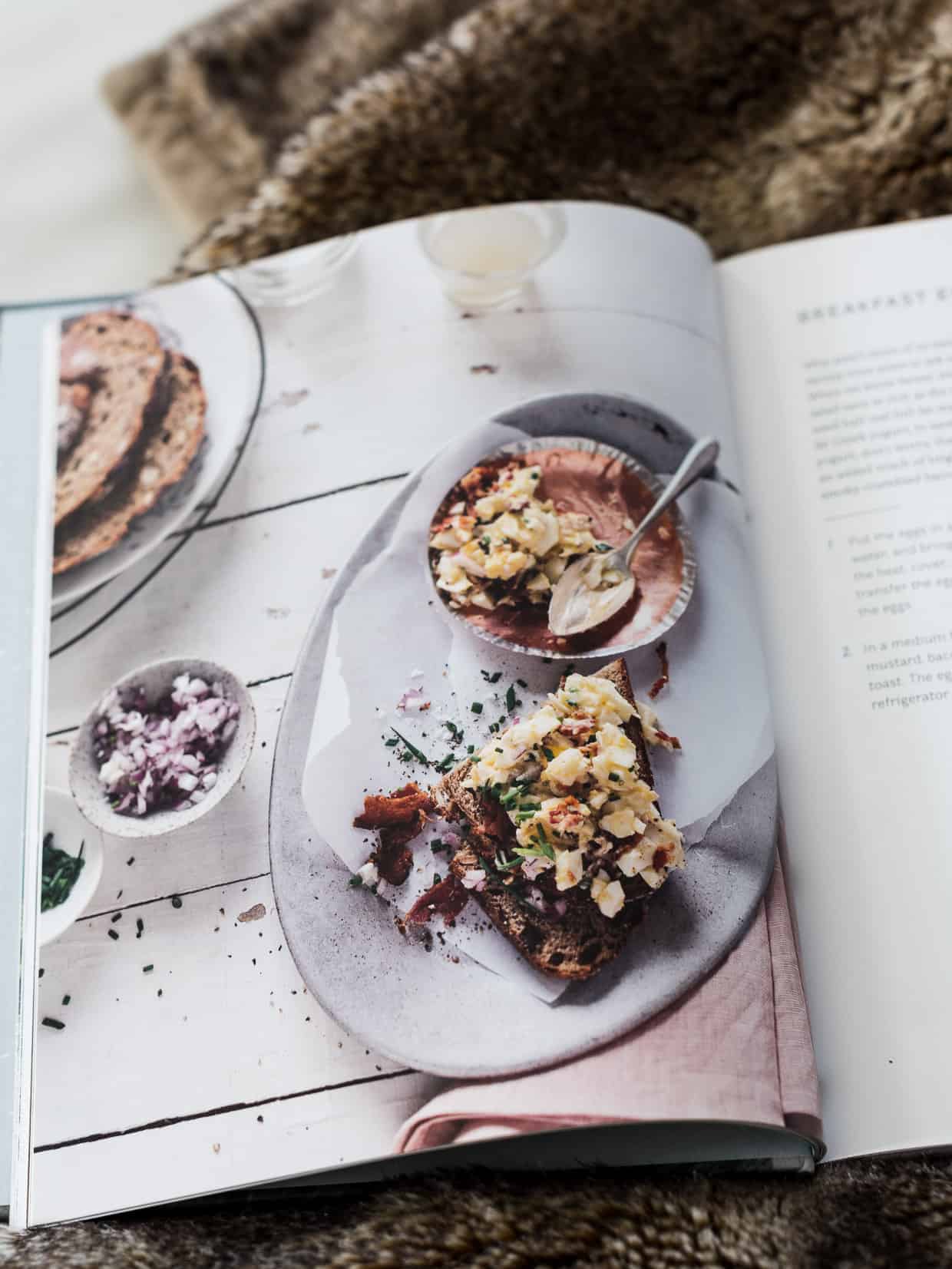 I've been cooking from her book lately, and I've enjoyed having Andie in the kitchen with me. Having an excess of hard boiled eggs from Easter, I loved using her recipe for Breakfast Egg Salad – you should check out Brenda and Naomi's blogs since they made it, too.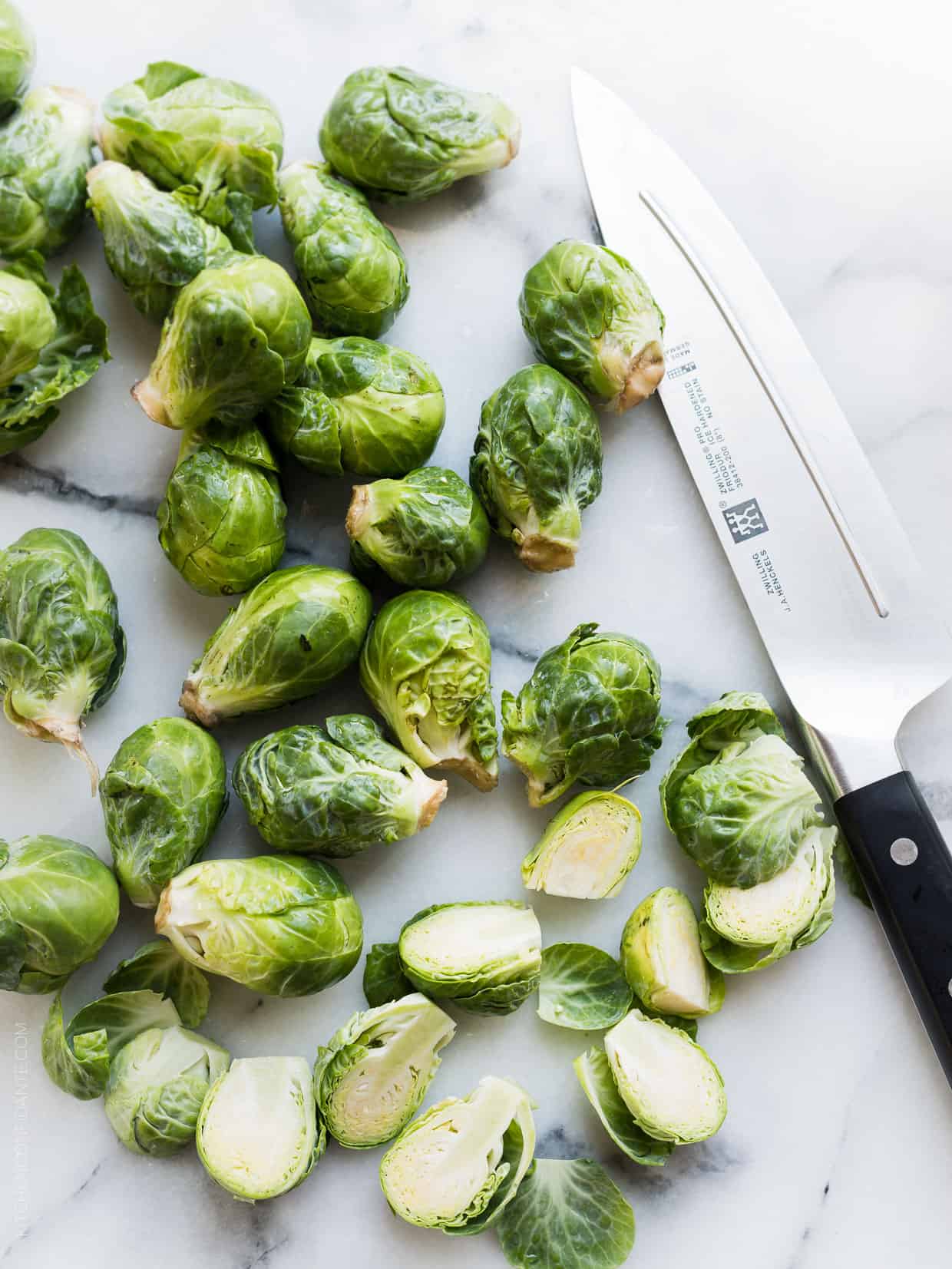 I decided to share with you her recipe for Shredded Brussels Sprouts Salad with Bacon, Apple and Gorgonzola. Brussels sprouts are something I can eat all year round, and in this salad, it's just how I love them – warm with a touch of bacon, and balanced with crisp, tart Grannie Smith apples and gorgonzola cheese. I actually made two versions – one with the stinkiest Port Reyes Crumble Blue cheese I could find for myself, and one with creamy French feta for my husband. Either way, it's delicious.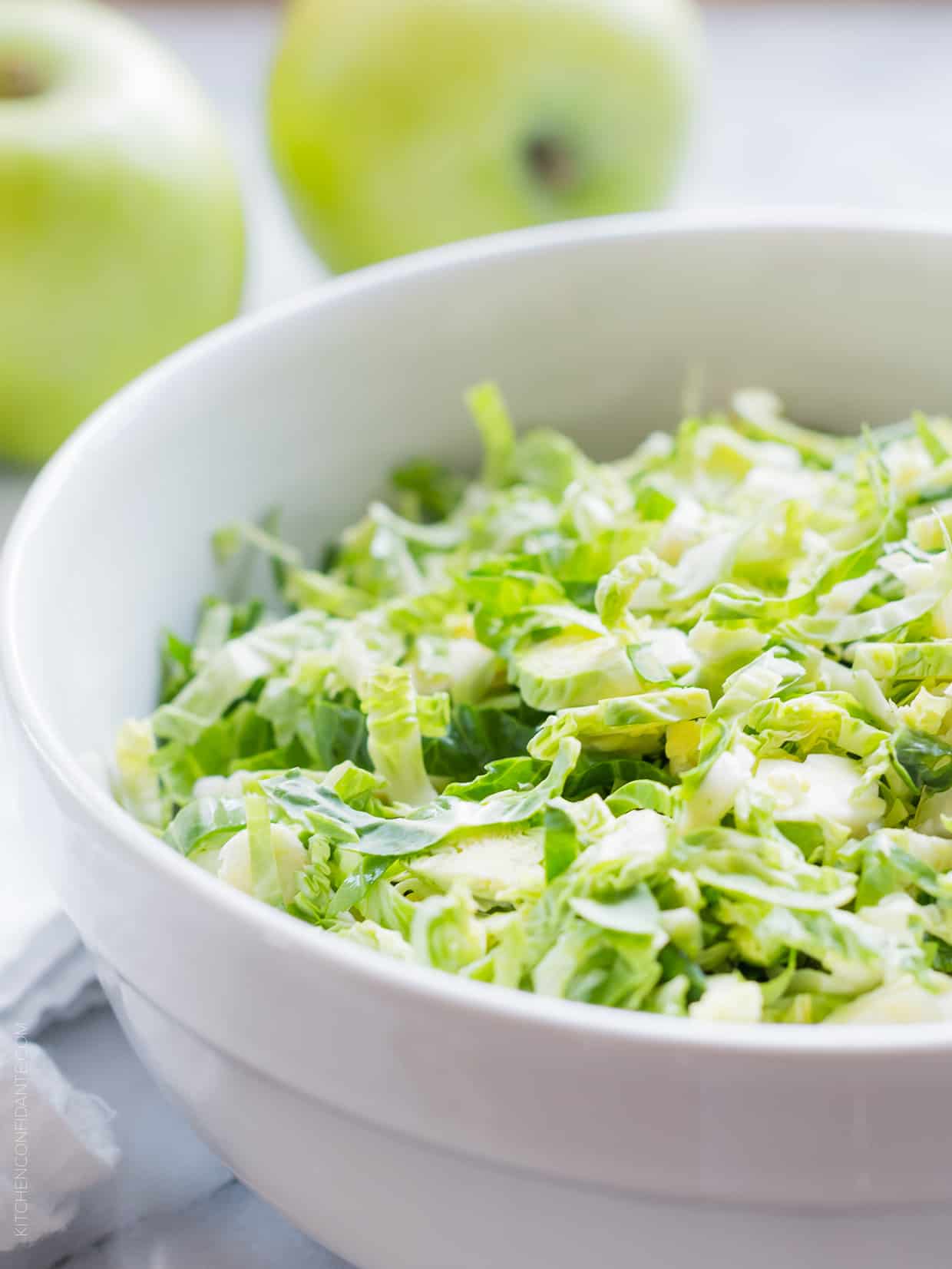 As I send this post off, I am going to tuck into the last bit of salad I have leftover for my lunch, then it's time to pack for my trip. I wish every stranger in the room was like Andie – maybe I'll just imagine them all that way – the world would be a much more welcoming place!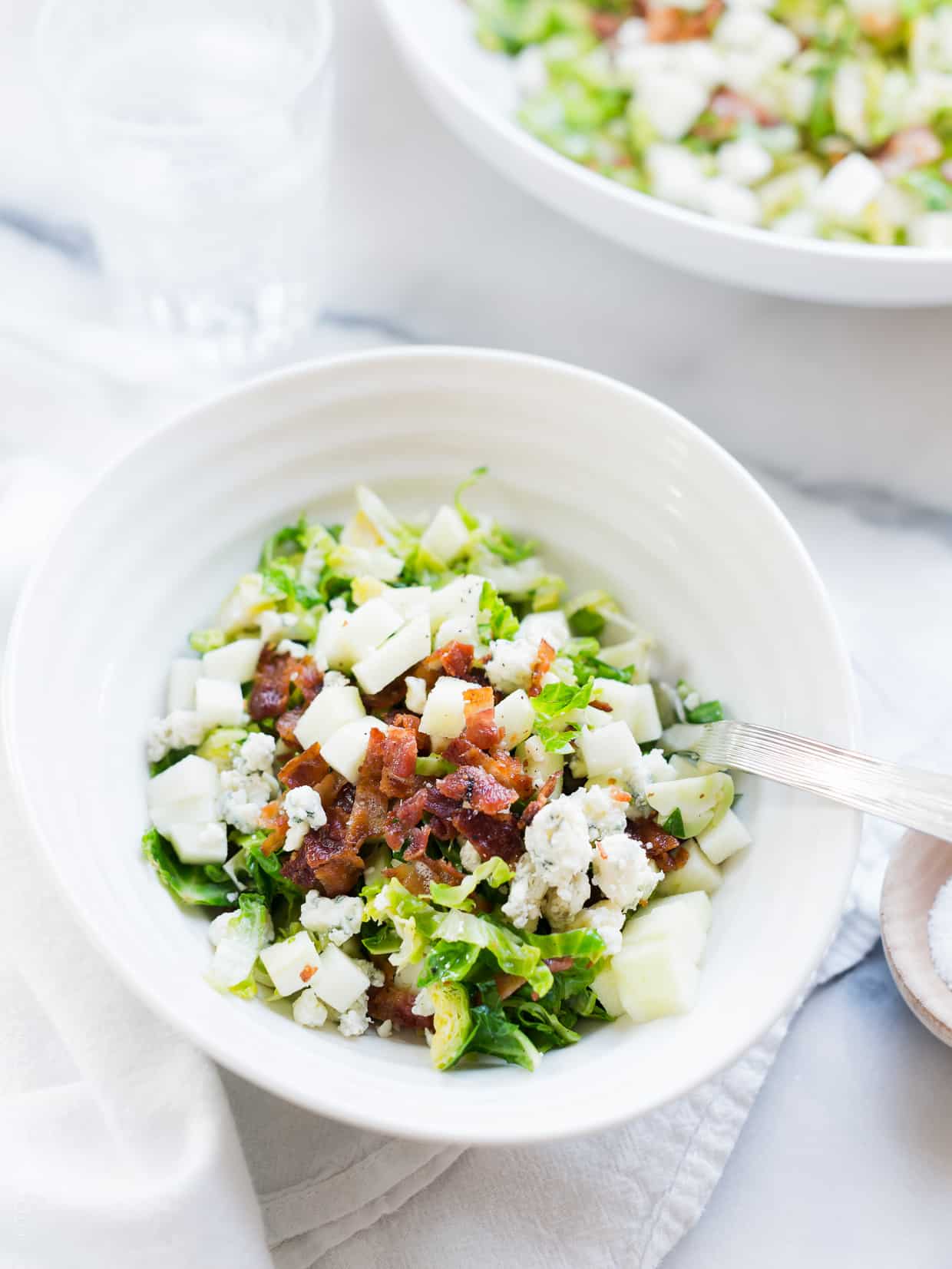 Disclosure: I received a complimentary copy of Eating in the Middle for my review. All opinions are, as always, my own. There are affiliate links in this post.
Shredded Brussels Sprouts Salad with Bacon, Apple & Gorgonzola
Shredded Brussels Sprouts Salad with Bacon, Apple & Gorgonzola – a wholesome yet indulgent recipe from the Andie Mitchell's cookbook, Eating in the Middle: A Mostly Wholesome Cookbook. Reprinted with permission.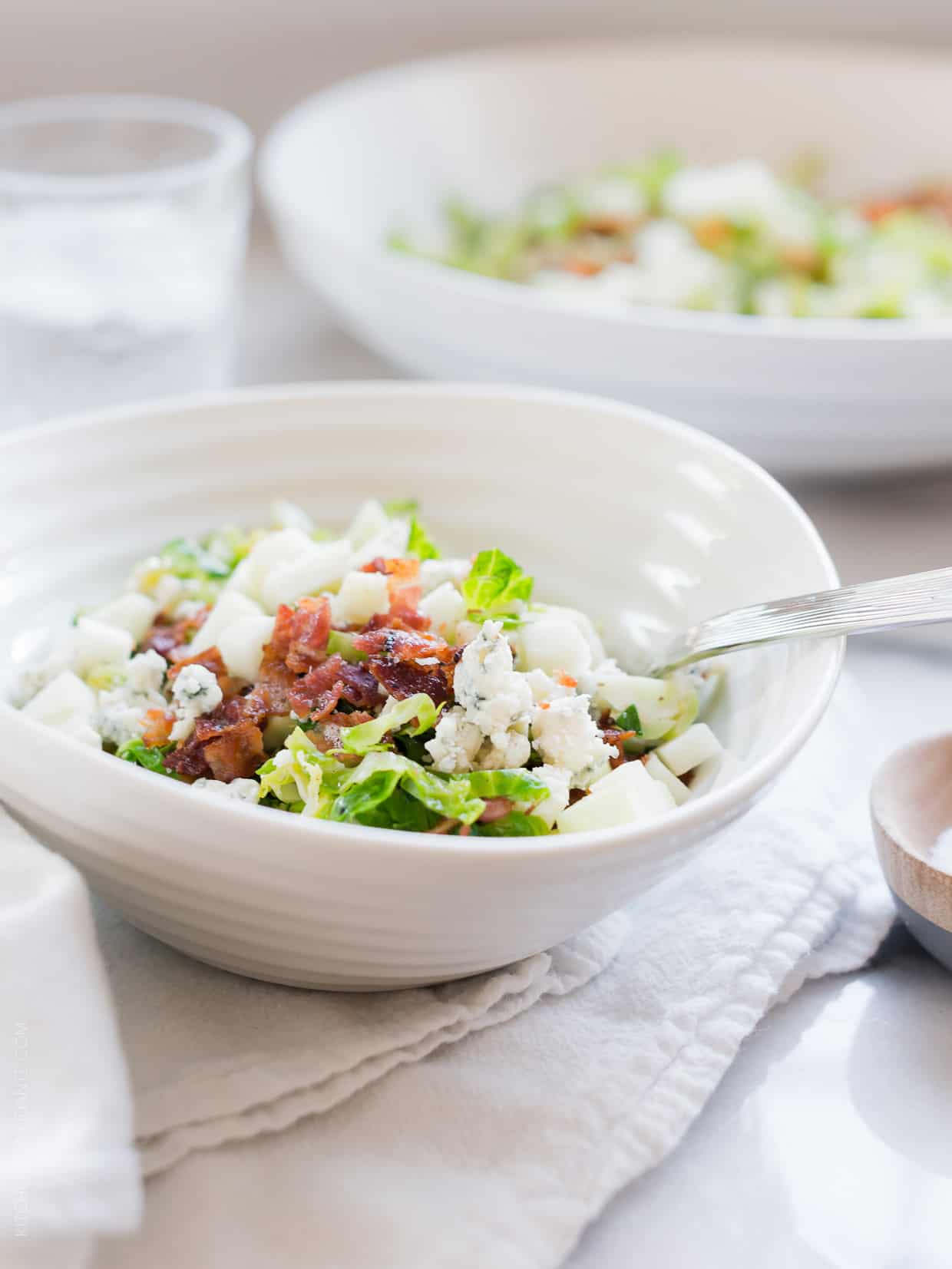 Print Recipe
Ingredients
1 1/2 pounds Brussels sprouts, trimmed (about 4 cups)
4 slices bacon
1/2 teaspoon kosher salt
1/4 teaspoon freshly ground black pepper
1 large Granny Smith apple, peeled, cored and finely chopped (about 1 cup)
2 ounces Gorgonzola cheese, crumbled (1/2 cup)
Instructions
Halve the sprouts and thinly slice them into ribbons lengthwise. Rub the slices gently between your fingers to separate the layers and put them in a large bowl.
In a 12-inch nonstick skillet set over medium-high heat, cook the bacon until crisp, 5 to 7 minutes. Transfer to a paper towel-lined plate to drain.
Pour off all but 1 tablespoon of the rendered bacon fat from the pan and return the pan to medium-high heat. Add the sprouts, salt and pepper, and cook, stirring frequently until browned, 4 to 5 minutes.
Transfer the sprouts to a large bowl, crumble the bacon on top, and add the apple pieces and cheese. Toss to combine, divide among 4 plates, and serve.
Recipe from Eating in the Middle: A Mostly Wholesome Cookbook by Andie Mitchell (Clarkson Potter, 2016).