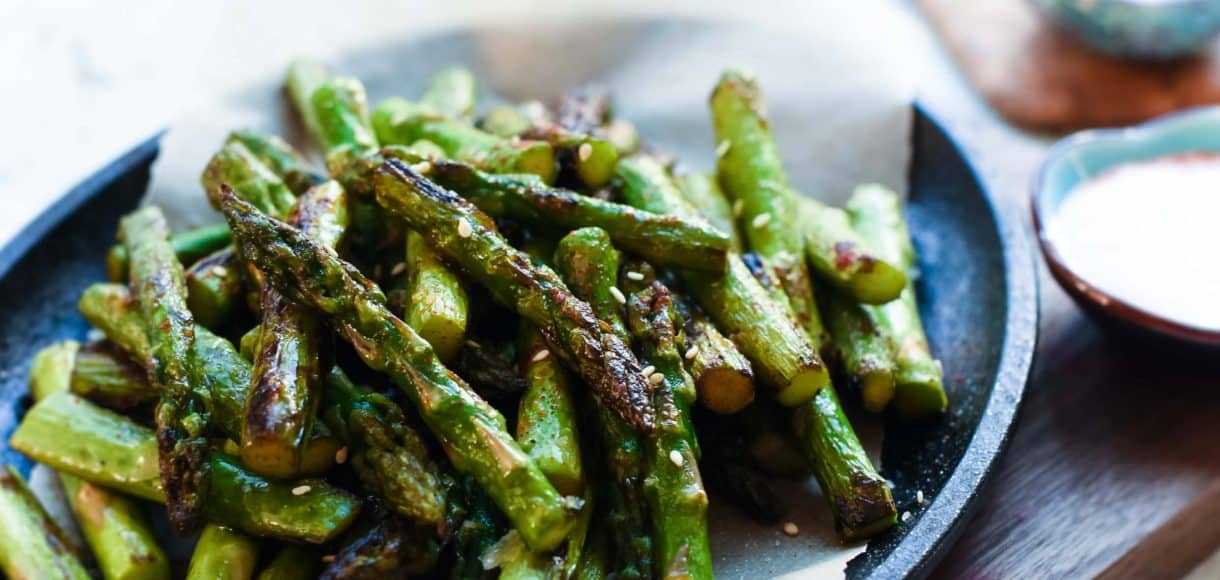 Hot Chili Blistered Asparagus with Sriracha Aioli
Hot Chili Blistered Asparagus with Sriracha Aioli is simply addictive! They're sure to please a crowd, whether served as an appetizer or a spicy snack! I'm guessing that if you have a cat in your life, he or she hates the water. Of all the…
Hot Chili Blistered Asparagus with Sriracha Aioli
Hot Chili Blistered Asparagus with Sriracha Aioli is simply addictive! They're sure to please a crowd, whether served as an appetizer or a spicy snack!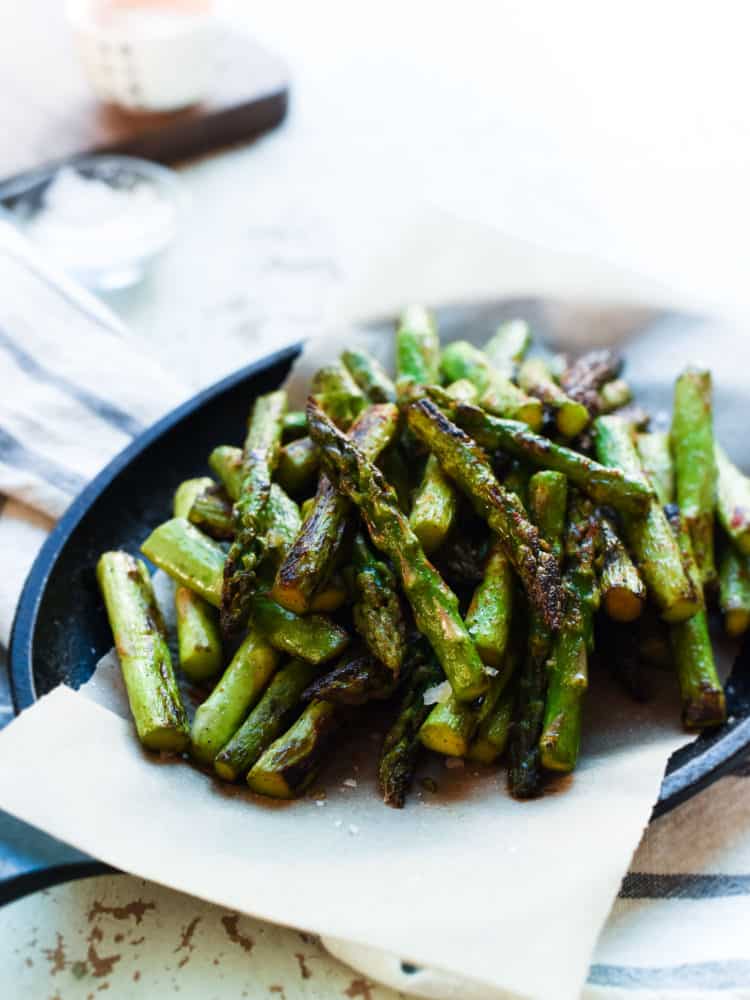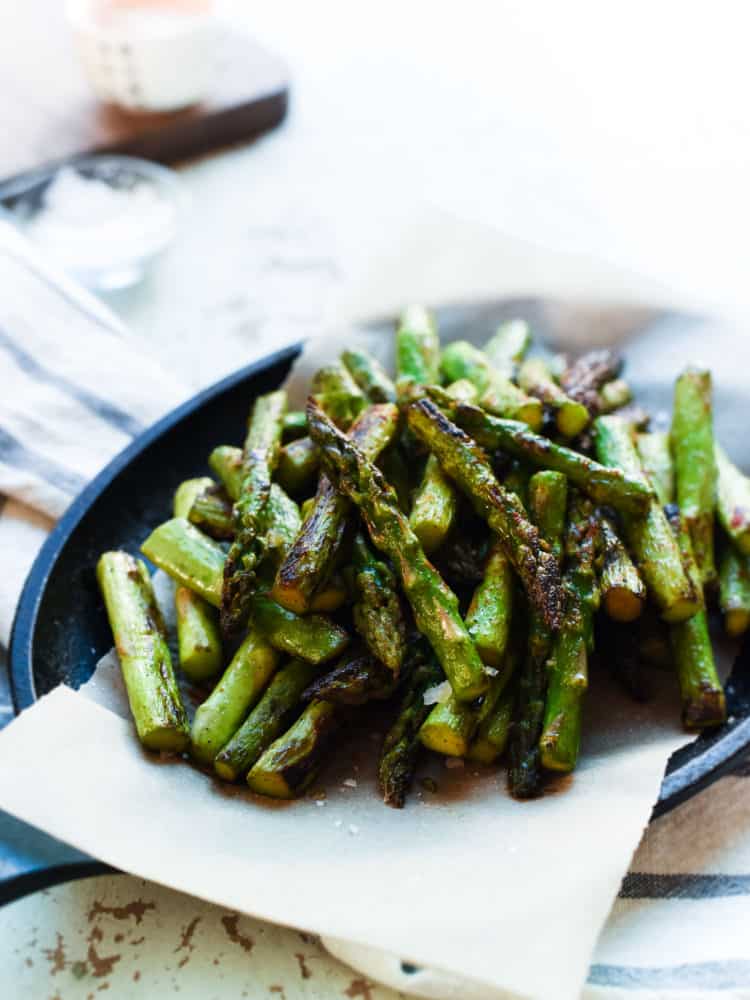 I'm guessing that if you have a cat in your life, he or she hates the water.
Of all the cats that have been a part of our family over the years, not to mention the cats I've ever known, I never met one that wanted anything more with water, other than to drink directly out of the faucet!
Enter Chewy. Chewy came into our lives in October, and I had nothing to do with it. My family snuck her in, while I was in Napa for a lunch event, and in the few hours it took me to drive to wine country, eat, and come back, I came home to a husband and two kids who were bursting with the surprise.
They say the look on my face when I saw Chewy was priceless. And it wasn't exactly a pretty look, I'm willing to bet. Then again, Chewy kind of looked like a little rat at first glance.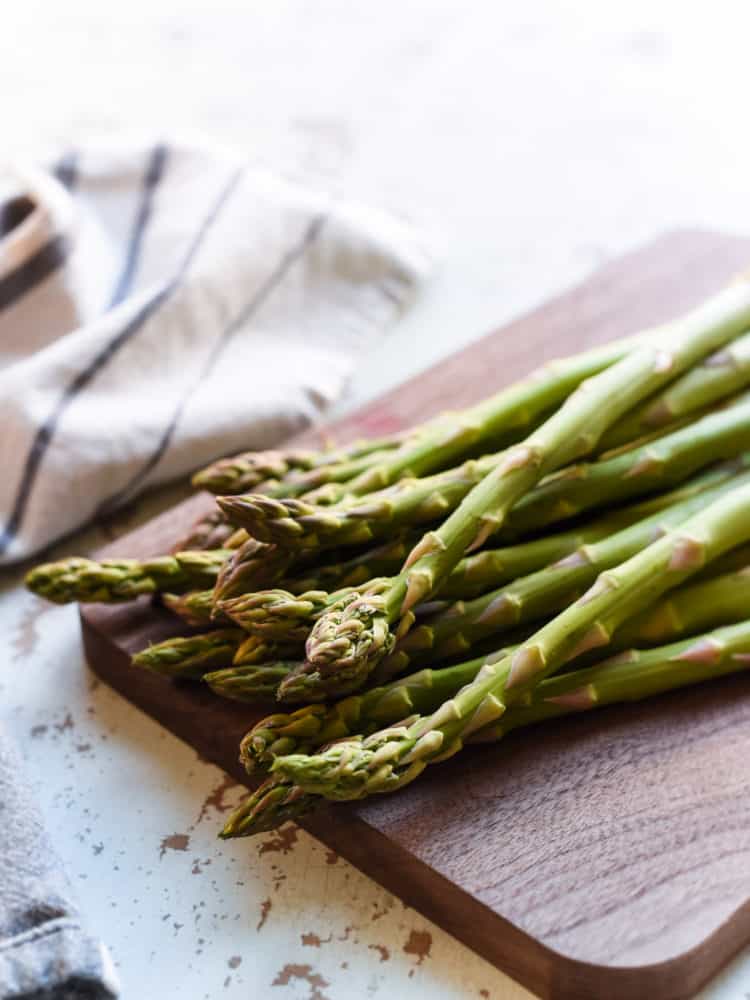 But once the initial shock of having another pet in the house (and all the added responsibilities that, let's be honest, fall upon these shoulders – my shoulders!) blew over, I fell in love.
Chewy is a sweetheart, and a cuddler, and wouldn't you know it, likes the water.
You can imagine how shocked I was when I turned around in the shower one day, and there she was, blissfully playing under the stream, until she was soaked to the bone. She looked like…you guessed it…a wet rat.
I thought it might be an anomaly. But no, this cat loves the shower! As soon as she hears the water, you can count on Chewy jumping right in!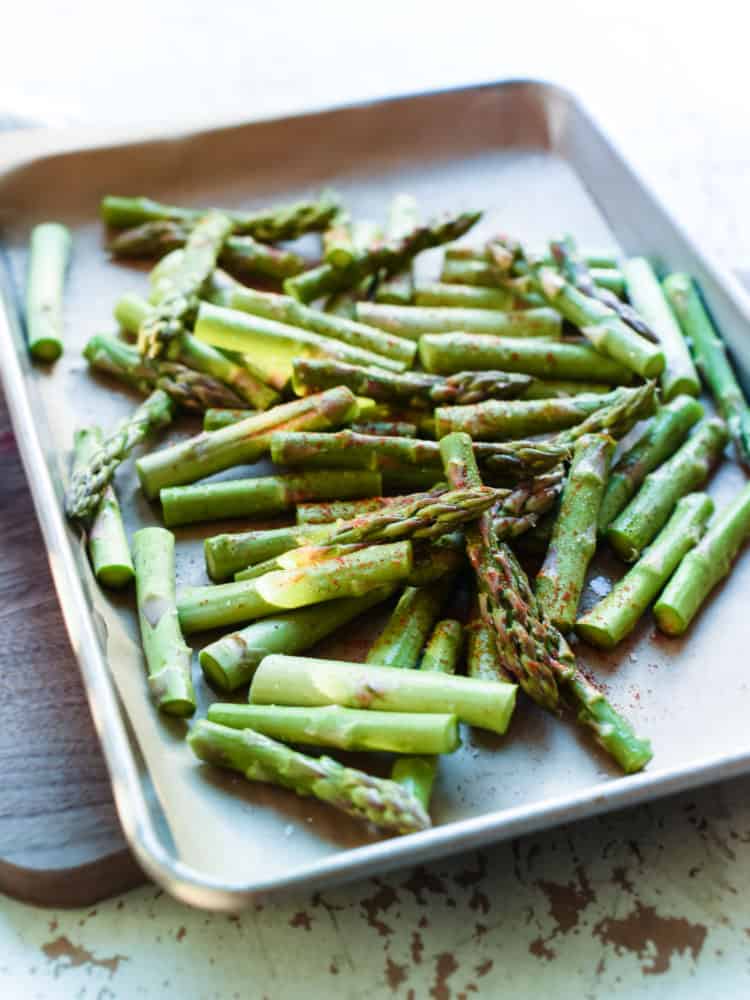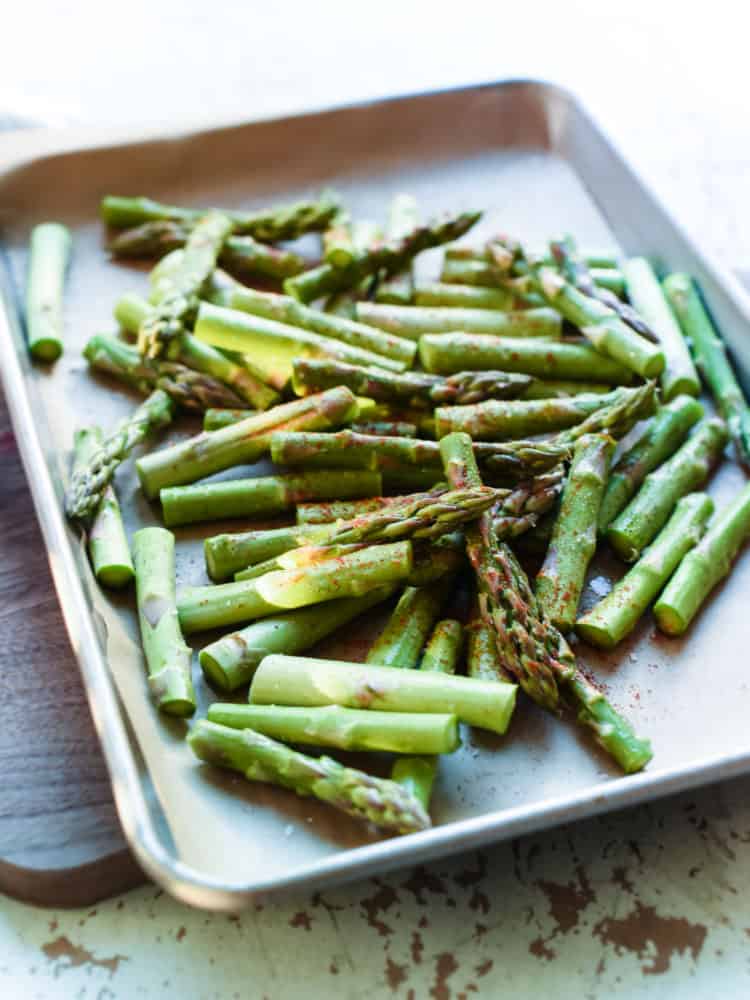 Anyway, I realized the other day that there are foods that I kind of peg into the same hole, asparagus being one of them.
Always afraid of overcooking them into messy, mushy oblivion, I'd err on the side of caution to preserve the crunch and snap. But when we were in Lake Tahoe a few weeks ago, we had the most perfectly blistered asparagus at our favorite sushi restaurant — charred but crunchy, salty and deliciously spicy — I knew I had to recreate it when I got back home.
These Hot Chili Blistered Asparagus with Sriracha Aioli cook up so quickly, and are so packed with flavor, I guarantee that if you've never tried blistering your asparagus, it will change your mind about how to cook this vegetable. And just like crazy cats who love the water, I'm willing to bet you'll love them even more.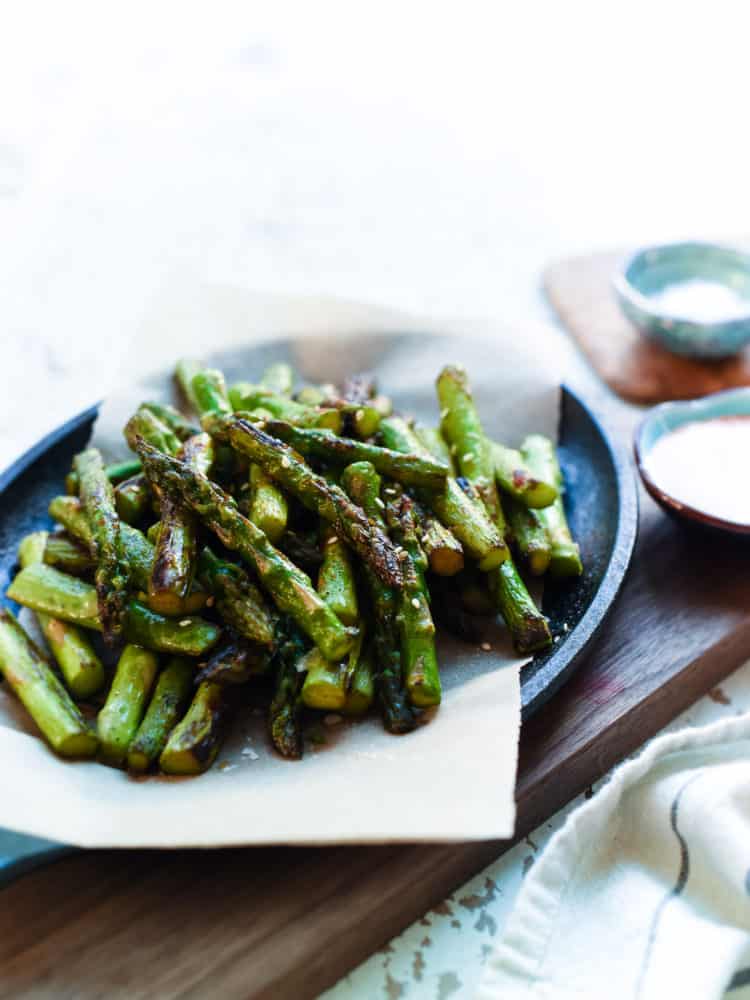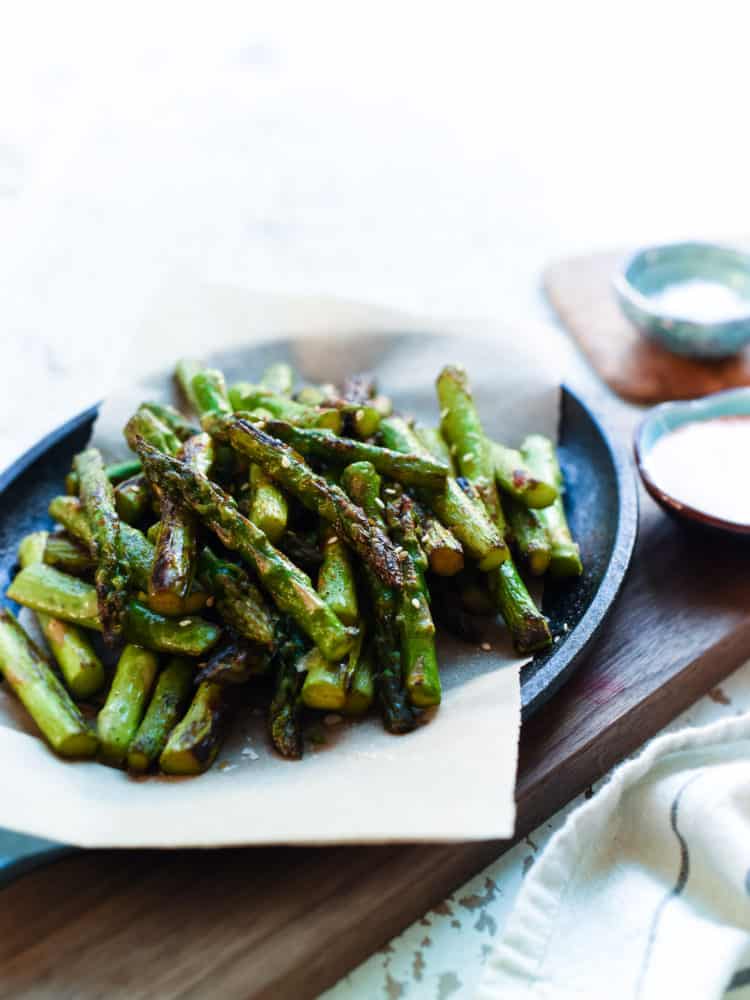 Eat Seasonal
Spring is around the corner! I'm excited to join Becky from Vintage Mixer and our friends to share dishes that embrace eating seasonal! Check out these recipes for more #EatSeasonal inspiration this March.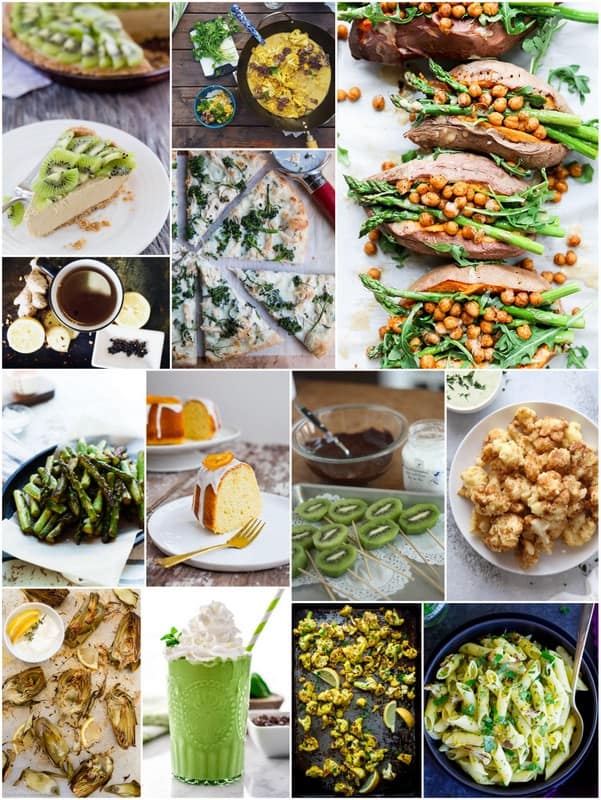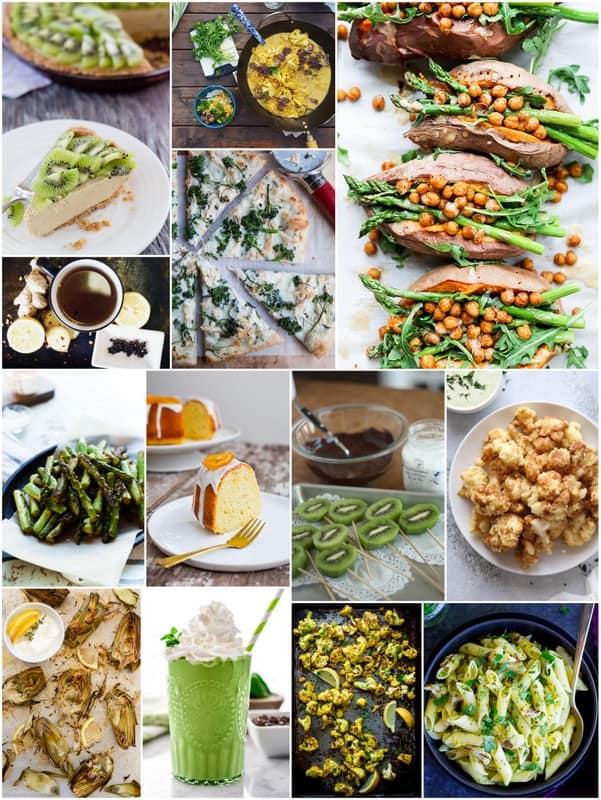 Creamy Vegan Kiwi Lime Avocado Pie by Letty's Kitchen
Chana Aloo Gobi Masala: Chickpea, Potato, and Cauliflower Curry by Food for My Family
Stuffed Sweet Potatoes with Chickpeas, Asparagus and Arugula by Floating Kitchen
Spicy Lemon-Ginger Tonic Tea by Suitcase Foodist
Broccoli Rabe and Chicken Pizza with Basil Cream Sauce by Vintage Mixer
Glazed Meyer Lemon Bundt Cake with Candied Lemons by Simple Bites
Frozen Chocolate-Dipped Kiwi with Sea Salt by Project Domestication
Tempura Cauliflower with Spiced Yogurt Dipping Sauce by Completely Delicious
Easy Lemon Thyme Roasted Artichokes by Flavor the Moments
Healthy Shamrock Shake by Joy Food Sunshine
Curry Roasted Cauliflower by Healthy Seasonal Recipes
Roasted Cauliflower Pasta with Lemon Chimichurri by She Likes Food
Thai Curry Cauliflower Soup by Mountain Mama Cooks
Hot Chili Blistered Asparagus with Sriracha Aioli
Hot Chili Blistered Asparagus with Sriracha Aioli is simply addictive! They're sure to please a crowd, whether served as an appetizer or a spicy snack!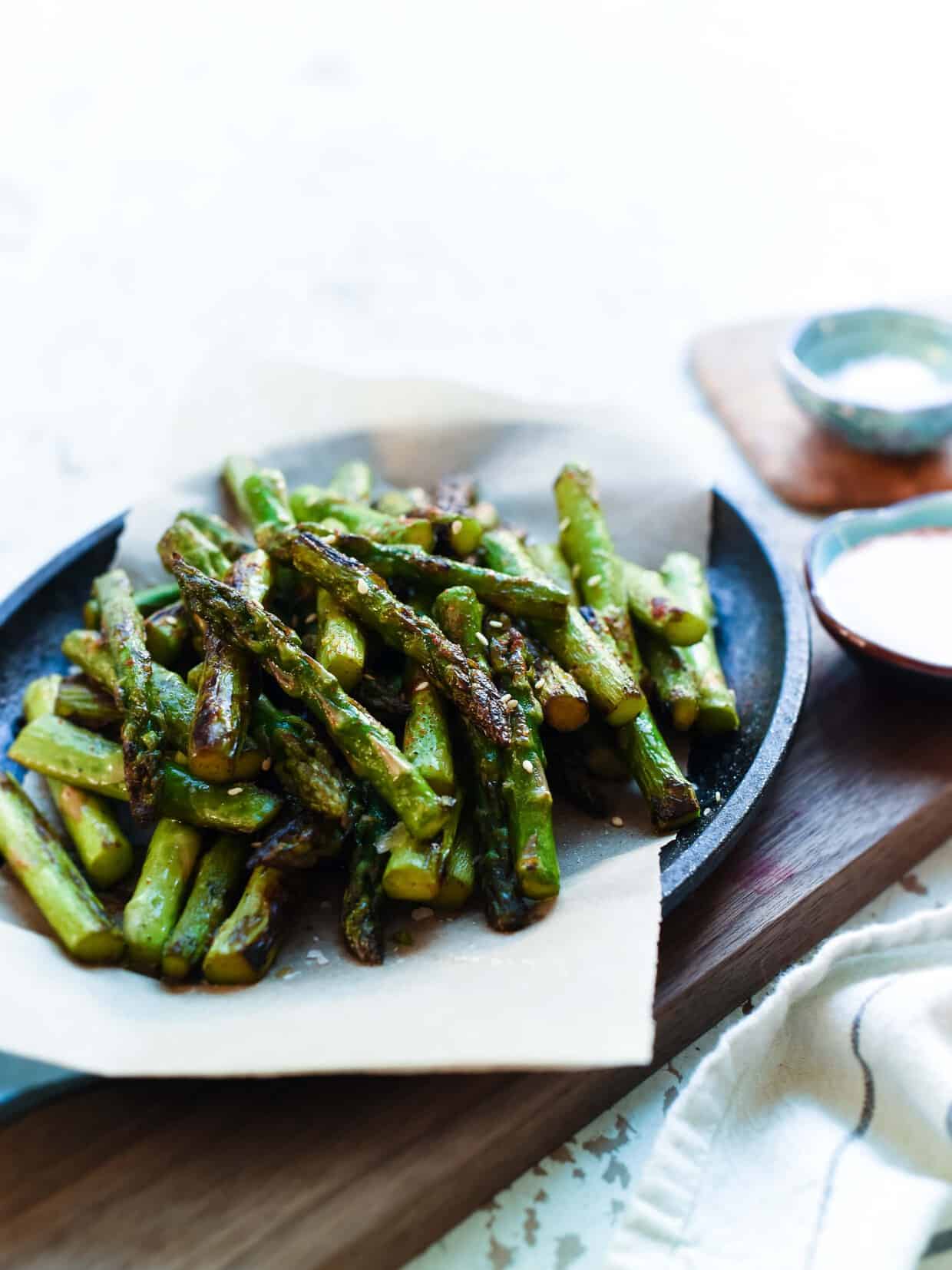 Print Recipe
Ingredients
For the Sriracha Aioli:
3 cloves garlic
1/4 teaspoon kosher salt
Freshly ground black pepper
1 large egg yolk
1/2 cup extra virgin olive oil
1/4 cup buttermilk
1 teaspoon Sriracha (more or less to taste)
1/8 teaspoon sherry vinegar
Kosher salt
Freshly ground black pepper
For the Blistered Asparagus
1 tablespoon extra virgin olive oil
1/2 tablespoon hot chili oil (to taste, use less if you don't want it too spicy)
1 pound asparagus, bottoms trimmed, and cut into 3 inch pieces
1/2 teaspoon Japanese togarashi or cayenne pepper (optional)
Course salt (such as Kosher salt or sea flakes)
Instructions
Make the Sriracha Aioli:
Peel and mash the garlic along with the salt, finely mincing and pressing with the side of the knife to create a paste. Place the garlic in a small bowl, season with some freshly cracked black pepper and whisk in the egg yolk until it is creamy. As you whisk, begin to add the olive oil gradually: begin with just a few drops of olive oil, fully whisking until the yolks thicken and emulsify. Continue adding the olive oil in drops, then in a very slow stream, continually whisking. It should be thick and very creamy. Whisk in the buttermilk and season with Sriracha, sherry vinegar, and additional salt and pepper, to taste. Store in a tightly sealed container in the refrigerator until ready to serve. This can be done a few days in advance.
Make the Blistered Asparagus:
Heat a heavy skillet (cast iron would be ideal) over high heat. Add the olive oil and hot chili oil, swirling the skillet to evenly coat. Drop in the asparagus, and cook, stirring occasionally, until they char and blister, and turn a brilliant green. Season with togarashi (if using) and salt and transfer to a serving dish.
Serve while piping hot, with the Sriracha Aioli.
Notes
If you don't have time to make the aioli, you can take a shortcut! Simply mix about 1/2 cup mayonnaise with Sriracha and the sherry vinegar, and season to taste with salt and pepper.