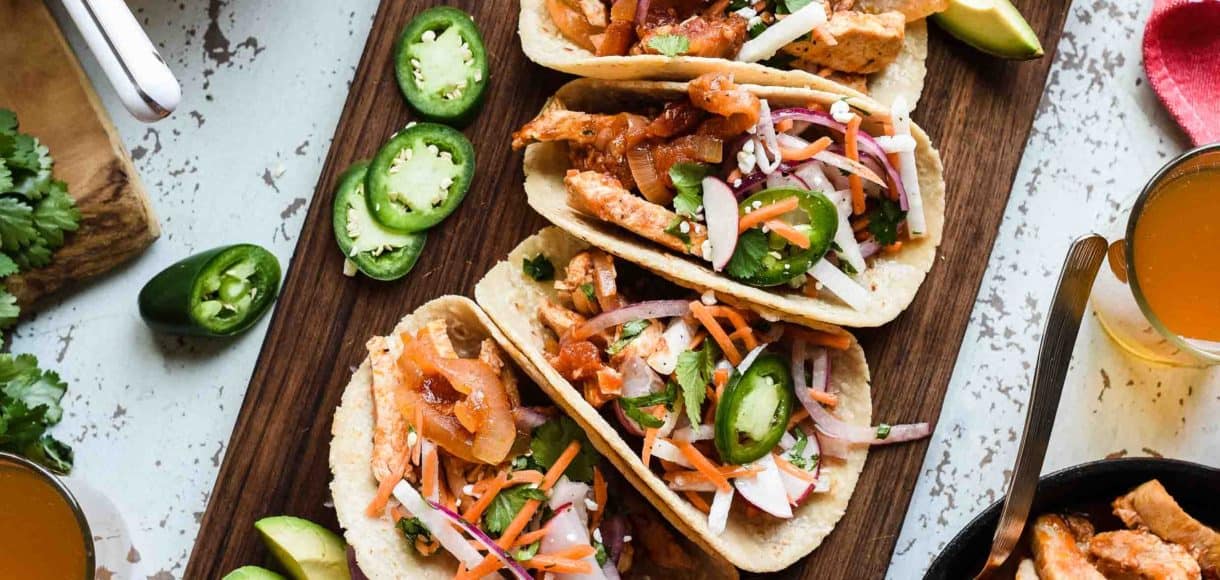 Chipotle Chicken Tacos with Jicama Slaw
Give taco night a little spice and some extra crunch with these Chipotle Chicken Tacos with Jicama Slaw! This post is brought to you in partnership with Thrive Algae Oil. It's raining tacos… "What?" you ask? If you're familiar with the raining tacos song, then…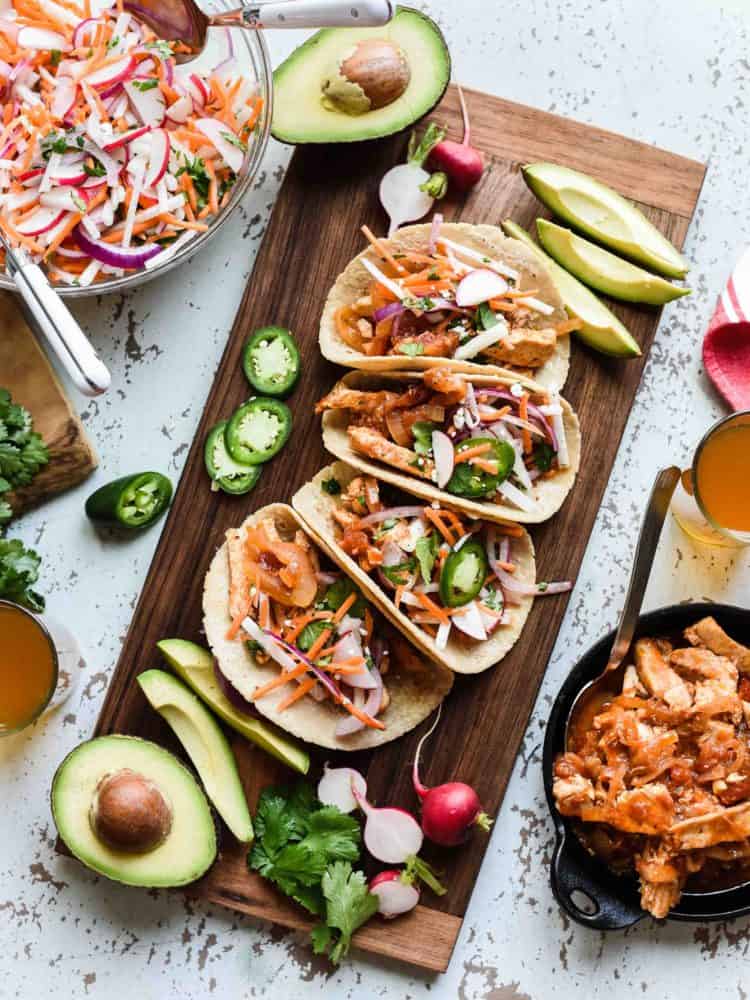 Chipotle Chicken Tacos with Jicama Slaw
Give taco night a little spice and some extra crunch with these Chipotle Chicken Tacos with Jicama Slaw! This post is brought to you in partnership with Thrive Algae Oil.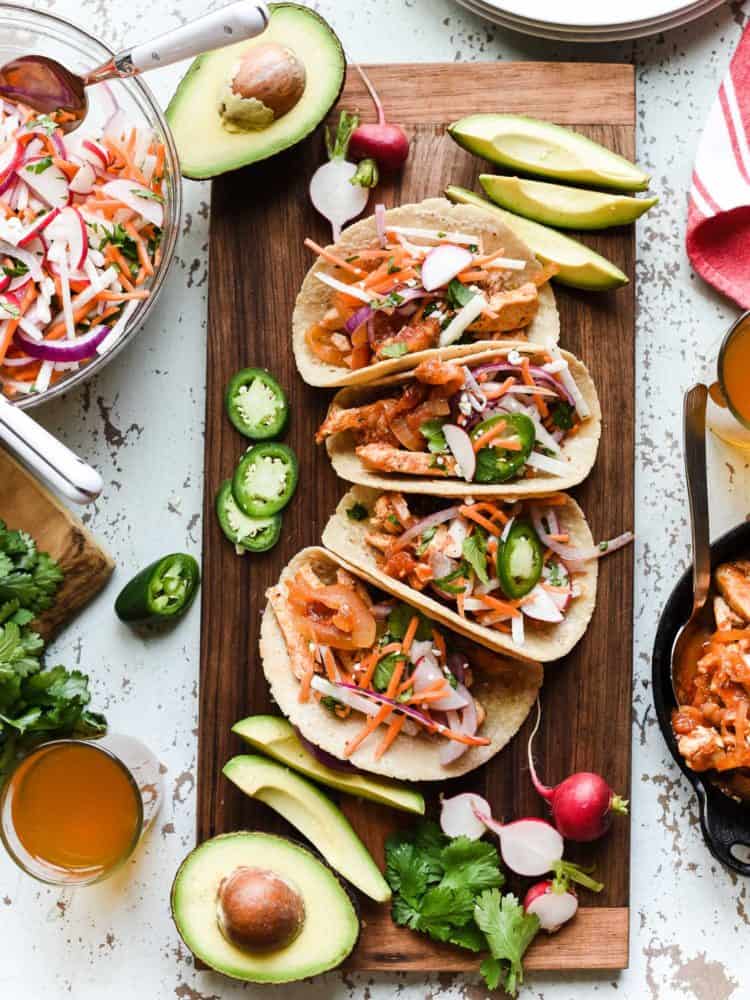 It's raining tacos…

"What?" you ask?
If you're familiar with the raining tacos song, then I apologize for reminding you, and if you haven't, well, give it a listen — you must admit, it's a little catchy! I guarantee this children's song will be stuck in your brain for at least a week. I'm sorry. Sort of.
This little earworm, along with Taco Tuesday, comes once a week at our house, and when it does, my kids start singing.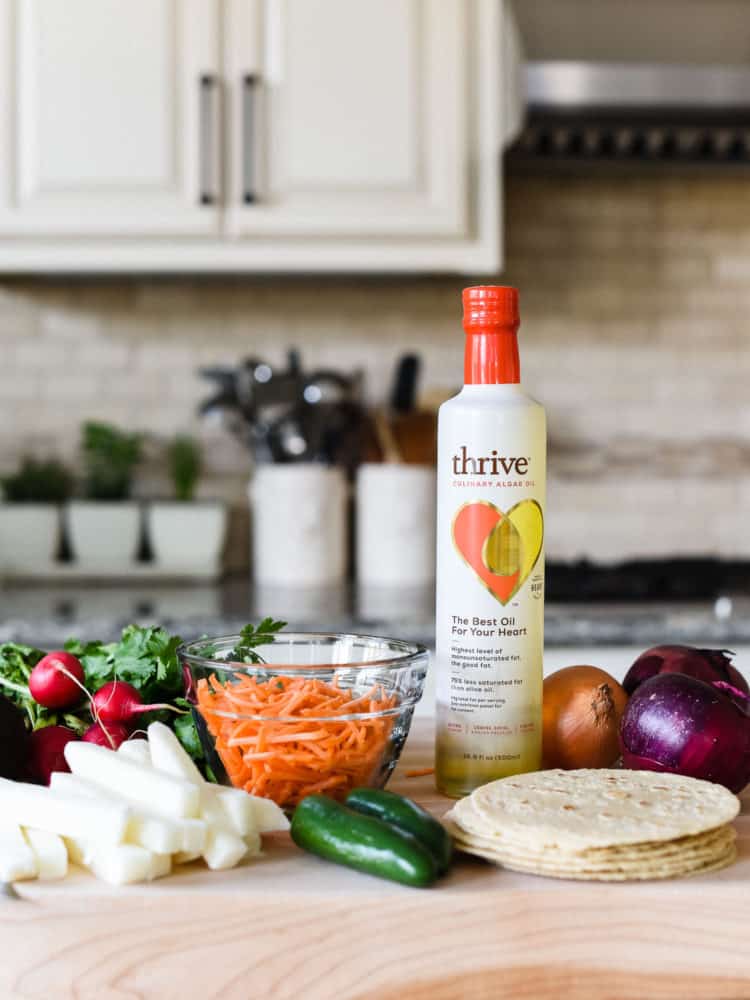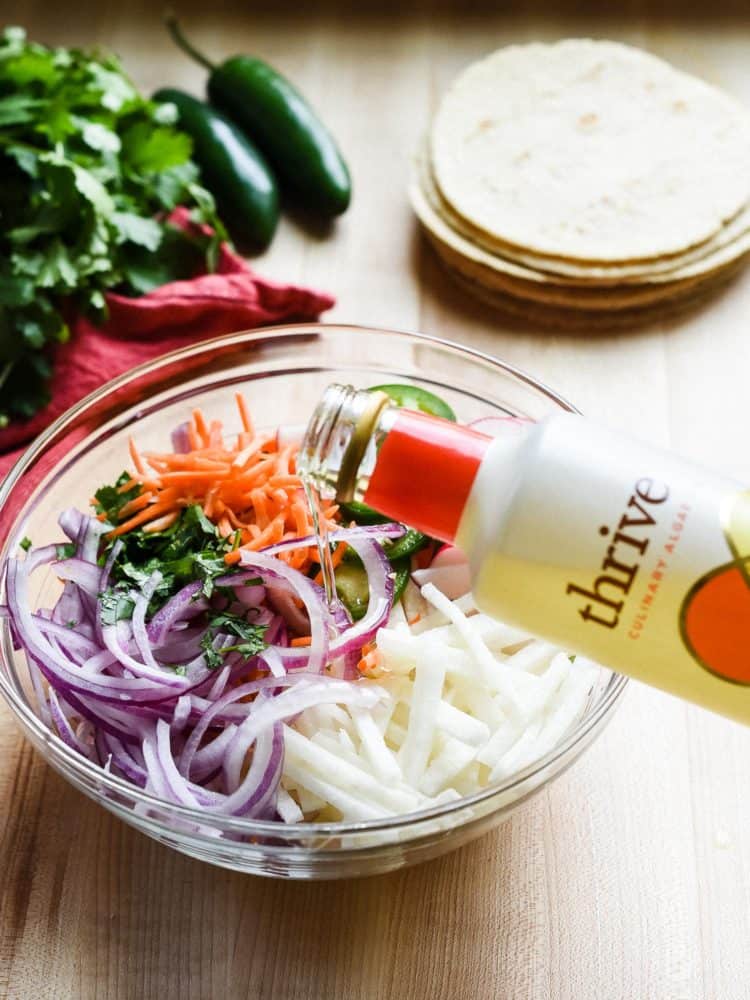 Tacos are always a winner with my family, but as my kids get older, the requests become more particular. Crunchy tacos for my son, soft tacos for my daughter, and don't get me started on all the toppings. A dinner that is meant to be simple turns into quite an effort, simply because most of my time is spent chopping all the various accoutrements so we can customize our tacos to our liking.
And I get it, that's part of the fun. But once in a while, I just want to streamline things — one kind of shell, one topping, one filling — bam, dinner is served.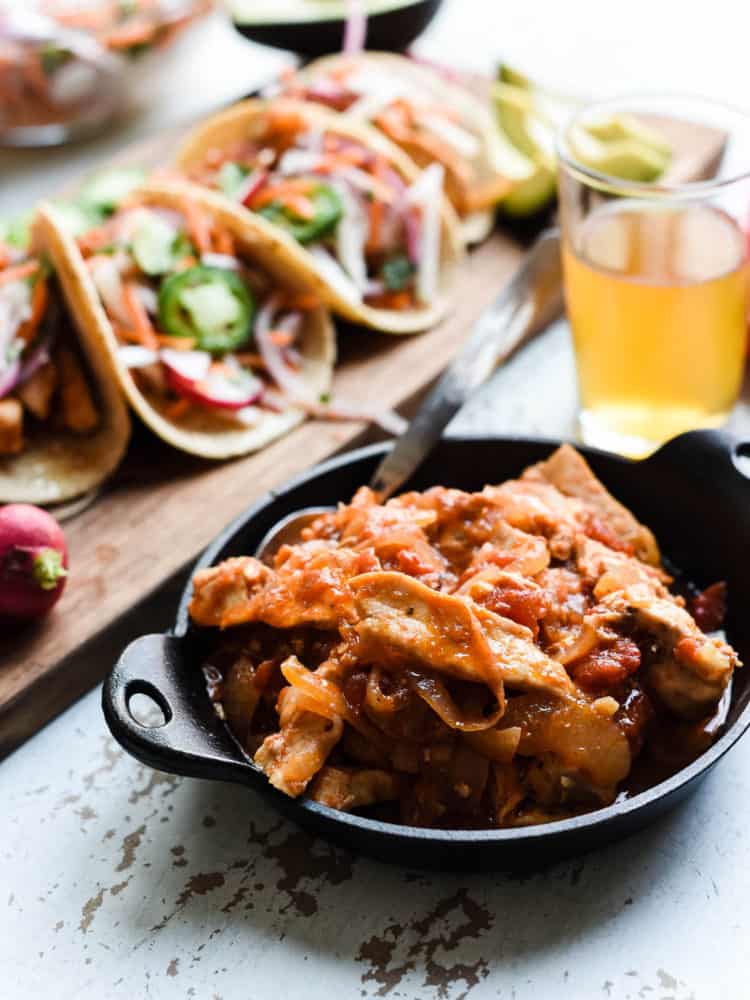 Corn taco tortillas are something we can all agree upon, and to further the compromise, a smokey, chipotle chicken filling is so simple, I can cook it up in less than half an hour, or if it's a busy day, let a slow cooker do the work. And for the topping, a crunchy jicama slaw adds freshness and brightness, bursting with so much flavor, even the tacos seem like they're singing.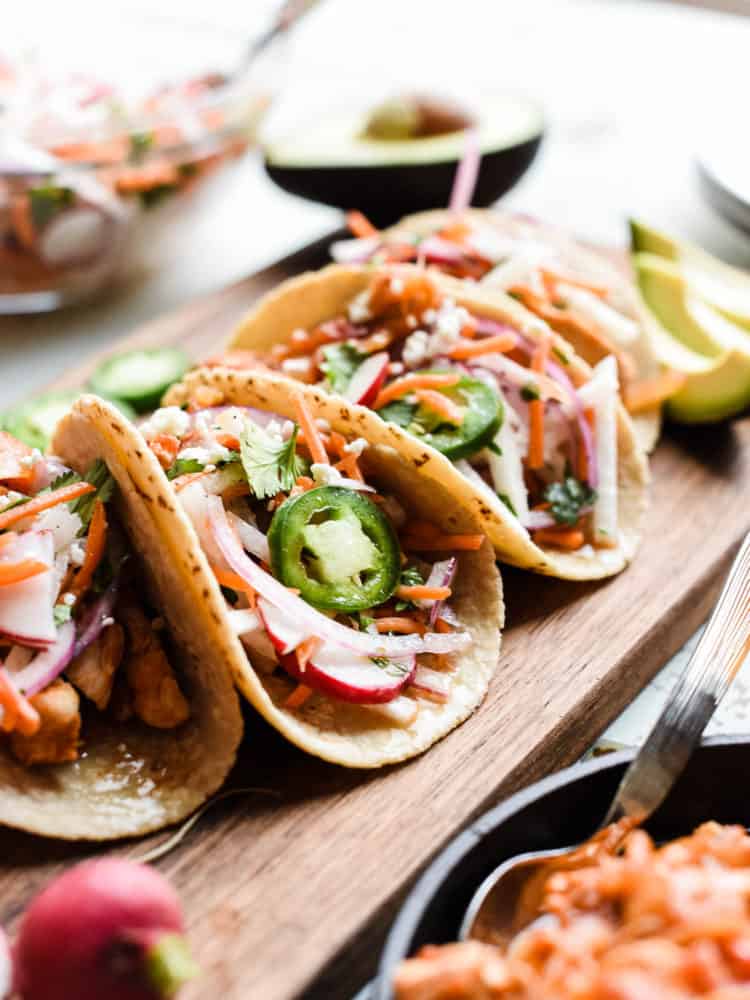 To make these Chipotle Chicken Tacos with Jicama Slaw, I use one of my favorite cooking oils — have you ever tried Thrive Algae Oil? Ever since I first started cooking with Thrive Algae Oil last year, it has become a go-to in my everyday cooking, and I was excited to create this recipe to share with you how versatile it is.
Because of Thrive Algae Oil's high smoke point, I can use this when cooking stir-fries, searing, sautéing and frying. And since Thrive Algae Oil has a light, neutral taste, it works beautifully in salads and dishes like this jicama slaw, when you really want the flavors of your food to shine through. It also works beautifully in baking — I love substituting Thrive Algae Oil because compared to other oils, it has the highest percentage of monounsaturated fat (MUFAs), the good fat, which is helpful in maintaining heart healthy cooking!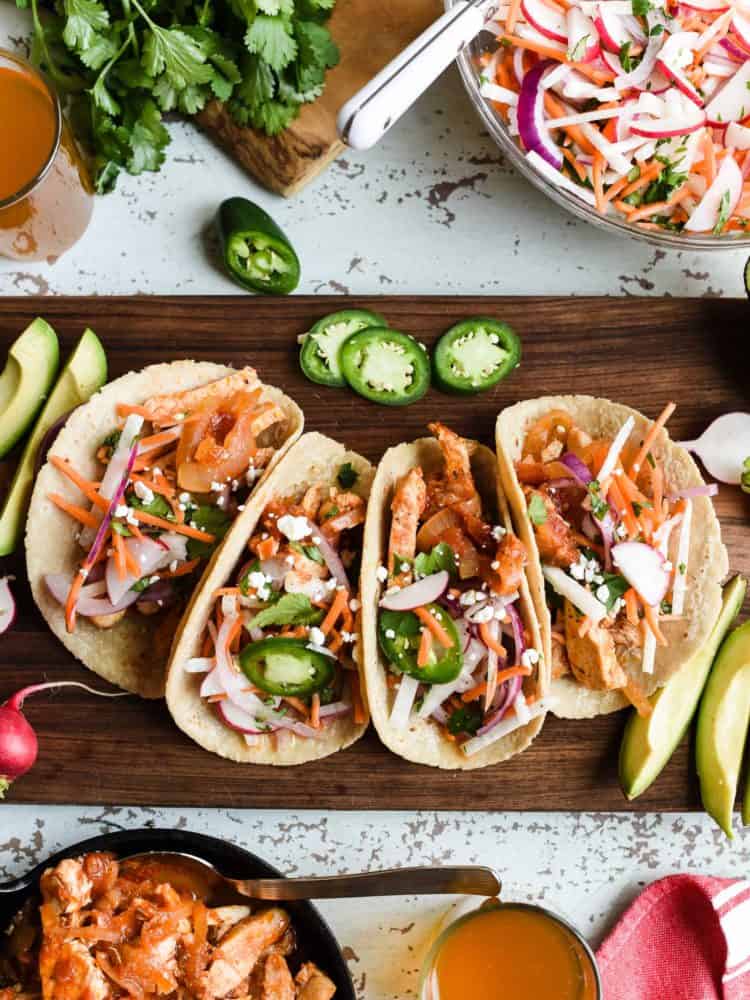 Simplicity and wholesome meals like this are what make my heart sing — and if it means my kids will be singing it's raining tacos all day long, well, then I will too!
Disclosure: This post is brought to you in partnership with Thrive Algae Oil. Thank you for supporting brands that matter to me; sponsored posts such as this help behind the scenes at Kitchen Confidante. All opinions in this post are, as always, my own.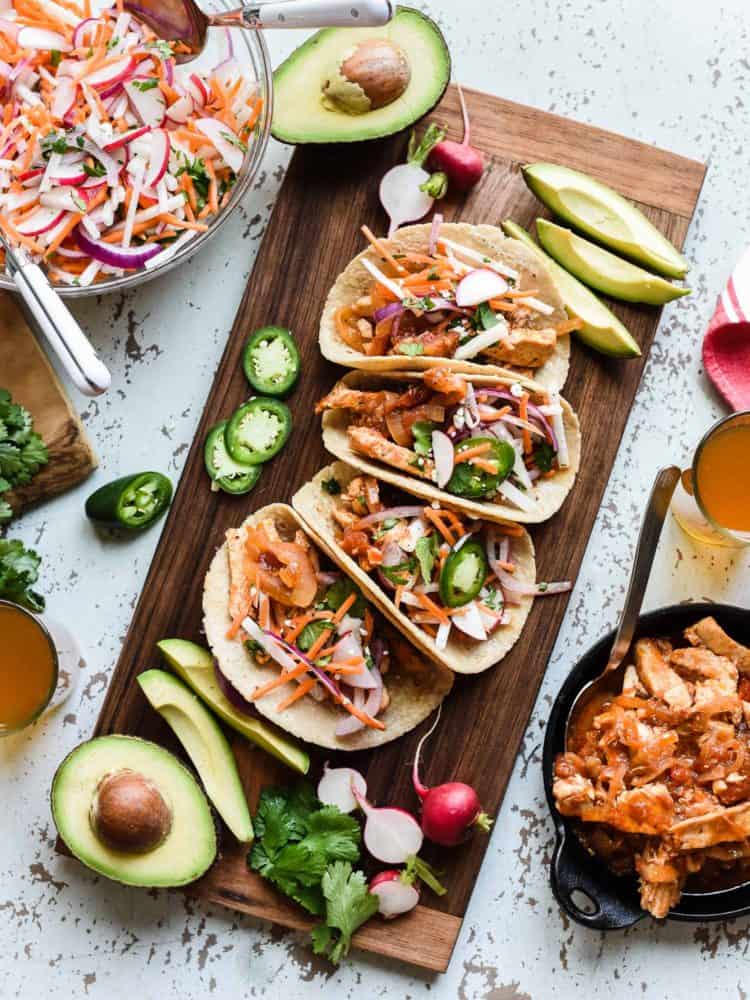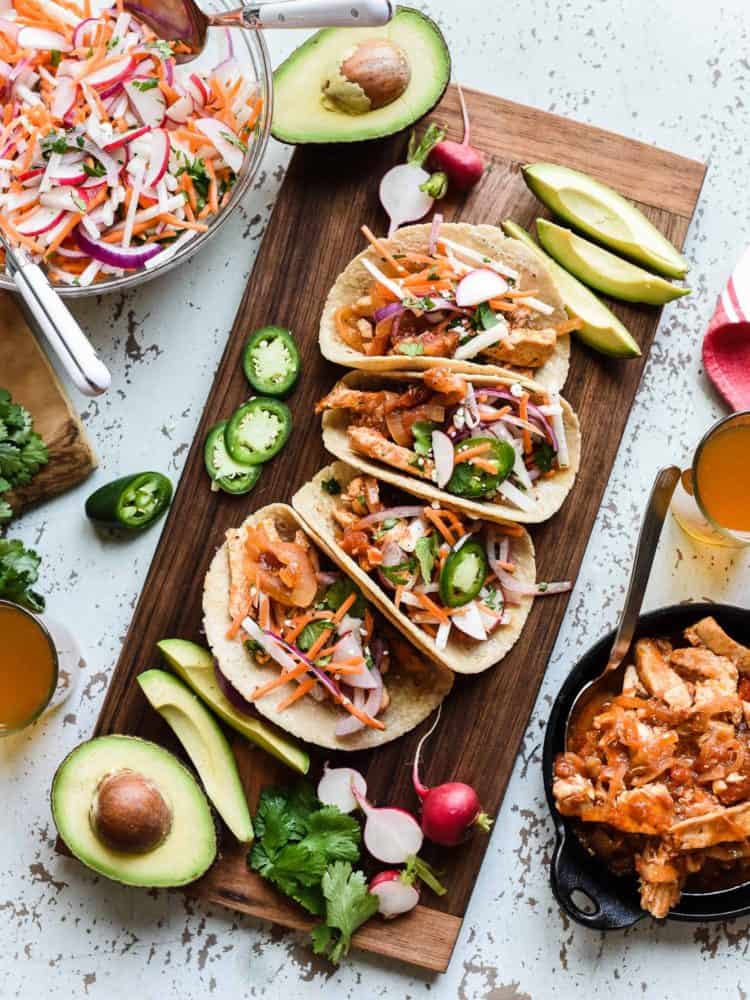 Chipotle Chicken Tacos with Jicama Slaw
Give taco night a little spice and some extra crunch with these Chipotle Chicken Tacos with Jicama Slaw!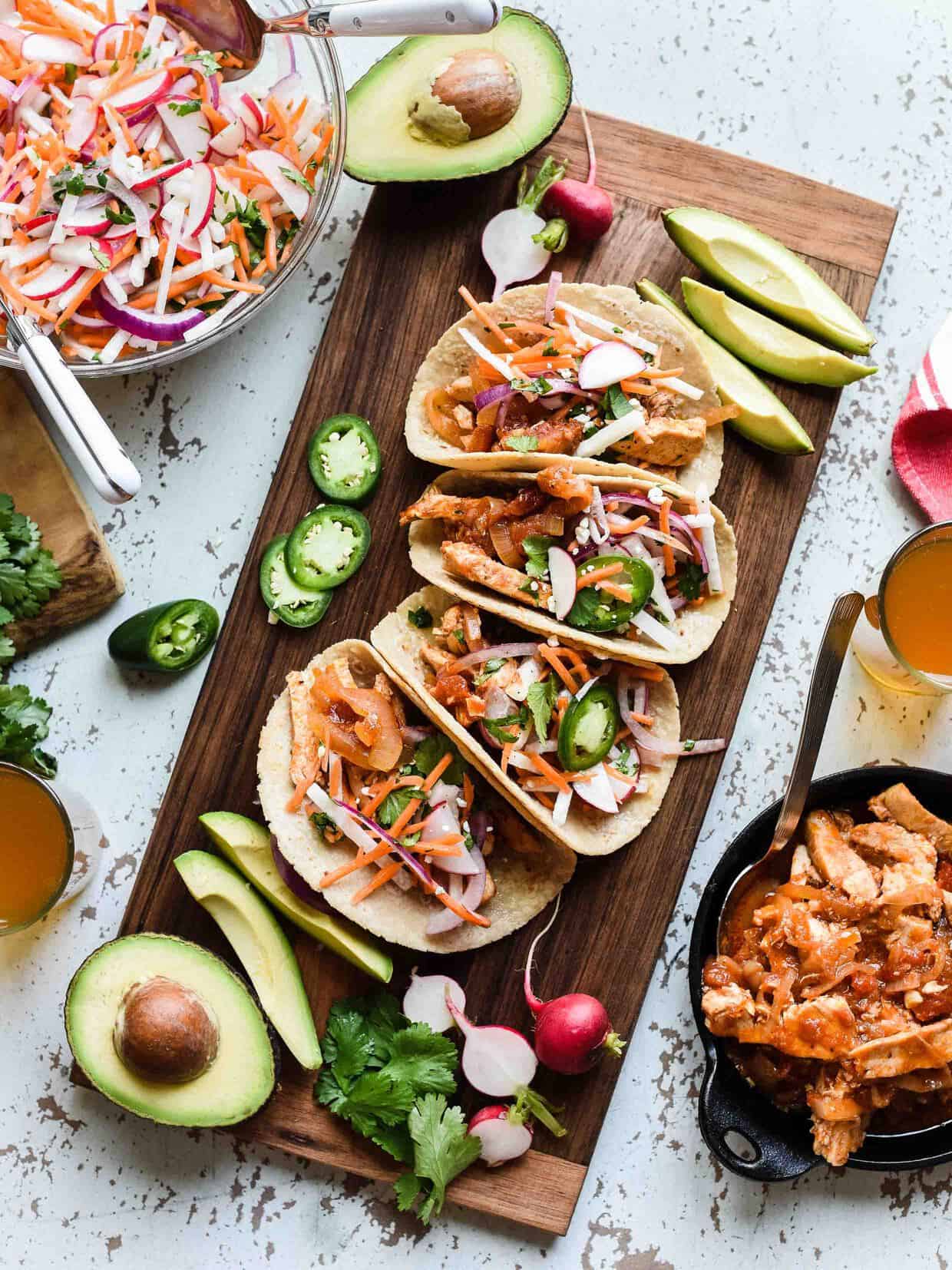 Print Recipe
Ingredients
For the Jicama Slaw
2 cups julienned or shredded jicama (about 1/2 pound)
1 1/2 cups shredded carrots
1/2 cup thinly sliced red onion
1/2 cup thinly sliced radishes
1 jalapeno, thinly sliced
1/2 cup chopped cilantro
1 teaspoon sugar
1/4 cup rice vinegar
2 tablespoons Thrive Algae Oil
1/2 teaspoon kosher salt
For the Chipotle Chicken Taco Filling
3 tablespoons Thrive Algae Oil
2 cups sliced yellow onion (about 1 medium)
2 cloves garlic, minced
2 pounds boneless, skinless chicken breasts
1/2 teaspoon cumin
1/2 teaspoon coriander
Kosher salt, to taste
Freshly ground black pepper
1 14.5 oz can diced tomato
3 tablespoons apple cider vinegar
1 teaspoon agave nectar
1 teaspoon smoked paprika
1 teaspoon granulated sugar
1 small chipotle pepper (to taste)
For serving
Corn tortillas
Cotija cheese
Instructions
In a medium, non-reactive bowl (glass works well), add the jicama, carrots, red onion, radishes, jalapeno, and cilantro and toss to combine. Add the vinegar, sugar, Thrive Algae Oil and salt, and toss until the vegetables are well coated. Cover and refrigerate while you make the taco filling.
In a deep sided saute pan, heat the Thrive Algae Oil over low heat. Add the onion and garlic. As the onion begins to wilt, season the chicken on all sides with cumin, coriander, salt and pepper. Raise the heat to medium-high, and nestle the chicken into the pan, letting it sear on both sides. Stir in the tomato, vinegar, agave nectar, paprika, sugar and chipotle pepper, bring it to a bubble, then lower heat to a simmer. Cover and let the chicken cook for about 20 minutes, or until the chicken is cooked through. Remove the chicken from the pan, slice it into strips, and return to the sauce, allowing it to coat on all sides.
Heat the corn tortillas in a hot skillet. To serve, fill shells with chicken, top with jicama slaw cotija cheese, and enjoy.