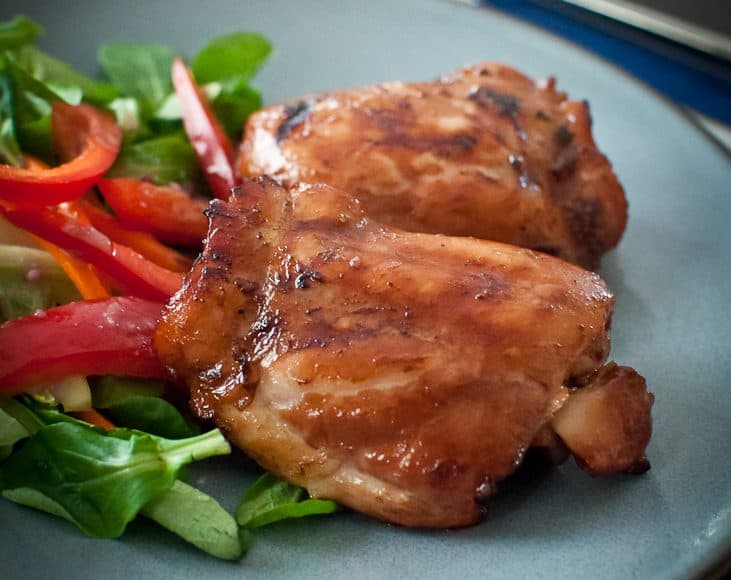 Oyster Sauce Glazed Grilled Chicken
My mom's first love was baking. Cooking, however, was another story. It was not until my brother, sister and I were much older that her talent for breads and cakes and all things oven baked finally began to parlay into her stove top creations. What…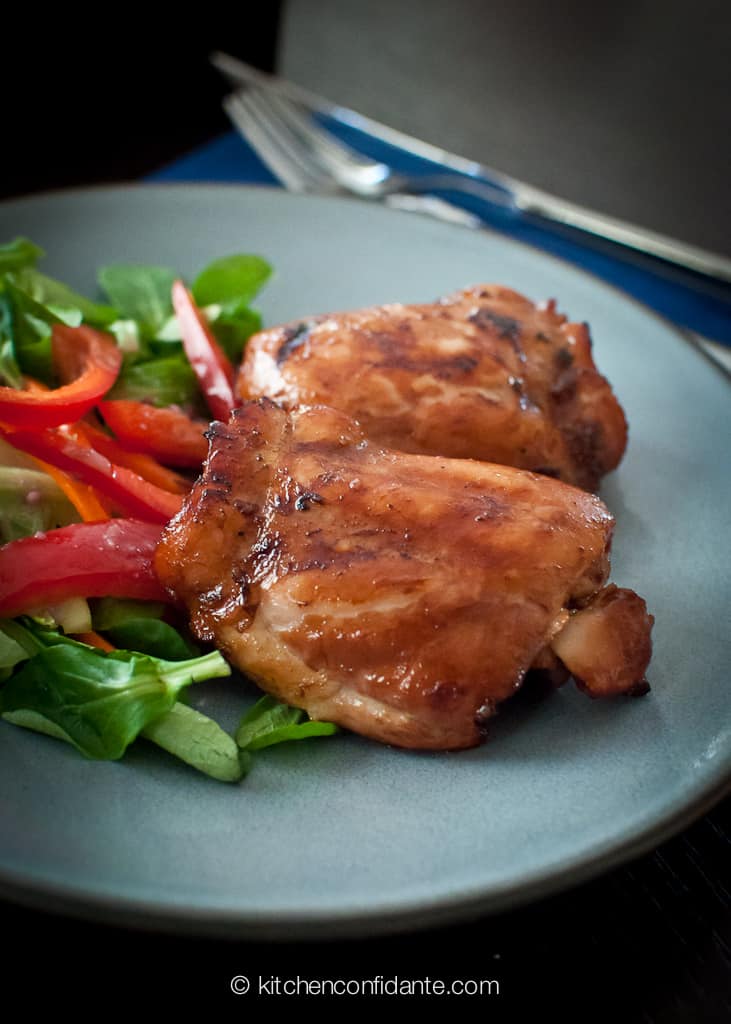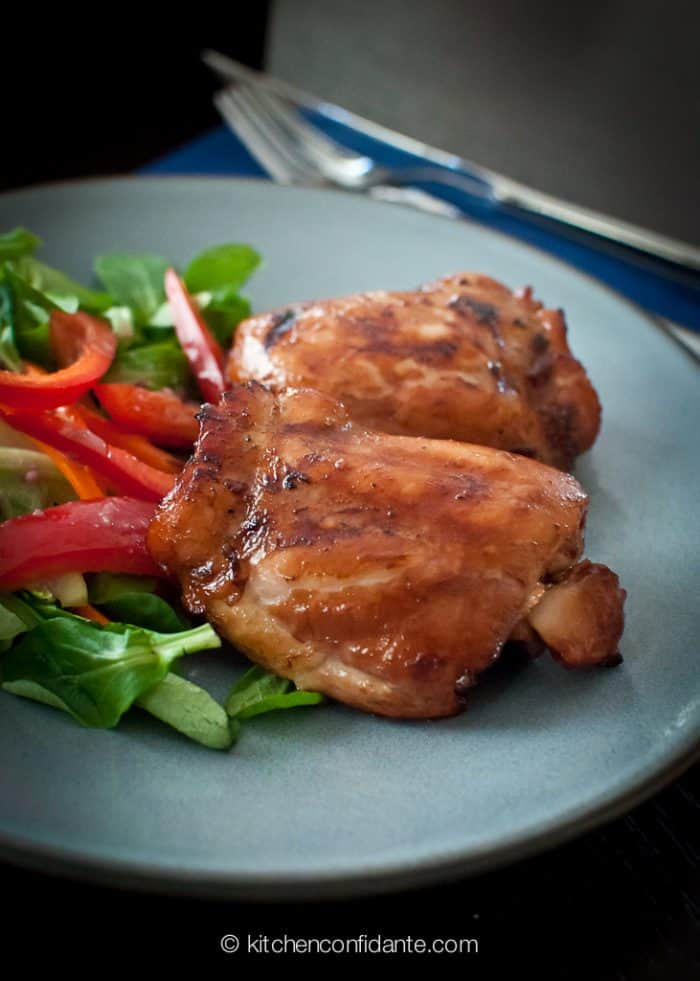 Oyster Sauce Glazed Grilled Chicken
My mom's first love was baking. Cooking, however, was another story. It was not until my brother, sister and I were much older that her talent for breads and cakes and all things oven baked finally began to parlay into her stove top creations. What is especially curious is that the cuisine she tackled – the food that actually brought sincere mmm's from the family – was not the food she grew up on. She did not set her sights on mastering Filipino classics. No. Instead she became intensely focused on Chinese cuisine.
Her trips to the Asian markets in New York would bring back not just jars of bean paste, lotus root, or plum sauce, she would also bring home installments in a series of Chinese cookbooks…all written primarily in Chinese. As much as she loved languages, my mom did not speak and certainly could not read Chinese calligraphy. However, the recipes did provide ingredient lists and rudimentary instructions in English. She studied and cooked from those books for months and months. The food she cooked, at last, was delicious.
I still have her cookbooks. I really should take a look at them again.
Around that time, when our refrigerator was full of interesting condiments and sauces, my mom loved to cook with oyster sauce. When she was feeling lazy, she would use this, her secret sauce, to add dimension to dishes. I thought of her the other day when I was looking for a quick marinade for some chicken thighs I hoped to grill one evening. Sure enough, in my fridge, there was a bottle of oyster sauce, ready for service.
Complex and rich, the salty and pungent sauce added so much depth to my marinade. It is quickly becoming a new family favorite. The flavors are fantastic, yes, but the best part for me is that if I neglect to marinate my chicken overnight, the marinade is so strong, just a couple of hours will do. So forgiving, so easy, so delicious. I think my mom would definitely approve.
Oyster Sauce Glazed Grilled Chicken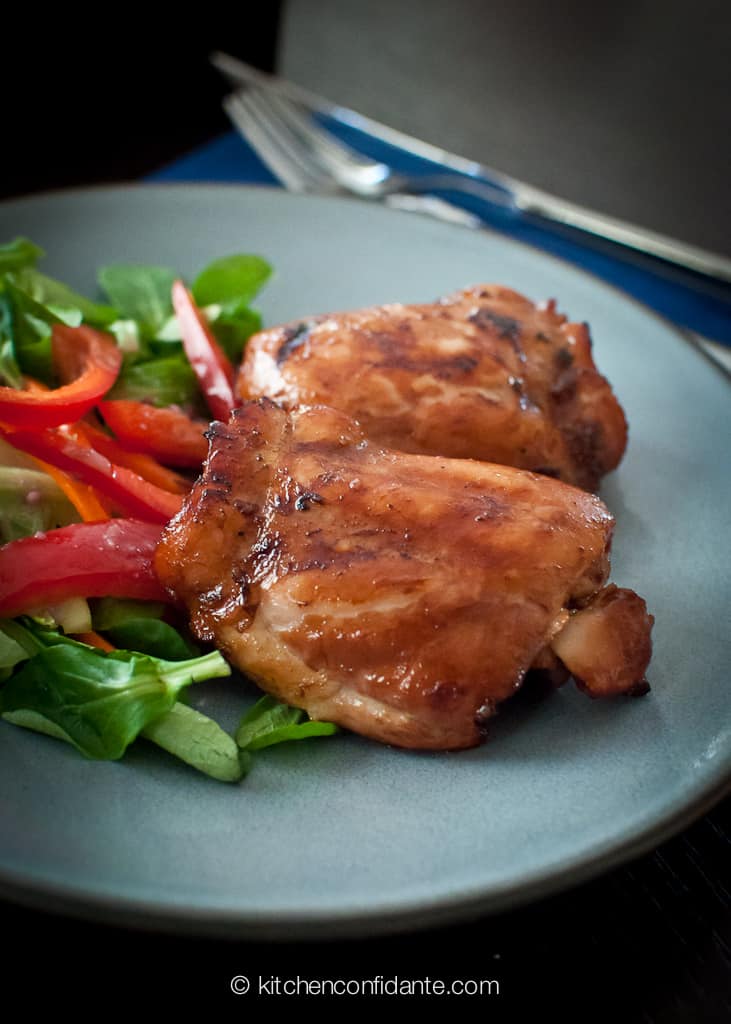 Print Recipe
Ingredients
12 skinless chicken thighs
1/2 cup oyster sauce
1/4 cup balsamic vinegar
2 tablespoons brown sugar
4 cloves garlic, grated
1 tablespoon grated ginger
1 tablespoon hot chili oil
1 tablespoon olive oil
Instructions
Place chicken in a non reactive bowl or resealable plastic bag. Combine marinade/glaze ingredients - oyster sauce through olive oil - in a small bowl. Reserve about 1/4 cup and set aside. Combine the remaining marinade with the chicken and allow to marinate in the refrigerator at least 3 hours, or overnight.
Prepare your grill to medium heat. Discard the marinade used with the chicken. Grill the chicken thighs, turning periodically, until the internal temperature reaches 165°F, about 30-40 minutes (depending on the size of the chicken thighs). During the last few minutes of grilling, brush on the reserved glaze.
Serve immediately and enjoy!