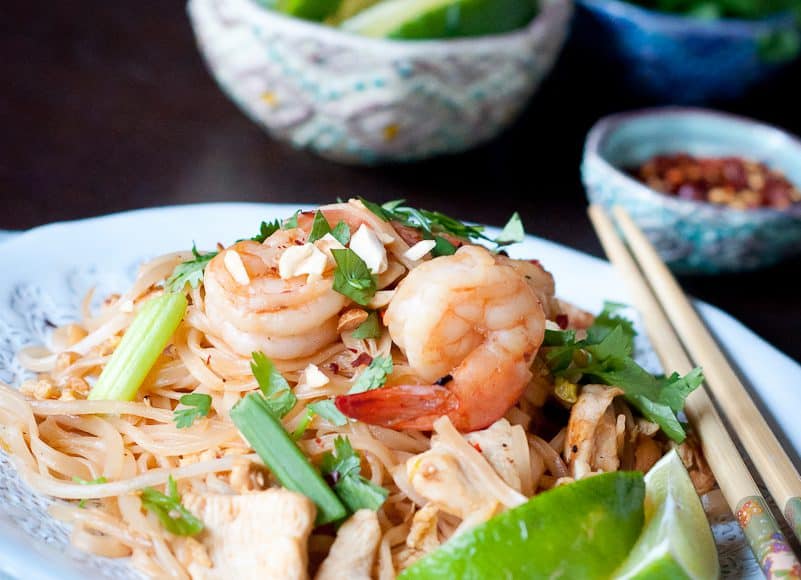 Pad Thai
If I am ever fortunate enough to live in a tropical setting, I'm afraid I would never cook again. A hot climate just saps the energy out of me, and the desire to spend time in a hot kitchen is not exactly appealing. You see,…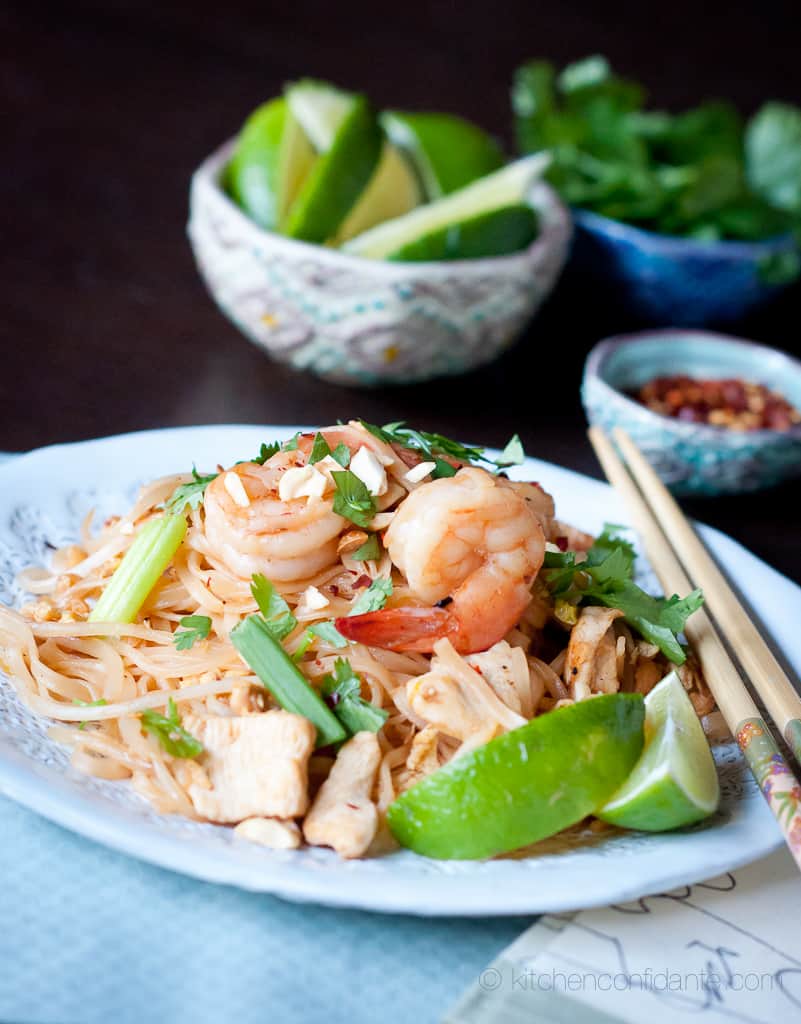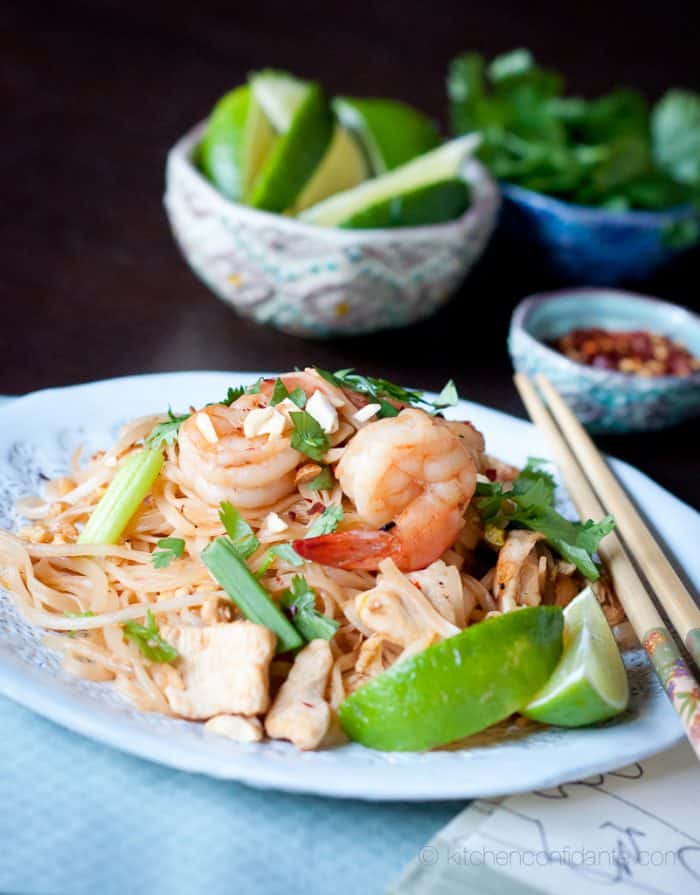 Pad Thai
If I am ever fortunate enough to live in a tropical setting, I'm afraid I would never cook again. A hot climate just saps the energy out of me, and the desire to spend time in a hot kitchen is not exactly appealing. You see, intense heat has returned, as it always does in late September in the Bay Area, refusing to make way for the leaves to fall and the fog to cloak us in cool mist. Instead of relishing afternoons cooking comforting stews and baking apple cakes, I found myself cranky and hot, not wanting to cook at all. I was really, really tempted to order some Pad Thai.
It's just too easy to pick up the phone and place an order. But I pushed myself. I know how to make the dish, it's not too difficult at all. I was just feeling lazy.
Pad Thai comes together much faster than you might think; I guess there's a reason I consider this my favorite "fast food." There are, of course, complicated versions of this famous Thai noodle dish, but this recipe is fairly simple and many of the ingredients are in our pantry already. Make it with all shrimp or even tofu for a meatless version. Either way, you can easily make this dish, making it suitable for those crazy weeknights when you just don't feel like cooking in the first place. After you take your first bite, you'll be glad you did.
Make this restaurant favorite at home! This easy Pad Thai Noodle dish can be made in half an hour, faster than calling take out!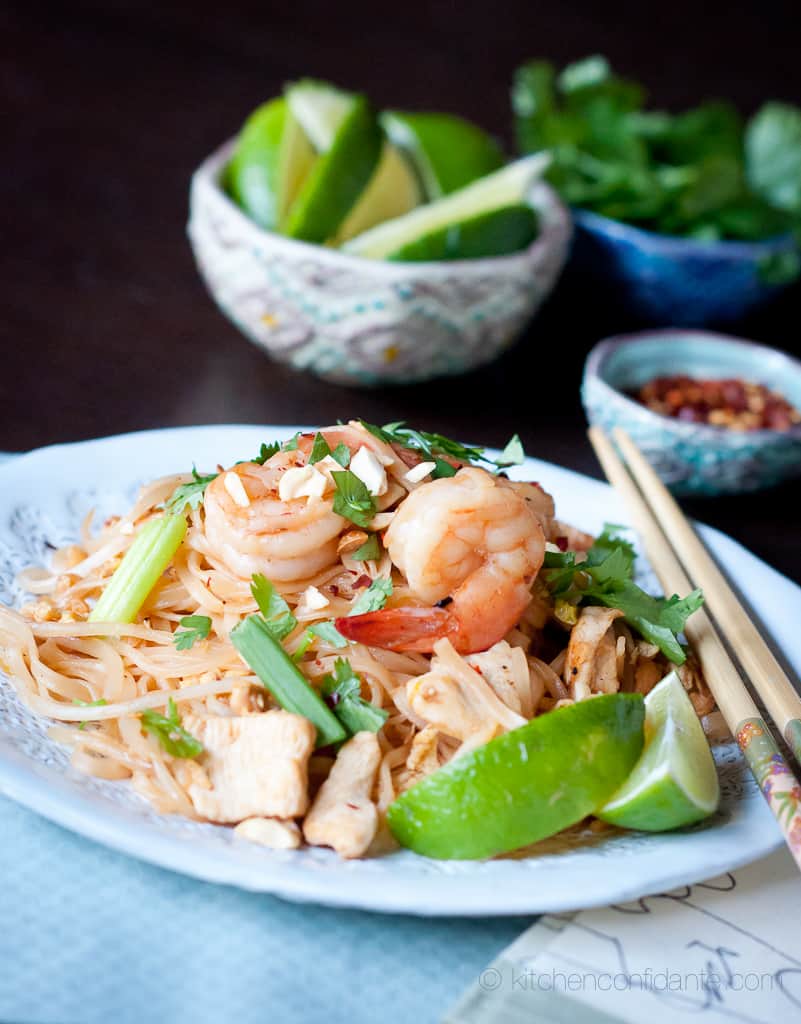 Print Recipe
Ingredients
12 ounces rice noodles (medium width noodles suitable for Pad Thai)
1/4 cup canola oil
4 cloves garlic, finely minced
1 teaspoon pickled radish (optional)
1/4 pound boneless, skinless chicken breast, thinly sliced
1 egg, beaten
1/2 pound shrimp, peeled and deveined
12 ounces bean sprouts, divided
2 tablespoons tamarind paste or ketchup (the latter works in a pinch!)
2 teaspoons low sodium soy sauce
1/4 cup chopped peanuts
1 teaspoon sugar
2-3 tablespoons fish sauce
1/4 cup sliced scallions (cut in 2-inch lengths)
1/4 cup cilantro
1 lime, quartered
red chili pepper flakes or sriracha (optional)
Instructions
Fill a large bowl with boiling water and soak the rice noodles for about 20 minutes, until the noodles have softened, then drain.
Heat the oil in a wok over high heat. Cook the garlic and pickled radish until the garlic is a light golden brown. Immediately add the sliced chicken and egg, and stir fry for about 4 minutes. Add the shrimp, half of the bean sprouts and drained noodles and stir. Quickly combine the ketchup, soy sauce, peanuts, sugar and fish sauce. Stir the sauce into the noodles. When the shrimp is fully cooked, add the scallions and the remaining bean sprouts. Add a little water or oil if the noodles begin to stick. Garnish with chopped cilantro, limes and red chili flakes or sriracha. Serve immediately.