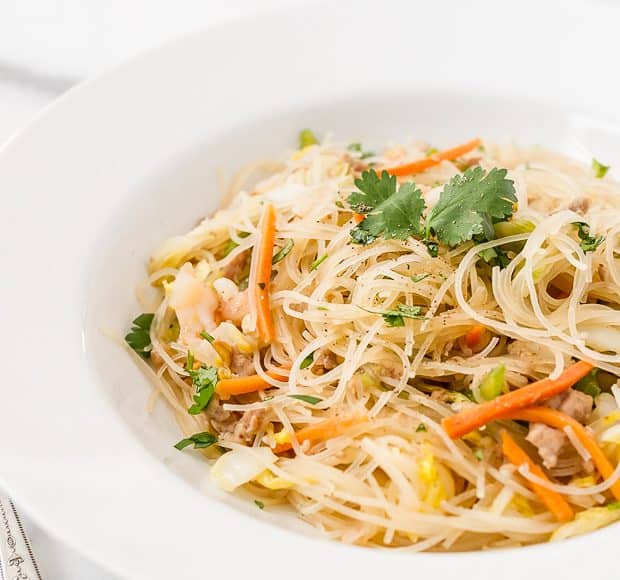 Pancit Bihon (Filipino Rice Noodles)
It wouldn't be a birthday, at least in my house, without noodles. The Filipino tradition of eating noodles, or pancit, to celebrate a birthday is one that was adopted when noodles were introduced to the Philippines by the Chinese, and is meant to symbolize long…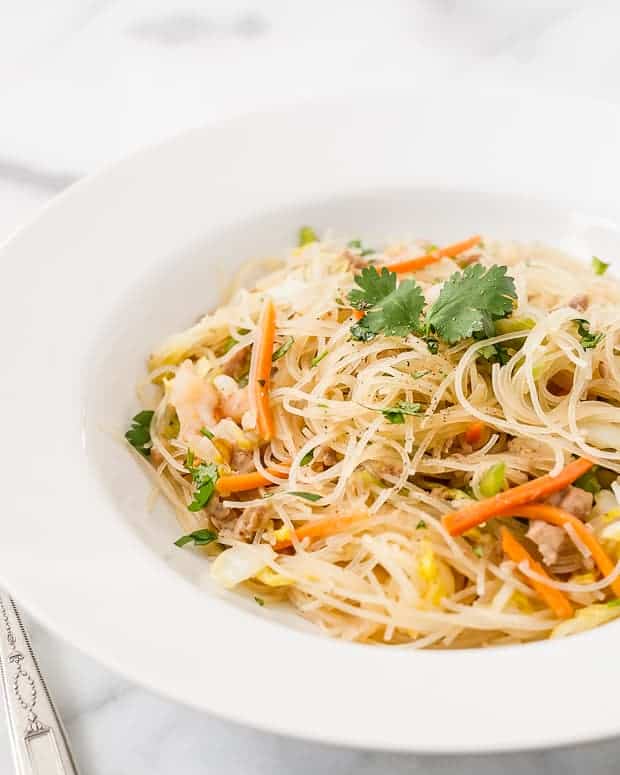 Pancit Bihon (Filipino Rice Noodles)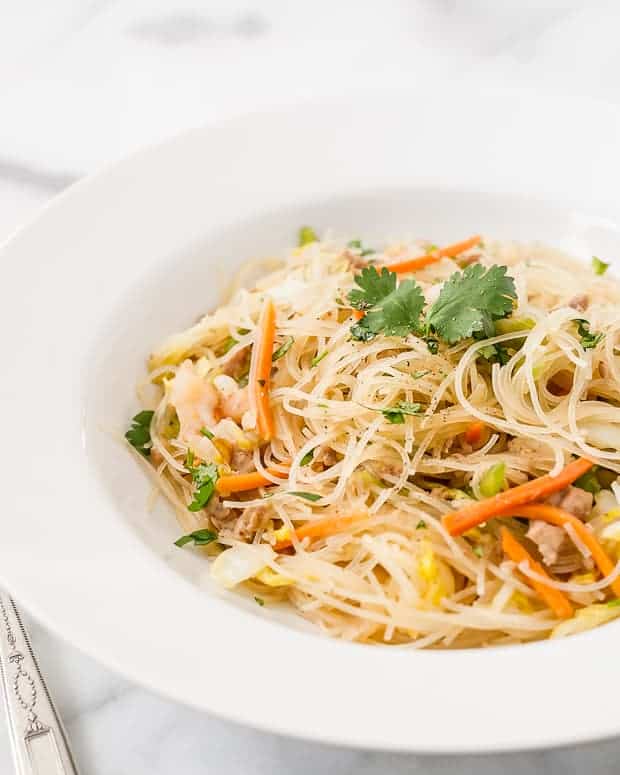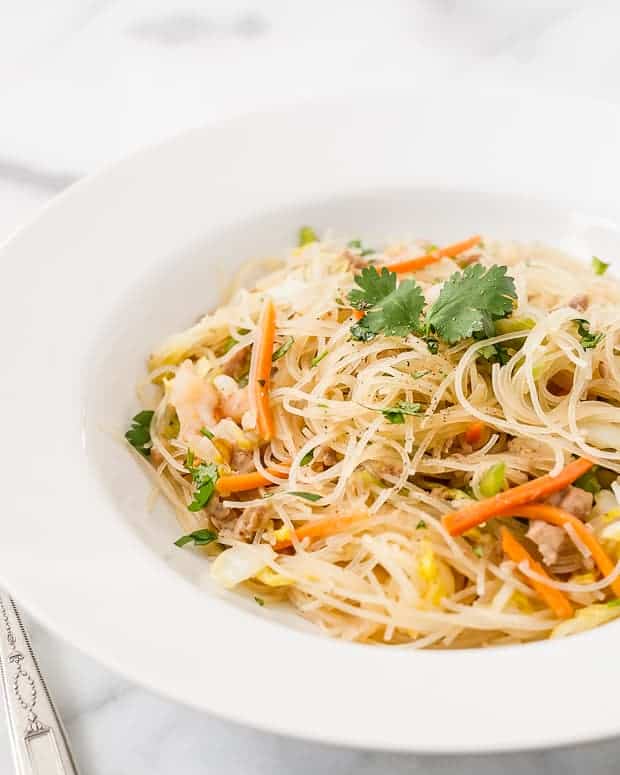 It wouldn't be a birthday, at least in my house, without noodles. The Filipino tradition of eating noodles, or pancit, to celebrate a birthday is one that was adopted when noodles were introduced to the Philippines by the Chinese, and is meant to symbolize long life and good health. This blog-birthday week would not be complete if I did not celebrate with pancit!
Of course, there are as many varieties of pancit, it seems, as there are dialects, in the Philippines. But you may remember how in my family, one of our favorites is Pancit Bihon. Last Fall, I hosted a Filipiniana themed dinner party for some fellow Bay Area bloggers. Since then, I have grown to consider my guests good friends in this food blog world, and we have continued to keep in touch. I have been meaning to post my recipe for the Pancit Bihon that I served that night for such a long time. I'm sure you understand, it kept getting swept under the rug with all the holiday hubbub that followed the party.
As I described in that post, my Tita (Aunt) Leah makes the best Pancit Bihon. Her bihon noodles (rice noodles) get its superb flavor from her homemade pork leg (pata) stock. I have found a way to capture her signature flavors with some short cuts, one of which is through the use of ground pork. Other than infusing the chicken stock I use with some of it porky flavor, using ground meat means one less ingredient to finely chop.
What takes Tita Leah hours, sometimes even days, to labor over takes me far less. Don't get me wrong, she still has the best pancit; it must be all the extra love that goes into her cooking. But mine is pretty darned close…and I can easily whip this up for a weeknight dinner, which means any meal can become a celebration.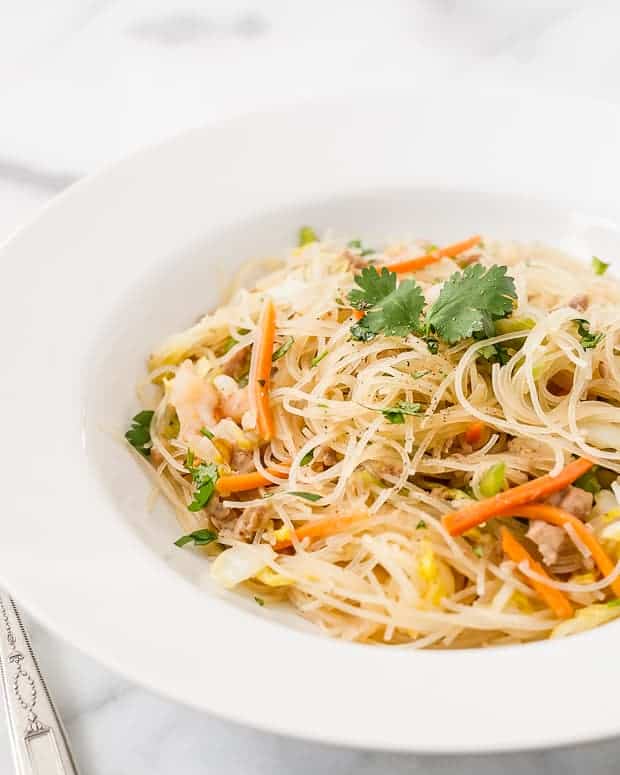 Print Recipe
Ingredients
1-2 tablespoons canola oil
1 medium onion, finely diced
3 cloves garlic, crushed
1/2 lb ground pork
1/2 lb ground chicken (or thinly sliced chicken breast)
1/4 cup soy sauce
Ground pepper, to taste
1-2 Tbsp patis (fish sauce)
4 cups low sodium chicken stock
8 oz (227 grams) bihon noodles (Philippine rice noodles)
1 Chinese/Napa cabbage, sliced
1 carrot, julienne
2 stalks of celery, sliced on bias
Chinese sausage, sliced thinly on the bias (optional)
shrimp (optional)
cilantro for garnish (optional)
Instructions
In a large wok, heat oil over medium-low heat. Sauté the onion and garlic. When the onion is transparent, increase the heat to medium-high and add the ground pork and chicken. Season with soy sauce, pepper and patis. Let cook for about 20 minutes on medium-low heat (cooking this for a long time is what takes out the "malansa" or slimey chicken flavor). Stir occasionally.
Meanwhile, bring the chicken stock to a boil in a large pot. Add noodles upon boiling, cook for about 3 minutes. Drain and set aside both stock and noodles.
When the pork and chicken is ready, add vegetables. If using Chinese sausage, add that as well. Add a little extra oil or broth to avoid sticking. When the vegetables are crisp yet tender, add all the noodles and the stock one cup at a time, taking care to not let the noodles get too soggy. Stir well until well incorporated. Add shrimp, allow to cook, about five minutes.
Garnish with cilantro and serve with a squeeze of lemon.