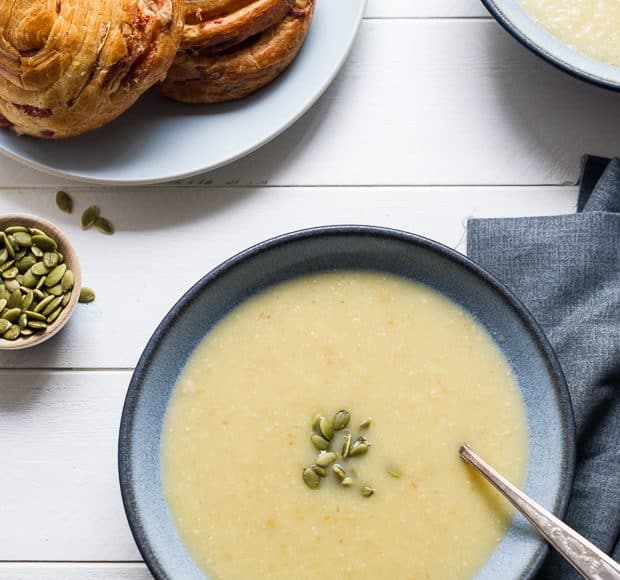 Simple Sundays | Parsnip Apple Soup
A recipe for Parsnip Apple Soup. When autumn brings all its apples, blend them with parsnips in this light soup for fall.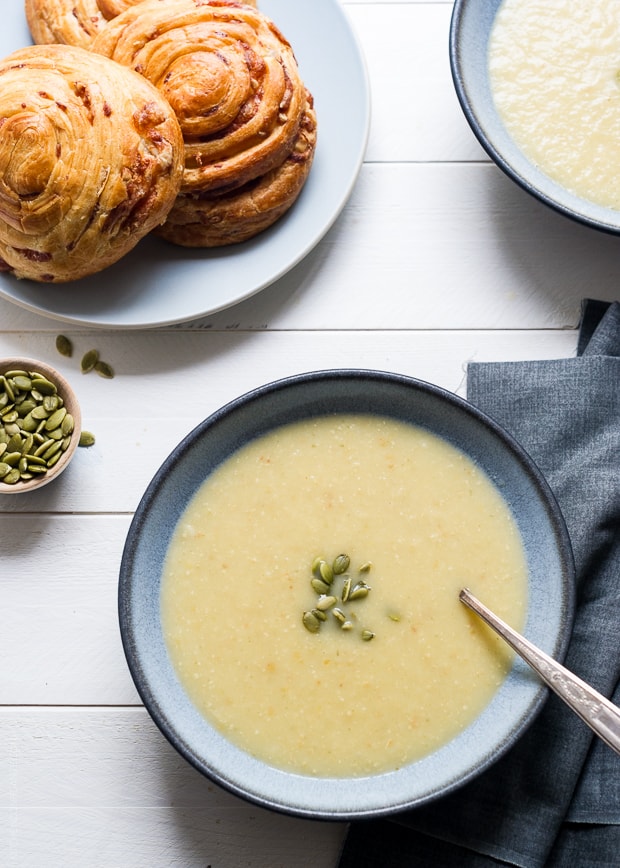 Simple Sundays | Parsnip Apple Soup
A recipe for Parsnip Apple Soup. Crisp apples, parsnips and toasted pumpkin seeds blend together in this lovely fall soup.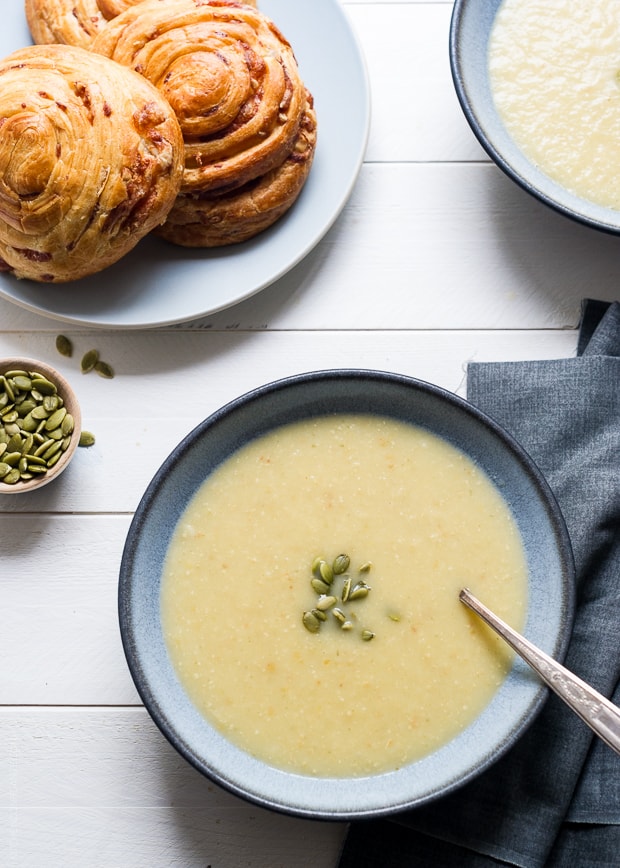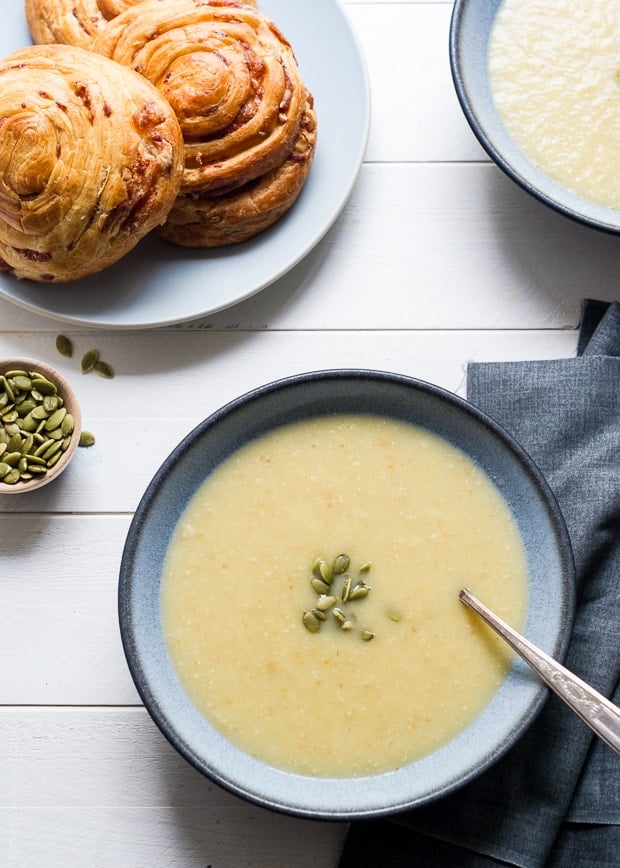 It occurred to me that I never told you why I cook. Nearly five years into writing this blog, hundreds of posts, and countless recipes, and I never really told you how I got started in the kitchen.
"Did you always like to cook?" people often ask me. You might be surprised to know that I avoided cooking as a child. I would help, of course (How else did I develop killer garlic mashing skills? That was always my assigned task.), and I have many fond memories of Saturdays baking with my mom, but cooking was different.
For a long while, cooking was not her forte, and I almost assumed that it could not be mine, either. Other than scrambled eggs, I didn't really venture more into cooking. And when my aunts would visit – the aunts who had earned the reputation as the good cooks in the family – I definitely stayed away. They had sons, all of whom seemed to possess the cooking gene that I did not.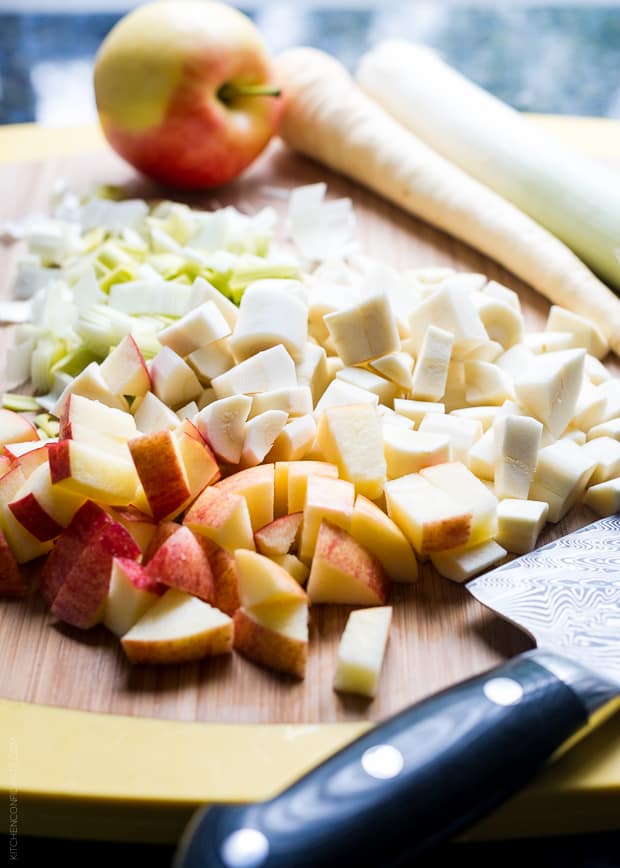 Like most college students, moving into an apartment brought some excitement and the promise of a home cooked meal. Dining hall food will surely do that. But that summer between moving from the dorms into the apartment brought a greater impetus.
That was the summer my mother died.
That was the summer my aunt and her family moved in those summer months to keep us company, to help us through those first weeks without her. My aunt nourished us with her food and with her love, and I realized, with pressing reality, that I needed to learn how to cook our family's food.
All of a sudden, the kitchen was where I needed to be, and I shadowed her and pestered her with questions. I took notes in my notebook, trying my best to get precise measurements and to replicate flavors. And when I decided to graduate early and returned home, I began my first job at a marketing firm, coming home at night to cook for my family. I knew I had to do my part. My brother and sister were still young at the time, and my dad was learning how to parent alone.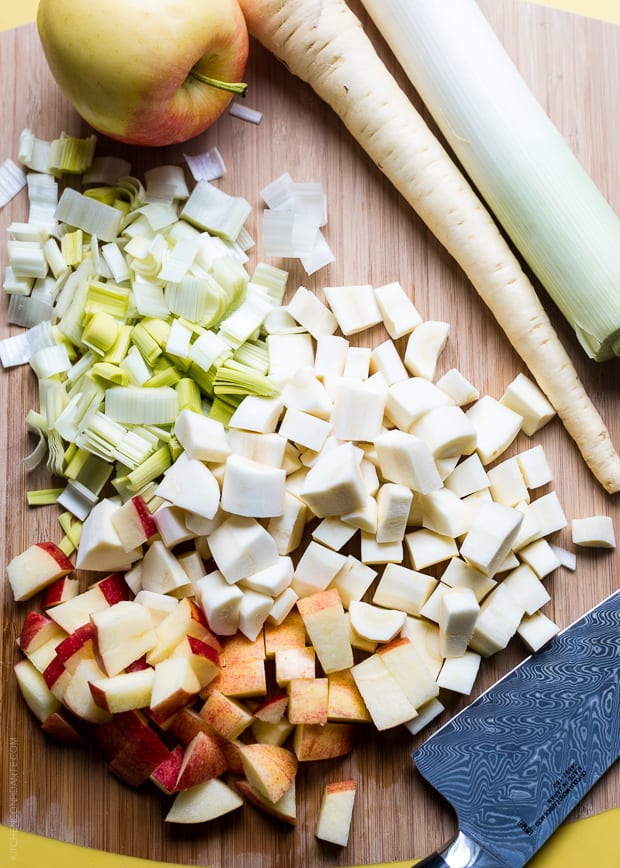 So it began. I cooked, and I found a confidence in the kitchen for the first time. I stuck to the foods of my childhood, replicating those meals that nourished the soul. And eventually, I began to devour new recipes and cookbooks and food columns.
What began as cooking for necessity evolved into cooking for love, and eventually, somehow, what you see here today.
If I were to pick perhaps one thing to cook – if I had to, that is – it would be soup. A simple soup is a lot of heart in a bowl, and I think that is what cooking should be all about, in the end.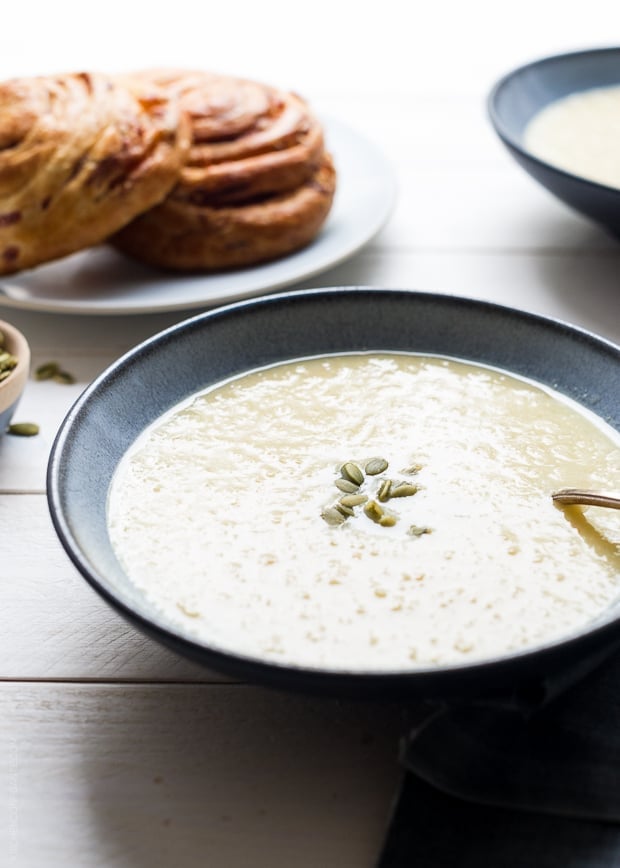 Parsnip Apple Soup
I made this Parsnip Apple Soup the other evening. It was one of those warm evenings that turned briskly into a true autumn night, and all I wanted was something light and simple. I diced up some fresh apples, parsnips and leeks. I toasted some pumpkin seeds.
Cumin and coriander went into the pot to round it all out. After blending the soup, I was pleased with how I could taste the refreshing notes of apple, with how it tasted so satisfying without a lot of heft.
And I couldn't wait to share it with you. Along with a story. Perhaps I have been telling you why I cook all along.
More Nourishing Soup Recipes
20 Simple Soup and Stew Recipes
White Bean Soup with Kale
Mushroom and Short Rib Noodle Soup
Spiced Butternut Squash Lentil Soup (Vegan)
Roasted Tomato, Garlic and Herb Soup
Parsnip Apple Soup
A recipe for Parsnip Apple Soup. When autumn brings all its apples, blend them with parsnips in this light soup for fall.
Ingredients
1

tablespoon

olive oil

2

tablespoons

pumpkin seeds

plus more for garnish

1

leek

cleaned and chopped

2

parsnips

peeled and chopped (about 1 cup)

1

apple

chopped

1/2

teaspoon

kosher salt

freshly ground black pepper

1/2

teaspoon

cumin

1/2

teaspoon

coriander

1/4

teaspoon

paprika

4

cups

chicken stock
Instructions
In a medium pot or sauce pan, heat olive oil over medium heat. Add the pumpkin seeds and toast for about 2-3 minutes, or until they begin to brown. Add the leeks and parsnips, and cook until the leeks begin to wilt. Add the apple, season with salt and pepper, and add the cumin, coriander and paprika. Cook for about 2 more minutes, then stir in the chicken stock. Bring to a boil.

Transfer the soup to a blender (working in batches if necessary), and blend until the soup is smooth. Pour the soup into bowls and serve garnished with pumpkin seeds.
Nutrition
Calories:
242
kcal
|
Carbohydrates:
33
g
|
Protein:
9
g
|
Fat:
9
g
|
Saturated Fat:
2
g
|
Cholesterol:
7
mg
|
Sodium:
647
mg
|
Potassium:
672
mg
|
Fiber:
6
g
|
Sugar:
13
g
|
Vitamin A:
457
IU
|
Vitamin C:
18
mg
|
Calcium:
51
mg
|
Iron:
2
mg