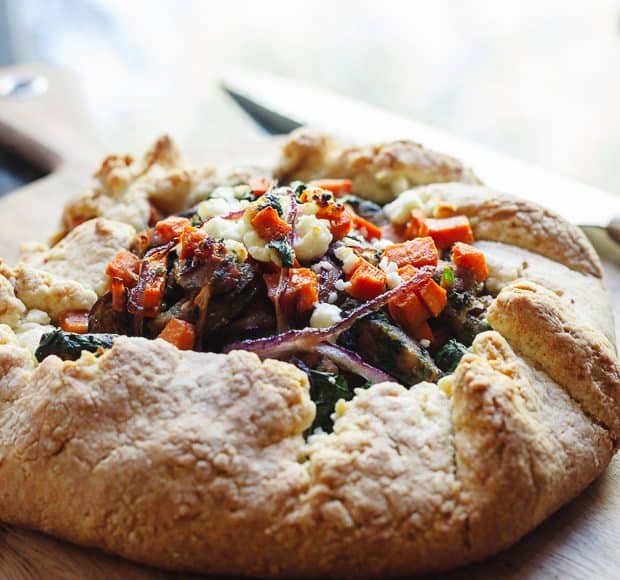 Savory Chicken Sausage and Vegetable Galette
It was a Thursday afternoon, and I needed to get a head start on dinner. Never mind that it was a busy week – busier than usual if you can imagine – that afternoon was going to be even hairier. So I took a moment…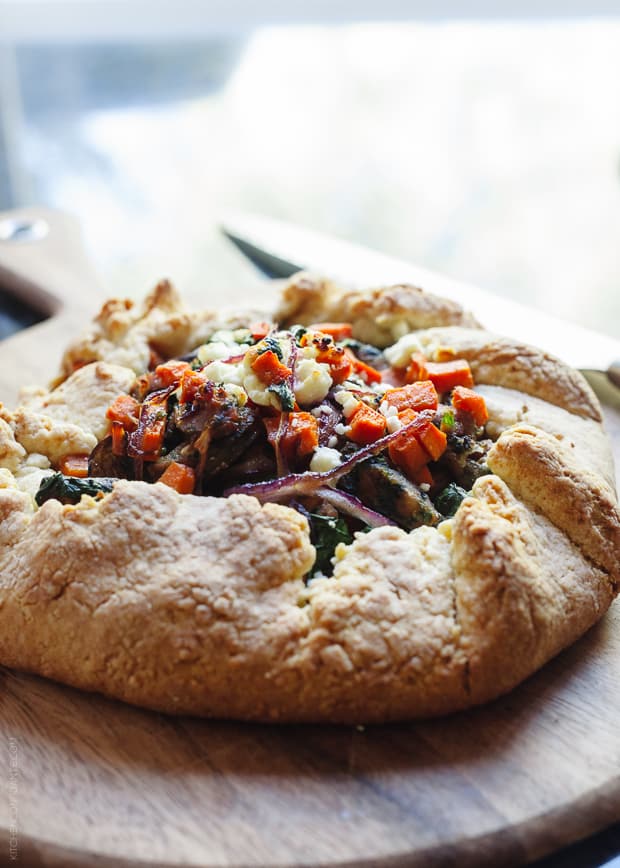 Savory Chicken Sausage and Vegetable Galette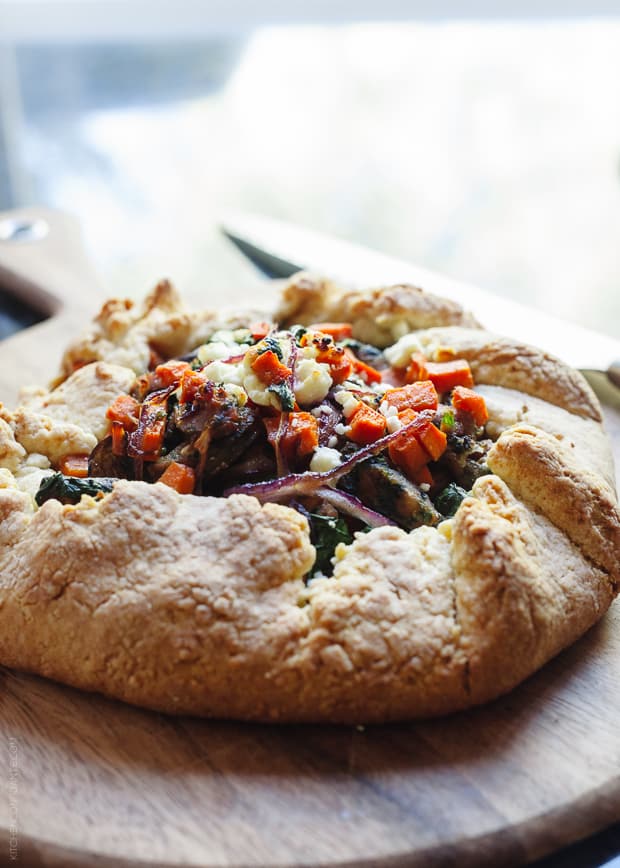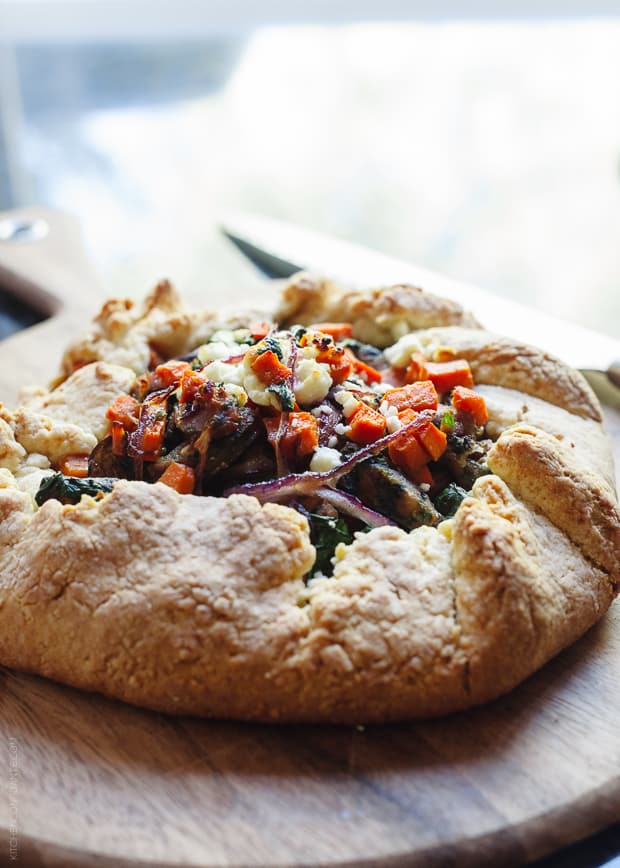 It was a Thursday afternoon, and I needed to get a head start on dinner. Never mind that it was a busy week – busier than usual if you can imagine – that afternoon was going to be even hairier. So I took a moment to peek in the refrigerator to see what was left.
Smoked chicken sausages. Spinach. Mushrooms. Feta Cheese. Eggs and butter. "Okay. I can do something with this," I thought to myself.
Taking stock of the pantry, I pulled out the Bisquick, along with a red onion, a sweet potato and the olive oil.
I had the makings of a savory galette.
Galettes are something I usually reserve for desserts, but I love to take the savory route once in a while. It's especially wonderful for cleaning out the fridge and making use of all the fresh ingredients I worry will go to waste, and who doesn't like a forgiving, free form pie?
But I had never made a galette with Bisquick before, so I was very curious to see how it would come out! I rolled out a quick dough, which proved to be supple and so easy to roll. A quick chop of the ingredients and a sauté in the pan, and the filling was ready to be piled into the center of the crust.
By the time the oven timer chimed, I was already peeking through the window and eager to pull out the piping hot pastry.
It smelled amazing, and I couldn't wait for the rest of my family. I had to sneak a bite. It was like a biscuit in a galette – tender and crumbly, buttery and flaky. I just loved how it enveloped the sausage and vegetables with each bite!
Family? What family? Just kidding, I didn't eat it all myself. But I probably could have.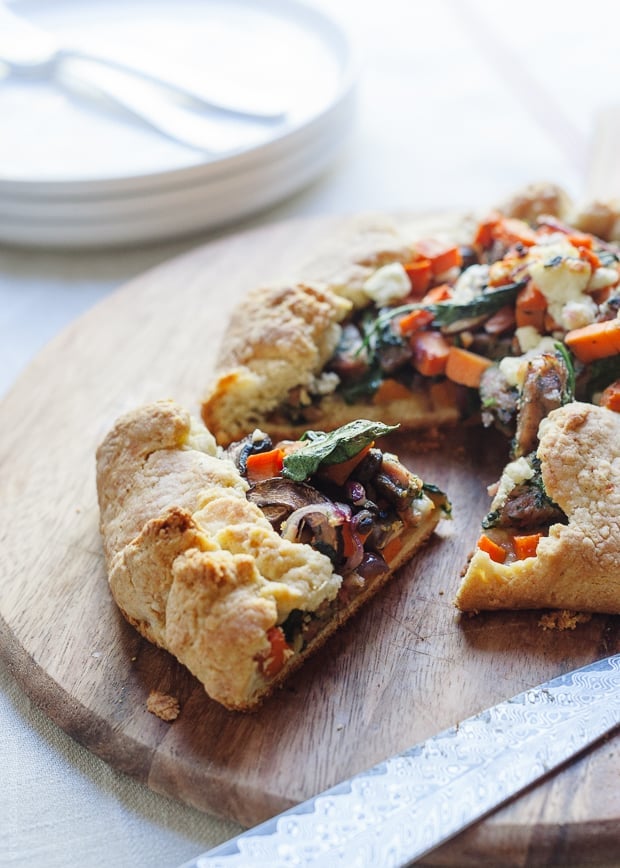 Join me and #GetYourBettyOn by checking out Betty Crocker for more easy dinner inspiration with Bisquick on BettyCrocker.com, Facebook, Pinterest, and Instagram!
This is a sponsored conversation written by me on behalf of Betty Crocker via Burst Media. The opinions and text are all mine.
Savory Chicken Sausage and Vegetable Galette
Nestle sausage and vegetables in a bisquit style galette for a simple and savory meal!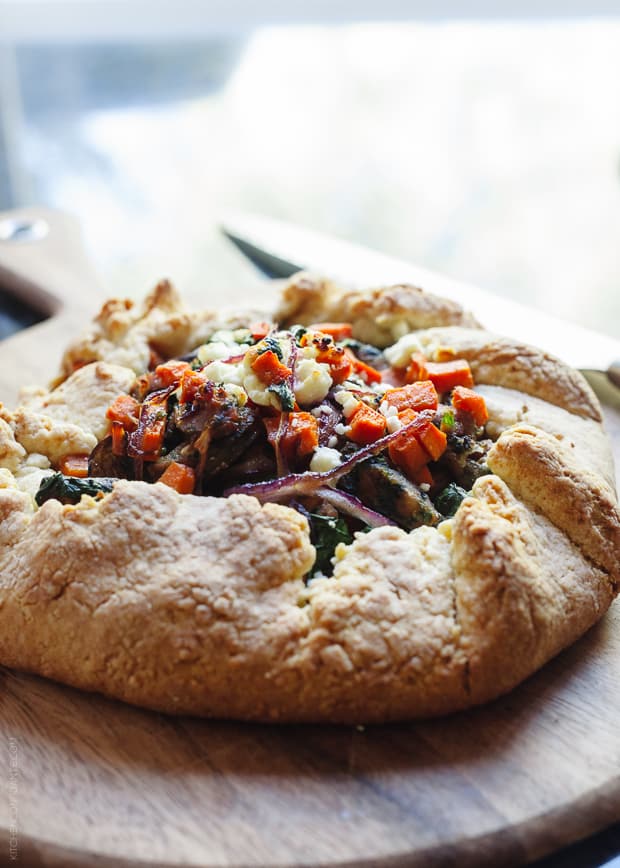 Print Recipe
Ingredients
For the Pastry:
1 1/2 cups Bisquick
1/2 teaspoon salt
6 tablespoons unsalted butter, chilled and cut in small pieces
1 large egg, beaten
1-3 tablespoons ice water
For the Filling:
1 tablespoon olive oil
3 smoked chicken sausages, sliced
3/4 cup sliced red onion
1/2 cup diced sweet potato
1/2 cup sliced mushrooms
2 cups spinach
kosher salt
freshly ground black pepper
1/4 cup feta cheese
Instructions
Make the pastry dough: In a bowl of a food processor or using a pastry cutter, stir together the Bisquick and salt. Cut in the butter until you have course crumbs. Stir in the egg, then add ice water a tablespoon at a time, until the dough just comes together. Dump the dough onto a board dusted with Bisquick. Form it into a ball, then wrap in plastic wrap and chill about 1 hour, or up to a day in advance.
Preheat the oven to 375 degrees F. Place the rack with a baking stone, if you wish, in the center of the oven.
Heat the olive oil in a skillet. Add the sausages and cook for about 2-3 minutes. Add the onion, sweet potato, and mushrooms and cook until the onions are wilted and the sweet potatoes are just started to become tender. Stir in the spinach and season with salt and pepper.
Roll out the dough into a circle about 12 inches in diameter. Transfer the round onto a parchment paper. Place the filling in the center, sprinkle with feta cheese. Pull up the sides of the dough and pleat. If you wish, refrigerate the galette 10 minutes.
Transfer the galette with the parchment paper and place on baking stone in oven or on a baking sheet. Bake for about 20-30 minutes, or until the crust is golden brown. Allow the galette to cool slightly before slicing. Serve warm.