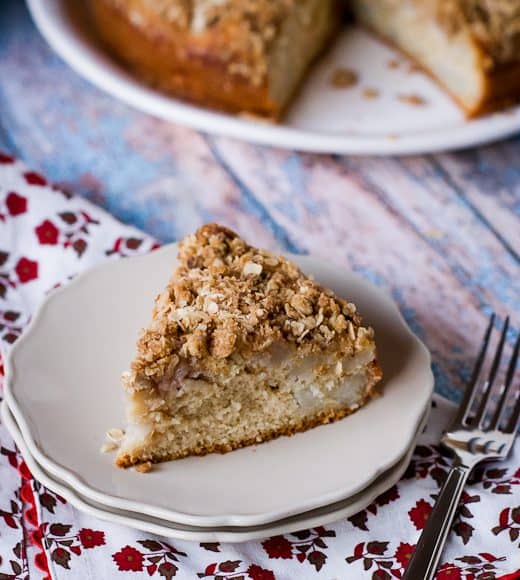 Pear Spiced Crumb Cake & The Season of Giving {Holiday Gift Guide & Giveaway}
Sometimes sickness can be a blessing. I was not myself last week, resigned to my bed for what felt like an eternity. As achey as I felt, I enjoyed every minute, because the inability to do all the things I normally must do allowed me…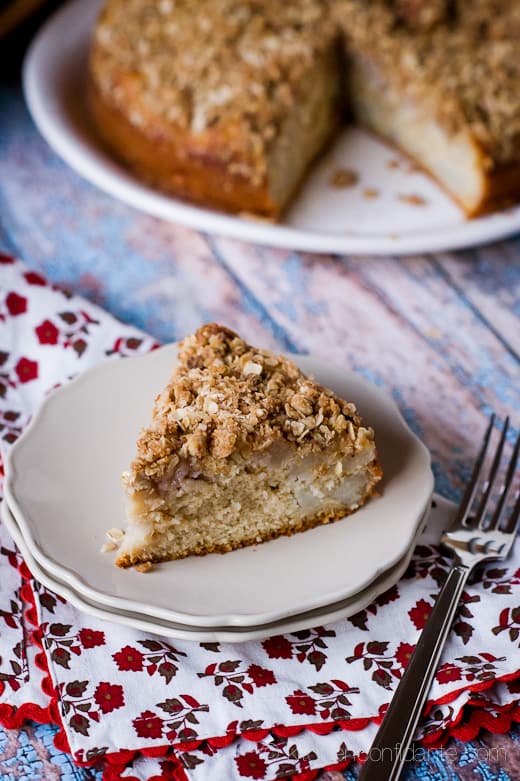 Pear Spiced Crumb Cake & The Season of Giving {Holiday Gift Guide & Giveaway}
Sometimes sickness can be a blessing.
I was not myself last week, resigned to my bed for what felt like an eternity. As achey as I felt, I enjoyed every minute, because the inability to do all the things I normally must do allowed me the time to do the things I would love to do, if there were more than 24 hours in a day.
Like read stories. Play Legos. Color. Watch silly movies. Enjoy the simple things…with my children.


The kitchen remained spotless for days. But as soon as I had some energy to dirty it up, I found myself down there. My daughter baked her first pie. I was too weak to maneuver my appliances, so I told her, we can do this the old fashioned way. I handed her a whisk and a bowl, and she followed my instructions, from the crust to the custard filling. The look of pride on her face was priceless. It was a MasterCard commercial.

Days later, my strength slowly returned, and it was time for me to have some fun of my own. I baked the Pear Spiced Crumb Cake that had been running through my mind the whole week. But I still did it the old fashioned way. Bowls, whisks, spatulas, fingers. I was exhausted at the end, but happy.
And then, all of a sudden, Christmas beckons. My energy has returned, and just in time, as it's now time to start decking the hall and the holly jollies. I feel renewed and I also feel determined…determined to enjoy these holidays with my children with as much care as I was able to do last week….determined to teach them how it is better to give than to receive…determined to make it magical.
As we all unleash our inner Santa this year, I thought I would share the Second (!) Annual Kitchen Confidante Holiday Gift Guide. Last year's was so much fun, and this holiday, there are wonderful ideas for the foodies in your lives everywhere I turn. I am also very excited and pleased to let share a giveaway for the exquisite Crosby & Taylor Pewter Measuring Spoon Set I used in baking my Pear Spiced Crumb Cake (pictured above). My family and friends know that I have a penchant for measuring spoons – over the years, it has become my favorite small gift – for hostesses, friends, housewarmings – you can never have enough! I do believe it has become my signature gift. This set is just gorgeous, the cool and hefty pewter feels wonderful in the hands as you measure out ingredients. And the detailing is lovely and so perfect for the holidays. I already know whose tree this will go under!
That's one I can cross off my list. Now for the rest.
Please scroll down for the Holiday Gift Guide, Giveaway Details, and of course, the recipe for my Pear Spiced Crumb Cake.
◊◊◊
Kitchen Confidante Holiday Gift Guide 2011
FTC/Disclaimer: With the exception of the Crosby & Taylor Measuring Spoons with Pewter Post, items in this gift guide were in no way sponsored by their respective companies. Regardless, items selected in this gift guide were chosen solely by me, and they are gifts I would love to buy for loved ones (and for myself!). Some are available at major retailers, and some support talented artisans and small businesses, however, all may be purchased online, and I provide links for you to do so. Happy holidays and happy shopping!
Classic and timeless, Crosby & Taylor Measuring Spoons with Pewter Post will last generations in the kitchen. The craftsmanship is exquisite, and I particularly love how easy they are to use. With the pewter post, each individual measuring spoon is ready for duty – no shuffling and untangling connected spoons! The Butter Queen herself, Paula Deen, is a huge fan. Receive a 20% discount with the discount code "20CONFIDANTE" on the purchase of a measuring spoon or cup set from now through December. The elves over at Crosby & Taylor will even gift wrap for you.


A Porcelain Measuring Jug that is as functional as it is beautiful. I love the lines, inside and out. Bring it from the kitchen to the table – it's dishwasher, microwave, freezer & oven safe! From Terrain.
From pancake batters to salads, these gorgeous Robins Egg Blue Handmade Wheel Thrown Porcelain Nested Bowls Set make prep work pretty and table serving stylish. From NewMoonStudio on Etsy.
Move over Post It Notes, annotate your favorite recipes in style with these Recipe Bookmarks Book. I can think of several cookbook hoarders lovers that would really appreciate this stocking stuffer. From Anthropologie.
Sometimes the glamor of setting the table fades. For the little foodies who need some encouragement to get their chores done, these Rules Of Etiquette Paper Placemats might just bring a little fun back to earning their allowance. From Anthropologie.
Not like you need a reminder, but if you insist! Love this Eat Sign from Terrain.
We aerate every bottle of red, I do think it makes a difference, most especially for the wines we are too impatient to enjoy. This Wine Aerator & Pourer aerates as it pours without a drip – two gadgets in one! The wine lover in your life will love you. From Williams Sonoma.
If you love wine, chances are you love cheese. My all time favorite cheeses are in this trio of Cowgirl Creamery Classics. Please, if you have not tried this cult favorite from the Bay Area, please make this the one gift you give yourself this season. It is, in a word, divine. I dare you to not finish an entire of wheel of Mt. Tam all by your lonesome. From Cowgirl Creamery.
Two cups a day. Morning and afternoon. We are serious about our coffee here and are spoiled with the best. Marin county based Equator Coffee can be found in esteemed restaurants like The French Laundry, Bouchon, and now, your coffee lover's kitchen. We personally love their Organic French Roast, but you will surely find a flavor profile that will suit the taste buds of the coffee lover on your list. From Equator Coffees & Teas.
Of course, the true spirit of giving is best when you can give to those in need. I would be remiss to not mention PEKO PEKO: Family Friendly Japanese Recipes, a cookbook to support Japan's recovery from the devastating earthquake last spring. It offers 120 full-color pages packed with gorgeous photography and nearly 60 family-friendly Japanese and Japanese-inspired recipes contributed by 56 of today's best and brightest food writers, bloggers and photographers. I am humbled to say that includes yours truly. You can find my mom's recipe for Pork & Shiitake Gyoza in its pretty pages. From Peko Peko Cookbook on Blurb.
 Crosby & Taylor Pewter Measuring Spoon Set Giveaway
I know you will love this gorgeous set from Crosby & Taylor. Be sure to check out their entire collection of artisanal products in Pewter and Ceramics for the home & kitchen. They're on Twitter and Facebook, too. Don't forget, you can receive a 20% discount with the discount code "20CONFIDANTE" on the purchase of a measuring spoon or cup set from now through December.
This giveaway is officially closed. Thanks to all who participated, a winner will be selected soon!
Ready to enter to win a Crosby & Taylor Pewter Measuring Spoon Set? Here's how:
Please leave a comment below and feel free to share how you plan on enjoying the holidays with loved ones.
Entries/Comments accepted until 10 pm Pacific, Monday, 5 December, 2011.
One winner will be randomly selected and notified by email.
This contest is open to US residents only, my apologies to my international friends!
FTC: Crosby & Taylor provided an Angel Measuring Spoons Set for my review; however I was not obligated to write or recommend their products. As always, I share with you only items I sincerely feel you will love and enjoy. Crosby & Taylor will also provide one giveaway winner with an Angel Measuring Spoons Set, a $79 value.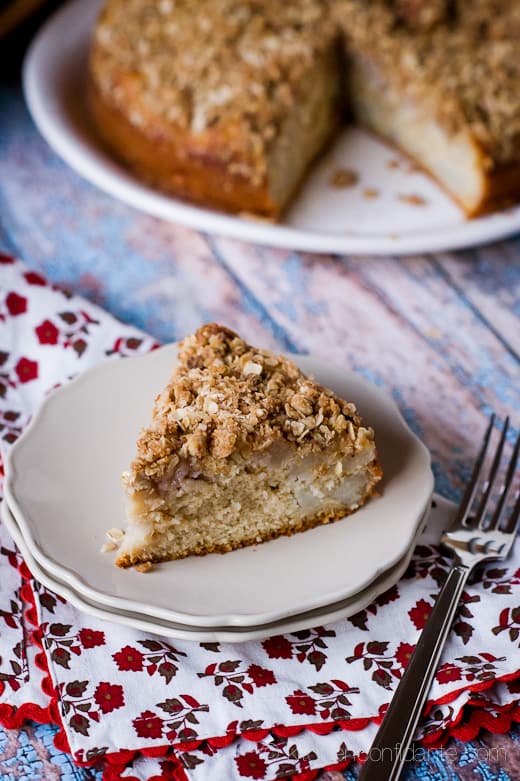 Print Recipe
Ingredients
For the cake:
 1 1/2 cups flour
3/4 cups sugar
2 teaspoons baking powder
1 teaspoon baking soda
1 teaspoon cinnamon
1/2 teaspoon ginger
1/4 teaspoon salt
1 cup buttermilk
1 whole egg
1 egg white
1/4 cup oil
2 cups diced pears, divided
For the crumb topping:
1/2 cup oats
1/4 cup brown sugar
1/4 teaspoon cinnamon
2 tablespoons flour
2 tablespoons melted butter
Instructions
Preheat the oven to 350°F. Line a 9 inch springform pan with a circle of parchment paper.
In a large bowl, whisk together the flour, sugar, baking powder, baking soda, cinnamon, ginger and salt. In a separate small bowl, whisk together the buttermilk, eggs and oil. Stir the buttermilk mixture into the dry ingredients until just incorporated. Mix in 1 cup of the pears into the cake batter. Pour into the springform pan and level with a spatula. Sprinkle the remaining pears over the top, distributing evenly.
Combine the ingredients for the crumb topping in a small bowl and mix until you achieve a crumbly texture. Scatter over the layer of pears until the cake is evenly covered.
Bake for 35 minutes, or until a toothpick inserted is clean when removed. Alternatively, you can make this cake as muffins. Bake for about 25 minutes in a muffin tin, and allow to cool for 15 minutes before retrieving from the pan.
Enjoy immediately, and best the day you bake. If you have any left over, store in an airtight container and reheat in a 350°F oven for about 10 minutes.