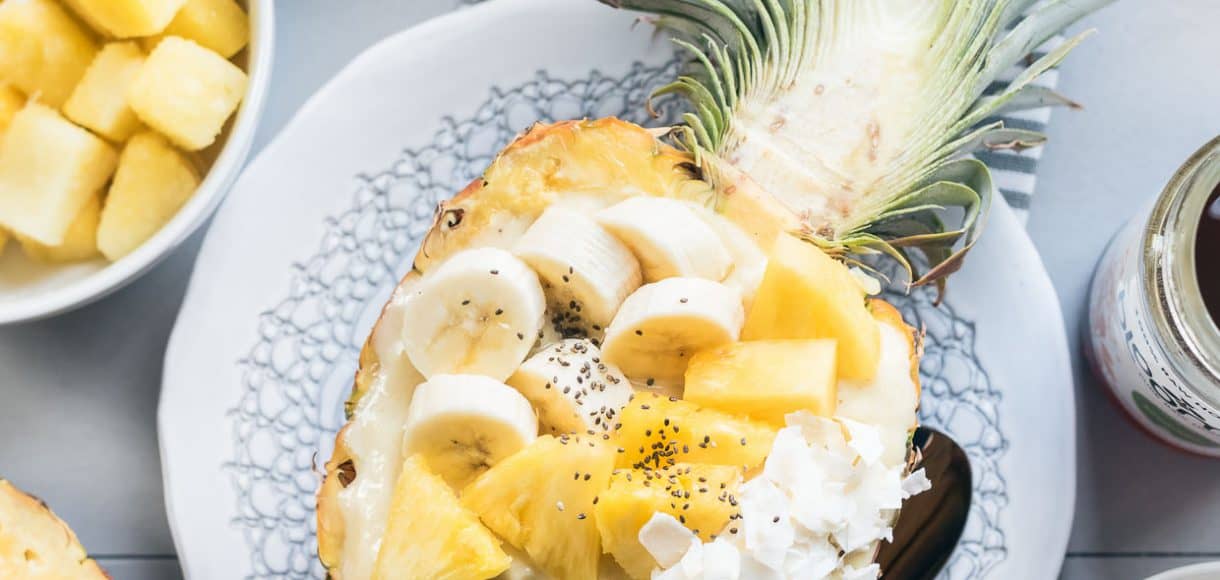 Pineapple Smoothie Bowl
Despite my best intentions, I fell off the wagon. What used to be simple routine – heading to the gym every day – got sideswiped by a demanding puppy, a terrible cough that kept me up at night for weeks (and with a voice that…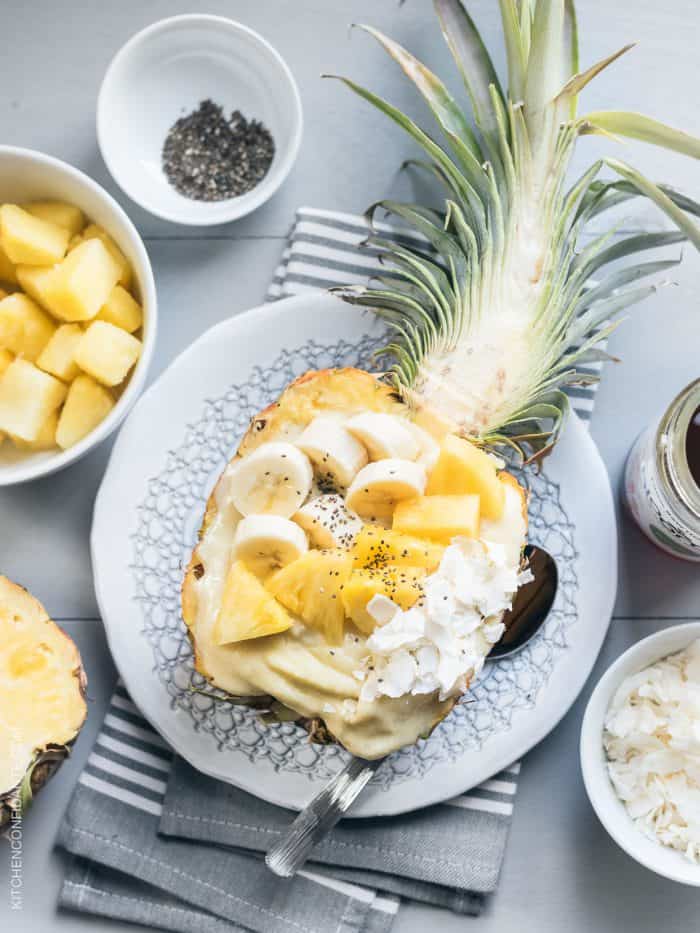 Pineapple Smoothie Bowl
Despite my best intentions, I fell off the wagon. What used to be simple routine – heading to the gym every day – got sideswiped by a demanding puppy, a terrible cough that kept me up at night for weeks (and with a voice that sounded like a tortured James Earl Jones), and travel to my slushy hometown for work, which made me rely more on Ricola than I would care to admit.
I'm finally feeling more myself, and finally getting back on the fitness wagon, which means, I'm craving my smoothie bowls again. Whether it's an acai bowl or my beloved green smoothie bowl, the blender has been going non-stop.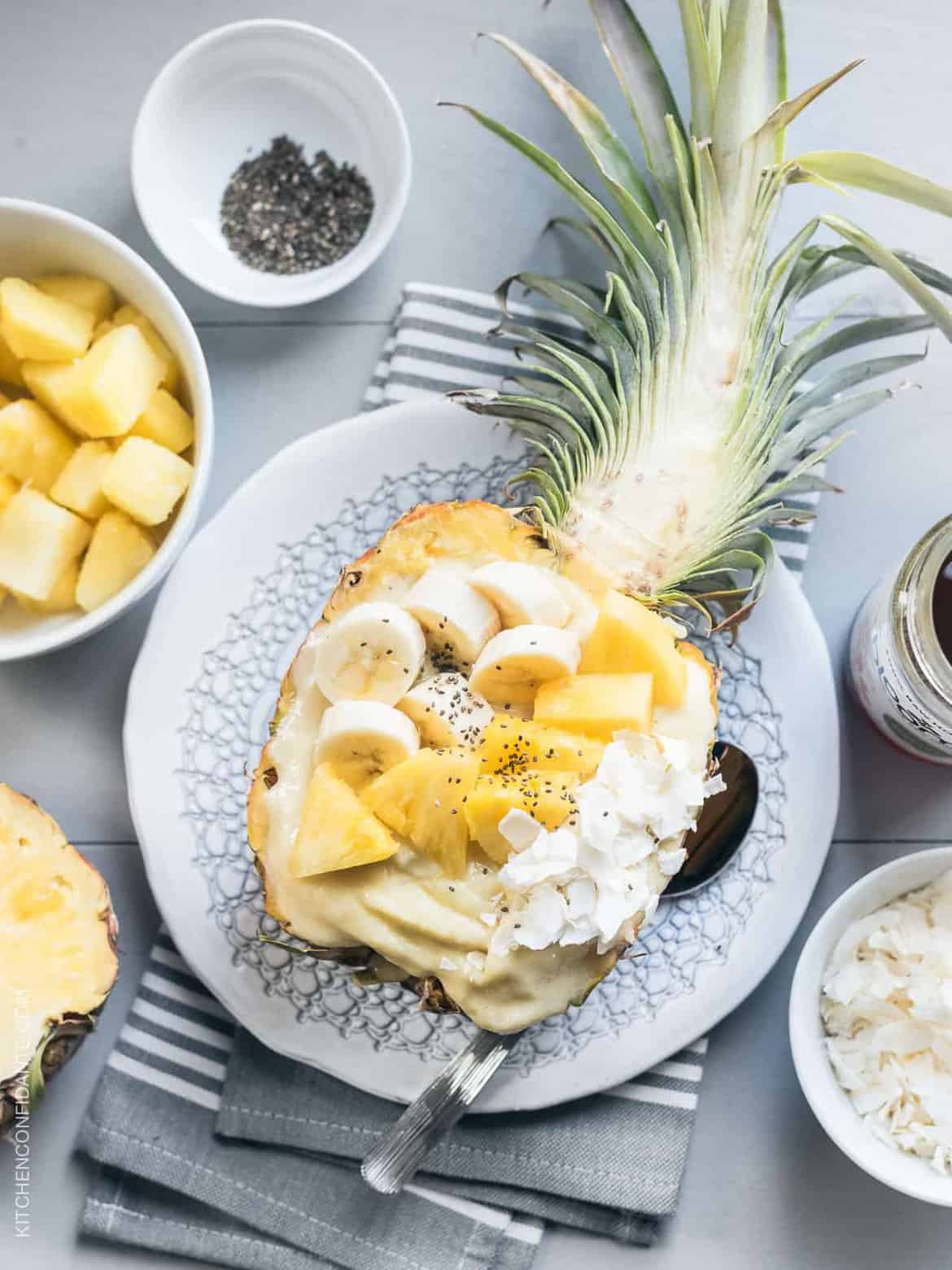 My husband came home with a beautiful pineapple the other day, and as I sliced through it, I knew I had to transform the shell into a vessel for something refreshing. So of course, I had to make a Pineapple Smoothie Bowl! I always keep frozen pineapples stocked for my smoothies and smoothie bowls, and combining it with sweet, freshly sliced pineapples, bananas and shredded coconut kept me energized to conquer the day.
It feels good to be back, and back on track.
Now as for serving it in the pineapple – well, of course, it would be just as wonderful served in a bowl. But it's my little way of treating myself to a mini getaway…kinda like a pina colada, but without the umbrella…and without the rum. It's the little fun in the sun I crave on a Wednesday in February.
Refresh and reenergize with this recipe for a Pineapple Smoothie Bowl! It's perfect for breakfast, after a workout, or anytime you want to recharge.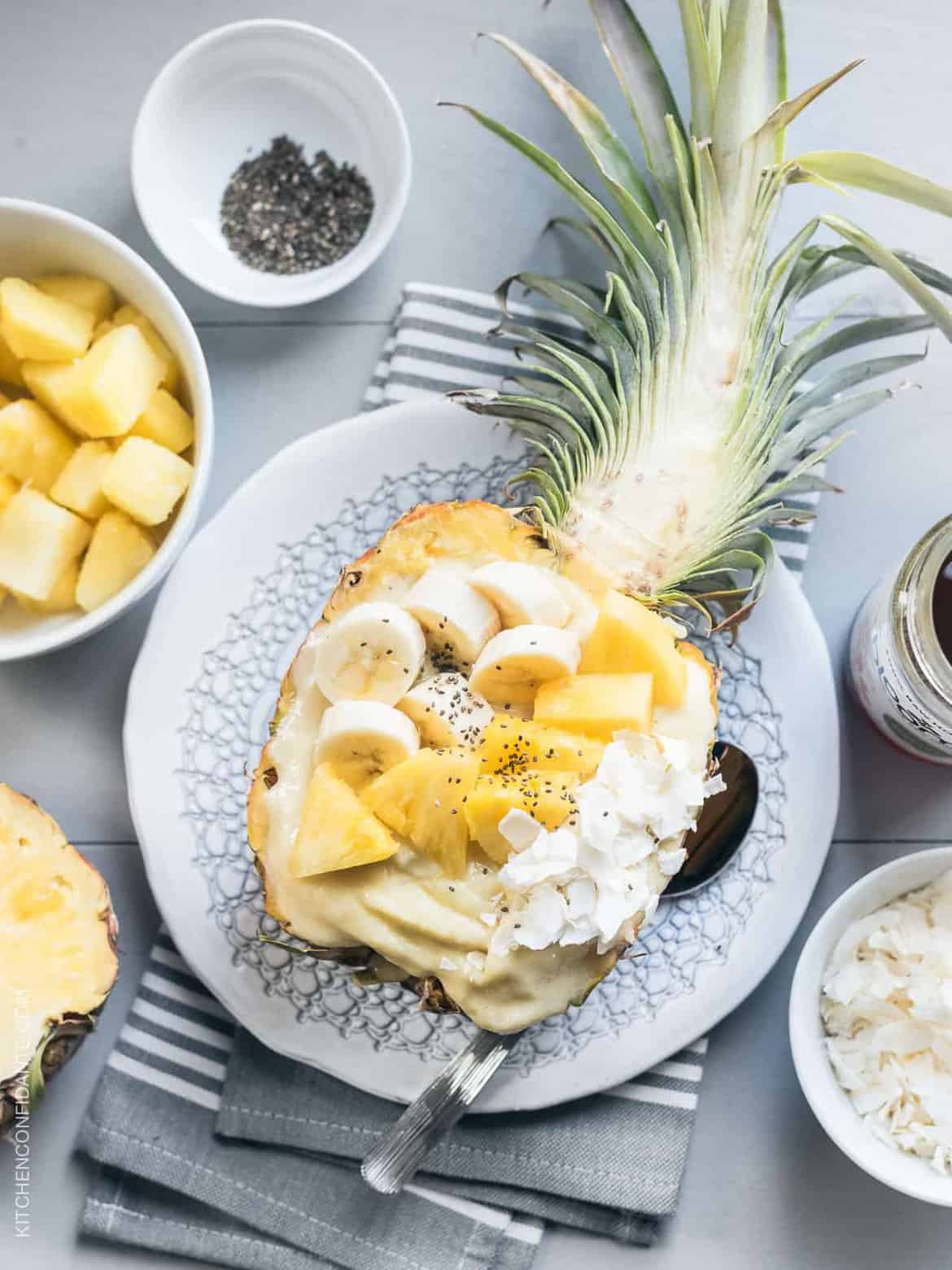 Print Recipe
Ingredients
For the Pineapple Smoothie Bowl:
1/4 cup almond milk
1 ripe banana
2 cups frozen pineapples
1-2 tablespoons honey (to taste)
For the Toppings:
sliced bananas
sliced pineapple
shredded coconut
chia seeds
honey
Instructions
In a blender, add the almond milk, banana, pineapple and honey, in that order. Blend on low speed until the mixture is thick and creamy. You may have to tamp it down to help it blend evenly. Transfer to a bowl and let it set in the freezer while you prepare your toppings.
To serve, top with bananas, pineapple, coconut, chia seeds, and a good drizzle of honey.