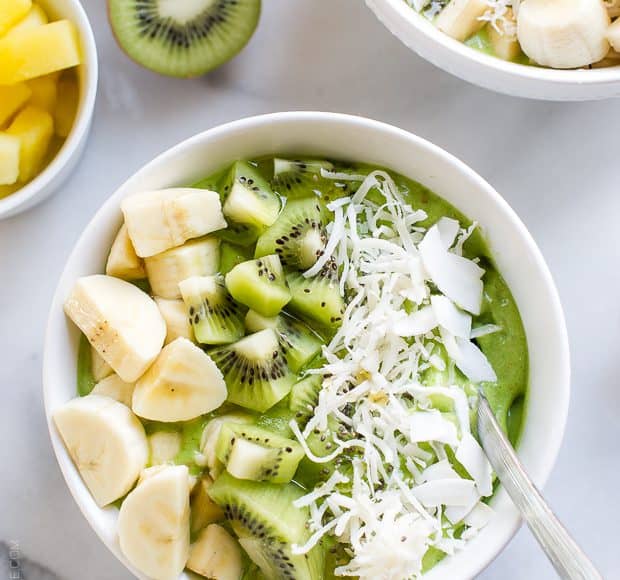 Green Smoothie Bowl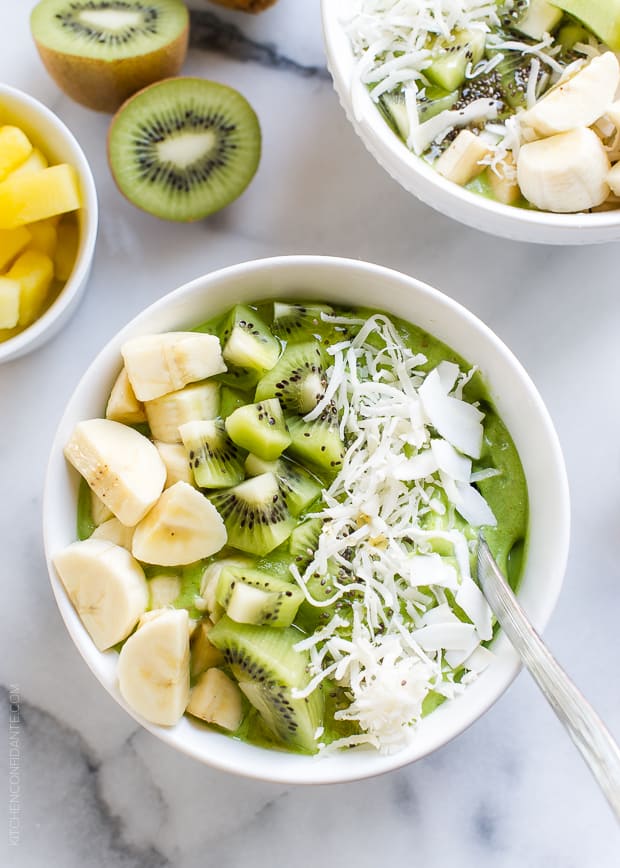 Green Smoothie Bowl
Skip the straw and grab a spoon – this Green Smoothie Bowl is the perfect breakfast, lunch, or post workout snack!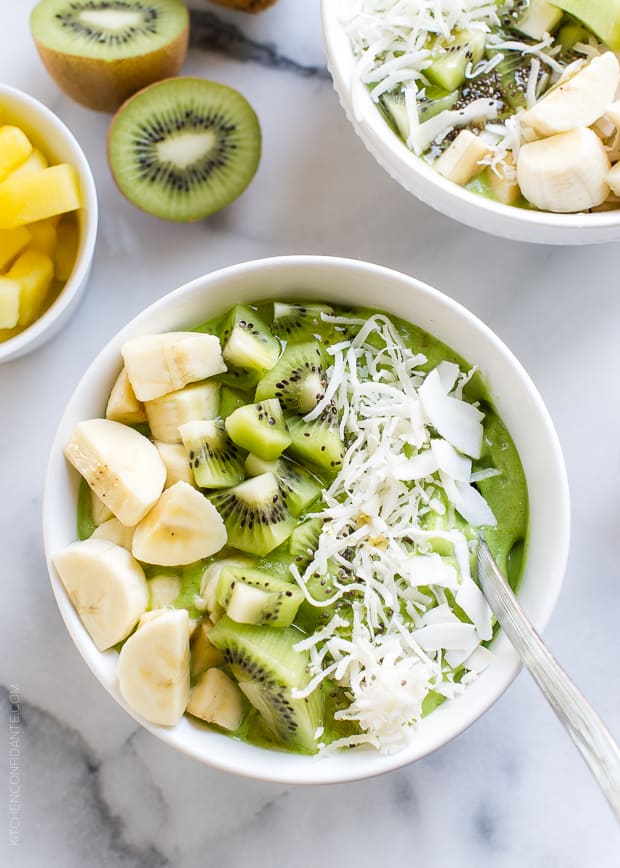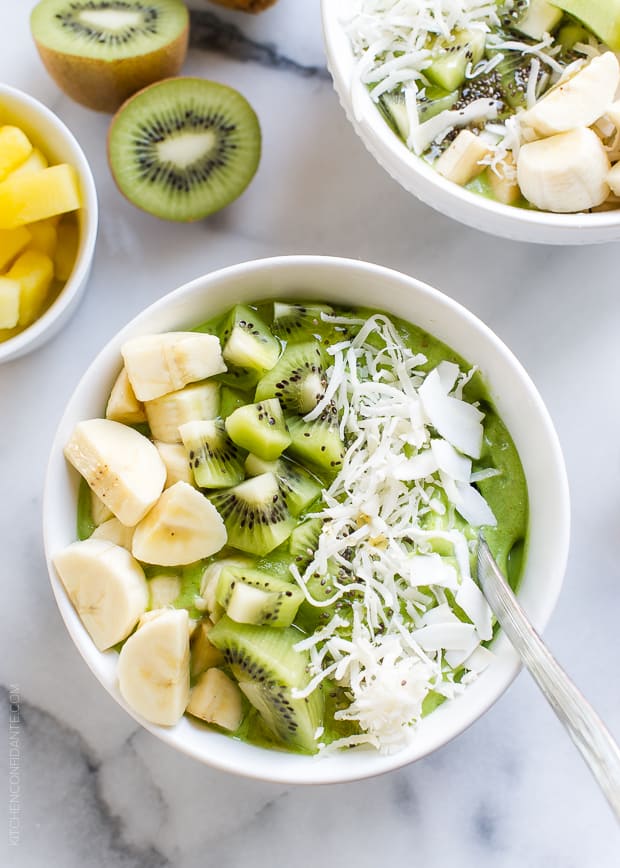 My mind was really cluttered this week. It wasn't exactly a hairy week by any means, but my brain was full of random things vying for my attention. There was competition of the olympic sort as my mind shifted from work, to email, conference calls, newscasts, the landscaping project underway, my son's spelling test, mapping out summer camps, my sister's birthday, making it to the gym on time, dentist appointments, cleaning the house since apparently we seem to be one of the only people left on the planet who scrubs our own toilets these days, to Easter, and oh, my mother in law is coming in a week (yay!). A standard week, but for some reason, as I forced myself to go to yoga, I could literally feel each one of those things exit my brain, at least for one hour.
Anyway, I'm back from the gym, and I'm snacking on my newest obsession. You know how I love my green smoothies, and you also know how I adore Açaí Berry Bowls. Well, right now I'm obsessed with mashing the two together: this Green Smoothie Bowl is so good, I've been having them for breakfast, and sometimes even lunch!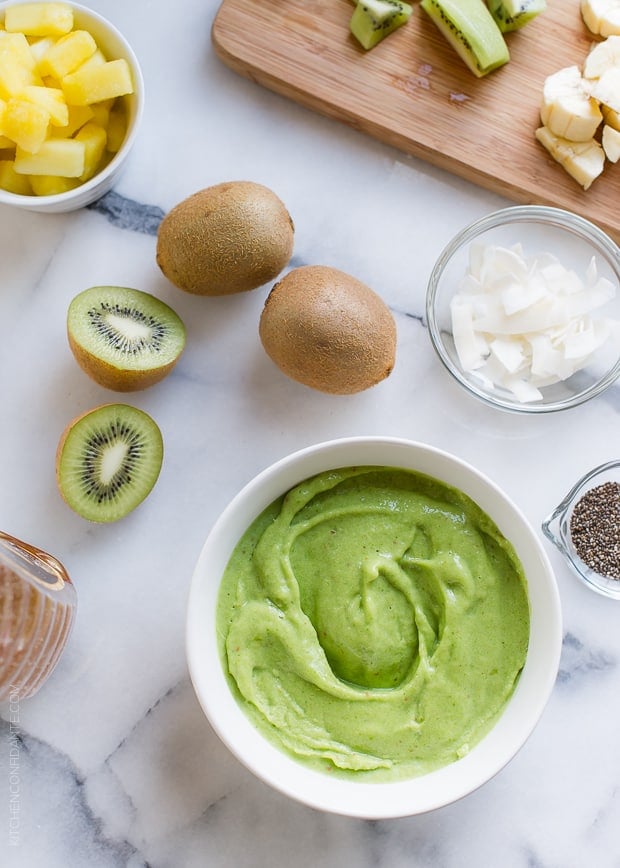 The base of the green smoothie bowl is kefir, which I have been loving a lot lately, a good handful of fresh spinach, frozen pineapples, mangoes and ripe bananas. A few seconds in the blender, and I top it with more bananas, fresh kiwis, chia seeds and my absolute favorite shredded coconut. It's so filling and refreshing, especially after a hard workout.
How are you doing this week? Are you as ready for the weekend as I am? I hope you take a moment for you today. I know I forget myself, but this little bowl is something I make, just for me, all for me. We all need that special something to get us through the day, don't you think?
Skip the straw and grab a spoon – this is the perfect breakfast, lunch, or post workout snack!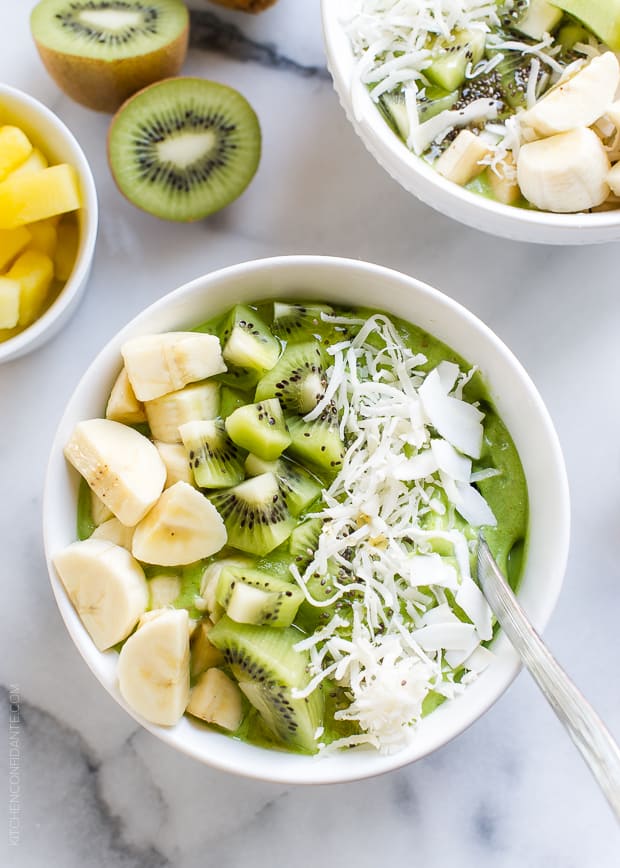 Print Recipe
Ingredients
For the Green Smoothie Bowl:
1/4 cup kefir
1/2 ripe banana
1 cup fresh baby spinach
1/4 cup frozen mango
1/4 cup frozen pineapples
For the Toppings:
sliced bananas
sliced kiwis
shredded coconut
chia seeds
honey
Instructions
In a blender, add the keffir, banana, spinach, mango and pineapple, in that order. Blend on low speed until the mixture is thick and creamy. You may have to tamp it down to help it blend evenly. Transfer to a bowl and let it set in the freezer while you prepare your toppings.
To serve, top with bananas, kiwis, coconut, chia seeds, and a good drizzle of honey. Enjoy immediately.