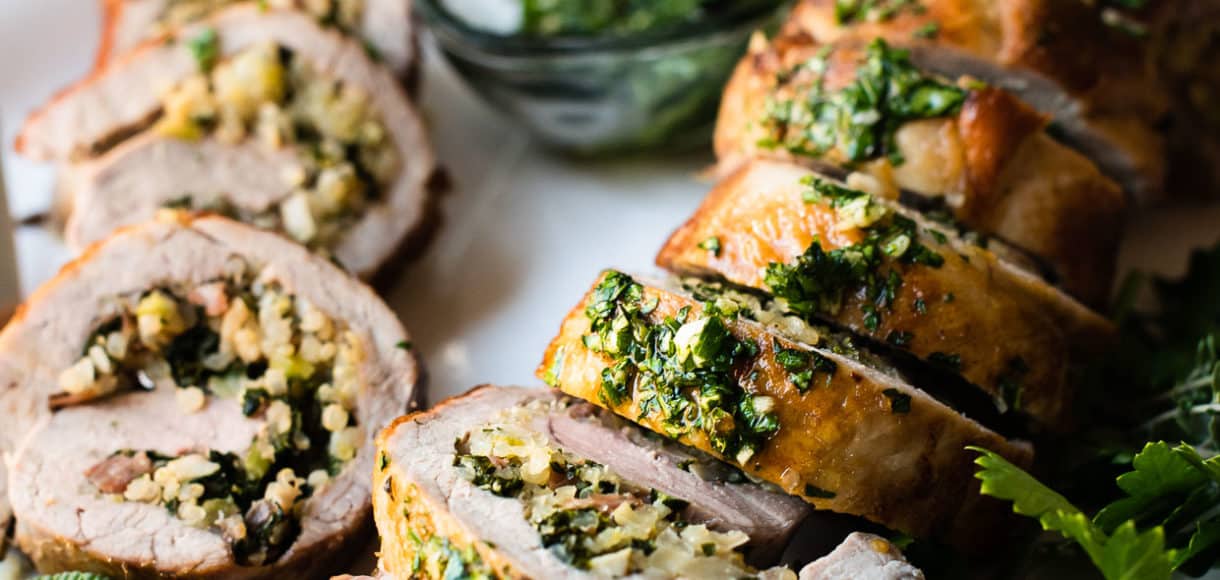 Quinoa Stuffed Pork Tenderloin
Quinoa Stuffed Pork Tenderloin filled with quinoa, mushrooms, and kale and deliciously roasted in the oven! Easy for entertaining or a weeknight meal!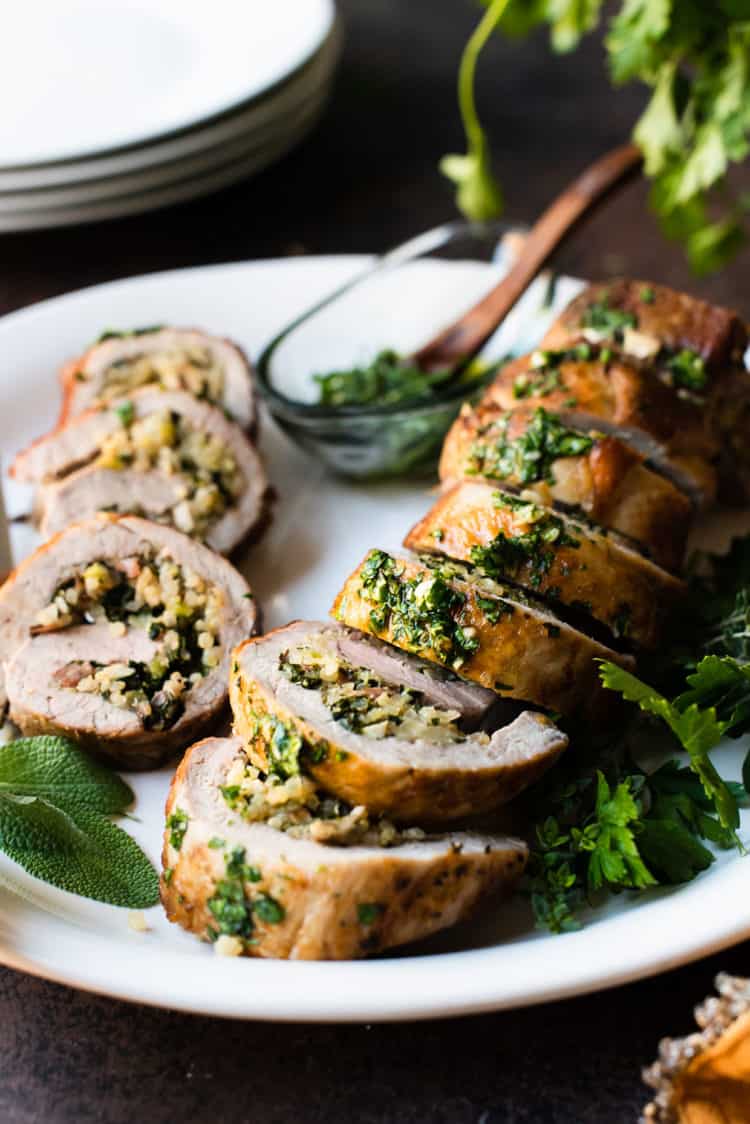 Quinoa Stuffed Pork Tenderloin
Quinoa Stuffed Pork Tenderloin filled with quinoa, mushrooms, prosciutto, and kale and deliciously roasted in the oven! Easy for entertaining or a weeknight meal! This post is brought to you by Open Nature® Pork and Safeway.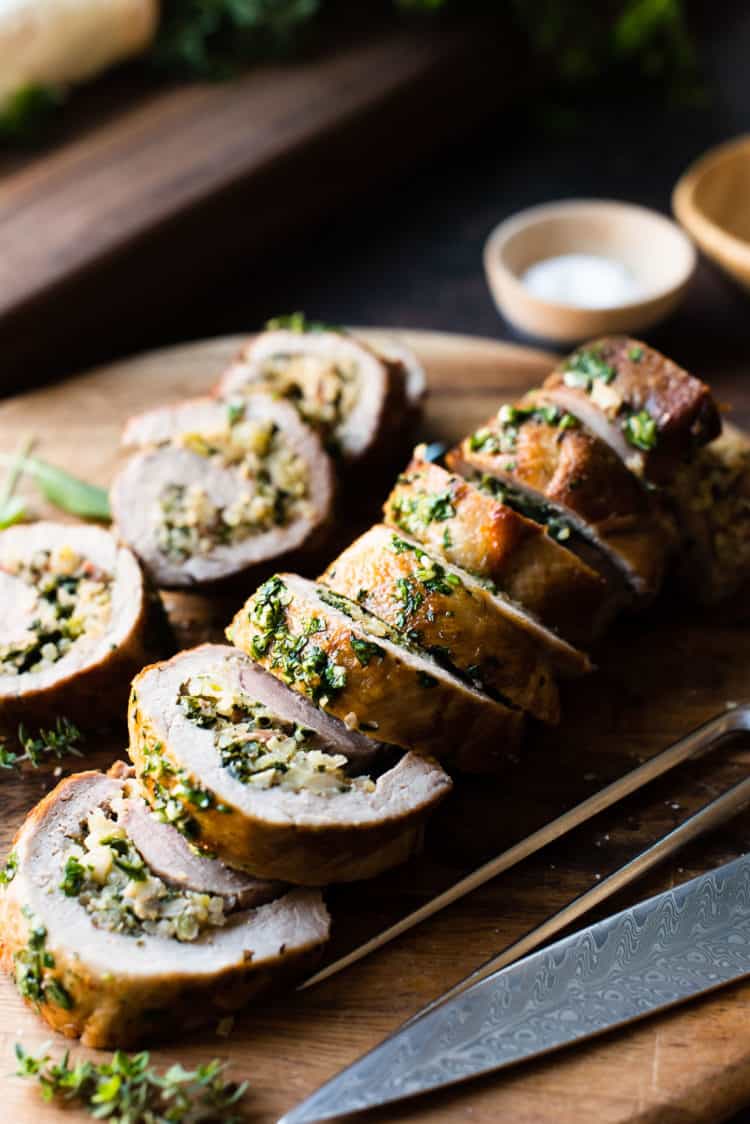 What's your go-to recipe for weeknights? I get this question often, and my usual answer is simple: pork tenderloin.
This may not come as a surprise to you, especially if you've been cooking with me all these years. One of my most popular recipes is a Balsamic-Garlic Crusted Pork Tenderloin – it's become a reader favorite for the same reasons it's become one of mine: it's super flavorful, can be grilled or oven roasted, and requires hardly any prep-work at all! And pork tenderloin, in general, is my favorite cut because it is budget friendly and almost always stays moist and succulent, even if you forget to take it off the heat for just a few minutes.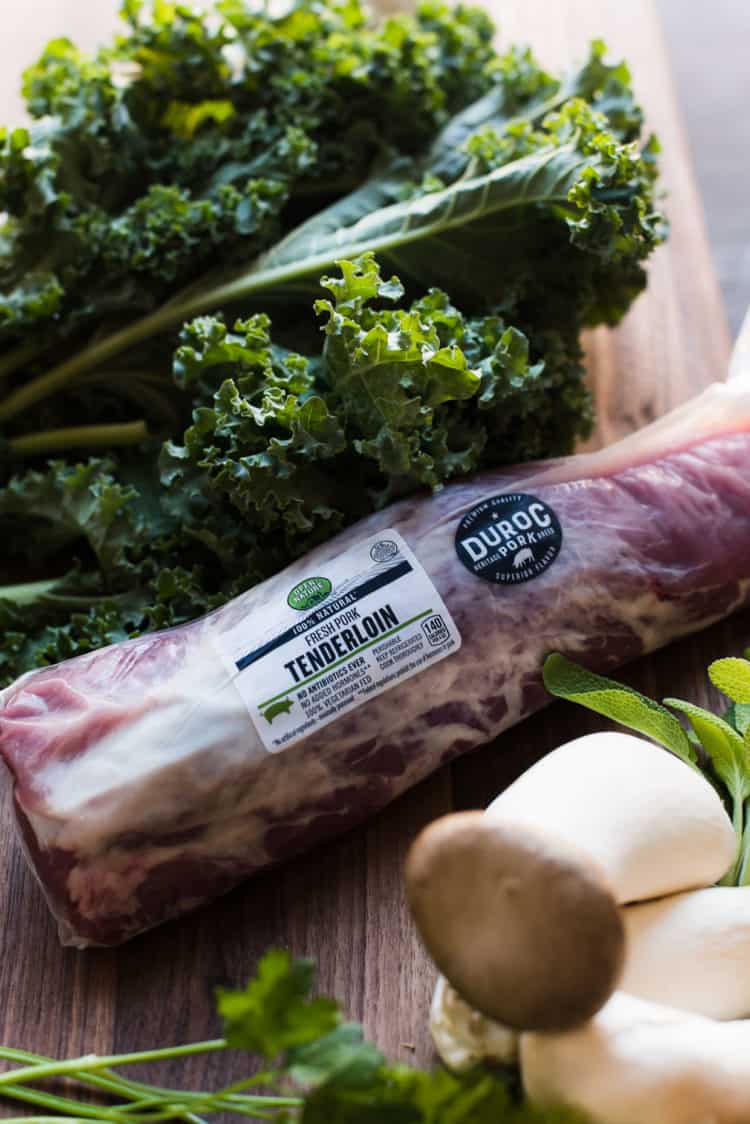 So, when I'm grocery shopping, I almost always pick up a pork tenderloin! I've grown to really appreciate Open Nature® Pork, which is is available here in the San Francisco Bay Area exclusively at Safeway stores. All Open Nature pork is of the Duroc heritage breed, which is valued by chefs for its high-degree of marbling, which translates into a more tender, juicy, and flavorful eating experience. Duroc makes it "fool-proof" to prepare a delicious entrée! I feel good knowing it is antibiotic free (no antibiotics ever), 100% vegetarian fed, has no added hormones or growth promotants and is raised crate-free.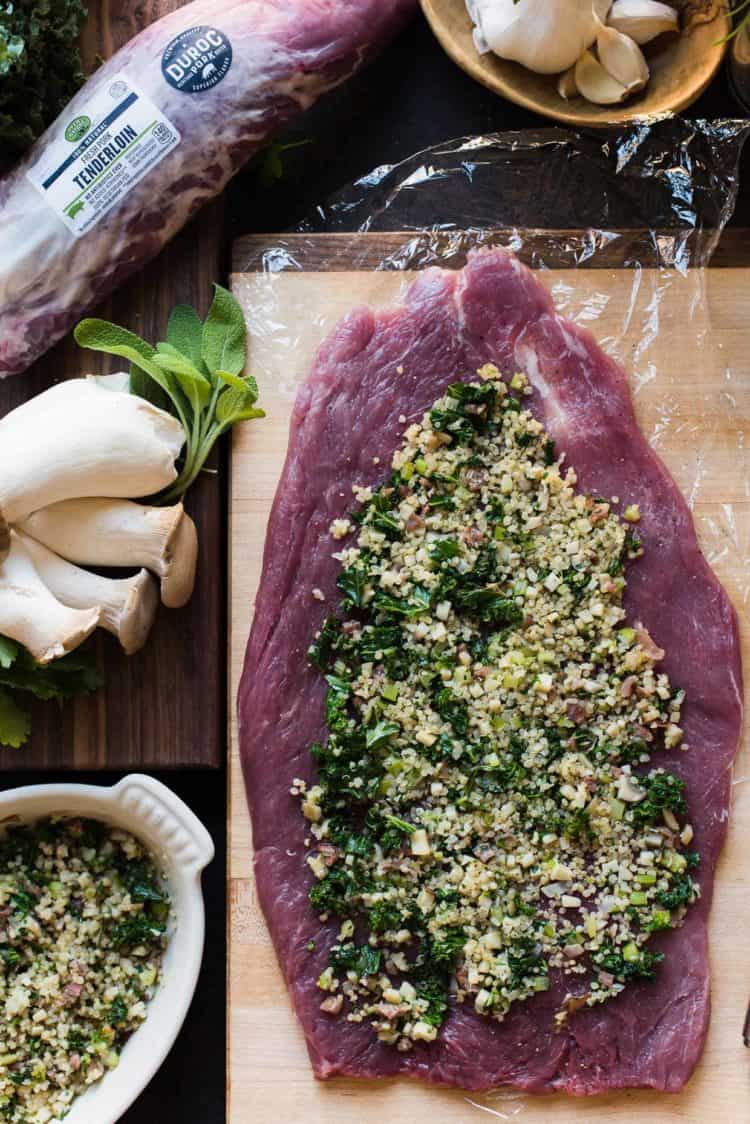 This recipe for Quinoa Stuffed Pork Tenderloin is inspired by fall, and between you and me, I kind of have Thanksgiving on the brain. It may seem early to think about turkey, but let's be honest, is it too early to think about stuffing? It seems a shame to not enjoy stuffing more, so I thought I would fill this pork tenderloin with some of the ingredients I love: cooked quinoa, a touch of prosciutto, earthy mushrooms and hearty kale. It's essentially a whole meal, rolled and roasted in a juicy tenderloin!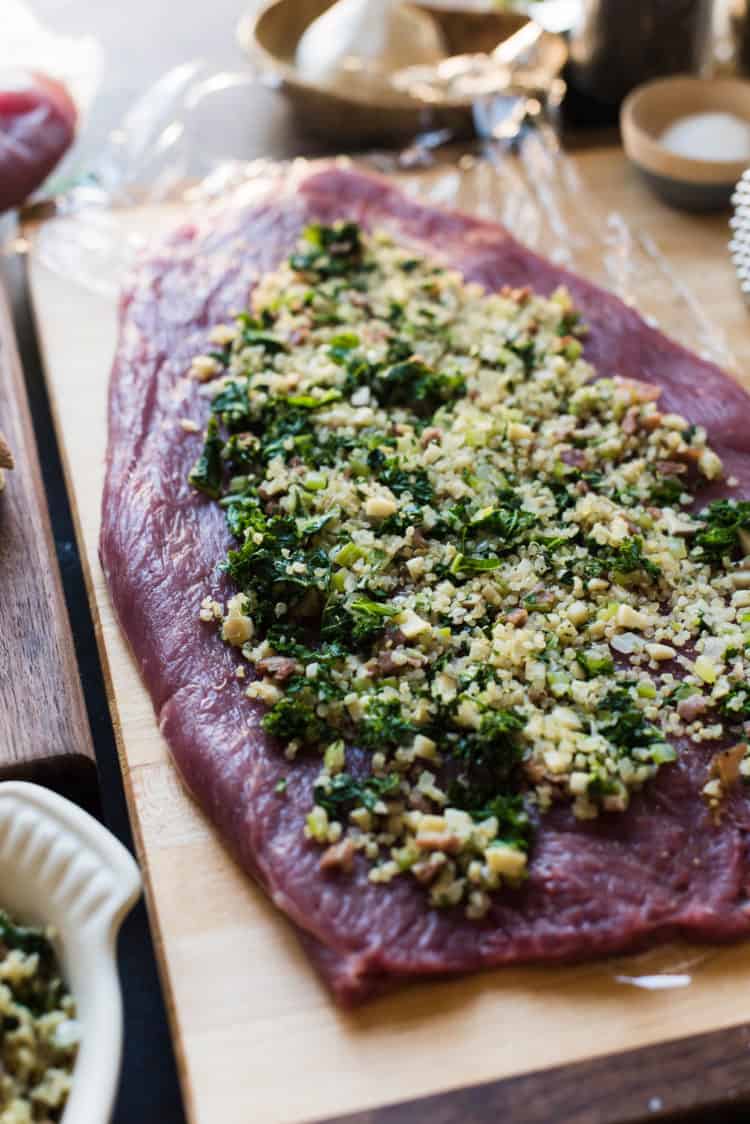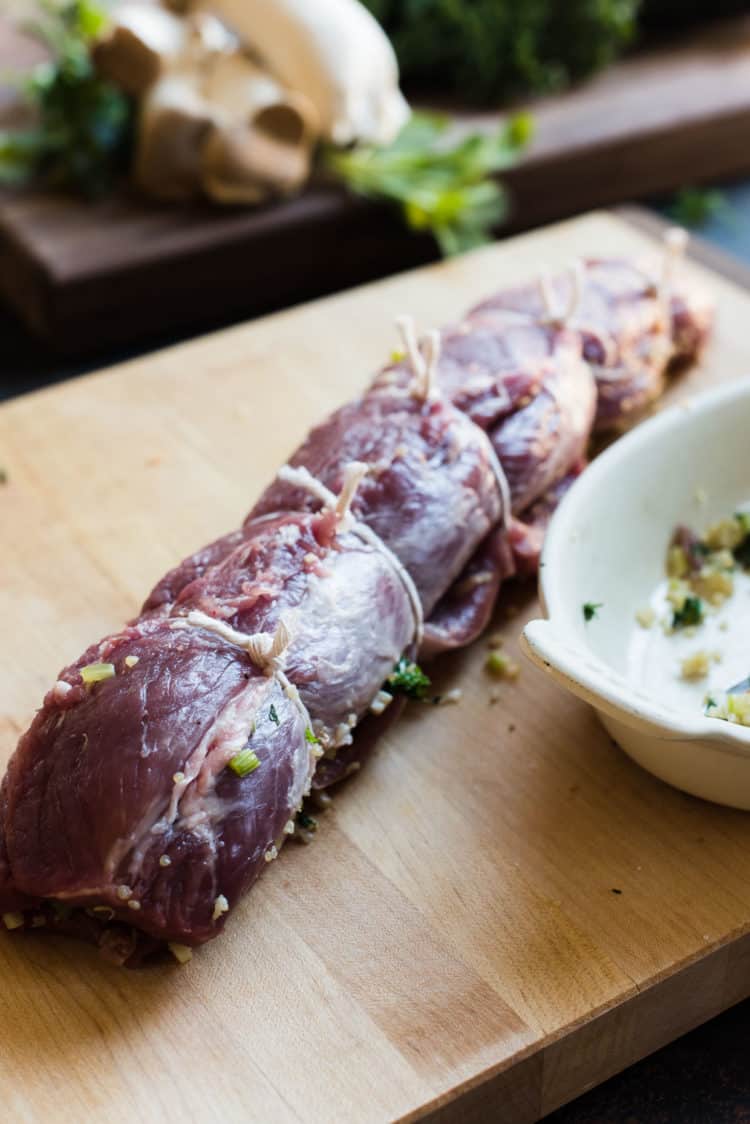 If you've never stuffed, rolled and roasted a pork tenderloin before, I promise it's easier than you think. A simple butterfly of the tenderloin (which means slicing it in half so it opens like a book) takes just one swipe of the knife, and then you get to pound it thin, which is perfect for releasing the day's aggression! The stuffing comes together quickly, and you may be tempted to make more because it's so good on it's own! Once you spread the stuffing on the tenderloin, you simply roll the tenderloin like a jelly roll and tie, and it's ready to cook!
The best part is that you can make it in advance, which is especially great if you're entertaining or meal prepping for the week. You can prep the tenderloin and the stuffing the day before, and even stuff, roll and tie in advance, making it even easier, whether you are cooking this for a busy weeknight or for guests.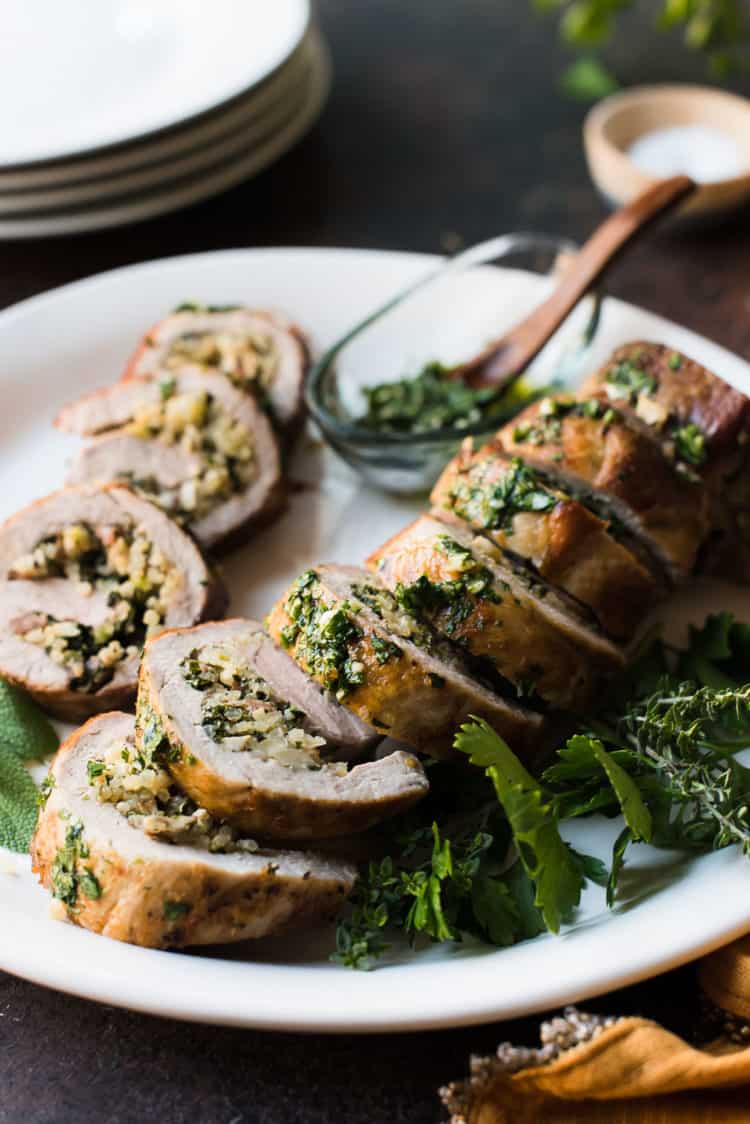 If you want to check out more Open Nature Pork products, visit your local Safeway if you live in the Bay Area. You can also find them exclusively at all of the Albertsons Companies family of stores, including Albertsons, ACME Markets, Jewel-Osco, Vons, Pavilions, Randalls, Tom Thumb, Shaw's, Star Market, and Carrs/Safeway. Visit Safeway.com to find a store near you and discover more recipe ideas.
Disclosure:
This is a sponsored conversation written by me on behalf of Safeway. The opinions and text are all mine.
Thank you for supporting brands that matter to me; sponsored posts such as this help behind the scenes at Kitchen Confidante. All opinions in this post are, as always, my own.
More Pork Tenderloin Recipes to Try:
Love pork tenderloin? Here are more pork tenderloin recipes to try!
Indonesian Pork Tenderloin
Grilled Balsamic-Garlic Crusted Pork Tenderloin
Filipino Pork Barbecue Bowl
Pork Tenderloin with Cranberry Wine Sauce
Quinoa Stuffed Pork Tenderloin
Quinoa Stuffed Pork Tenderloin is easy to make and filled with is filled with a quinoa, mushrooms, and kale stuffing! It's a simple roast for a weeknight meal, and also elegant enough for a dinner party!
Ingredients
1/2

cup

chicken stock

1/2

cup

quinoa

2

tablespoons

olive oil

divided

1/4

cup

chopped shallot

1 shallot

1

tablespoon

minced garlic

2 cloves

1/2

cup

diced celery

1

cup

mushrooms

finely chopped

1

oz

chopped prosciutto

2

cups

chopped kale

2

tablespoons

flat leaf parsley

chopped

1

teaspoon

fresh sage

chopped

1

teaspoon

thyme

1/2

teaspoon

kosher salt

1/2

teaspoon

freshly ground black pepper

1 1-

lb

pork tenderloins
For the Gremolata (optional)
2

tablespoons

finely chopped parsley

1

teaspoon

fresh sage

1/2

teaspoon

thyme

1

clove

garlic

mashed

2-3

tablespoons

olive oil

Kosher salt

to taste

Freshly ground black pepper

to taste
Instructions
Preheat oven to 400°F degrees with the oven rack placed in the center of the oven.

Combine chicken stock and quinoa in a small saucepan. Bring to a boil over medium heat. Lower heat, cover and simmer for 15 minutes. When cooked, fluff the quinoa with fork.

While the quinoa cooks, prepare the stuffing. Heat 1 tablespoon of olive oil in a large pan or deep sided saute pan over medium heat. Add the shallot, garlic and cook for about 1-2 minutes, or until the shallot is translucent. Stir in the celery, mushrooms, and prosciutto, and cook for another 2-3 minutes, or until the mushrooms soften. Stir in the parsley, sage, thyme, salt, and pepper. Stir in the kale and 1/2 cup cooked quinoa and cook for about a minute, to allow the kale to wilt. Adjust seasoning to taste. Remove from heat and cool while you prepare the tenderloin.

Butterfly the tenderloin by slicing in half lengthwise, making sure not to cut all the way through -- you want to be able to open the tenderloin like a book. Place between two sheets of plastic wrap and use a meat mallet (or heavy skillet) to pound the tenderloin to about 1/4 inch thickness.

Season the tenderloin lightly with salt and pepper. Spread the stuffing on the meat, leaving a 1/2 inch border around the edges.

Starting with the long side, roll the tenderloin as tightly as possible, secure with kitchen twine.

Wipe out your skillet and heat remaining tablespoon of olive oil over medium-high heat.

Add the pork tenderloin, and brown all over about 4 minutes.

Transfer pan to oven. Roast pork, turning occasionally until the internal temperature is 160 degrees, about 20 minutes. Transfer pork to a cutting board, and let it rest 10 minutes before slicing.

If serving with gremolata, stir together the herbs, garlic and olive oil in a bowl, Season with salt and pepper.

To serve, slice the tenderloin in 1/2 inch slices. Top with the gremolata and enjoy immediately.
Nutrition
Calories:
363
kcal
|
Carbohydrates:
13
g
|
Protein:
36
g
|
Fat:
17
g
|
Saturated Fat:
3
g
|
Cholesterol:
101
mg
|
Sodium:
351
mg
|
Potassium:
901
mg
|
Fiber:
1
g
|
Vitamin A:
2510
IU
|
Vitamin C:
32.3
mg
|
Calcium:
59
mg
|
Iron:
2.8
mg