Salsa Partner
I know you're hoping that I take up video blogging so I can show you some spicy salsa dancing, but I don't want to be responsible for any breathing or choking problems from people laughing too hard. So, if you saw the title of this…
Salsa Partner
I know you're hoping that I take up video blogging so I can show you some spicy salsa dancing, but I don't want to be responsible for any breathing or choking problems from people laughing too hard. So, if you saw the title of this post and thought for a moment that I would have a piece about me dancing in the kitchen, well, I'm sorry to disappoint. However, my son and I do dance a goofy tango in the kitchen (he especially loves the dip!), so I'll leave you with that happy thought.
Before you go, I just want to tell you about another kind of salsa. The other day, I picked up a huge crate of nectarines, so I immediately started thinking of ways to use them. The first thing that popped into my head was a Nectarine Salsa. Depending on their level of ripeness, nectarines can range from tart to sugary, and if you happen to cut one up at just the right time, it will be that perfect balance of tangy-sweet.
This salsa works best partnered with grilled chicken, fish or shrimp. I constructed the best Mahi-Mahi Burger with Nectarine Salsa and Crème Fraiche — the succulently grilled mahi-mahi danced so well with the spicy sweetness of the Nectarine Salsa and lusciousness of the creme fraiche, it was a rhythmic salsa party in my mouth. I hope you try it someday. You may find your hips moving.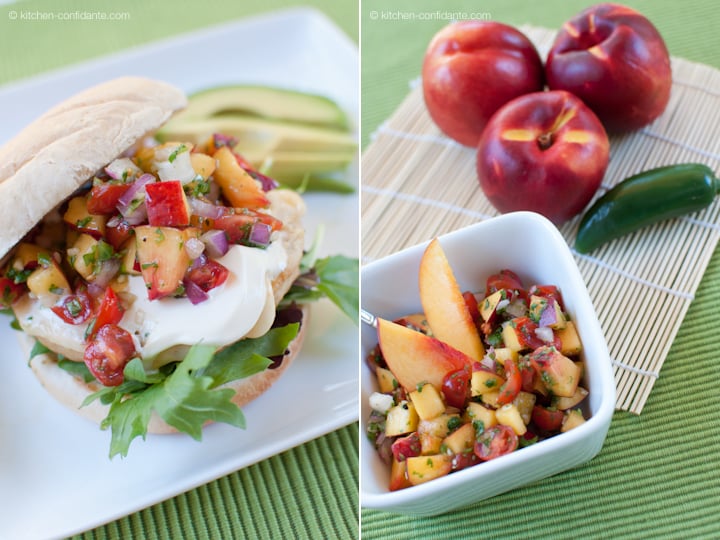 Nectarine Salsa
Makes about 2 cups.
2 ripe nectarines, pitted and diced
1/3 cup red onion, finely diced
1/3 cup grape tomatoes, quartered
1/2 to 1 jalapeno pepper, finely minced (add seeds and pith if you want more heat)
1-2 cloves garlic, minced
1/2 cup cilantro, finely chopped
1-2 tablespoons white vinegar
salt and freshly ground pepper, to taste
Combine ingredients in a bowl. Allow to stand at least 30 minutes for flavors to come together.
Mahi-Mahi Burger with Nectarine Salsa and Crème Fraiche
Mahi-Mahi Burger Patty, grilled (I like Trader Joe's Mahi-Mahi Burger Patties)
Burger Bun, toasted
Spring Greens
Jalapeno Jack cheese
Crème Fraiche
Avocado, sliced
Nectarine Salsa
Assemble your burger. On the heel of the bun, place your spring greens, followed by the Mahi-Mahi patty. Top with cheese, Crème Fraiche, Nectarine Salsa, avocado slices, and the crown of the bun. Take a bite and dance.