Savory Scones with Gruyere, Prosciutto and Green Onion | Simple Sundays
A recipe for Savory Scones with Gruyere, Prosciutto and Green Onion. Savor it with tea or coffee at brunch or pair with an earthy red wine as an appetizer. This is a scone you can have no matter what time of day. Do you remember…
Savory Scones with Gruyere, Prosciutto and Green Onion | Simple Sundays
A recipe for Savory Scones with Gruyere, Prosciutto and Green Onion. Savor it with tea or coffee at brunch or pair with an earthy red wine as an appetizer. This is a scone you can have no matter what time of day.
Do you remember your first scone? I certainly do. I was a junior in high school, and in a cafe in Sydney. I had somehow gotten the nerve to ask my dad if I could take a summer trip with my high school to Australia…a long shot, I had assumed. To my incredible surprise, he said yes, and I found myself on a two week trip to Oz, with a jaunt in Honolulu along the way. I was beyond grateful.
Looking back, perhaps my parents were relieved to have me out of their hair for half a month.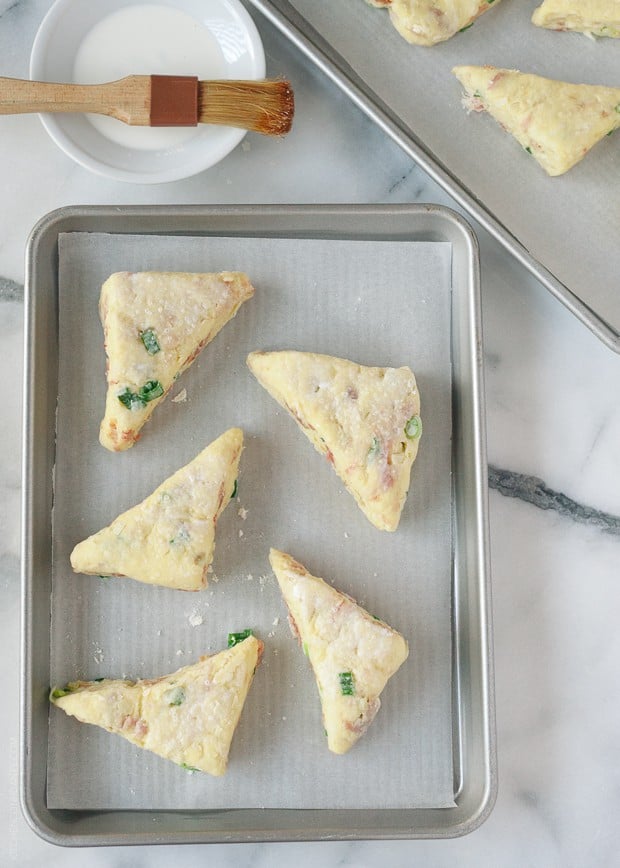 Anyway, back to scones. It was one of my first evenings in Sydney, and my friend Anna and I were in search of an evening snack. We wandered the city, chilly as their summer months should be. We found ourselves at a cafe, drawn in by the display of baked goods and the promise of hot chocolate. The scones drew me in – I had never had one, and as I took my first bite, I found a new love. When I think about it, I doubt that any of the treats at the bakery could have been fresh at 9 o'clock in the evening, but I didn't know any better, nor did I think any less of the scones. They were sweet, light, and heavenly.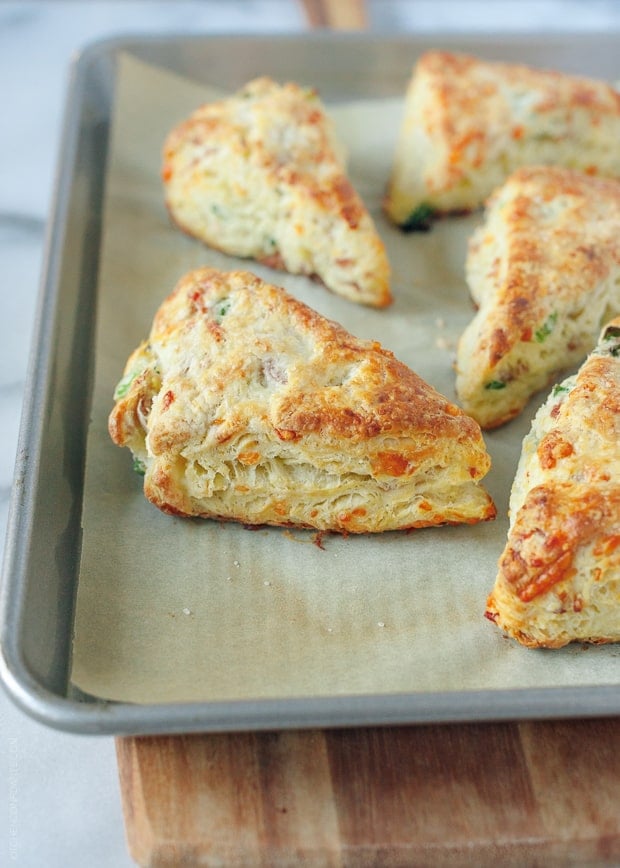 Lately, I've been taken by the notion of a savory scone. I do love a sweet scone, of course, but I was dreaming of Savory Scones with Gruyere, Prosciutto and Green Onion. A scone that would be nibbled with tea or coffee with brunch, or one that could even be paired with an earthy red wine (later in the evening, naturally). As I kneaded the dough to incorporate the salty prosciutto and velvety gruyere, it reminded me of that first scone encounter.
This savory scone is best, of course, fresh out of the oven, the salty bite reminding me of savory gougeres and scallion buns from the bakeries in Chinatown more than the sweet scone I first tasted in Sydney. But it heightened my love for scones over all – savory or sweet, I'll take them all.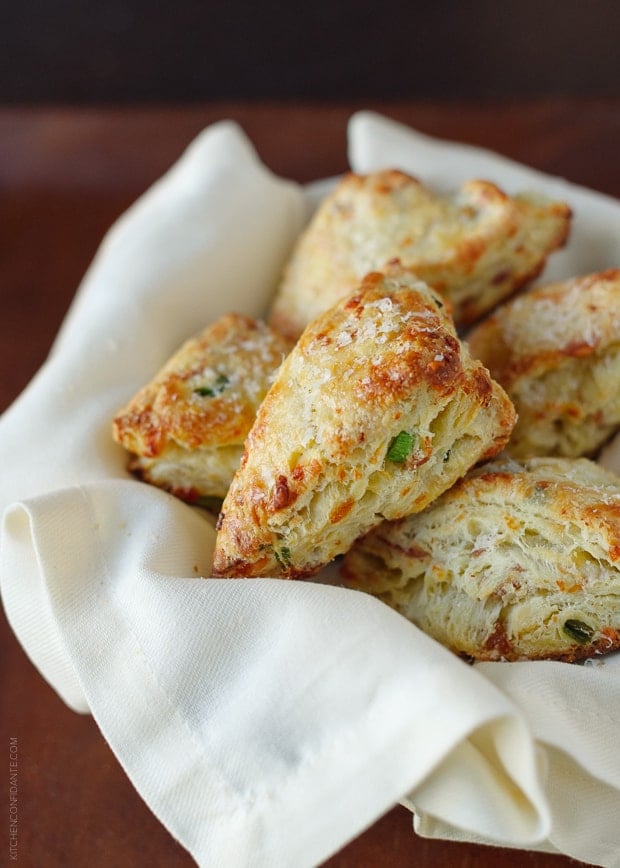 Savory Scones with Gruyere, Prosciutto and Green Onion
Savor it with tea or coffee at brunch or pair with an earthy red wine as an appetizer.
Print Recipe
Ingredients
2 1/2 cups all-purpose flour
2 tablespoons granulated sugar
1 tablespoon baking powder
1 teaspoon kosher salt
1/2 cup butter
2 large eggs
2/3 cup buttermilk
2/3 cup grated gruyere
1/2 cup chopped prosciutto
1/4 cup grated parmesan
1/4 cup chopped green onion
2 tablespoons half and half
sea salt
additional parmesan for sprinkling
Instructions
In a large bowl, whisk together the flour, sugar, baking powder and salt. Using a pastry cutter, cut the butter into the flour mixture, until you have course crumbs. This can also be done with two knives or a food processor.
Whisk the eggs lightly and combine with the buttermilk. Add to the flour mixture ad stir until just moist.
In a small bowl, mix together the gruyere, prosciutto, parmesan and green onion. Add this to the batter, then mix lightly. The dough will be sticky.
On a lightly floured surface, turn the sticky dough out and knead lightly until all the cheese, prosciutto and green onion are incorporated into the dough. Roll the dough 3/4 inch thick. Cut out 3 inch squares, then cut diagonally to make triangles. You should have about 10 scones. Place the scones on a baking sheet lined with parchment or a silicone mat, and lightly brush with half and half. Sprinkle with sea salt.
Place the scones in the freezer for 30 minutes. Meanwhile, preheat the oven to 400 degrees F.
Once the scones are chilled, bake for 20 minutes, or until golden. Sprinkle with additional parmesan cheese and serve warm.