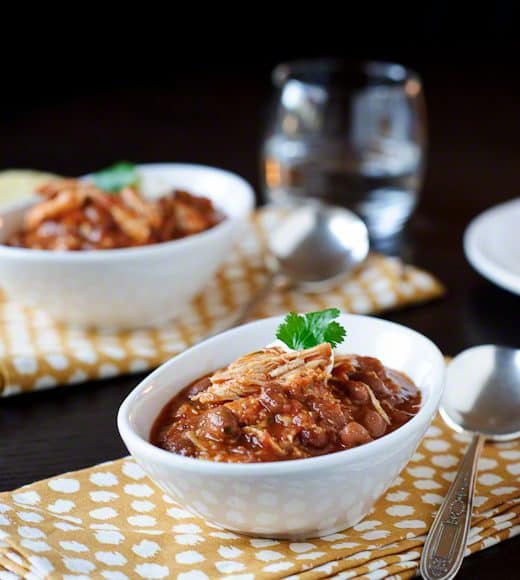 Simple Sundays | Chicken Chili
All I wanted was some cornbread. Just some sweet, crumble in your mouth cornbread. And that meant I needed to make some chili. Of course I could have just made the cornbread all by itself. But cornbread needed its partner. I found myself craving comfort…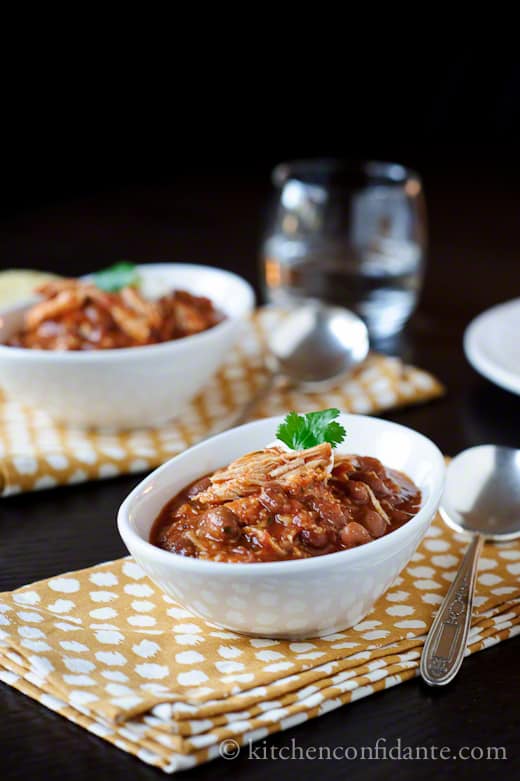 Simple Sundays | Chicken Chili
All I wanted was some cornbread. Just some sweet, crumble in your mouth cornbread. And that meant I needed to make some chili.
Of course I could have just made the cornbread all by itself. But cornbread needed its partner. I found myself craving comfort food with the return of the rain – the continuous drizzle outdoors begged for something warm and cozy. As raincoats and umbrellas hung to dry, I quickly whisked together the ingredients for my cornbread.
But what about the chili?? I didn't have time to coax my normal beef chili on a stove for hours. Frankly, I just didn't want any beef at all. I had never tried Chicken Chili before, but it seemed to be a logical solution, especially when I saw this recipe. With dinnertime less than half an hour away, I blended and stirred, shredded and tasted. And tasted. And tasted again. I couldn't stop licking the spoon…it was good. Maybe even better.
And just like that, the tables turned. I did enjoy the cornbread, oh yes. That craving was definitely satisfied. But I actually enjoyed the Chicken Chili better.
Gone are the days when I used to think that making chili required hours of bubbling on the stove. This chili comes together in about half an hour, is full of flavor, and like all good chilis, tastes great the next day. Oh, and one more thing. It's oh so good for you.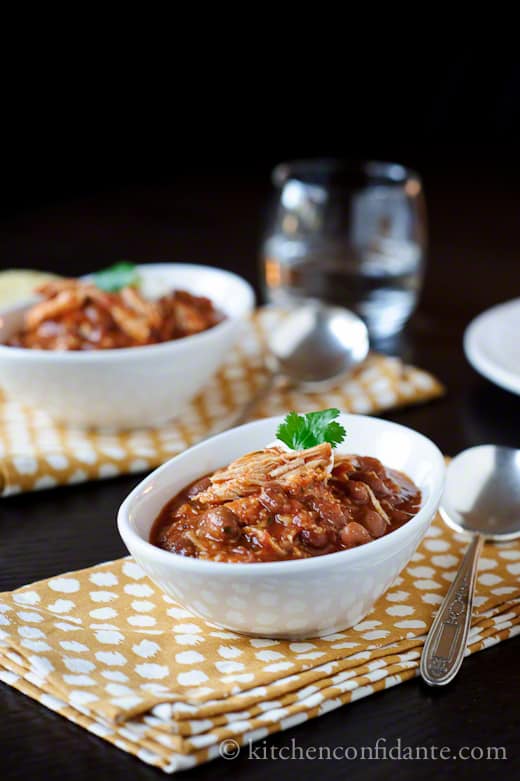 Print Recipe
Ingredients
2 skinless boneless chicken breasts
1 1/4 cups chicken broth
1 14.5-ounce can fire roasted diced tomatoes with green chiles (I like the one from Muir Glen Organics)
1/2 yellow onion, diced
2 garlic cloves, peeled
1/2 cup coarsely chopped fresh cilantro
1/4 cup dry-roasted peanuts
1 teaspoon ground cumin
1/4teaspoon salt
2 tablespoons olive oil
2 15-ounce cans pinto beans (I used chili beans in sauce)
Optional Garnish
chopped fresh cilantro
sour cream
Instructions
In a small sauce pan, poach the chicken breasts: cover the chicken with water, season with a little salt and pepper, and bring to a boil over medium-high heat. Lower the heat and simmer for about 15-20 minutes, until the chicken is fully cooked and tender.
While the chicken is poaching, purée the chicken broth, the diced tomatoes with green chiles (and the juices), onion, garlic, cilantro, peanuts, cumin, and salt in a blender until smooth.
Heat olive oil in a medium saucepan over moderately high heat. Carefully pour in the sauce and bring to a boil. Let it boil uncovered for 5 minutes, stirring occasionally.
While the sauce boils, shred the chicken. Stir the shredded chicken and beans with their sauce into chili, reduce heat to simmer, covered, for 10 minutes.
Serve immediately, garnished with cilantro and sour cream, if desired. And of course, don't forget the cornbread*.
Slightly adapted from Chicken Chili, Gourmet (2007), via Epicurious.