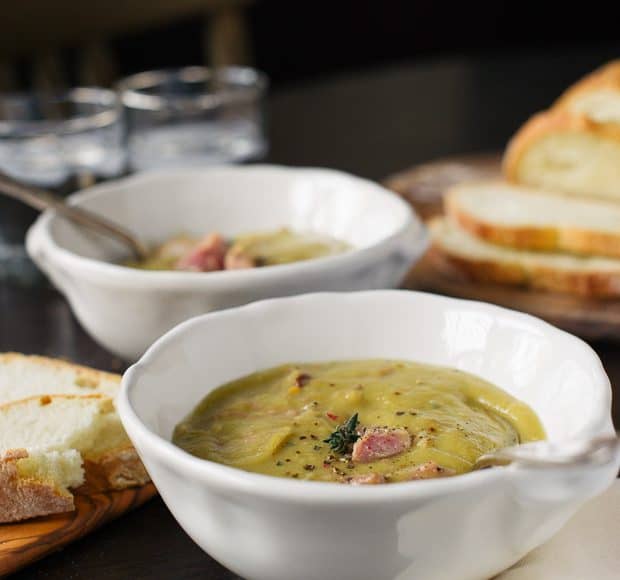 Slow Cooker Split Pea Soup + a letter to my daughter
Dear C, You turned eleven today. Eleven. Old enough to have your own phone, but young enough to play with your dolls. Old enough to know right from wrong, by young enough not to know what to do. Old enough for me to give you…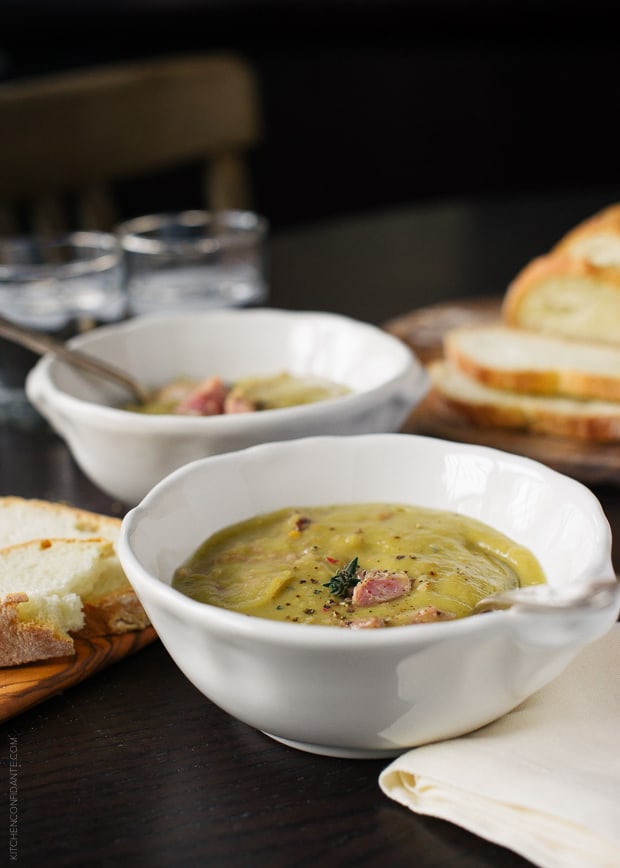 Slow Cooker Split Pea Soup + a letter to my daughter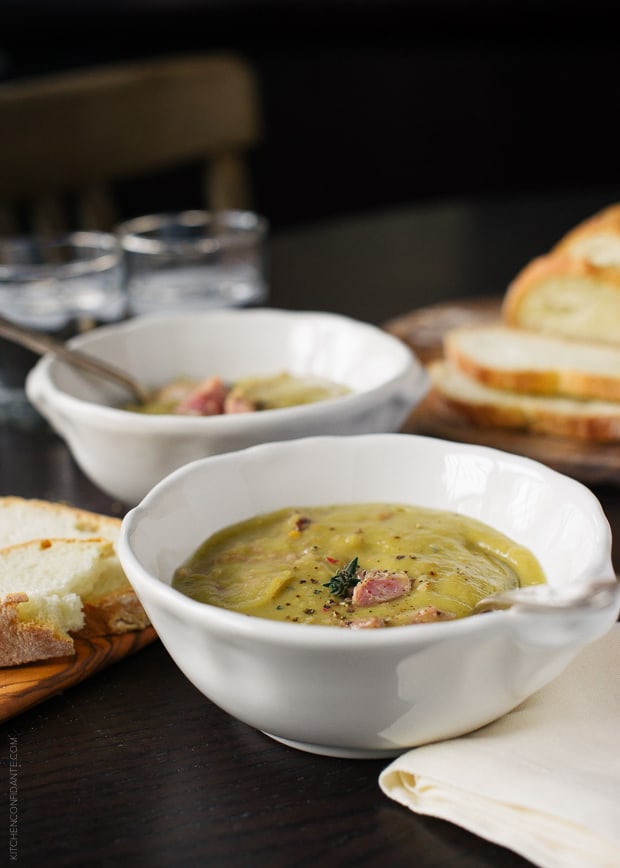 Dear C,
You turned eleven today. Eleven. Old enough to have your own phone, but young enough to play with your dolls. Old enough to know right from wrong, by young enough not to know what to do. Old enough for me to give you a longer leash, but young enough for me to worry. Old enough that teenage years are just around the corner, but young enough that I can keep you close a little longer.
It struck me this weekend that I am faced with an end. Pretty soon, you will no longer be my little girl, who still loves her dolls and imagination, who cuddles with her stuffed animal at night. One day, you won't need me to tuck you in at night. You may not even tell me what is troubling your heart (but I hope you remember you always can).
It struck me this weekend that I want to preserve you in a box, to shield you from all hurt…to keep you innocent. It struck me this weekend that I must be there for you, more than ever.
Eleven is an age that haunts me. Your Tita was eleven when our mom — your lola — passed away. It makes me remember those years she had to grow up alone, and how I could never be a susbstitute for that comforting hug. I want to be with you as you grow older, to guide you for as long as I can. To help you become the strong woman you are meant to be.
For now, you are still my little girl. And everything I say or do matters. I can't protect you, I can't hold you back. But I hope you know that I am always here for you, if one day not on this earth, then in your heart.
Love,
Mommy


I devoted last weekend to my daughter, and resolved myself to her. A renewal of vows, if you will. It was as if I had stopped at a long stop light, and I had a moment to consider my destination. Sometimes, you just get stuck on the cruise control, moving forward, but forgetting to pay attention along the way.
We had a beautiful ham this weekend, and I was eager to make this Slow Cooker Split Pea Soup soon after. I wasn't sure how she would like it; up to now, my daughter has not favored peas, in any way, shape or form. You can imagine the look of shock when she realized the key ingredient.
"Is there potato in this soup? The texture?" she questioned. "Good guess, but it's not potatoes. Look at the color, what do you think it is?" I prodded. When she still wasn't sure, I revealed the answer.
"PEAS?!? I like peas??? I'm eating a…vegetable!?"
Yes, imagine that. You like another vegetable.
And you even brought it for lunch at school the following day.
Slow Cooker Split Pea Soup
What else can I say, but that Split Pea Soup is the perfect comfort food when the weather is cold, and all you want to do is stay cozy indoors. It requires hardly any effort at all, whether you use a slow cooker, or decide to cook it on the stove. Either way, I've included directions for both.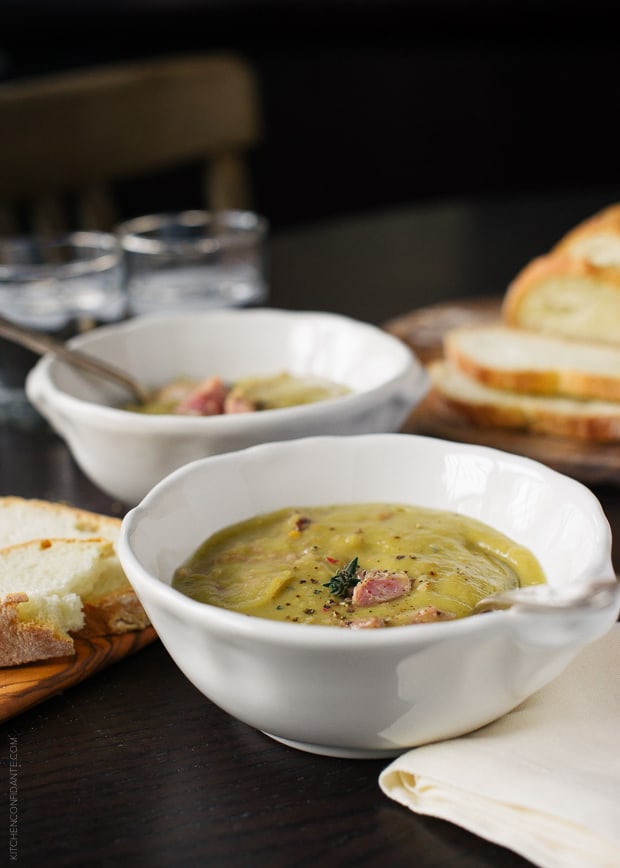 Print Recipe
Ingredients
1 lb dried split peas, rinsed and sorted
1 medium onion, peeled and chopped
1 leek, cleaned and chopped
2 carrots, chopped
3 stalks of celery, chopped
6 cloves garlic, peeled
1 bay leaf
3 springs thyme
1 hambone with a good amount of meat on bone
8 cups water
2 teaspoons kosher salt, plus more, to taste
freshly ground black pepper
Instructions
In the insert of a slow cooker, place the peas, onion, leek, carrots, celery, garlic, bay leaf, thyme, ham bone and water. If you can, bring to a boil, and skim any foam off the top. Otherwise, go ahead an place the insert in the slow cooker and cook on high for 3-4 hours or on low for 8 hours.
Retrieve the ham and remove the meat, chopping up the large chunks into smaller bite sized pieces. Discard the bone and set aside the ham.
Remove the bay leaf and any sprigs of thyme and discard.
Puree the soup by blending it in several batches, or by using an immersion blender. Return both the soup and the ham to the slow cooker. Season to taste with salt and pepper. Serve hot, with a some good, warm bread.
The first time I fell in love with Split Pea Soup, I was in grad school, and my friend Liz served this one cold night. This is based on her comforting recipe.