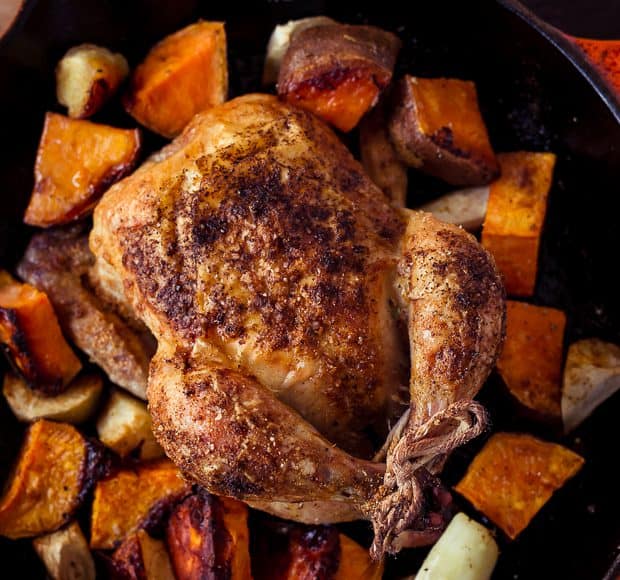 Spice Roasted Cornish Hens with Sweet Potatoes
My head drooped as I carried a platter to the table, my feet shuffling in shame. I was presenting my family with one of my experiments, a failed, most unattractive mushy mess, the one called "tonight's dinner." It tasted fine, the children even asked for…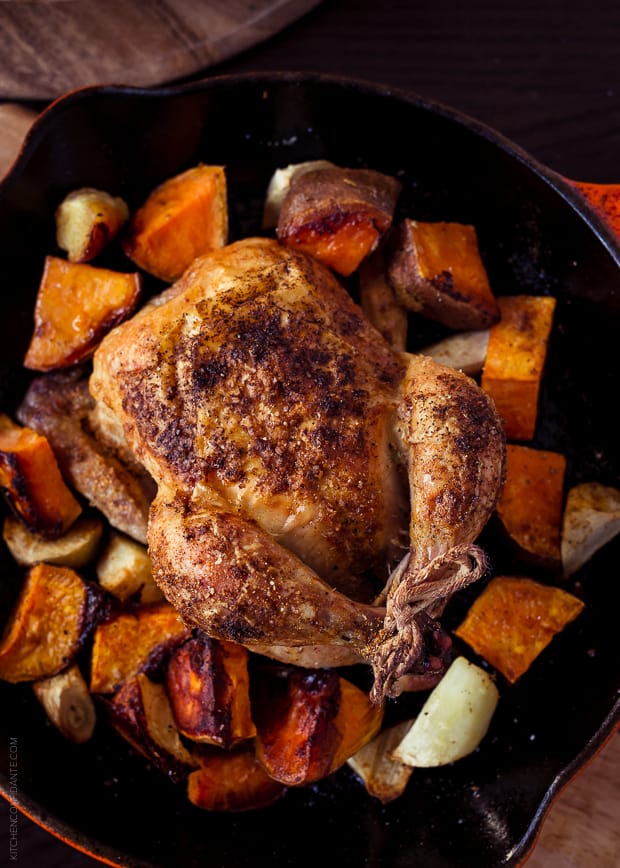 Spice Roasted Cornish Hens with Sweet Potatoes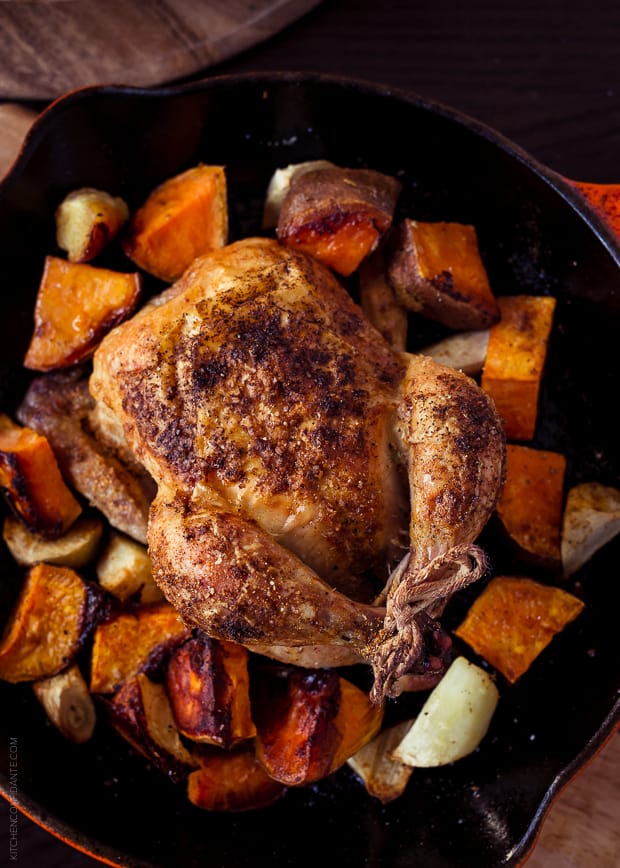 My head drooped as I carried a platter to the table, my feet shuffling in shame. I was presenting my family with one of my experiments, a failed, most unattractive mushy mess, the one called "tonight's dinner." It tasted fine, the children even asked for seconds. But I was convinced it was atrocious.
And then I bucked up and grew up: "Be thankful for the food on the table," I chastised myself. "Think of the Philippines."
It took a little self-scolding to count my blessings.
I have been following the devastation in my family's homeland, from what seems to be countless miles. But despite the distance, the scenes are immediate and gut wrenching, and I am trying my best to find ways to help meaningfully. It's always hard to know what to do, what is needed. It is a comfort to know that my own relatives had the luck of living far away from the typhoon's traumatic path, and for now, all I can offer is gratitude for their safety and prayers for the suffering.
It's times like these that I need to step back. To think about food at its core. To remember sustenance and simplicity. After my epic dinner fail, I picked myself up and returned to basics. A roasted chicken. Grilled vegetables. A bowl of soup. Nothing fancy.
I turn to a good roasted chicken on a regular basis. It's straightforward, it's pragmatic, and it's a meal I know the whole family will love. Spice Roasted Cornish Hens with Sweet Potatoes is the kind of food I know will nourish and recalibrate.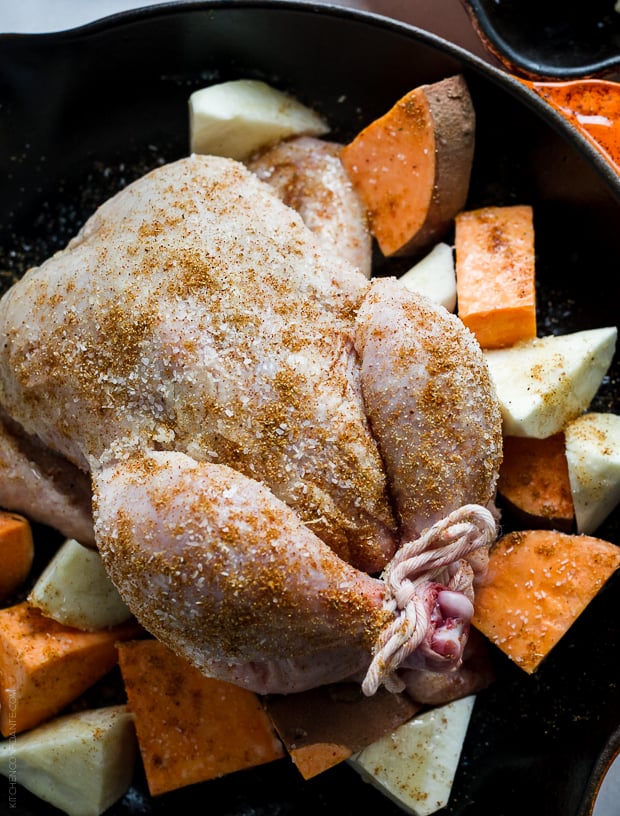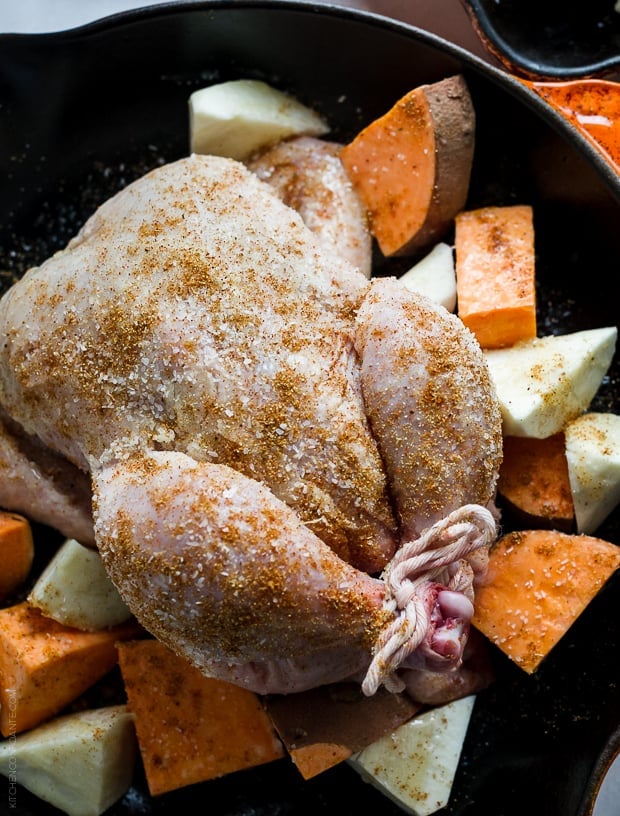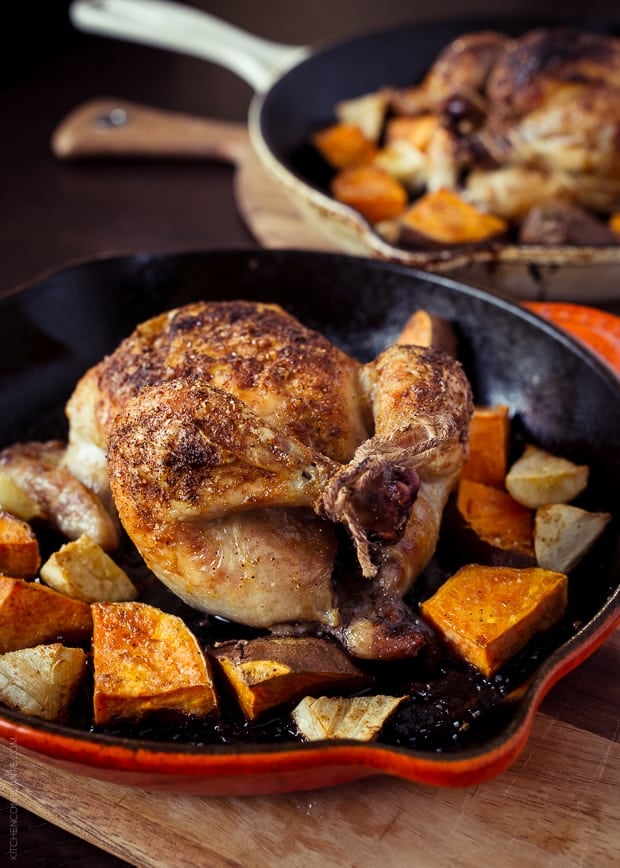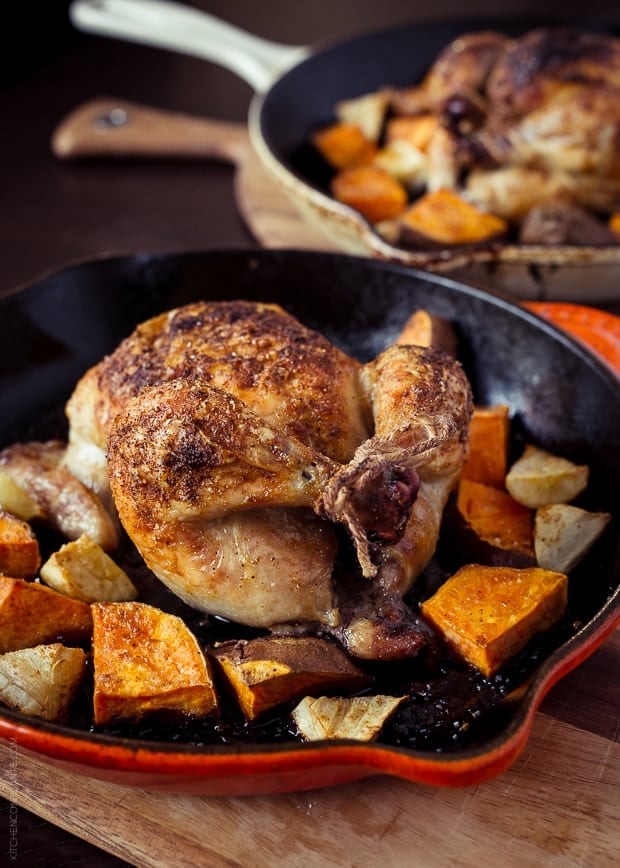 These bronzed hens may look ordinary, but is there really anything uninteresting about crispy skin and tender meat as you slice it off the bone? Beyond those crispy bits, these Cornish hens nestled in a bed of sweet potatoes were peppered with spices, giving heat to each bite. There's something extra comforting in that peppery bite that warms the belly.
If only I could do more, if only I could send these roasts to those who need them most.
But if there is anything I can do…I can be grateful for what I have..whether it is a bowl of mush or a beautiful plate of roasted hens.
I give thanks.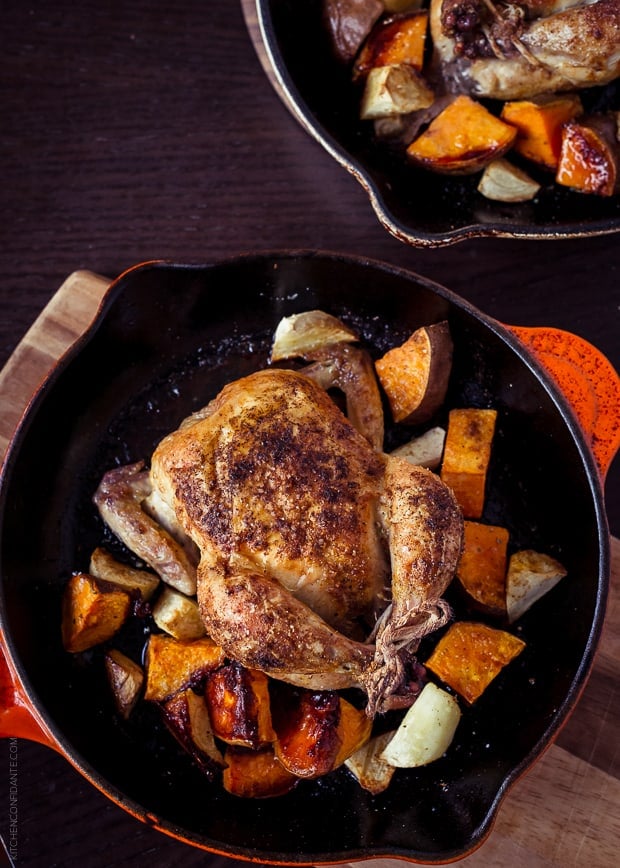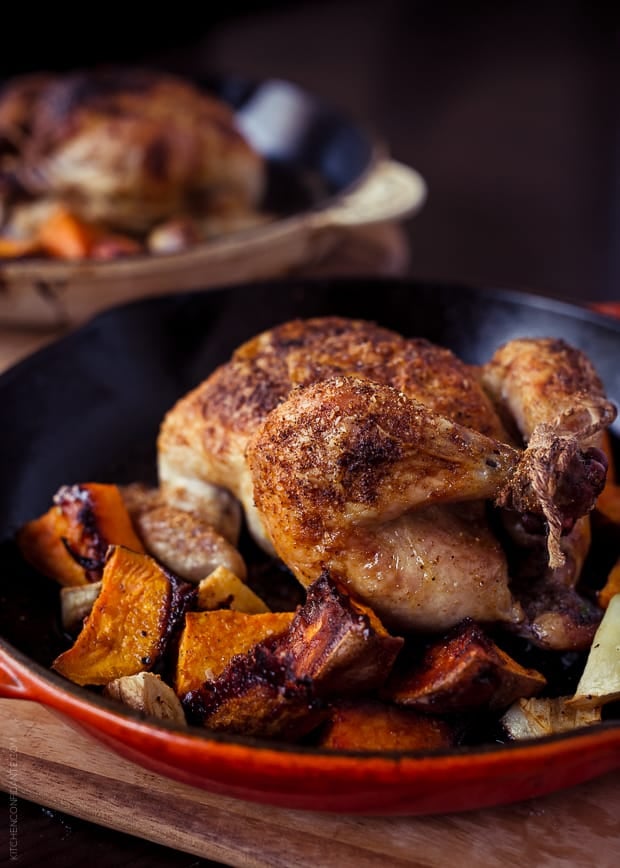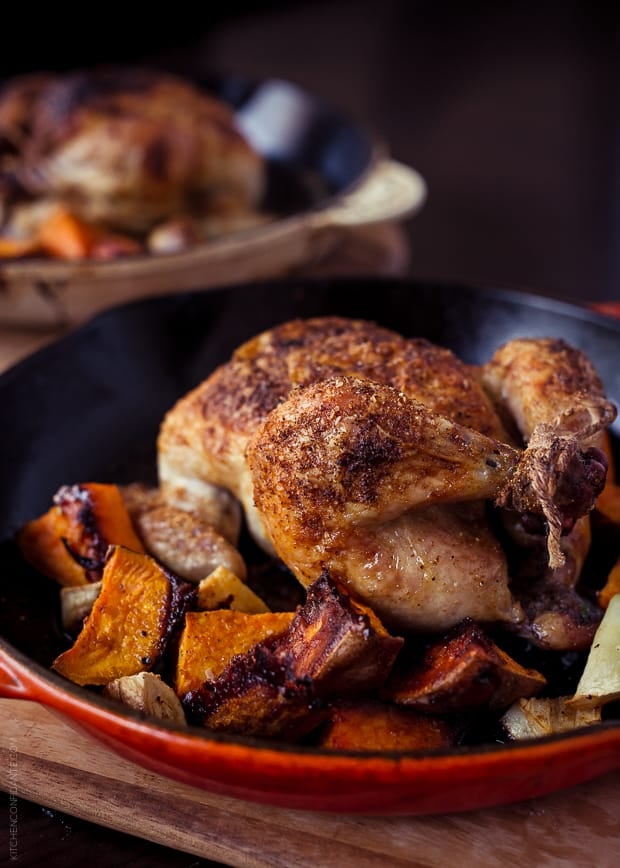 If you're like me and looking for ways to help victims from Typhoon Haiyan, please consider the following charities and agencies. Also, check if your employer is offering aid and will be willing to match donations. Some are, and every bit helps.
Philippine Red Cross
International Red Cross
Unicef Philippines
Doctors without Borders
The mGive Foundation
Spice Roasted Cornish Hens with Sweet Potatoes
Cornish hens always seem a little fancier, but truly, I like the option of having small hens as opposed to one large chicken as it can save time in the oven. Whether for a weeknight or entertaining, these spiced Cornish hens offer a cozy meal whenever you need it.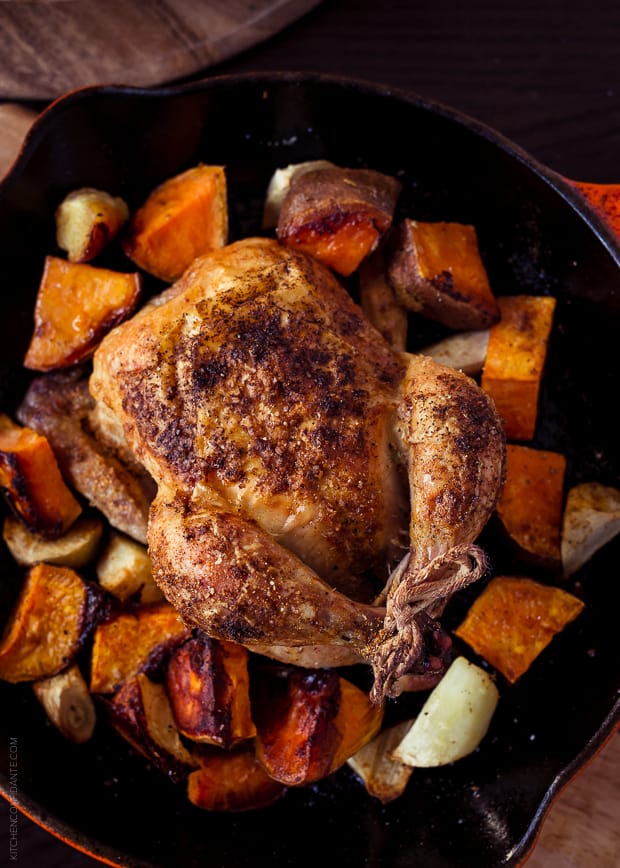 Print Recipe
Ingredients
2 Cornish hens
1 teaspoon cumin
1 teaspoon coriander
1 teaspoon smoked paprika
1/2 teaspoon cayenne pepper
Kosher salt
1 lemon, halved
fresh herbs such a thyme, oregano, or rosemary (optional)
2 tablespoons butter, melted
3 sweet potatoes, peeled and sliced in 3 inch pieces
2 turnips, peeled and sliced in 3-inch pieces
Instructions
Preheat the oven to 425 degrees. Lightly pat the hens dry with paper towels. In a small bowl, combine the cumin, coriander, paprika and salt. Season the cavities with a little salt and spice mixture, and insert half a lemon and a sprig of fresh herbs, if using. Truss the hens by folding back the wings and tying the legs together with kitchen twine. Brush the hens with melted butter, and season generously with salt and spice mixture. Place in a cast iron skillet or roasting pan, and surround the hens with the sweet potatoes and turnips, also brushed with butter and seasoned with salt and remaining spice mixture.
Place in the middle rack of the oven. Roast the hens for 50 minutes to 1 hour; until the skin is bronzed and the internal temperature in thickest part of the thigh is about 180 degrees.