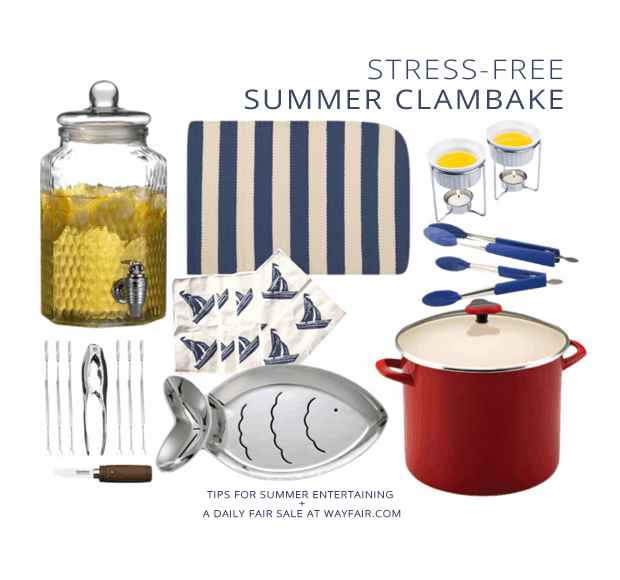 Stress-Free Summer Clambake
Growing up on the East Coast, there were many summer weekends spent with family on the shores of Long Island. If we weren't on the island, there would be road trips up through New England, and pilgrimages to Maine for the sweetest lobster. On weekends,…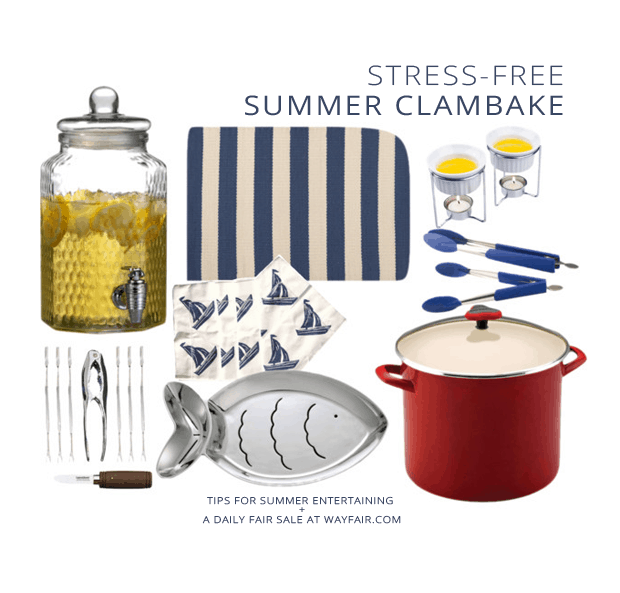 Stress-Free Summer Clambake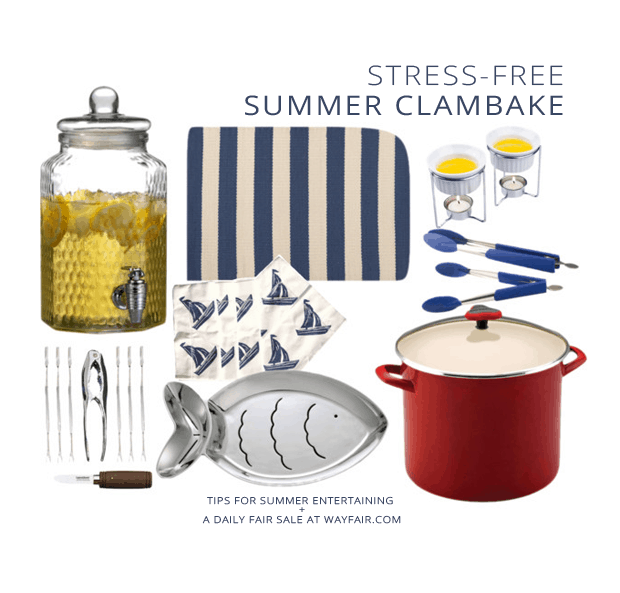 Growing up on the East Coast, there were many summer weekends spent with family on the shores of Long Island. If we weren't on the island, there would be road trips up through New England, and pilgrimages to Maine for the sweetest lobster. On weekends, we all looked forward to a long day of boating and fishing with cousins, and, of course, a meal that tasted of the sea. Fish, crabs, clams, mussels – it all tasted better when eaten outdoors. When I hear the term clambake, this is what I think of, and it was never a fancy affair.
With summer beckoning, my friends at Wayfair.com asked if I would like to curate a Daily Fair Sale – a flash sale of amazing deals – with a summer theme. How could I resist? The idea of a clambake theme appealed to me at once, and as I sifted through the thousands of products, I fell in love with so many fantastic things that would have made my family clambakes a little more lavish.
The Stress-Free Summer Clambake Daily Fair Sale is live now (!), until Friday. I hope you check it out and hope it inspires you to invite friends and family over for a day at the shore, so to speak.
I also thought I'd offer a few tips and ideas to help make summer entertaining and your next clambake as stress free as possible!
Tips for Stress-Free Summer Clambakes & Entertaining
Set the Scene
It doesn't have to be fancy. And you don't necessarily need to buy anything new. Nothing says nautical than crisp white, so pull out those basic white dishes and napkins! If you can, enhance it with a touch of navy blue or red. Still have those sea shells you collected from the last beach vacation? Pull them out and use them in your tablescape! And don't forget mood lighting. Hurricane lamps with candles will bring your party from day to night.
Let Your Guests Tend Themselves
Who says you have to be the bartender at each party? Set up a cocktail station where guests can mix their own drinks. Better yet, mix up large batches of sangria or lemonade (whether you spike the lemonade is up to you!), and let guests serve themselves from a pretty beverage dispenser or large pitchers.
Make it Fun
While the clambake bubbles and brews, have some classic lawn games out. The children will surely find them first, and the grown ups will follow suit. No one can resist badminton and croquet!
Have the Right Tools
Make sure you have enough lobster crackers and seafood forks for each guest. It's no fun sharing messy seafood tools!
Shell Station
Not the gasoline kind, silly. Have plenty of buckets or bowls at the ready for guests to drop in empty clam shells and cleaned out lobster tails. It will make clean up so much easier, plus keep everyone's plates open for the good stuff: the food.
Wipe those Hands
You're going to need napkins. Lots of them. Whether you opt for disposable or cloth, that's up to you. I always think it's a nice touch to offer warm moistened terry cloths after the feast – kind of like on the airplane! Wet the cloths in advance, wring and twist, and store in a ziplock bag (place in the refrigerator if preparing the night before). Then transfer to a microwavable plate and warm it up for a few seconds.
More Delicious Clambake Links
Nantucket Clambake, Food & Wine
One Pot Clambake, Bon Appetit
Daniel Boulud's Stovetop Clambake Recipe, Elle Decore
Stove-Top Clambake Recipe, Martha Stewart
Michael Symon's New England Clambake, the chew
Clambake, Rasa Malaysia