Taking Time to Smell the Curry
Life has a sneaky habit of going by too quickly.  There's always the phone call I should have placed, the email I needed to return, the quality time I should have spent.  Even when it comes to friends and neighbors, weeks…even months…can go by before…
Taking Time to Smell the Curry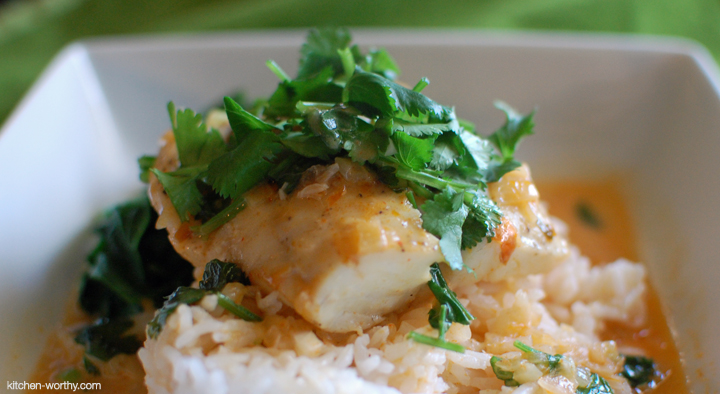 Life has a sneaky habit of going by too quickly.  There's always the phone call I should have placed, the email I needed to return, the quality time I should have spent.  Even when it comes to friends and neighbors, weeks…even months…can go by before you finally plan that chat over coffee or play date with the kids.  It seems that for many, many months, one of my good neighbors across the street and I have been talking about catching up over a glass of wine. "We need to get together!" we'd say.  But you know how that goes.
Last week, she and I finally had a chance to catch up.  It was a rainy evening and a perfect day to stay indoors and chat over a good glass of Cab.  We caught up on family life, the kids, the neighborhood, work, the newest shops in town, and, of course, this blog.  She is just as passionate about cooking as I am, and such a perfect hostess, she could put Martha to shame.  She is also one of my biggest cheerleaders in this endeavor to chronicle the fun I have in the kitchen.
When she found out that I have not read or cooked from Ellie Krieger's cookbooks, she sent me home with one to borrow.  One of the recipes she raved about was a Thai-Style Halibut with Coconut Curry Broth.  So, when my hubby came home today with some beautiful fillets of halibut, it was time to give it a try.
I'm not sure why, up till now, I have never cooked from Ellie Krieger.  I enjoy watching her cook – she is so calm and zen like in the kitchen, and I love the simplicity of her recipes.  In many ways, Ellie reminds me of a younger Ina Garten – she could pass as her niece somehow.  They're both so serene when they cook, and they enjoy simple recipes with fresh flavors.  No stress in the kitchen — I like that.
This recipe takes its inspiration from the Thai curries that incorporate the flavors of coconut milk, lime, cilantro and curry paste.  Anticipating a very spicy dish, I actually made two versions: one for myself and the hubby, and a milder one for the kids.  It turns out that it wasn't necessary — the recipe as written in the book is quite mild (I noticed the one on the Food Network website has a higher quantity of curry paste), and the next time I make it, I will definitely make it spicier.  Perhaps I'll drop in a Thai bird chile or two.  I also made today's dish with Jasmine rice rather than brown, as well as full fat coconut milk, which left such a creamy, delicious broth, I almost don't want to save the calories by using a lower fat variety!
I've decided I'm an Ellie Krieger fan – wonderfully written recipes, simple techniques, and a healthy approach to cooking.  I can't wait to cook more of her recipes.  The next time I make this dish I will always remember my dear neighbor …and how important it is to make time for those around us.
Thai-Style Halibut with Coconut-Curry Broth
From The Food You Crave: Luscious Recipes for a Healthy Life, by Ellie Krieger.
See the Food Network version here.
2 tsp canola oil
2 large shallots, finely chopped (about 3/4 cup)
2 tsp red curry paste or 2 tsp curry powder
2 cups low sodium chicken broth
1/2 cup unsweetened light coconut milk
3/4 tsp salt
Four 5-ounce halibut fillets
5 ounces baby spinach leaves (about 5 cups lightly packed)
2 cups cooked brown rice
1/2 cup coarsely chopped fresh cilantro
2 scallions (green parts only), thinly sliced
2 Tbsp fresh lime juice
Freshly ground black pepper
In a large saute pan, heat the oil over medium heat. Add the shallots and cook, stirring a few times until they begin to brown, 3 to 5 minutes. Add the curry paste and cook, stirring until fragrant, about 30 seconds. Add the broth, coconut milk, and 1/2 teaspoon of the salt and simmer until reduced to 2 cups, about 5 minutes.
Season the halibut with the remaining 1/4 teaspoon salt. Arrange in the pan and gently shake so the fish is coated with the sauce. Cover and cook until the fish flakes easily with a fork, about 7 minutes.
In the meantime, put the spinach in a microwave-safe bowl, cover tightly, and microwave for 2 minutes.
Place 1/2 cup of the rice and a pile of cooked spinach in the bottom of 4 soup plates. Top with the fish fillets. Stir the cilantro, scallions, and lime juice into the sauce and season, to taste, with salt and pepper. Ladle the sauce over the fish and serve.