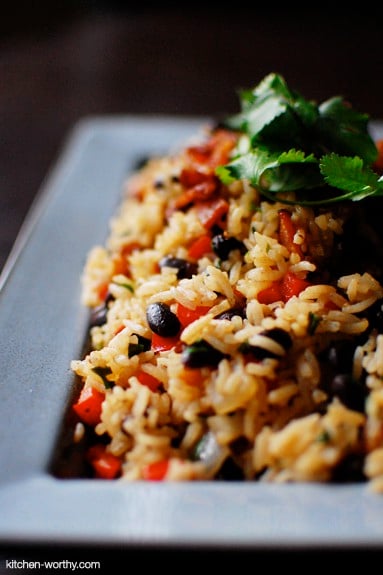 Costa Rican Gallo Pinto (Rice & Beans)
Most travelers who come home from a vacation to Costa Rica bring back memories of rain forests, howler monkeys, dips in natural hot springs, and some of the world's best coffee.  For me, there was one other thing that made an impression.  I fell in love with…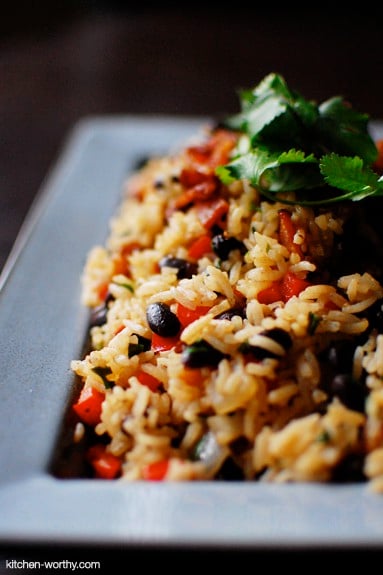 Costa Rican Gallo Pinto (Rice & Beans)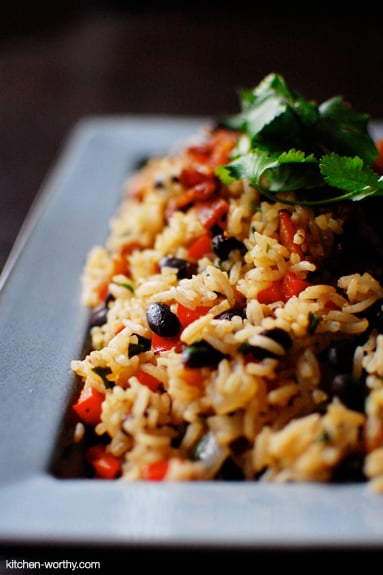 Most travelers who come home from a vacation to Costa Rica bring back memories of rain forests, howler monkeys, dips in natural hot springs, and some of the world's best coffee.  For me, there was one other thing that made an impression.  I fell in love with Costa Rican Gallo Pinto, the national dish of rice and beans, so much so, that during my visit, all I could think about was making sure I found a cookbook with a recipe.
Between excursions to volcanoes and cloud forests, I managed to find a small cookbook at a tiny roadside shop.  I remember frantically thumbing through the index to see if Gallo Pinto was among the recipes.  It was!  I rushed to pay for it before heading to the next adventure with my brother, sister, and dad.  Eleven years later, the Reader's Digest sized cookbook is my most prized souvenir from this last vacation I took with my family.
Whenever I make this dish, it instantly brings me back to Costa Rica.  I like to serve it with pulled pork or grilled chicken.  Or you can do as the Costa Ricans do and have it any time of day, including for breakfast!
What I love about this dish is that you can use leftover day old rice, and most of the ingredients are already in your pantry.  Chances are, you've got some onions, peppers, Tabasco and Worcestershire Sauce lurking in the kitchen.  But the one thing you can't leave out is the bacon (you know I love bacon, right?).
I have heavily adapted the original recipe to better capture the flavors I remember.  Okay, I'll be honest, the recipe from the cookbook is on the bland side.  But I've tweaked it, and I think you'll really enjoy it.  Until the next time I'm able to return to this ecologically diverse and beautiful country, at least I can happily enjoy Gallo Pinto here at home.  So can you!

Costa Rican Gallo Pinto (Rice and Beans)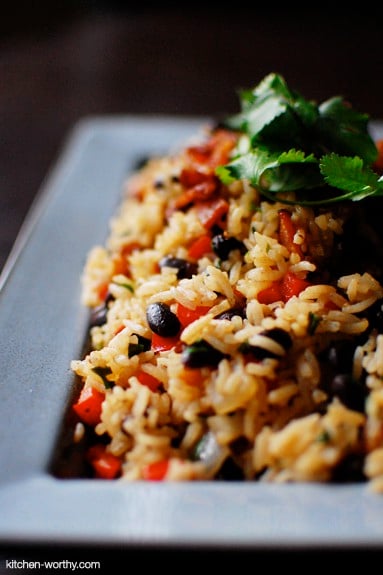 Print Recipe
Ingredients
2 tablespoons oil
1/2 onion, finely chopped
1/2 red bell pepper, finely chopped
1 15oz can cooked black beans, drained
3 cups "day old" cooked rice*
1 ½ tablespoons Worcestershire Sauce
4 tablespoons broth (ideally beef, but chicken will do)
½ tablespoon Tabasco Sauce, optional
1 handful of cilantro, finely chopped
6 strips bacon, cooked, drained, crumbled. Reserve a little for garnish.
salt and pepper
Instructions
Saute onion and bell pepper in oil on medium heat. Add beans and cook 2 minutes longer. Add cooked rice and mix, cook 3 minutes more. Add Worcestershire Sauce, Tabasco Sauce, broth, cilantro, and bacon and mix well. Adjust seasoning with salt and pepper, and if the rice seems too dry add a wee bit more broth. Garnish with reserved bacon crumbs. If desired, top with sour cream.
*1 cup uncooked rice yields about 3 cups cooked. I use Jasmine, but feel free to experiment. If you're making your rice the same day, pop it into the refrigerator for bit to give it a chance to "age."
Adapted from Costa Rican Typical Foods, by Carmen de Musmani and Lupita de Weiler