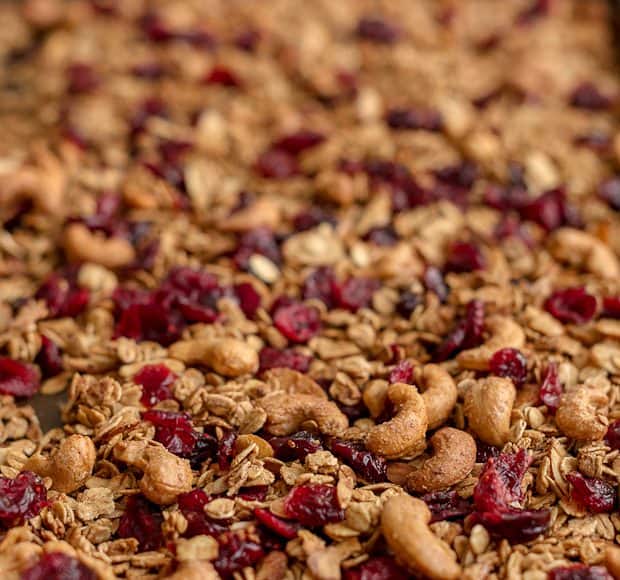 Trail Mix Granola
Sometimes it's the small things that can bring so much satisfaction. Like cleaning out junk drawers. Our junk drawer is in the kitchen. It sits in an all-too convenient corner of the countertop, within easy reach of the kitchen table. It becomes the repository of…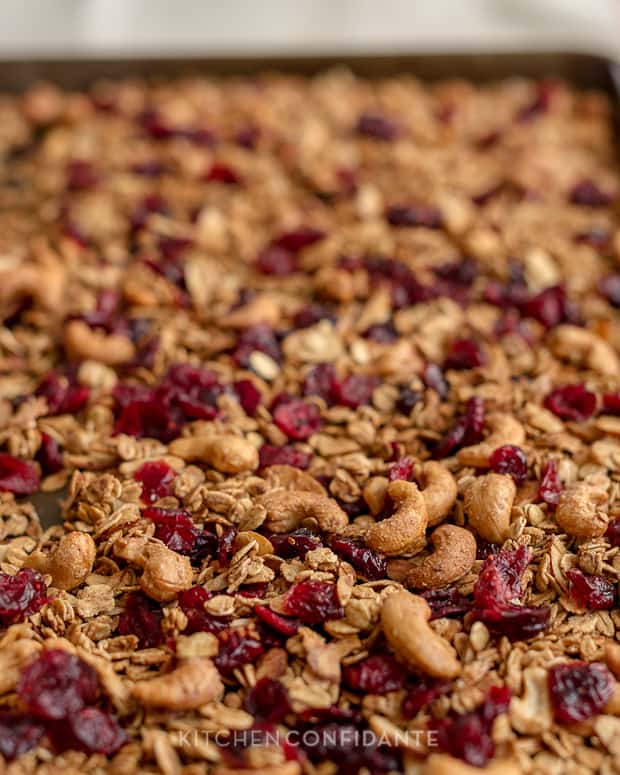 Trail Mix Granola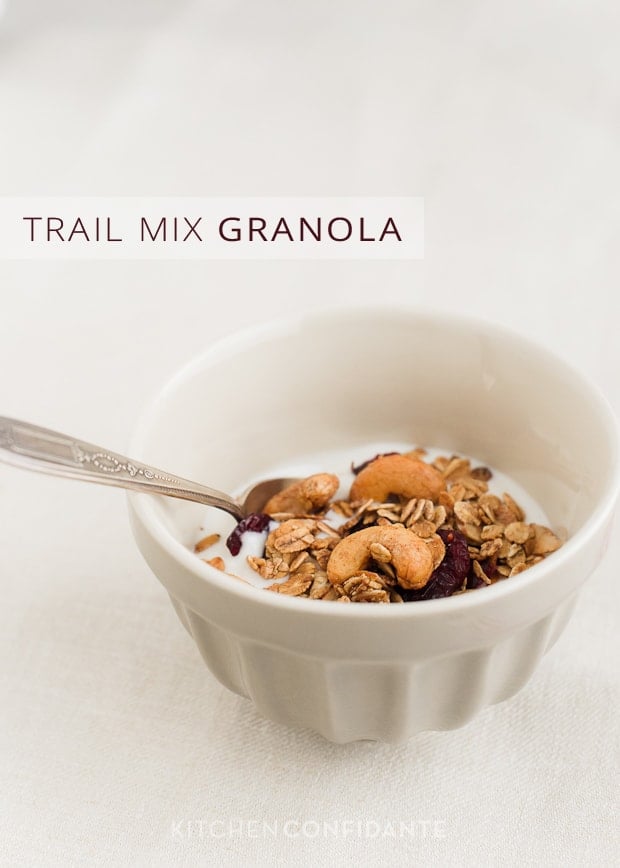 Sometimes it's the small things that can bring so much satisfaction. Like cleaning out junk drawers.
Our junk drawer is in the kitchen. It sits in an all-too convenient corner of the countertop, within easy reach of the kitchen table. It becomes the repository of the odds and ends you don't want to deal with, at least not yet. Between coats of paint and discussions on whether to tackle rewiring ceiling speakers, my husband took some time from the mini renovation to purge the dreaded drawer.
There were ponytail holders and measuring tape, paper clips and buttons, instructions to a lost Christmas toy from last year. We found a packet of seeds, flowers my daughter wanted to plant two years ago. Oodles of those awful little rubber toys your kids bring home from goodie bags. Coupons that were clipped with good intent, then expired. It felt so good to throw it all away.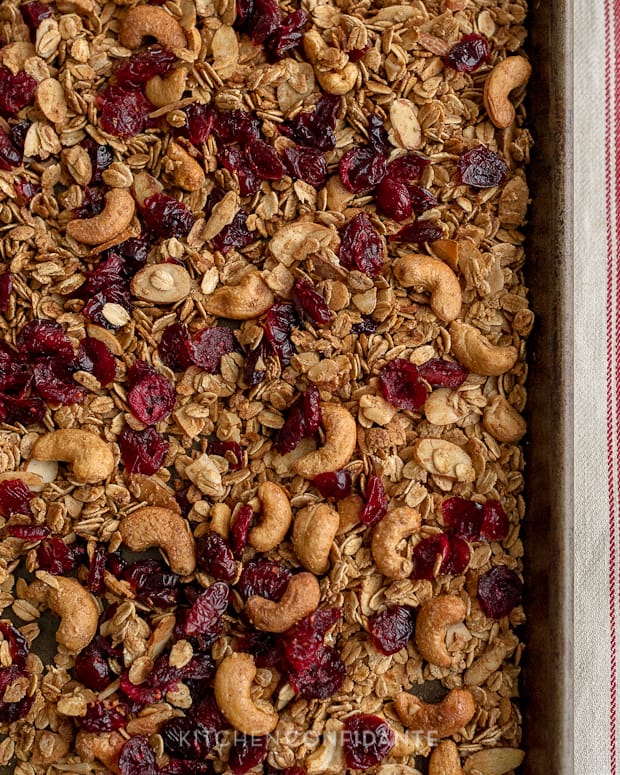 You know what else is gratifying? Making your own granola.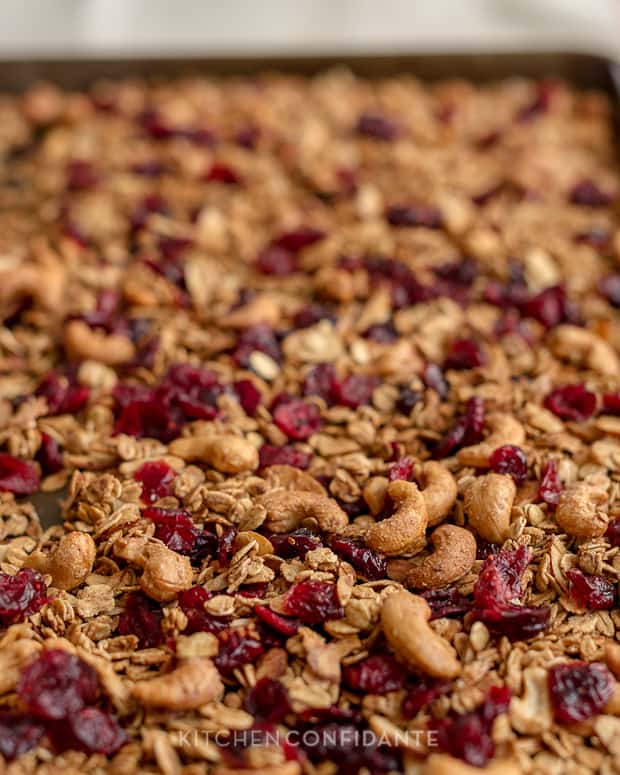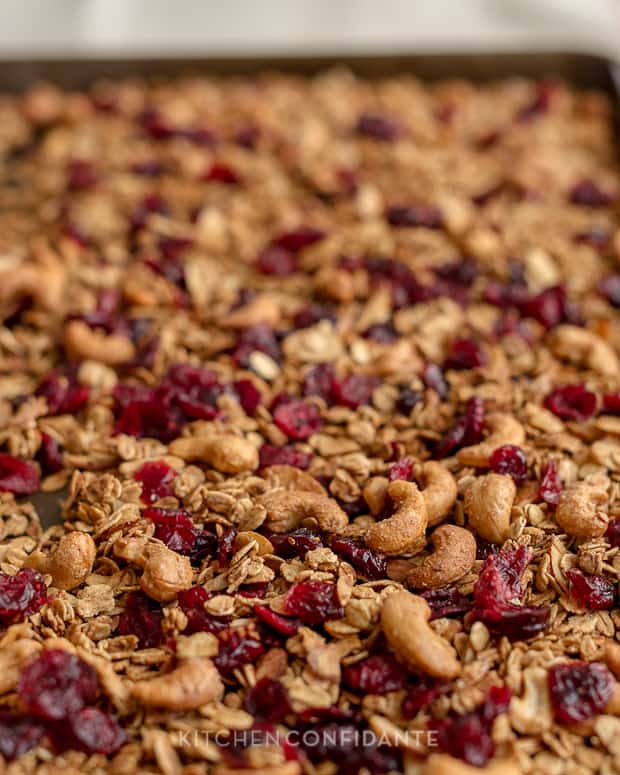 I'm guilty of deferring to convenience when it comes to one of my favorite breakfast foods and snacks. I buy my granola, despite the fact that it is so easy to make at home. Why? I just don't know. Laziness? Junk drawer syndrome? Probably. But that has all changed.
I have made trays and trays of granola over the last several weeks, and I can't stop. I've found happiness in the sweet aroma of cinnamon caramelizing chunks of nuts and oats in the oven. There's a strange satisfaction in blending flavors in the baking tray and pouring it by the handful over my yogurt for a mid-day snack. It's the same happiness you get when you bake your own bread. Or roll out your own pasta. Or clean out the junk drawer. Like I said, it's the small things.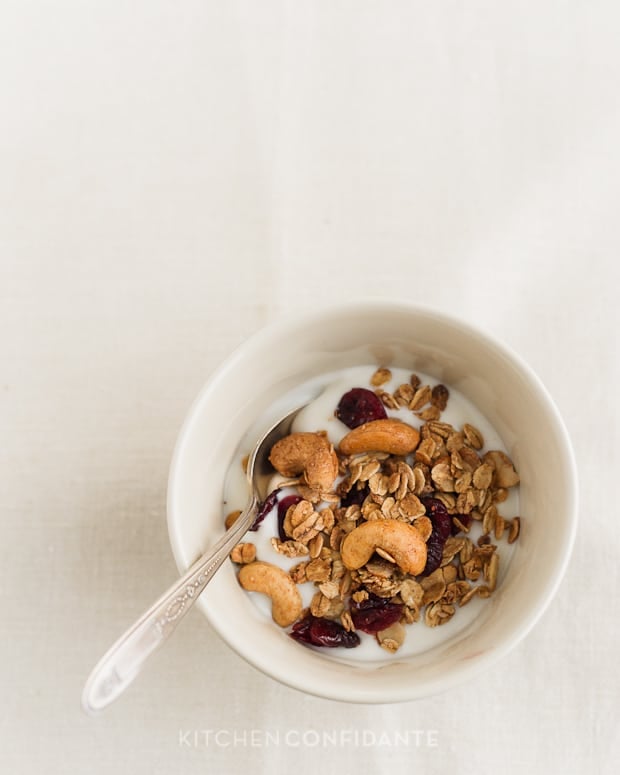 This granola boasts of whole cashews (my favorite!), slivers of almonds and chewy dried cranberries, and a sweet cinnamon-maple glaze. If you're in the mood for a hint of the islands, I'm sharing another version with macadamia nuts and coconut over at My Way Home by Wayfair today.
One of my most favorite granolas is full of chunks of cashews, so I take my inspiration from there. Sweet, salty, chewy and crunchy - I can eat this in a bowl with yogurt, with soy milk, or by the handful - each and every day.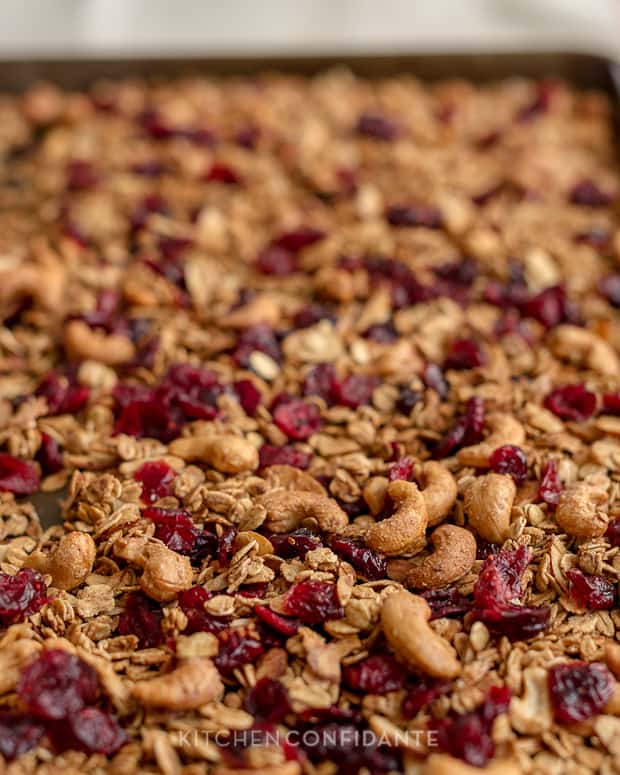 Print Recipe
Ingredients
3 cups rolled oats
1 cup whole cashews, salted and roasted
1 cup sliced almonds
1/2 cup maple syrup
1/4 cup brown sugar
2 1/4 teaspoons ground cinnamon
1 1/2 cups dried cranberries
Instructions
Preheat the oven to 325 degrees. Line a baking sheet with a silicone mat or lightly mist with baking spray.
In a large bowl, mix together the oats, nuts, and cinnamon. In a small saucepan, mix together the maple syrup and brown sugar and stir over medium-low heat until the sugar is dissolved. Pour the syrup over the oat mixture and stir until evenly coated. Spread the mixture in the prepared baking tray and place it in the oven. Bake for about 30 minutes, stirring every five minutes. When the granola is toasted, remove from oven and place in a large bowl. Add the dried cranberries and stir. Store in an airtight container.