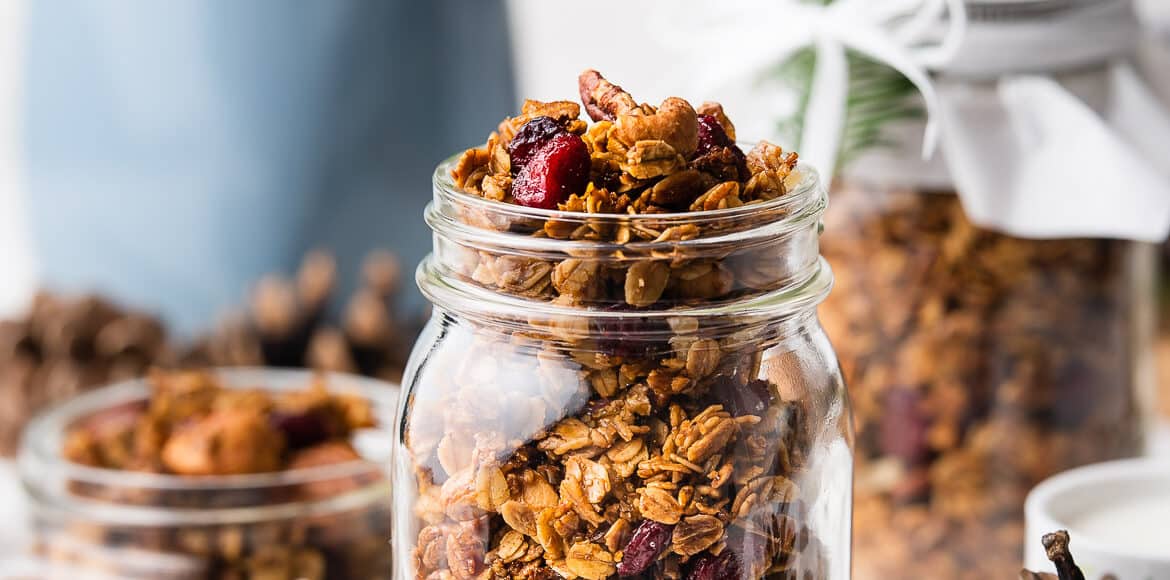 Gingerbread Granola
Gingerbread Granola – spread a little holiday cheer! Perfect for breakfast, over eggnog ice cream, or easy homemade holiday gifting!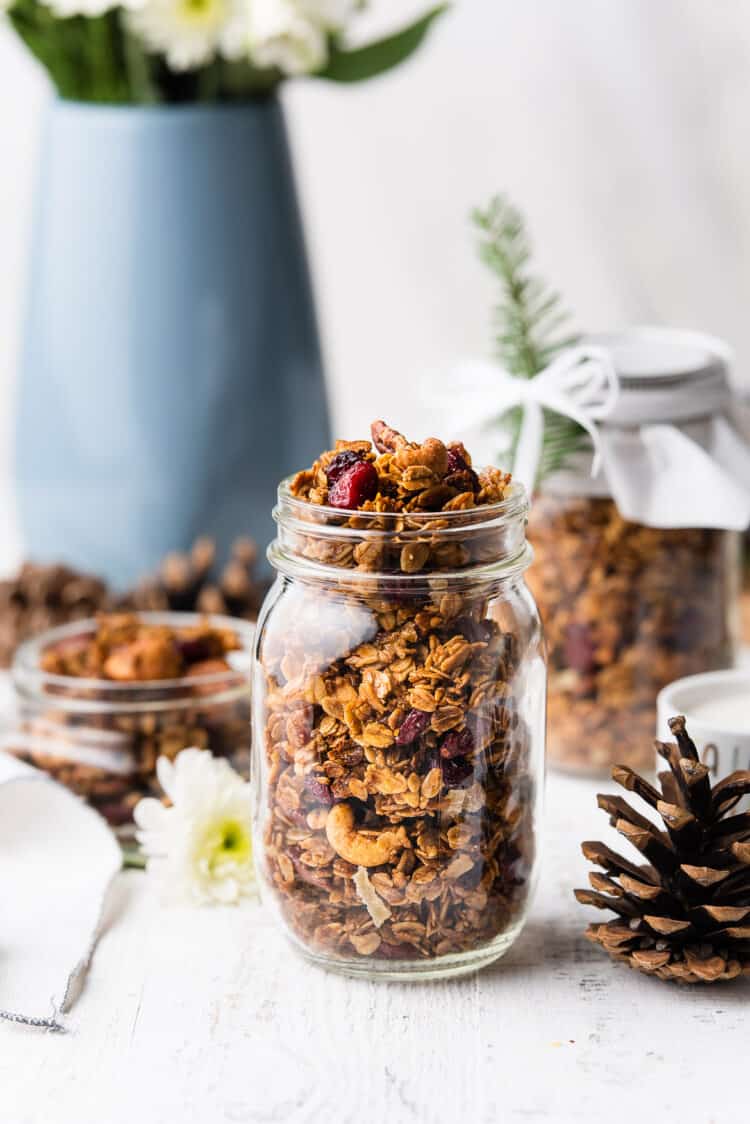 Gingerbread Granola
This is a sponsored post written by me on behalf of Safeway. All opinions are 100% mine.
Gingerbread Granola is a great way to spread a little holiday cheer! Made with molasses, maple syrup and kissed with spices and candied ginger, this granola recipe is perfect for breakfast, over eggnog ice cream, or shared with friends for a simple and delicious homemade gift!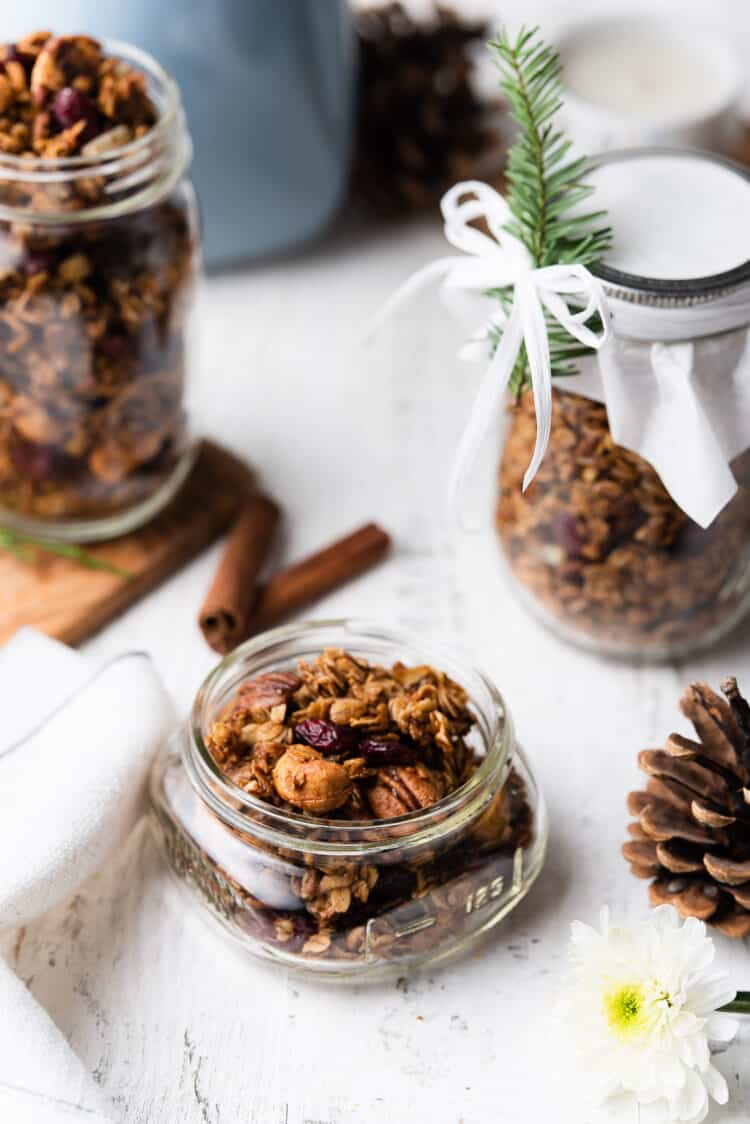 We received a little gift of cookies recently, and I noticed my husband shy away from the gingerbread, directing his attention to the shortbread instead. "I don't really like gingerbread," he confessed, much to my son's and my shock. How did we not know this little detail? "More for us!" my son and I chimed, but it made me think.
In all these years, how did I not know this? And was there a way I could convince him otherwise?
A few days later, I was making a big batch of granola, some for holiday gifting, and some for us to enjoy, when I decided to give it a touch more holiday cheer with those classic gingerbread spices. And in the back of my head, I was determined to see if a certain someone would like it. A test, you could say.
As the granola toasted in the oven, the boys returned from a long bike ride. "Something smells good!" I heard them yell. And I secretly chuckled to myself because, hey, it's that gingerbread aroma that was tempting them. Maple syrup mingled with molasses and cinnamon, nutmeg, all-spice, clove, and ginger. The aroma was irresistible, how could you not like gingerbread?! At least he agreed that it smelled amazing.
That night, after dinner, it was time for the ultimate test. I topped a scoop of eggnog ice cream with the gingerbread granola and passed it to my husband. He loved it! And now I have proof that he does, indeed, like gingerbread, at least in some form.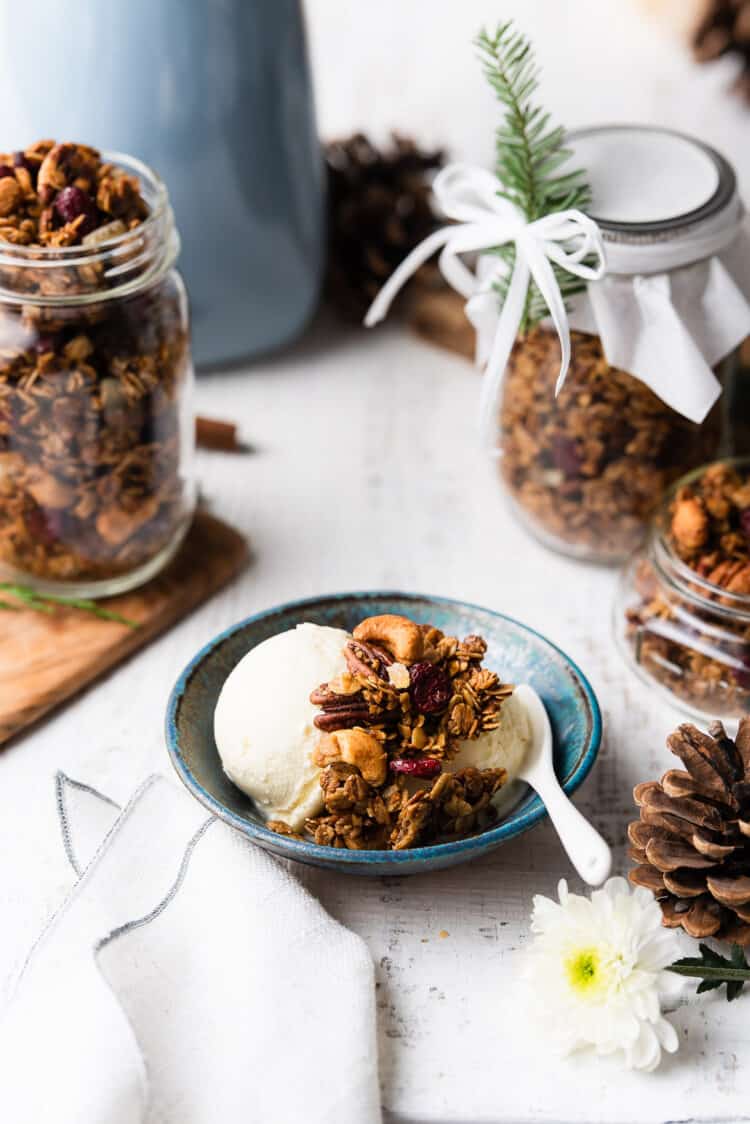 Easy Holiday Gifting
Homemade granola is one of my favorite holiday gifts to give, because gifts are even better when made with love, don't you agree? There's something special about knowing that a little extra TLC went into a gift. This granola recipe is so easy to make a big batch, and you don't have to go far to make it special — everything you need is at our local Safeway!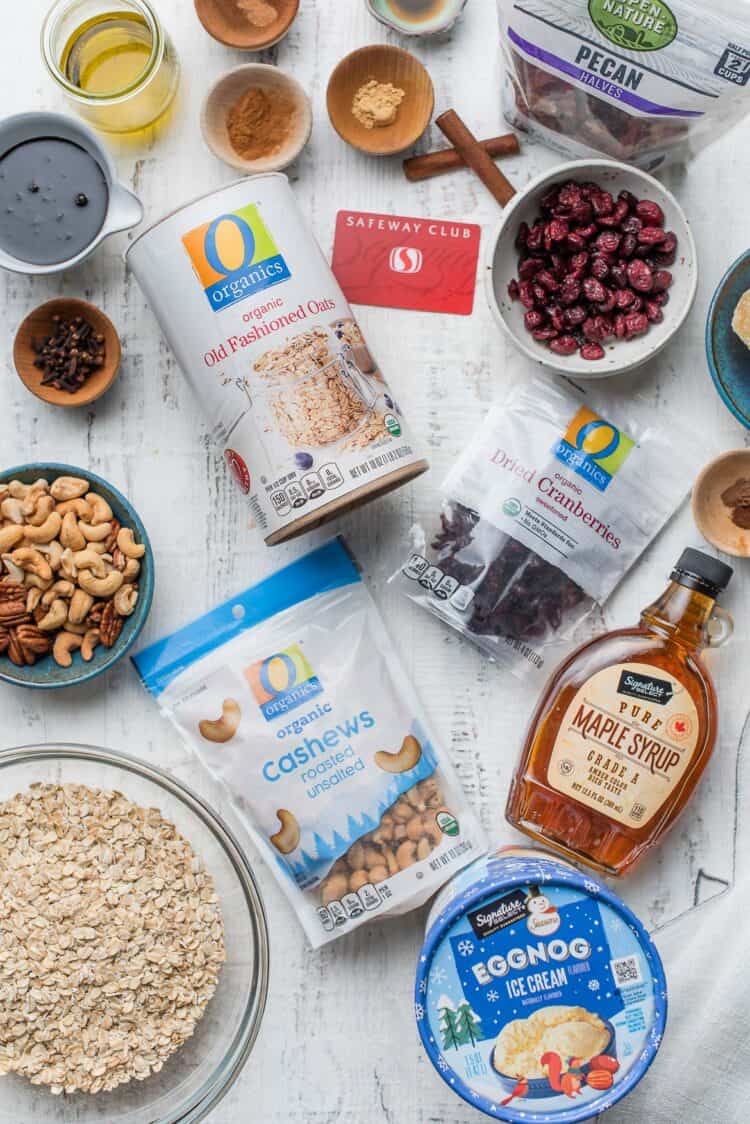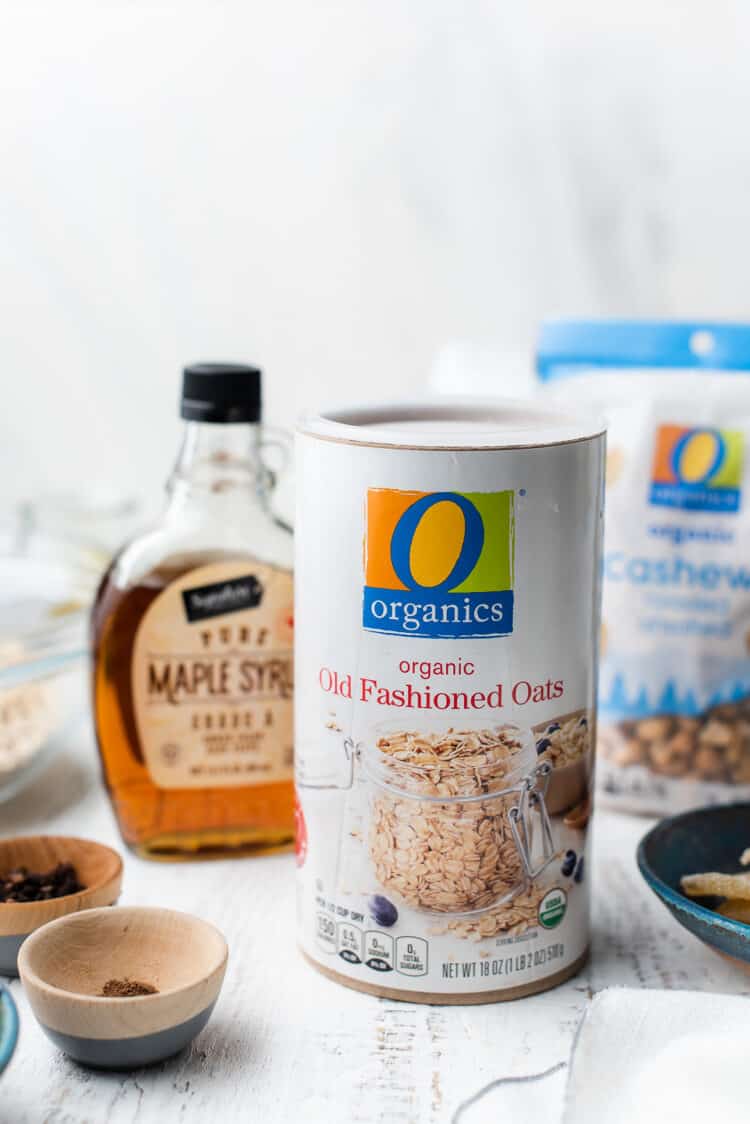 I love that everything I need for homemade granola can be found at Safeway, from O Organics® Old Fashioned Oats and Maple Syrup to dried nuts and cranberries. And for serving, who can resist the perfect match: Signature SELECT™ Eggnog Ice Cream?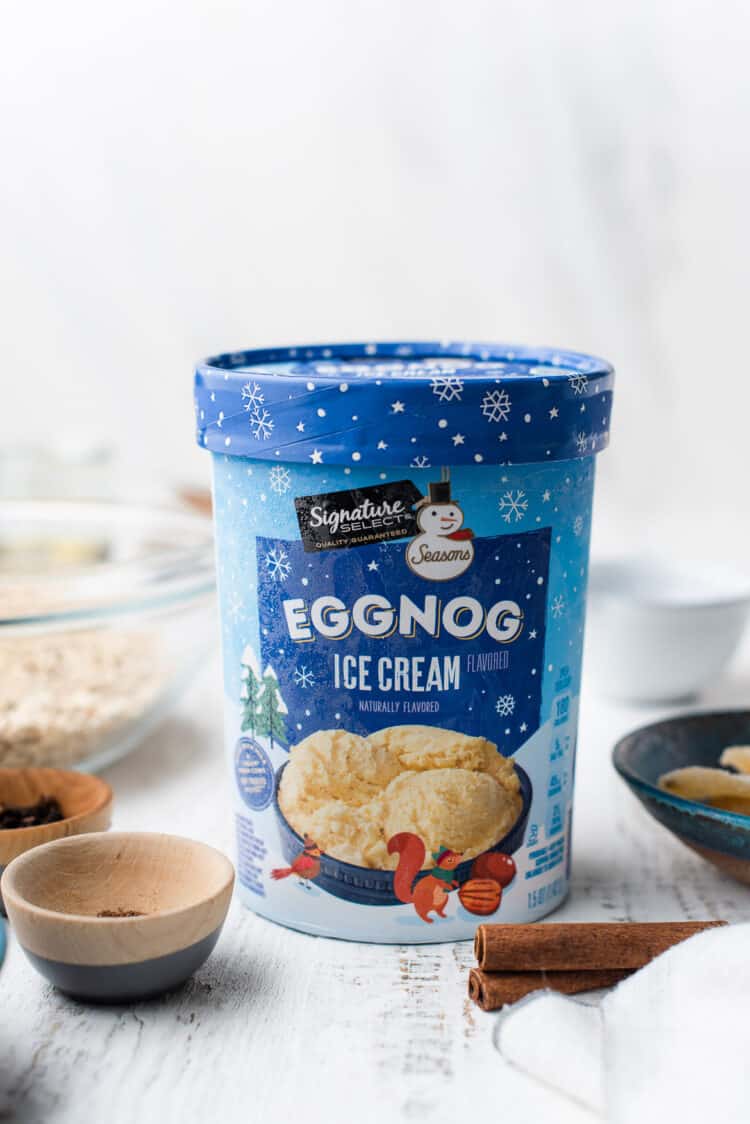 But it's not just the ingredients! I was able to learn from floral designer and event planner extraordinaire, Debi Lilly, and get her tips and tricks for making holiday traditions, entertaining and gifting more special, using the amazing debi lilly design™ floral products available at Safeway. A simple bouquet of flowers can be used to accent gift bundles, with affordable vases and ribbon right at the grocery store!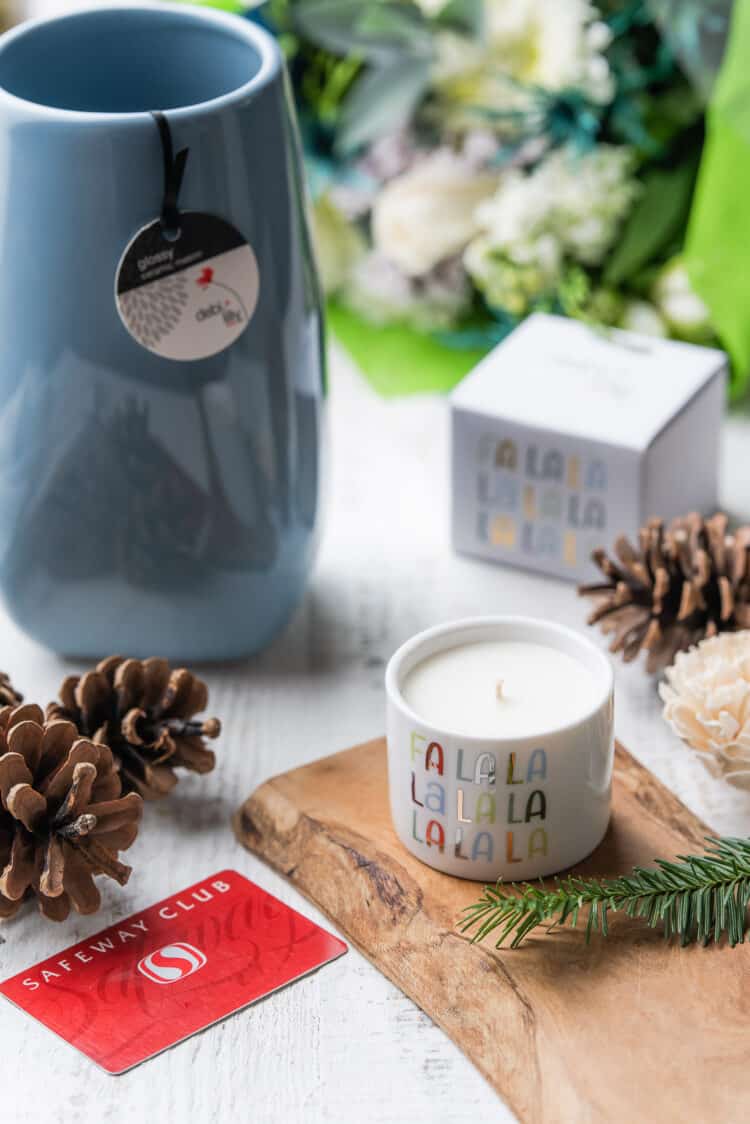 When I recently joined Debi Lilly virtually to learn her tips and tricks for easy holiday gifting and entertaining, one of things I especially appreciated is how truly simple and nearly effortless it is to make simple things special. I loved learning her tips for transforming a beautiful bouquet into smaller ones for gifting or decorating, and using the blossoms to add a little extra touch of elegance to gift packaging! It's amazing what a little ribbon, parchment, and a sprig of green can do!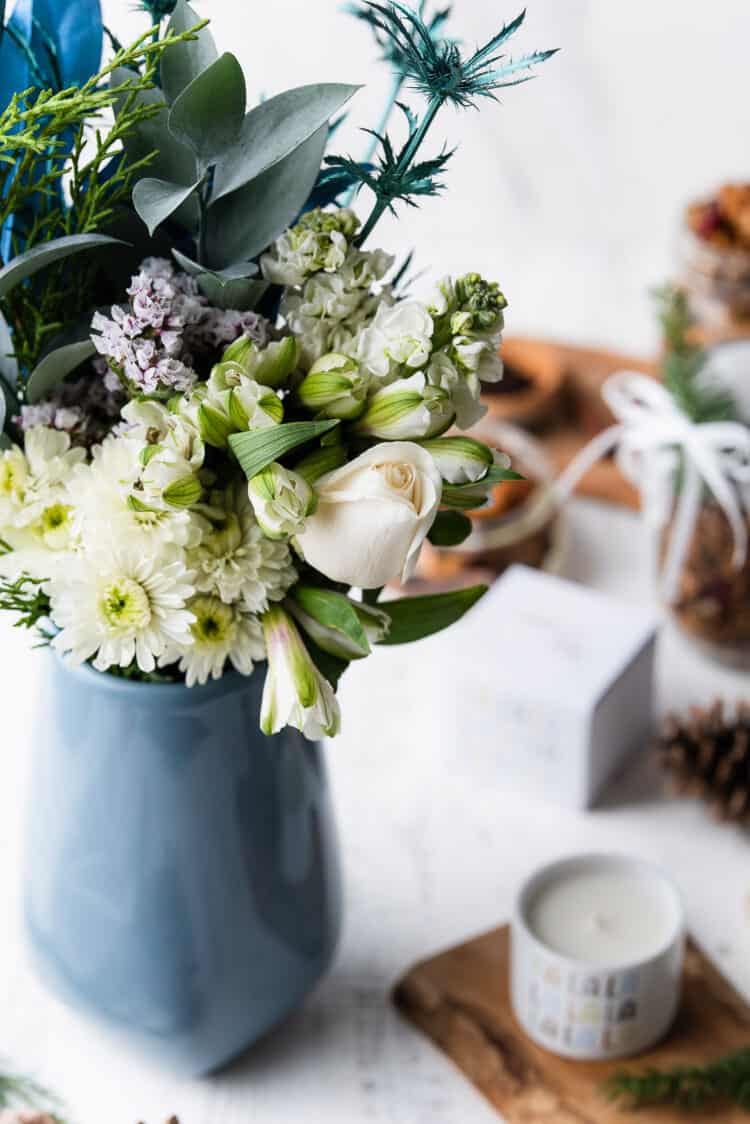 I love the idea of gifting something delicious and bundling it with a mini bouquet and festive candle to make friends and family feel special, even if we can't celebrate together. The vases are very much on trend for the season, the Fa La La candles add just the right touch of jolly — and you can find it all in the floral department!
I have really come to rely on Safeway's convenient Grocery Delivery and Drive Up & Go™ — I use this service at least once a week, and it's such a timesaver to shop on my app or online and drive up and go! I shopped at Safeway in my local area, but you can also find O Organics® and Open Nature® plant-based products at the Albertsons Companies family of stores, including Albertsons, Safeway, ACME Markets, Jewel-Osco, Vons, Randalls, Shaw's Supermarket, Star Market, and Tom Thumb.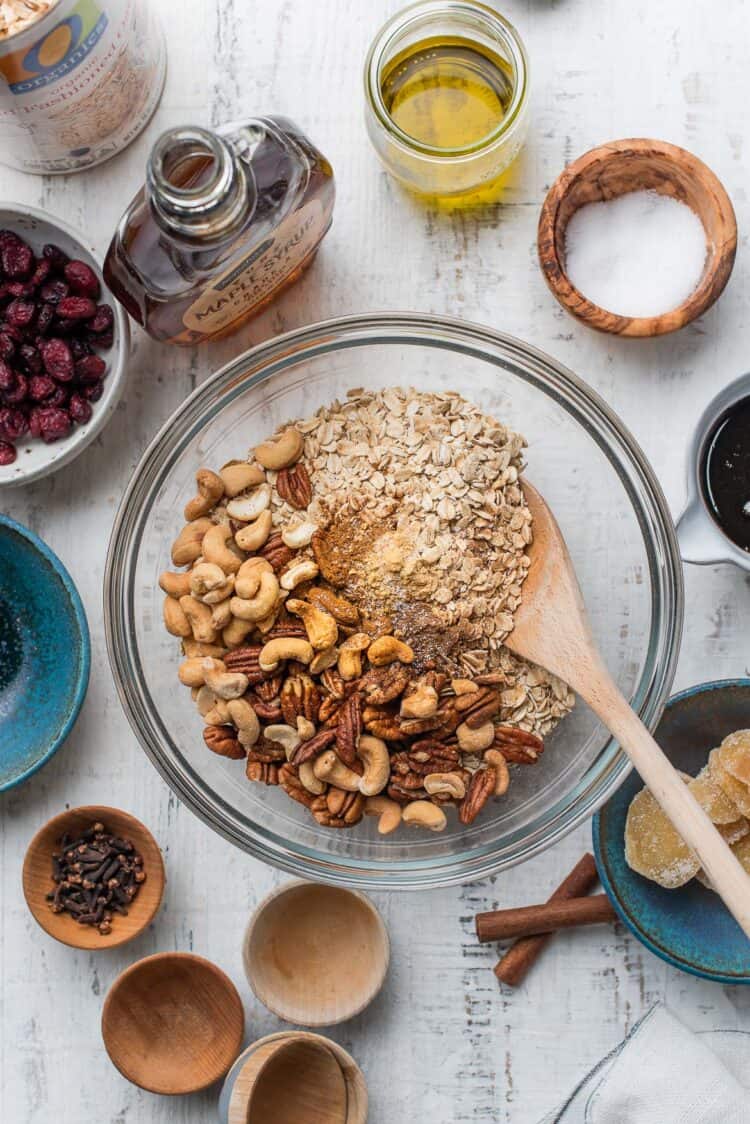 How to Make Gingerbread Granola
This granola recipe is one of the easiest things you can make, and especially perfect for gift-giving! It's such a nice twist to all the cookies and sweets, but the best part is that it is delicious whether for a wholesome breakfast or to make dessert time extra special!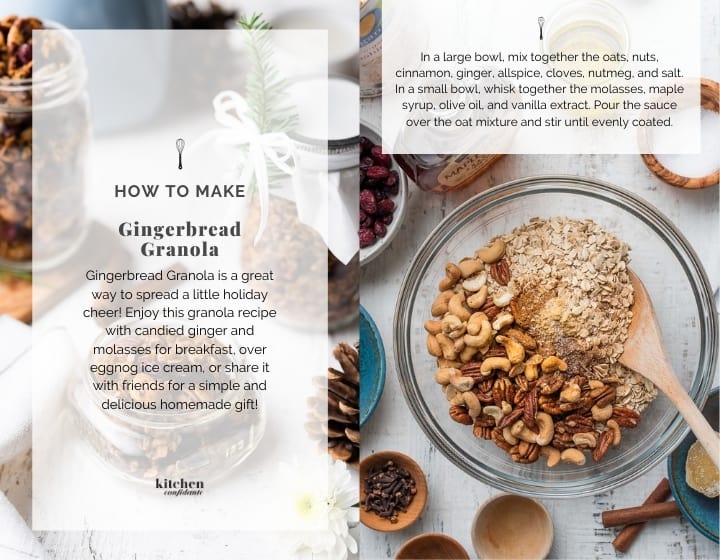 If you have five minutes, you can make granola. Simply toss the oats with the nuts (I like a combination of cashews and pecans) and all of those delicious gingerbread spices: cinnamon, ginger, allspice, cloves, nutmeg and touch of salt.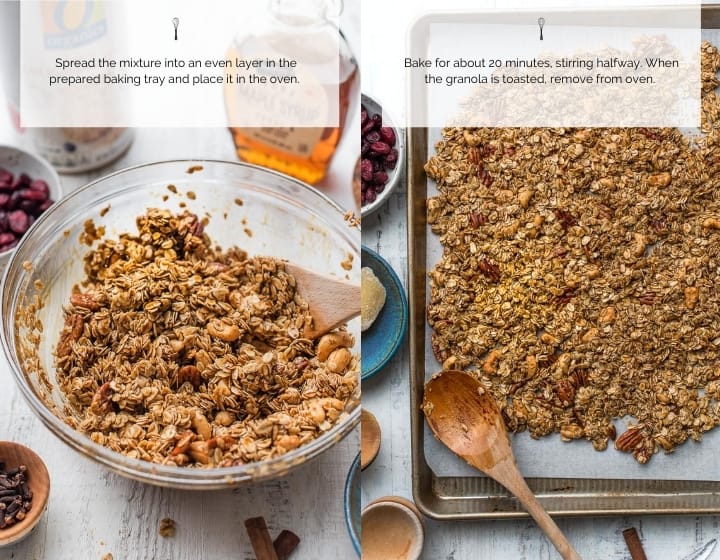 Then stir in the molasses, maple syrup, olive oil and vanilla extract, spread on a baking sheet, and the oven will do the work!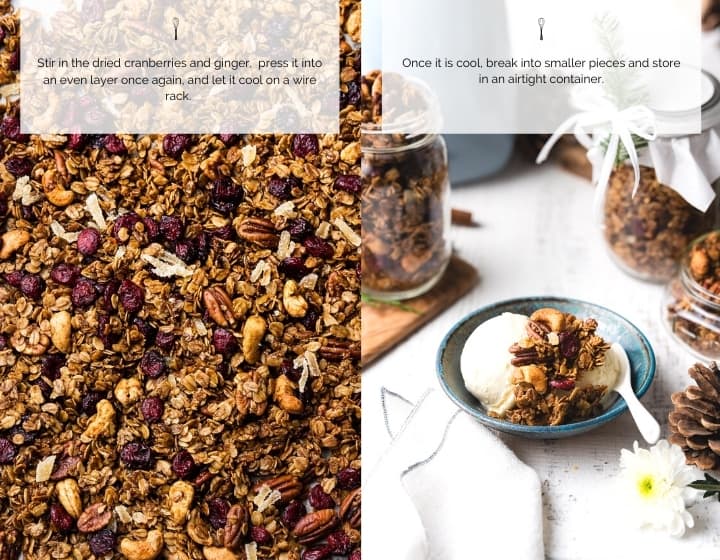 When the granola comes out of the oven, stir in the dried cranberries and candied ginger, and give it time to cool. If you like big chunks, press the warm granola down flat again on the baking sheet and let it cool completely. When you break them apart, you'll have those wonderful large chunks!
More Granola Recipes
Almond Butter Granola
Cranberry Sauce Granola
Blueberry Maple Granola
Mocha Coconut Granola
Trail Mix Granola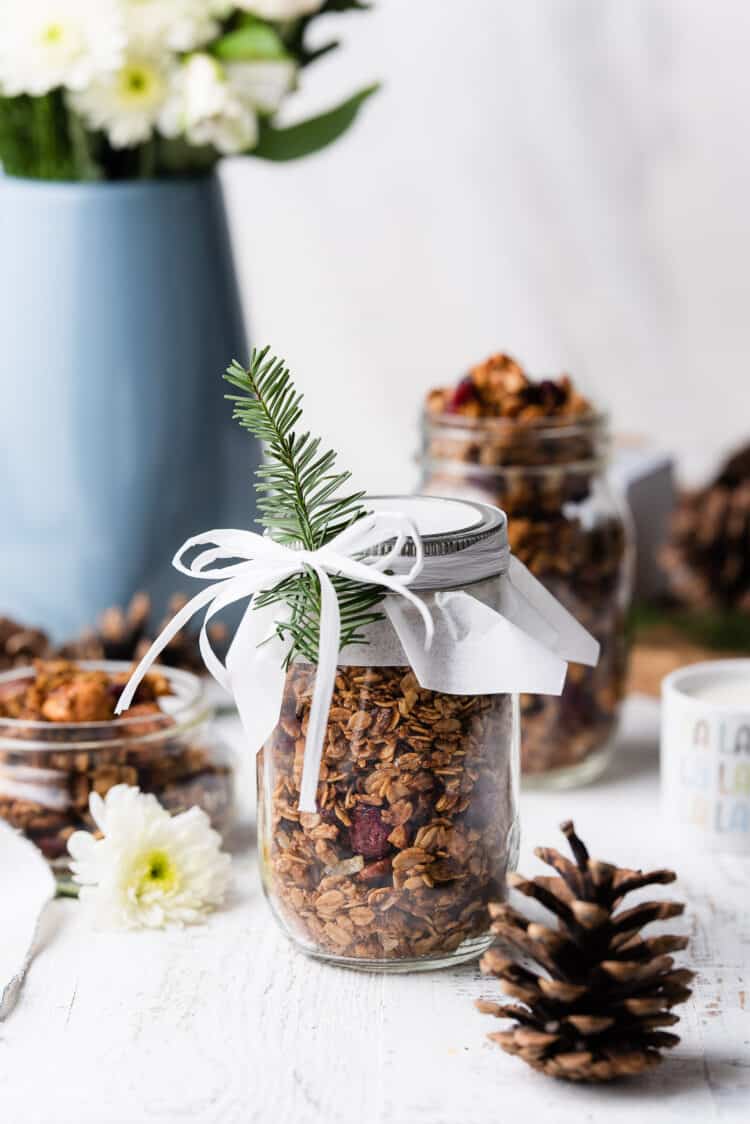 Disclosure: This post was created in partnership with Safeway. Thank you for supporting brands that matter to me; sponsored posts such as this help behind the scenes at Kitchen Confidante. All opinions in this post are, as always, my own.
Gingerbread Granola
Gingerbread Granola is a great way to spread a little holiday cheer! Enjoy it for breakfast, over ice cream, or share it with friends for a simple and delicious homemade gift!
Ingredients
3

cups

rolled oats

1

cup

nuts

e.g. cashews or pecans

1

teaspoon

ground cinnamon

1/2

teaspoon

ground ginger

1/8

teaspoon

ground allspice

1/8

teaspoon

ground cloves

1/8

teaspoon

ground nutmeg

1/4

teaspoon

kosher salt

1/3

cup

molasses

1/3

cup

maple syrup

to taste

1/3

cup

olive oil

1/2

teaspoon

vanilla extract

1/2

cup

dried cranberries

1/4

cup

sliced candied ginger
Instructions
Preheat the oven to 300°F. Line a baking sheet with a silicone mat or lightly mist with baking spray.

In a large bowl, mix together the oats, nuts, cinnamon, ginger, allspice, cloves, nutmeg, and salt. In a small bowl, whisk together the molasses, maple syrup, olive oil, and vanilla extract. Pour the sauce over the oat mixture and stir until evenly coated.

Spread the mixture into an even layer in the prepared baking tray and place it in the oven. Bake for about 20 minutes, stirring halfway. When the granola is toasted, remove it from the oven, stir in the dried cranberries and ginger, press it into an even layer once again, and let it cool completely on a wire rack. Once it is cool, break into smaller pieces and store in an airtight container.

Enjoy with yogurt, milk, ice cream, or by the handful!
Notes
This recipe makes about 6 cups of granola.
Nutrition
Serving:
1
serving
|
Calories:
279
kcal
|
Carbohydrates:
37
g
|
Protein:
5
g
|
Fat:
14
g
|
Saturated Fat:
2
g
|
Sodium:
56
mg
|
Potassium:
302
mg
|
Fiber:
4
g
|
Sugar:
18
g
|
Calcium:
50
mg
|
Iron:
2
mg