Velvet Sunshine
I think I can safely say (fingers crossed) that Summer has finally arrived in the Bay Area. We had our first heat spell over the weekend, nothing too terrible, really, but enough to crank up the air conditioning for a few hours. The timing was perfect,…
Velvet Sunshine
I think I can safely say (fingers crossed) that Summer has finally arrived in the Bay Area. We had our first heat spell over the weekend, nothing too terrible, really, but enough to crank up the air conditioning for a few hours.
The timing was perfect, as I had my oldest friend in town from New York for a visit. She and I have known one another since the first grade, if you can believe. She gamely immersed herself into one of our busy family weekends, but we did manage to sneak in some quiet time for catching up. One of our girl time escapes was to the local farmer's market.
With the sunshine overhead to warm our backs, we strolled through the market, and there was no doubt that summer is upon us, for our eyes feasted on stone fruits of every variety. Among these were apricots, those tender orbs of velvet sunshine.
I have been playing around with an Apricot Phyllo Strudel recipe, and with such an abundance of flavorful and musky apricots, I was eager to make one while my friend was in town.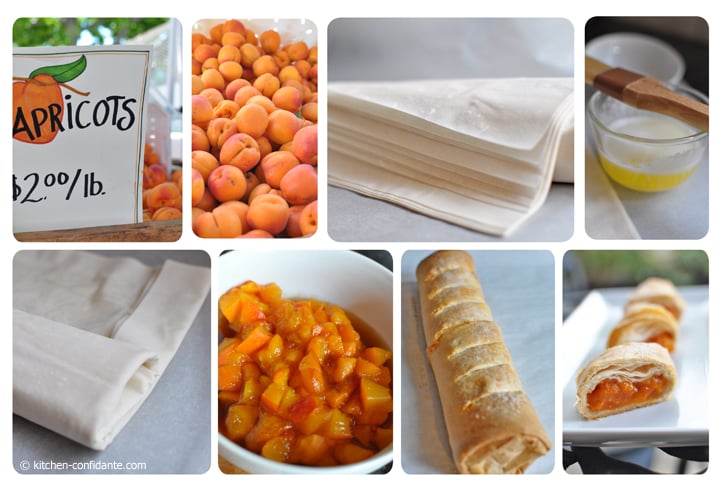 Nothing is simpler than phyllo dough – at least the pre-made kind you can find in your freezer section. One day, I will attempt to make phyllo dough at home, but until I acquire a proper pasta maker or the patience to roll dough out to the consistency of vellum, I will stick with the store bought variety. I love using phyllo to make a strudel not only because it is quick and convenient, but because it results in a low fat dessert – just what we need for these bikini months.
Then again, it doesn't help that this Apricot Phyllo Strudel tastes pretty good with ice cream. Vanilla seems to be the logical choice, but on the hot day that I made this, the allure of a refreshing Mint Chocolate Chip ice cream tempted us. Oddly enough, it went together quite well!
Apricot Phyllo Strudel
Filling inspired by & adapted from Apricot Phyllo Napoleons, Gourmet, May 2000
5 apricots, pitted and diced
2 teaspoons granulated sugar, plus 3 teaspoons for phyllo
1 tablespoon brown sugar
1/4 cup water
6 sheets phyllo dough
4 tablespoons butter, melted
3 teaspoons turbinado/raw sugar or sanding sugar
Preheat oven to 350 degrees Fahrenheit.
Warm a non-stick skillet over medium heat. Place diced apricots and 2 teaspoons of granulated sugar in pan and toss gently, allowing apricots to warm, about 2-3 minutes. Place in a bowl. Return pan to heat, dissolve brown sugar and water, and allow to reduce to about half. Pour the syrup over the reserved apricots and set aside.
Meanwhile, place phyllo dough sheets on parchment paper. Fold one side over in half, and working one side at a time, place each phyllo sheet down, brushing lightly with butter and sprinkling sparingly with sugar. Butter and sugar each sheet. Repeat for other half.
Along the shorter end of the phyllo, gently place the apricots along one edge, leaving a one inch border on the edges. Reserve any remaining syrup for serving, if you wish.
Fold once from the short end, then on each of the long sides, and gently fold/roll. Brush the remaining edge with butter and place strudel with the parchment paper on a heavy baking sheet with the seam side down. Use a serrated knife to cut slashes about 1/2 inch deep about 1.5 inches apart.
Brush remaining butter on top of the strudel and sprinkle with raw sugar. Bake in oven for 30 minutes or until golden brown.
Serve warm plain, with cream, or even with ice cream. Enjoy!