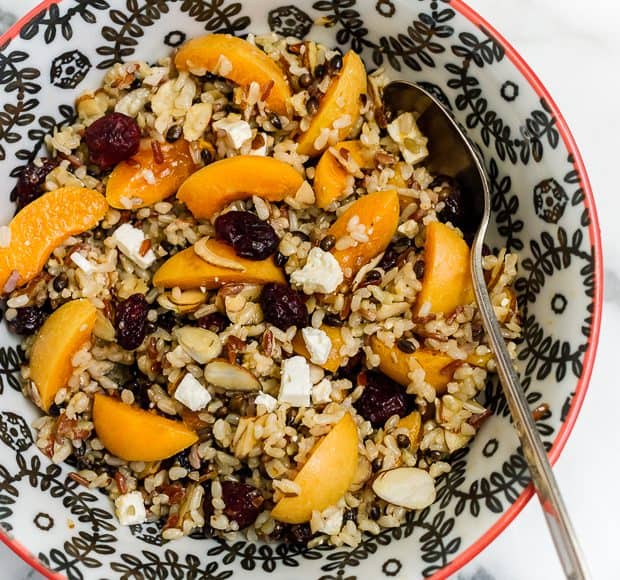 Simple Sundays | Wild Rice Salad with Apricots & Almonds and Apricot Dressing
I found a grey hair the other morning. Right up front, with nowhere to hide, staring at me defiantly in the mirror, threatening me to face the fact: You are another year older. Age. I often forget about it, until someone asks, and then I…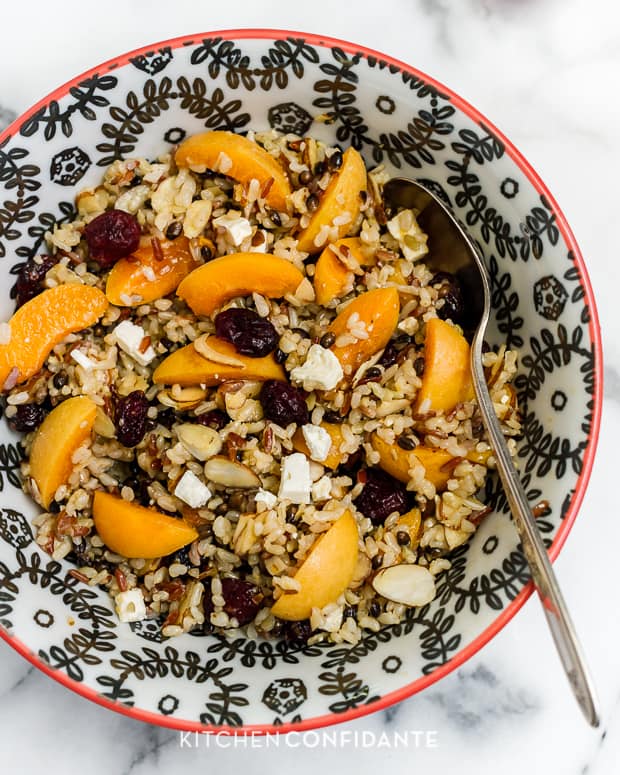 Simple Sundays | Wild Rice Salad with Apricots & Almonds and Apricot Dressing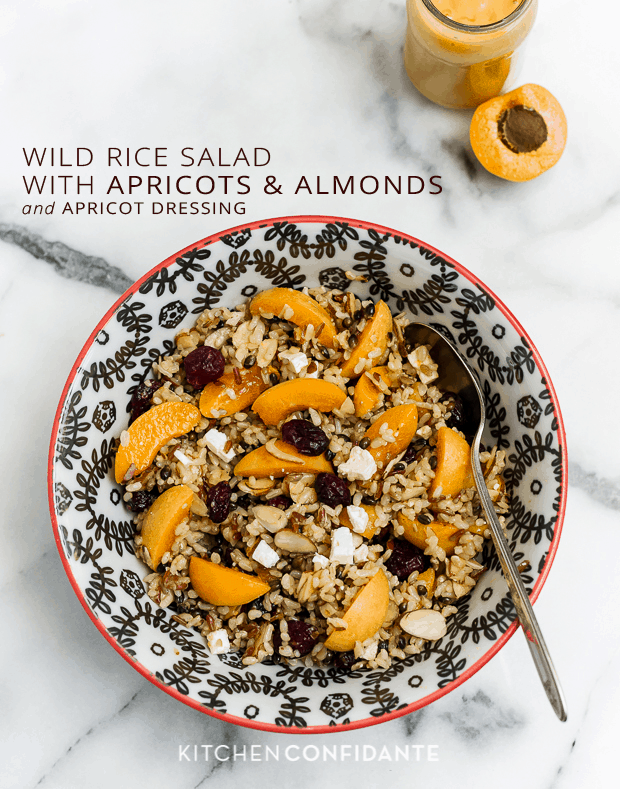 I found a grey hair the other morning. Right up front, with nowhere to hide, staring at me defiantly in the mirror, threatening me to face the fact: You are another year older.
Age. I often forget about it, until someone asks, and then I have to actually do the math. It's only once I complete the subtraction that I remember how old I am, and truth be told, I like how I feel at this age, whatever it is. It sure beats my mid twenties, though at the time, that felt pretty awesome, too.
But this grey hair business felt like a punch in the stomach. And this same week I've been dealing with some lower back pain from one of my workouts, and all of a sudden I wasn't liking the idea of getting older.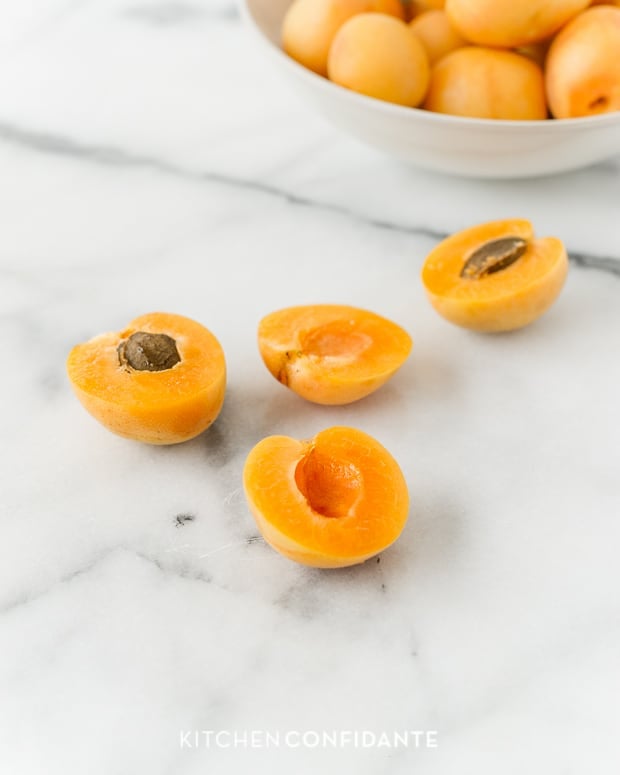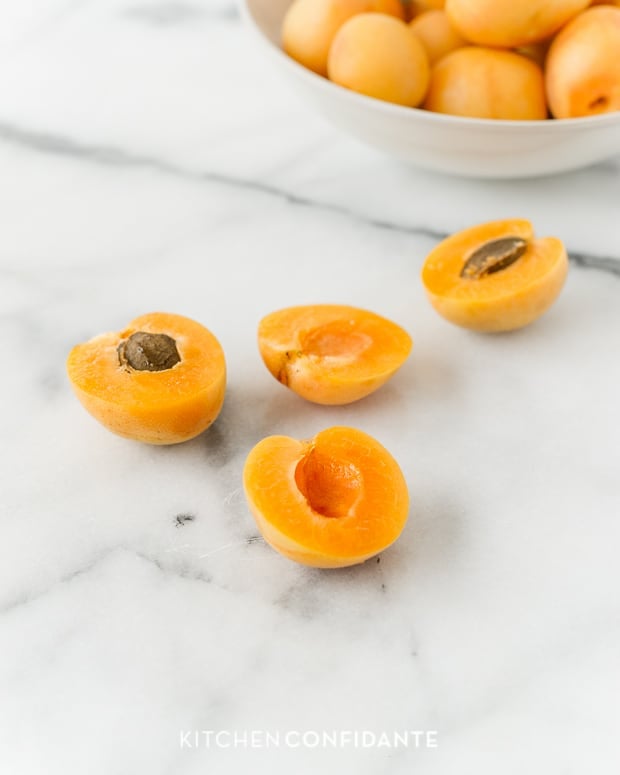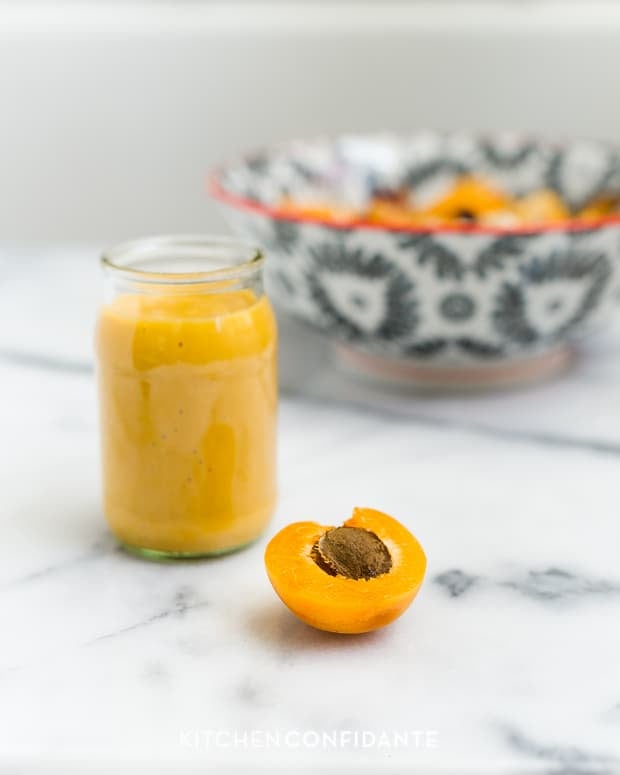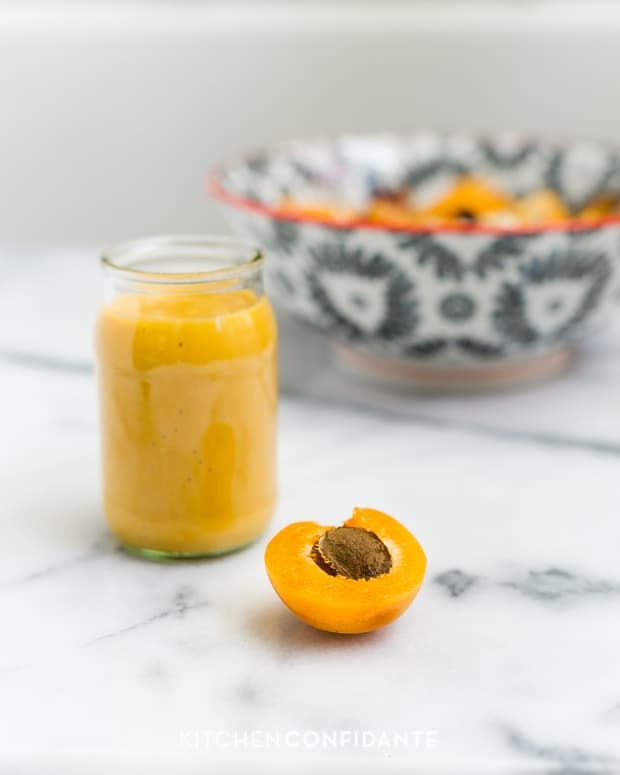 Is this what it means? Living with a grey hair (and a half) and some pesky aches and pains?
Perhaps. If you're younger than me, I'll let you know. If you're older than me, please fill me in.
I have one more year before I leave my 30's behind, and this little flash of a midlife crisis may indicate that there's more to come. But I will say that as I get older, my idea of a good birthday celebration has changed since I was in my twenties.
Back then, a good birthday meant a whole week of outings with good friends, lots of dinners out, visits to places I loved – museums, outdoor concerts, the ballet, even. This year, I celebrated solitude.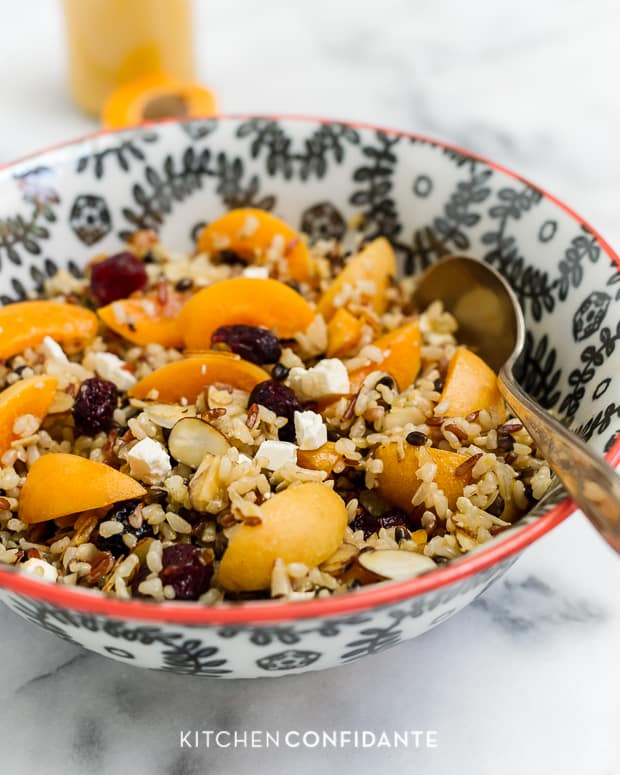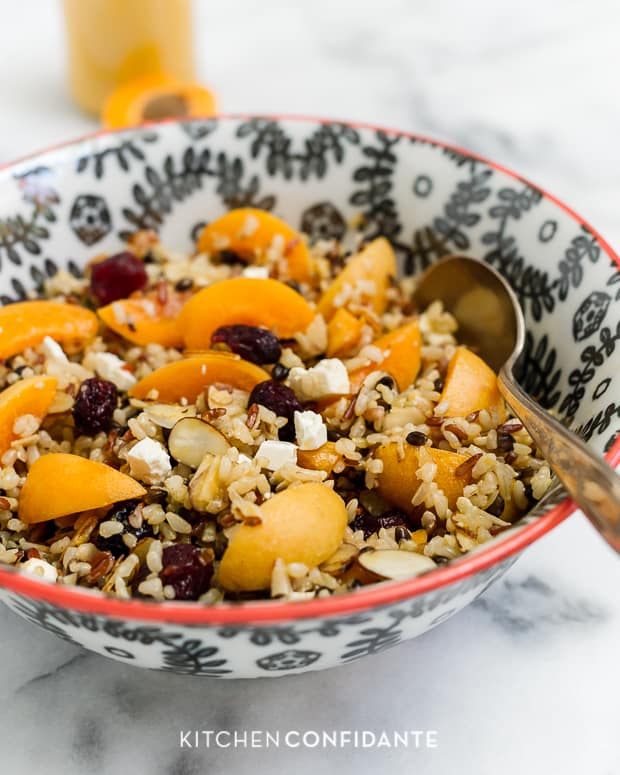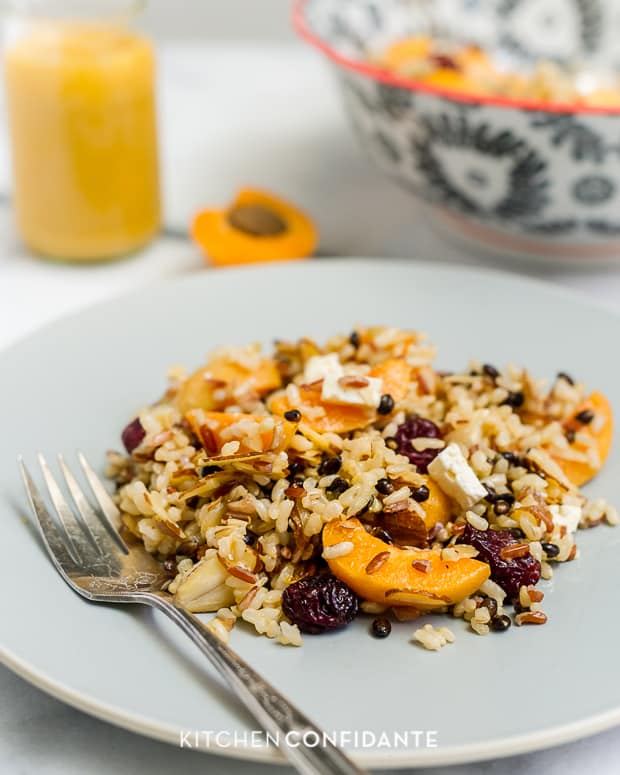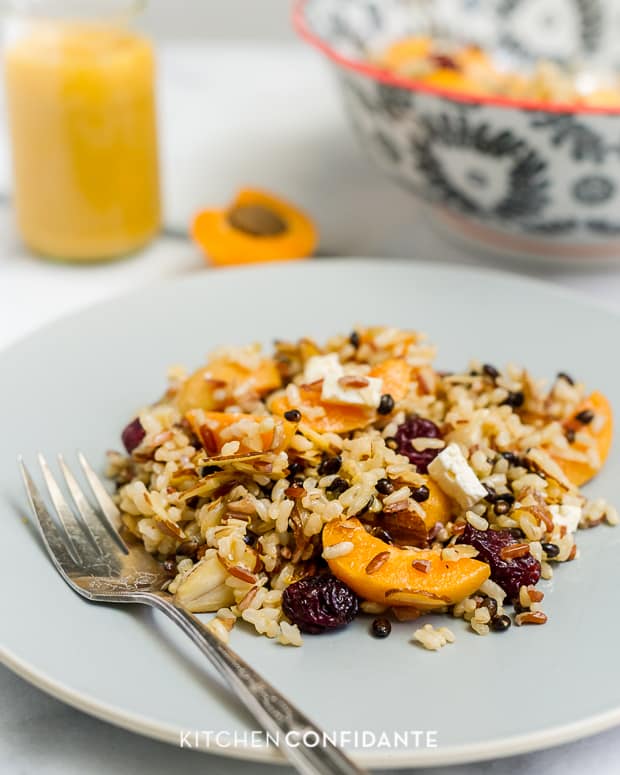 My husband whisked the children off to the office early that morning – his company hosted Take Our Daughters and Sons to Work Day – leaving me with a day to myself. I was free to do as I pleased, given the gift of time and silence, at least until we celebrated with dinner out upon their return. My twenty-five year old self would have suffered at the thought, but I welcomed it gladly.
I made this Wild Rice Salad with Apricots & Almonds and Apricot Dressing. It's a salad made just for me, but I know you will love it, too. It features sweet CandyCots, which we have been savoring, knowing its season will be short lived. There are crunchy slivers of raw almonds, morsels of tangy goat cheese, and chewy cranberries. But the best part is the Apricot Dressing, which I have been using on more than just this salad. It has the sweet, it has the sour, and it has the savory. It reminds me that I can not appreciate the balance of silence without experiencing the din of youth, however fleeting that may be.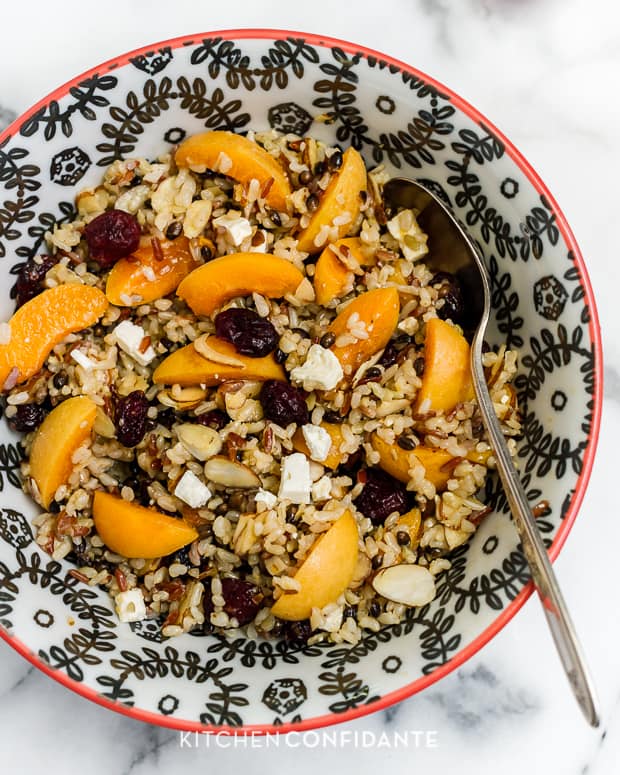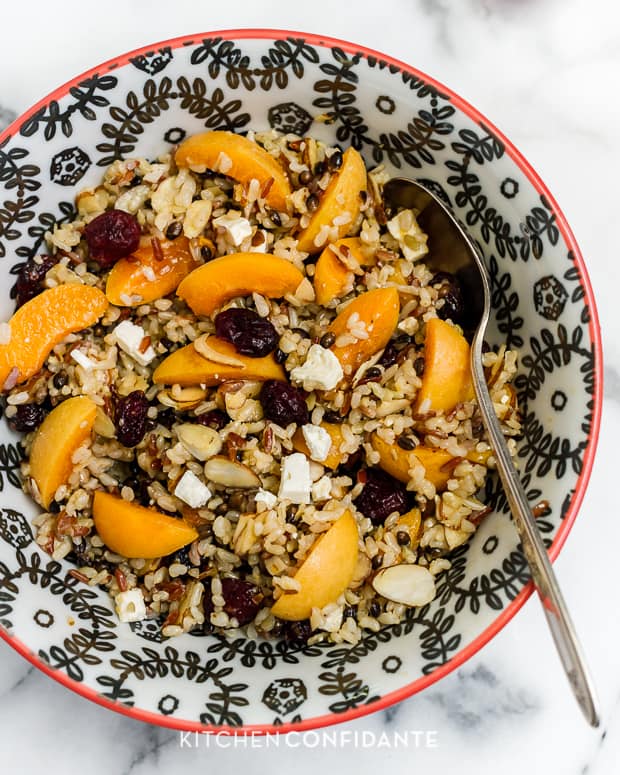 Wild Rice Salad with Apricots & Almonds and Apricot Dressing
I can't tell you how much I love this salad. To me, it's the perfect side dish or lunch, and a great way to use up leftover rice from the night before. With a little bit of sweet and lot of savory, the texture is fantastic, too. If you have access to CandyCots, I highly recommend it in this salad.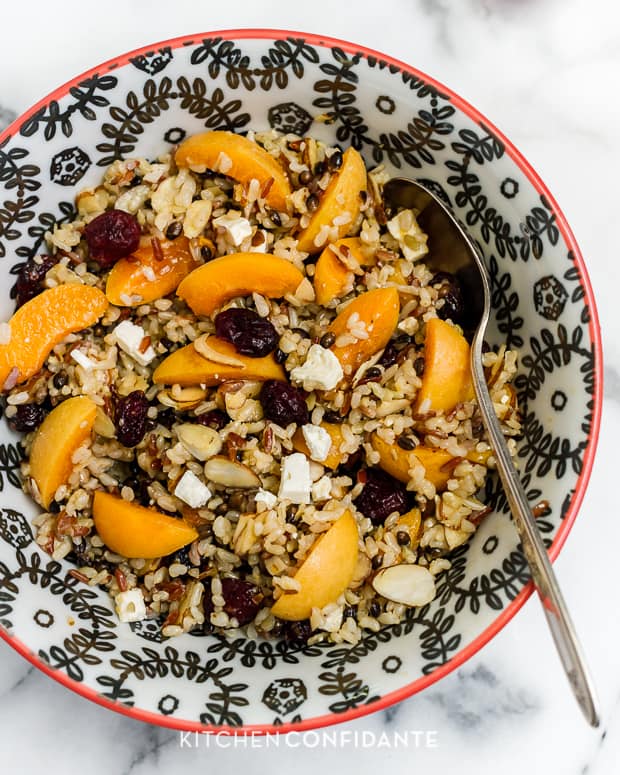 Print Recipe
Ingredients
For the Apricot Dressing:
5-6 ripe apricots, pitted and halved
2 tbsp sugar
1/4 cup sherry vinegar
1 tablespoon Dijon mustard
1/2 teaspoon salt
1/2 teaspoon lemon juice
1/2 cup olive oil
For the Salad:
1 cup cooked wild rice, cooled*
6 fresh apricots, pitted and sliced
1/2 cup sliced almonds
1/2 cup dried cranberries
1/2 cup goat cheese
Apricot Dressing
Freshly ground black pepper
Kosher salt
Instructions
Blend the apricots, sugar, sherry vinegar, Dijon mustard, salt and lemon juice in a food processor. With the motor running, drizzle in the olive oil until it emulsifies into a creamy consistency. If preparing in advance, refrigerate in a sealed container, and whisk well before serving.
In a large bowl, stir together the wild rice, apricots, almonds, dried cranberries and goat cheese. Dress with several tablespoons of Apricot Dressing. Season to taste with fresh pepper and salt, if desired.