You're Invited
Two simple words. You're invited. They make you feel special, and it doesn't matter if you are the guest or the host. It is always a joy to receive an invitation, but it is just as exciting to give one, don't you agree? Whether you…
You're Invited
Two simple words. You're invited. They make you feel special, and it doesn't matter if you are the guest or the host. It is always a joy to receive an invitation, but it is just as exciting to give one, don't you agree? Whether you are a pre-schooler inviting friends to a birthday party or planning a wedding, there is something significant about playing host to friends.
When I saw that Challenge 3 of Project Food Blog was a Luxury Dinner Party, I was so excited. We love to entertain!
For quite a while, I have wanted to host a gathering for fellow Bay Area bloggers. In the relatively short time that I have been writing Kitchen Confidante, I have had the pleasure of "meeting" such a fantastic group of food enthusiasts from all over the world. In the Bay Area alone, there is such a wonderful group of talented and diverse food bloggers, many of whom I have never met in person. This challenge was the perfect excuse to make this gathering a reality!
I'm sure you will recognize some familiar names; if you follow my blog, chances are you've run across or follow theirs, too. Some of them are also fellow contestants in Project Food Blog!
Theme and Menu
So, what do you prepare for seven sophisticated Bay Area foodies? Good question!  The challenge specifically called for hosting "a luxurious dinner party where your guests will discover new tastes and exotic flavors."
I decided to create a Filipiniana Theme – to introduce my interpretation of Philippine classics. Despite the growing appreciation for Philippine cuisine in the Bay Area, it is still not easily understood. Those who have experienced Filipino food have typically tasted it from a friend's kitchen, as street food, from a food truck, or from a casual restaurant. Sadly, diners don't associate Philippine cuisine with luxury.
There are, however, a few restaurants in the United States that elevate Philippine cuisine to a level that discriminant eaters can appreciate. I think of the now-closed Cendrillon that was located in New York's SOHO and is now reincarnated as the Purple Yam Restaurant in Brooklyn.
The restaurant's highly acclaimed owners, Amy Besa and Romy Dorotan, wrote a beautiful cookbook, Memories of Philippine Kitchens, which has been my bedside reading this past summer. I decided to bring the book back down to my kitchen, where it rightfully belongs. I was really looking forward to introducing Filipino cooking to my guests who would be tasting it for the first time.
The menu I created is a fusion of old family recipes, my own rendition on classics, and recipes from Besa and Dorotan's book. It represents the Philippines' complex culinary history, combining indigenous dishes with those influenced by the Spanish, Chinese, and their Southeast Asian neighbors.
Planning
The key to any successful dinner party is in the planning and the amount of work you can do in advance. There is nothing worse than hosting a party and not being able to enjoy the company of your guests!
For this party, I had to make critical decisions, particularly with the menu, to ensure that I wouldn't have to do too much work during the party. Besides the fact that Filipino cooking can be very labor intensive with a lot of fine chopping and prep work, I also did not want to have to rely on my husband's help with entertaining. We usually have a nice system between the two of us for throwing a party, but for this evening, my intent was to host solo. While he planned to do something special with the kids, I would have a serene, kid-free environment so I could concentrate on my guests.
Make It Easy Tips
• Select dishes that can be prepped and cooked in advance. Dishes that taste better with time (like the Baby Back Ribs) work well.
• Map out your plan of attack and create a countdown (like the one on the left).
• Let your guests take care of a dish or a course. While I told my guests that they did not have to bring anything, for those that insisted, I asked them to bring an appetizer (it's my least favorite course to plan…shh…don't tell anyone).
• Involve your guests! Give them a task, such as serving or plating.
• Making individual dessert servings is a lovely touch, but not necessary. Save time by making one.
Ambiance and Tablescape
This is one of my favorite parts of planning a party, and one of the first things I think about, often even before settling on the menu. I think about music, color scheme, and special touches. I wanted my table to be elegant and calm, while calling to mind the warmth of the tropics. Since I was planning the dinner party on relatively short notice, I sent out Evites to my guests, and I was particularly inspired by the colors of this one: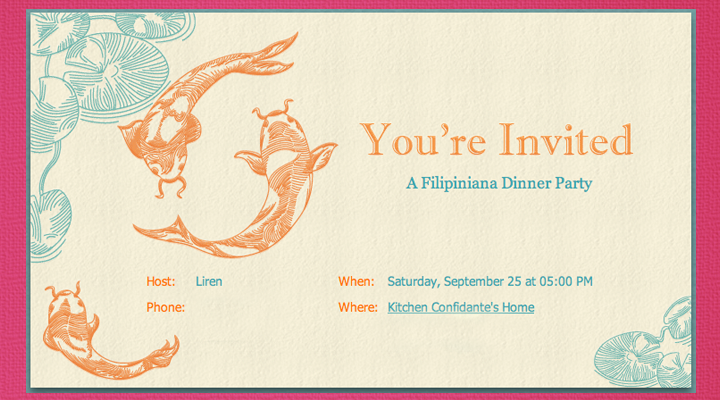 I coordinated some beautiful light blue linens I already own with fuschia fabric scraps purchased at the craft store as accent pieces. Basic, crisp white linens tied it all together, while the rented chairs added to the plantation feel.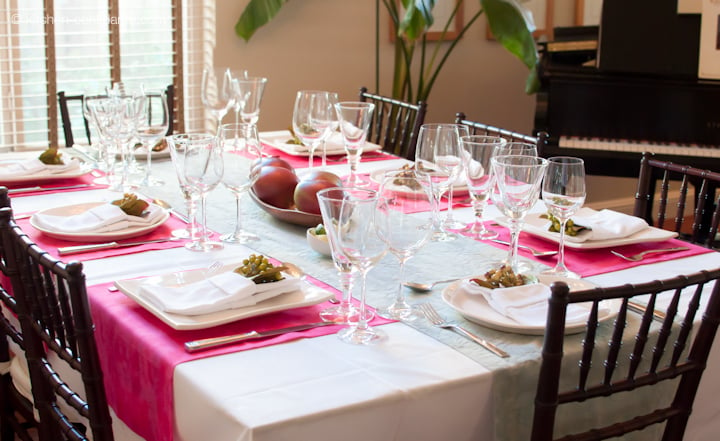 A bowl of rosy-green mangos made for a simple but very suitable centerpiece, and silk flowers tucked into the napkins added an extra special touch to each setting.
The Meal
As guests trickled in, it was a great time to make introductions over wine and casual appetizers. I had set out some simple hors D'oeuvres, which were nicely enhanced by the gifts of tapenade, balsamic fig jam, and wine from my fellow foodie bloggers. For most of us, it was the first time we were meeting one another! Everyone dug in to help and it was fun to have the extra hands to serve soup and plate the dishes. Then, it was finally time to begin the meal.
Sinigang na Hipon is a tamarind based soup with prawns that also gets its rich flavor from pork belly. It can be served as a soup, as shown here, or over rice for a hearty meal. Kai-lan greens and spinach make the soup so nutritious, but it's the Daikon radish that is my favorite part. This complex soup is tangy and vibrant, yet very satisfying. Sinigang could also be made with fish or just pork, and I consider it to be one of the truest native Filipino dishes, for its use of the indigenous sour tamarind.
Also in keeping with the very distinct sour flavor palate of many Filipino dishes, I served Baby Back Pork Ribs Adobo and Achara. This version of Adobo is from Besa and Dorotan's cookbook, and not too different from the Chicken Adobo that I make for my family. This adobo sauce has a classic base of apple cider vinegar, soy sauce and garlic, but it has a fantastic hit of heat from jalapeno peppers. I especially loved that most of the dish could be prepared in advance, from the marinade to the braising, resulting in a succulently flavored rack of ribs.
Achara is a traditional condiment of pickled green papaya, carrots and peppers. Since I wanted the flavors to be on the lighter side, with a touch of acidity more akin to a salad, I very lightly dressed the Achara rather than allowing it to pickle into a relish. I also added jicama for a little extra crunch.
Pancit Bihon is a classic rice noodle dish that represents the Chinese influence on Philippine cuisine. In my family, it is my Tita (Aunt) Leah who has the best Pancit Bihon, and she credits the flavor to her homemade stock of pork pata (leg). I definitely take my shortcuts, including using chicken broth, but I agree, homemade stock is best. I still love hers, but I think mine is pretty darned close.
A dinner party is not complete without some wine! This 2007 Martin Alfaro Pinot Noir from Lester Family Vineyard in the Santa Cruz Mountains is beautiful and incredibly well-balanced. With rich berry notes and a smooth, smokey finish, this Pinot Noir pairs well with a variety of foods, including the Baby Back Ribs Adobo.
For dessert, there were individual servings of classic Leche Flan, otherwise known as Creme Caramel or Caramel Custard, which most likely has its origins from the Philippine's history as a Spanish colony. Indulgent and perfect for special occasions.
The Guests
I think most people would agree that the best part of any dinner party is the company.
Even mediocre food can be forgiven if your guests are having a wonderful time. I couldn't have asked for a better group of people with whom to share this dinner! I will confess, I did experience some jitters when I realized that I would be hosting fellow food bloggers – there was that momentary feeling of panic when I thought, what if they don't like my food?
I put those silly thoughts past me. After all, these are people I consider friends in this blogosphere. I have learned that food bloggers are extremely supportive and caring people. And after meeting them in person, I know it to be true.
Besides, I loved that I wasn't the only person who had a camera at the meal!
It was such a memorable night for me:
To be able to talk about blog life with people who understand. To be encouraged to take more photos of my food. To know that they really enjoyed their first taste of Sinigang. To know that my fellow Filipino foodies approved. To know that we were developing new friendships.
I can't wait to do this again soon.
My heartfelt thanks to all who voted for my second entry to Project Food Blog!! This post is my submission for Challenge 3: Luxury Dinner Party. Contestants were asked to host a luxurious dinner party where guests will discover new tastes and exotic flavors, and to share hosting secrets with readers. Voting for this challenge takes place from 6AM Pacific Time (9AM Eastern) October 4th through 6PM Pacific Time (9PM Eastern) October 7th. Please click here to vote!
Recipe
Though this is a lengthy post, I couldn't leave you without a recipe! I will post more soon, but to hold you over, something sweet.
Leche Flan
Caramel
1 cup sugar
1/4 cup water
Custard
8 egg yolks
2 egg whites
1 can condensed milk
1 cup evaporated milk (or water)
1 tablespoon sugar
grated lemon rind
¼ teaspoon vanilla
Preheat the oven to 350° F.
For the caramel:
Heat a clean, heavy duty small sauce pan over medium-high heat. Add sugar and water, stir briefly just until sugar is dissolved, then allow to simmer (no more stirring!) until the sugar begins to caramelize and change color to amber. Pour into mold, tilting so all sides get coated.
For the custard:
Beat egg yolks and egg whites at high speed for about 1 minute. Add condensed milk, evaporated milk, sugar, lemon rind, and vanilla. Beat for another 2 minutes. Strain, using a cheesecloth if necessary, and pour into mold. Lightly cover with foil.
Place mold in a large baking pan. Add hot water to come up to half way up the mold. Bake for about 1 hour, 20 minutes, or until the flan is set in the center.
Alternative method: In a large pot, boil about 1 inch of water. Place mold in pot. Simmer for 40 minutes or until firm. Let cool, then place in refrigerator. When completely cold, remove leche flan from mold.
Release from mold:
Run a sharp knife along the perimeter of the mold. Dip mold in a bowl of hot water to help loosen. Place a serving platter over the mold and flip. Remove mold.