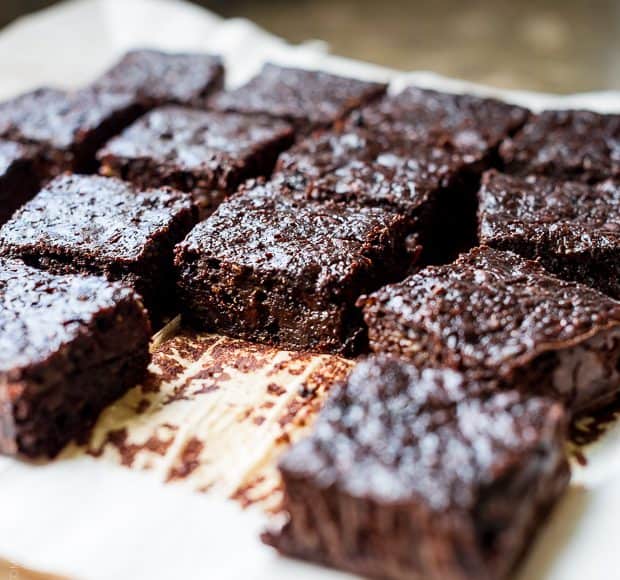 Zucchini Banana Brownies
Zucchini Banana Brownies – zucchini, bananas, and quinoa make these the perfect, better-for-you chocolate treat in the summer! These chocolate fudgy brownies that will entice even the pickiest eaters.
Zucchini Banana Brownies
Can you guess what makes these better-for-you brownies? Zucchini, banana, and yes, leftover quinoa, make deep dark chocolate fudgy brownies that will entice even the pickiest eaters.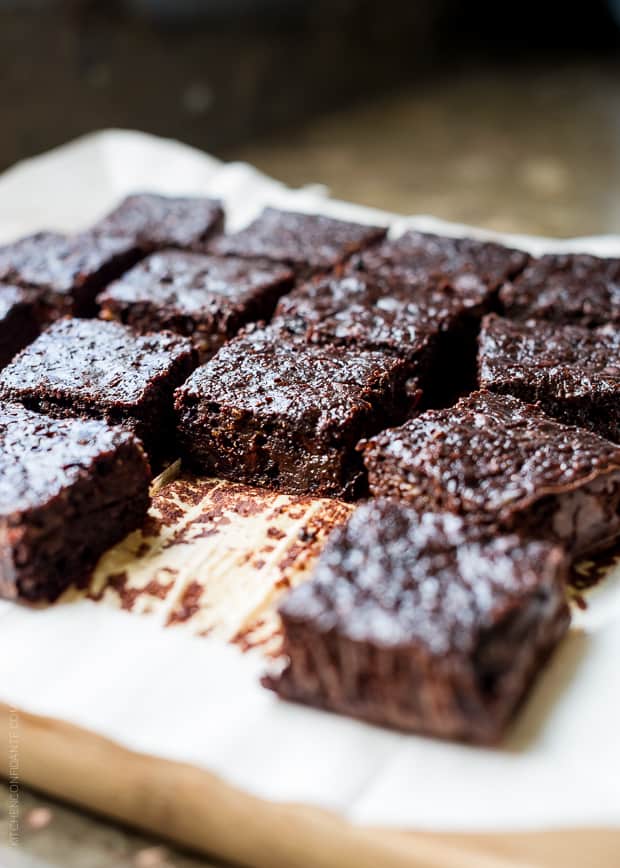 It took us three (3!) hours to drive to Sonoma. In the time it nearly takes to drive to Tahoe, we found ourselves crawling through the clogged highways snaking across the bay. Everyone, it seemed, was headed to wine country for the long holiday weekend.
I had packed a little cooler for the drive, just in case. You never know how traffic will go, and we've learned to never leave the house empty handed, and 'just in case' came sooner than we expected. Hungry kids leads to whiny kids, and we did our best to assure them that we would get there soon enough.
"There" was a housewarming, and as soon as they stretched their legs and took big bites of some killer grilled cheese and gooey chocolate chip cookies, they were in the pool, splashing around. "Can we come to all their parties?" they asked. They were in heaven.
I chuckled inside. "Wasn't it worth the ride?" I asked them.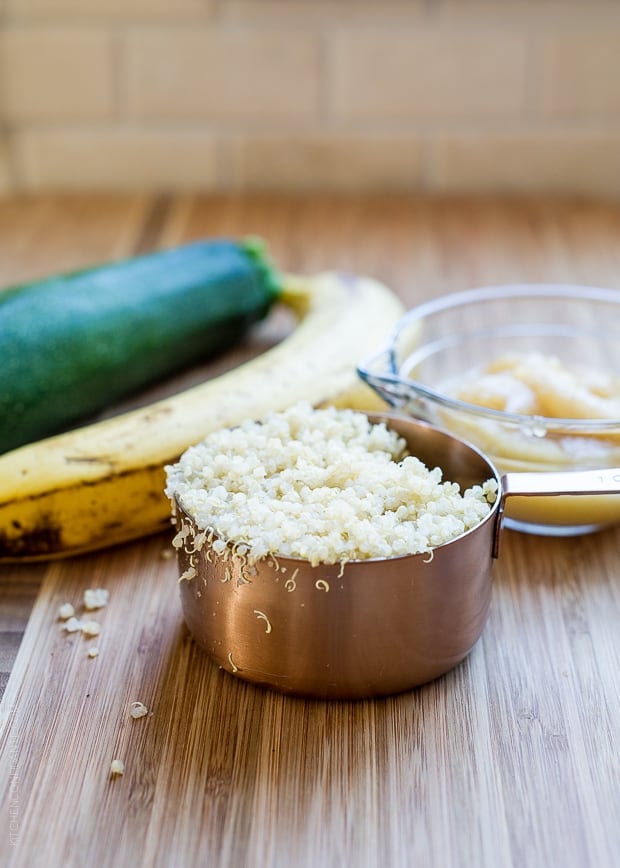 If there is one thing I have learned about kids, it's that you're going to hear a little whining before you hear the cheers. Especially when it requires a little effort…or the unknown.
"Brownies! You made brownies!?" They crowded around the pan as I set it to cool.
"Yup, and you'll never guess the secret ingredients!"
I told them how these super fudgy brownies were actually full of zucchini, banana, and….quinoa.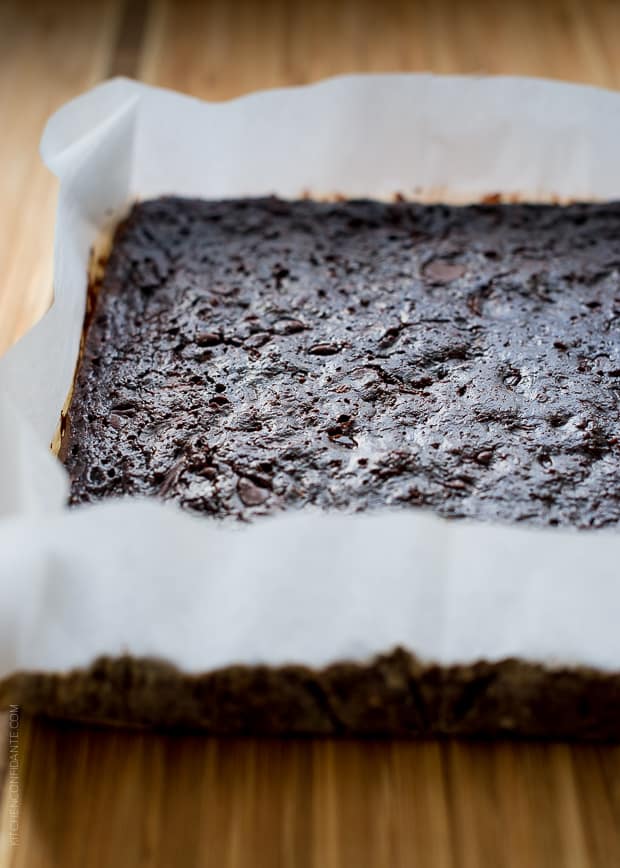 And I could see them debating in their head: to eat or not to eat? That is the question.
They ate.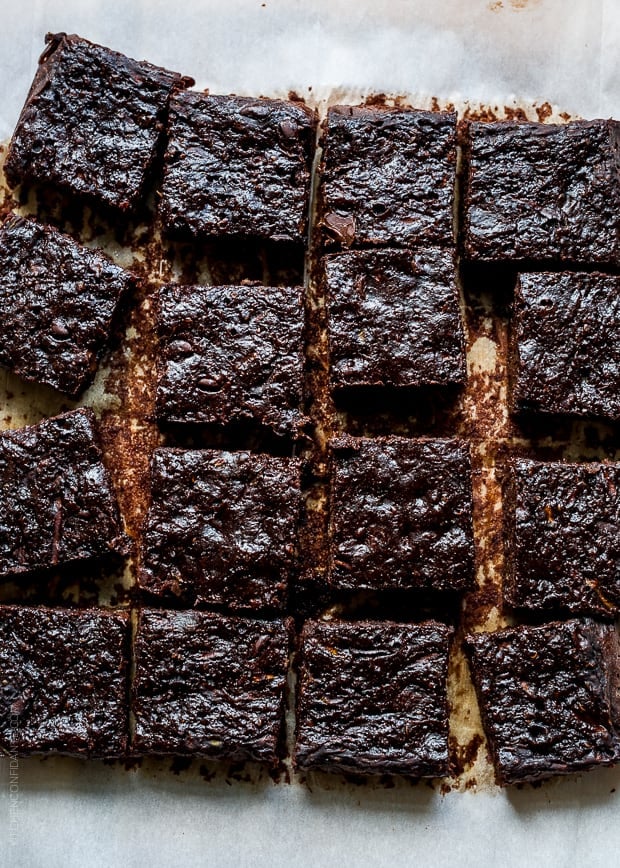 Their eyes lit up.
"Can I have another?"
It was worth it.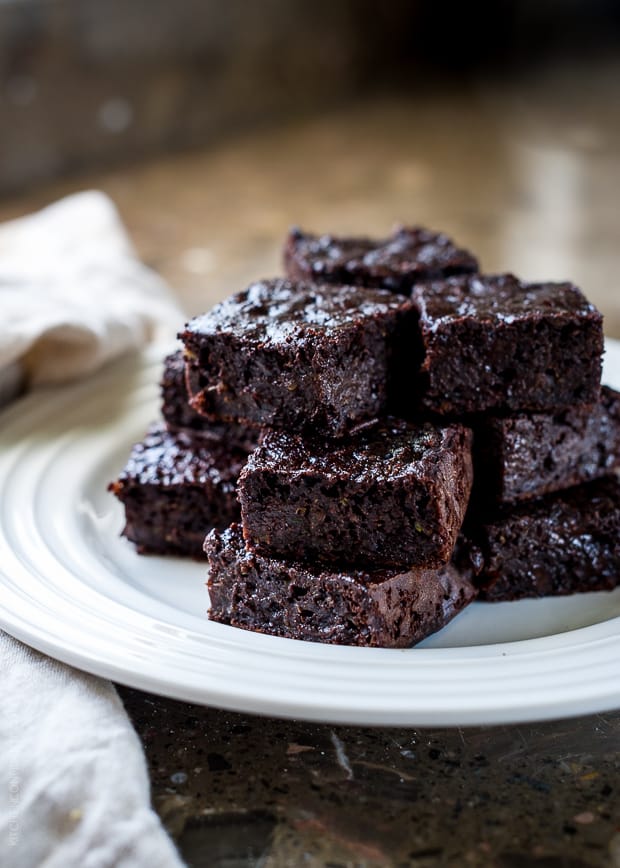 Eat Seasonal
This is one of my favorite times of the year – the abundance of the produce is just wonderful, and it shows in this month's delicious Eat Seasonal roundup that is organized by Becky of Vintage Mixer. Join us and our friends as we share dishes that embrace eating seasonal! Check out the September seasonal food guide and these recipes for more #EatSeasonal inspiration.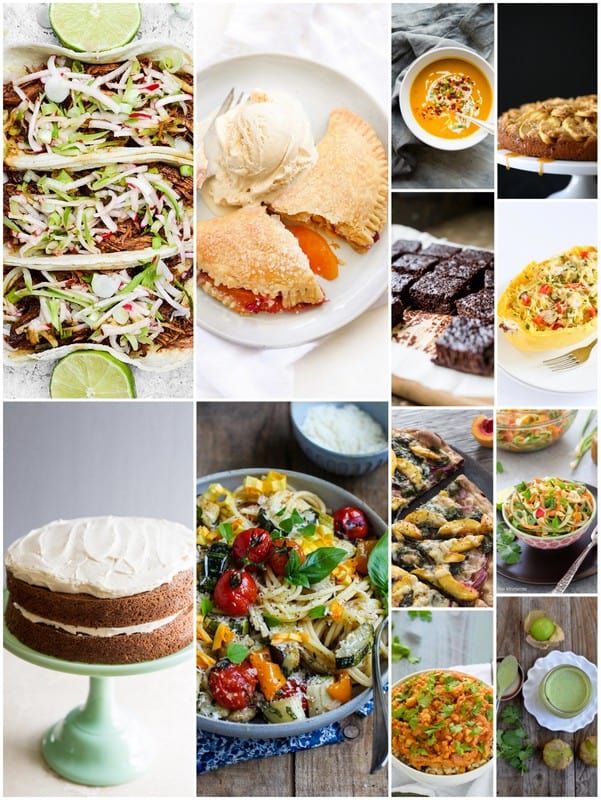 Shredded Hoisin-Blackberry Chicken Tacos with Crunchy Slaw by Floating Kitchen
Raspberry Peach Hand Pies by Foodie Crush
Roasted Red Pepper and Sweet Potato Soup by Cafe Johnsonia
Pumpkin Apple Cake with Caramel Sauce by Climbing Grier Mountain
Pesto Chicken Stuffed Spaghetti Squash by Cookin' Canuck
Classic Carrot Cake by Vintage Mixer
Easy Roasted Vegetable Spaghetti by Simple Bites
Peach and Arugula Pizza by Letty's Kitchen
Thai Carrot Cucumber Noodle Salad with Peanut Lime Dressing by Flavor the Moments
Slow Cooker Red Lentil Cauliflower Curry by Well Plated
Creamy Tomatillo Ranch Dressing by Mountain Mama Cooks
Zucchini Banana Brownies
Zucchini, banana, and yes, leftover quinoa, make deep dark chocolate fudgy brownies that will entice even the pickiest eaters. Zucchini Banana Brownies are a treat everyone can feel good about.
Ingredients
1/2

cup

all-purpose flour

1/4

cup

cocoa powder

1/3

cup

brown sugar

1/3

cup

granulated sugar

1/4

teaspoon

baking powder

1/4

teaspoon

baking soda

1/2

teaspoon

salt

1/2

teaspoon

instant espresso coffee

optional but highly recommended

3/4

cup

cooked quinoa

3/4

cup

semi-sweet chocolate chips

1 1/2

cups

grated zucchini

about 1 large zucchini

1

cup

mashed bananas

about 1 large banana

1

large egg

1

teaspoon

vanilla
Instructions
Preheat oven to 350° Fahrenheit.

Prepare an 8×8″ baking pan by lightly spraying with baking spray or greasing with butter (I used coconut oil spray). Line with parchment paper.

In a medium bowl, whisk together flour, cocoa powder, brown and granulated sugars, baking powder, baking soda, salt and espresso powder (if using). Stir in quinoa and chocolate chips.

In a separate mixing bowl, mix the grated zucchini, mashed banana, egg and vanilla until well blended. Mix the zucchini-banana and egg mixture into the flour and quinoa mixture until blended.

Pour into prepared brownie pan and spread evenly.

Bake for about 45 minutes or until it begins to pull from the edges of the pan. Remove from oven, cool for at least 15 minutes in the pan, then transfer the brownies with the parchment paper onto a wire rack to cool completely (or at least until it is just lukewarm). Slice into 16 squares and serve.
Nutrition
Calories:
125
kcal
|
Carbohydrates:
21
g
|
Protein:
2
g
|
Fat:
3
g
|
Saturated Fat:
2
g
|
Cholesterol:
10
mg
|
Sodium:
97
mg
|
Potassium:
167
mg
|
Fiber:
1
g
|
Sugar:
13
g
|
Vitamin A:
50
IU
|
Vitamin C:
2.9
mg
|
Calcium:
18
mg
|
Iron:
1.2
mg