Thai-Style Chicken Salad Sandwich Wraps + GE Freshpedition
We're going on a road trip! Road trip!!! These two words instantly puts a grin on my face, and elicits all sorts of exclamation points. Ever since I was a little girl, I loved hitting the road with my family, exploring the beauty of the…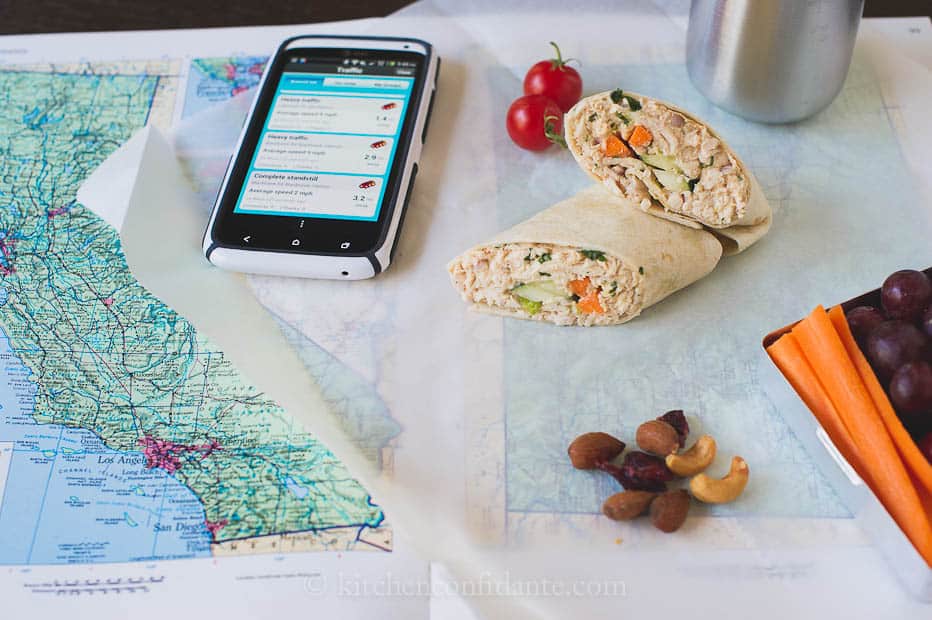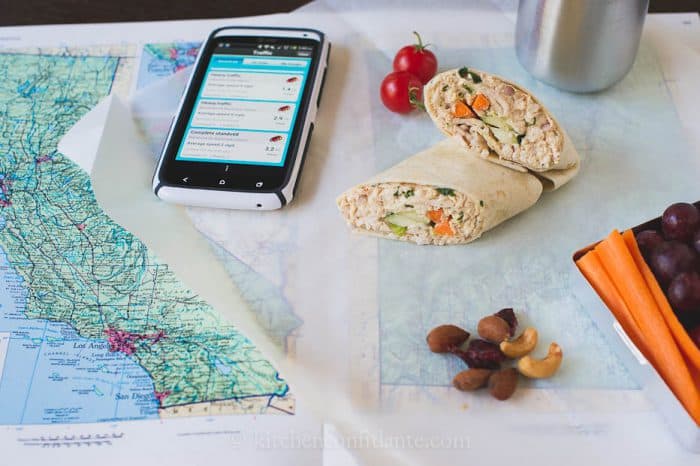 Thai-Style Chicken Salad Sandwich Wraps + GE Freshpedition


We're going on a road trip!
Road trip!!! These two words instantly puts a grin on my face, and elicits all sorts of exclamation points. Ever since I was a little girl, I loved hitting the road with my family, exploring the beauty of the country, sometimes with extended family in tow. The best memories of my childhood summers are from these trips, with cousins, and of course, lots of food.
There was so much to taste, from roadside stands with the sweetest summer corn, to the freshest Maine lobsters, to some of the best homemade chicken pot pie served up in an Amish kitchen. And there were, of course, the food my mom and aunts would pack – crazy spreads that would put every other picnic to shame. I get tired just thinking of all the prep they used to do.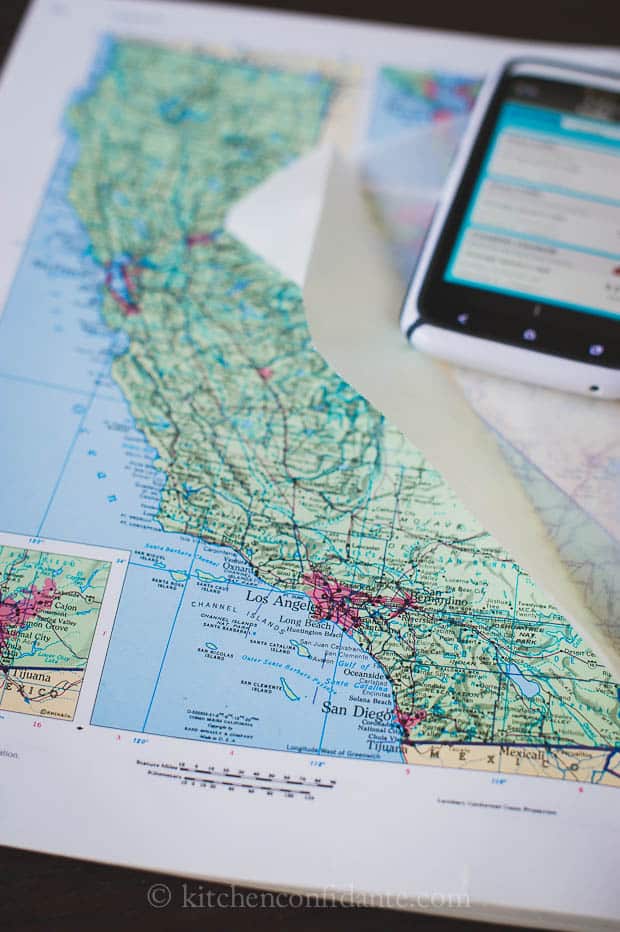 My sister's big day is finally here. This weekend, I will be surrounded by my extended family once again, and I will be packing up for my own family road trip. The car will be full of bridesmaid dresses and suits, wedding favors and bathing suits, and of course, plenty to eat. My goodness, even if I'm just running across town for errands, I have snacks in my bag. You can be sure that I'll be packing some goodies for the eight hour drive to San Diego!
When we hit the road, we are always looking for excuses to make pit stops at farm stands and find the season's best along the way. But in the cooler, I have an arsenal of fresh snacks to keep the rumbling tummies at bay. I'm all about the nibbles, and ideally, foods that do not generate a lot of mess. There's nothing worse than pulling into a hotel to have the valet open the doors to a messy car with crumbs everywhere. Of course, the crumbs will happen, but if I can reduce them in any way possible, I try my best.
So, as I pack up tonight, I'll be slicing crunchy carrot sticks and celery and packaging sturdy fruits such as grapes, bananas, and cherries. I will pack hard boiled eggs, nuts and dried fruit for extra protein and energy, and granola bars are always welcome. Cheese sticks are always a hit, along with rolled deli ham and pretzel sticks. And rather than sandwiches, I like to pack wraps – they are less crumbly, easier for little hands to hold, and I can fill it with all kinds of yummy things. For this trip, I made Thai Chicken Salad Sandwich Wraps.
What types of foods do you like to pack for road trips?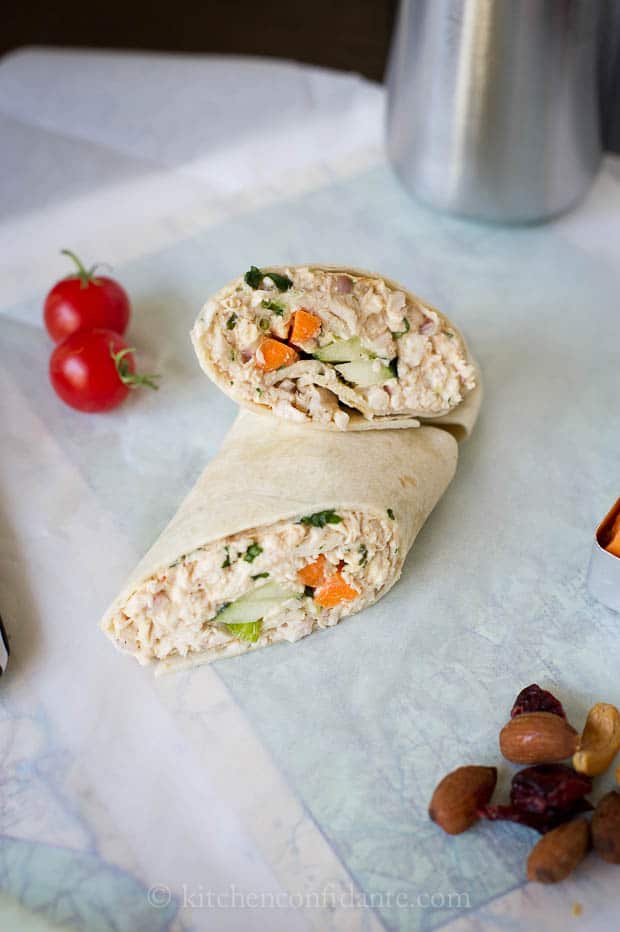 Speaking of road trips, how's this for the ultimate road trip? Imagine this: driving with a full sized refrigerator filled with the freshest produce, meat and dairy? I've always thought it would be nice to have a fridge in the car! Well, when the folks at GE developed their brand new French Door Refrigerator, the came up with the craziest product testing idea ever: The GE Freshpedition hooked it up to a generator, filled it with farm fresh foods, and drove it thousands of miles to a desolate part of the country to bring a scientist a well deserved fresh meal. Who drove on the Freshpedition? Justin Berger, the brain behind the engineering of the fridge, and Ben Sargent, chef and host of Cooking Channel's Hook, Line & Dinner. Check it out, I found myself quite amused by their adventures.
GE is continuing this same passion for fresh food with the Freshpedition Sweepstakes. This sweepstakes uses Pinterest, which means you can actually pin for a chance to win all new GE kitchen appliances.  
But wait, there's even more to win!
You can also enter each day of the sweepstakes for a chance to win a $100 VISA® Prepaid Card. Entering for this prize is fun as you're asked to pin your favorite fresh foods or your own recipes. Also, these pins when hash tagged with your state (e.g. #GEfreshTX) become part of a "Best of Fresh" map featuring freshness from around the country. Explore the map here: http://www.freshpedition.com/sweepstakes/fresh-map.htm
For official rules and to enter visit here: http://www.freshpedition.com/sweepstakes/
Disclosure: Compensation was provided by GE via Glam Media. The opinions expressed herein are those of the author and are not indicative of the opinions or positions of GE.
Thai-Style Chicken Salad Sandwich Wraps
Chicken salad on a road trip? Don't worry. This recipe actually has relatively less mayonnaise than most chicken salads. And of course, I always keep it properly chilled, and make sure we eat it right away.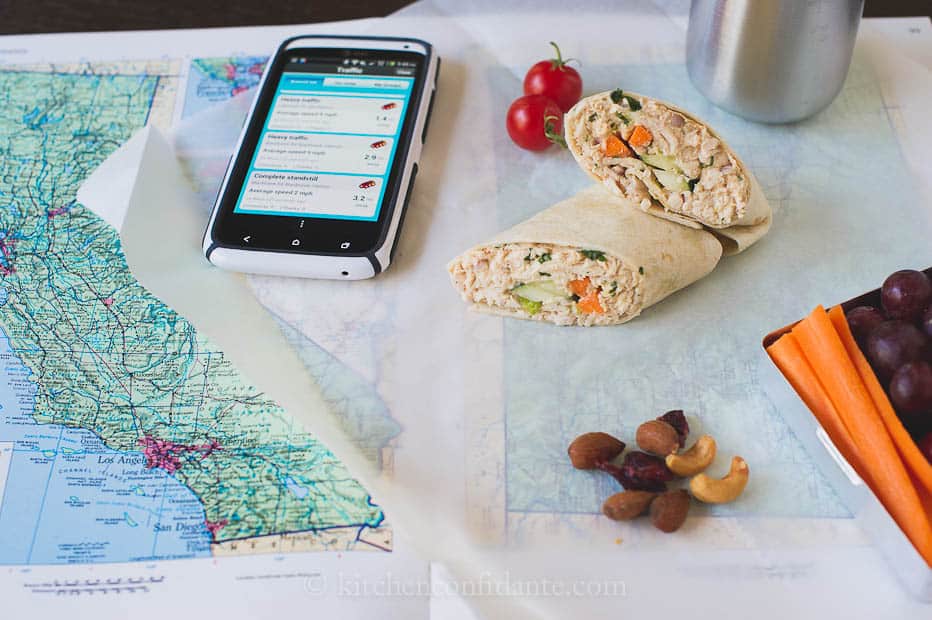 Print Recipe
Ingredients
2 poached or roasted chicken breasts
1/3 cup minced shallot
1/4 cup finely sliced scallion
1/4 cup finely chopped cilantro
1/4 cup finely chopped mint
1/4 cup lime juice
1 teaspoon salt
1/2 teaspoon chili powder
pinch of sugar
3 tablespoons mayonnaise (light mayo is fine)
2-4 carrots, sliced in 3 inch strips
1/2 English cucumber, sliced in 3 inch strips
Flour tortillas
Instructions
Shred the chicken breasts and place in a bowl. This can be done in advance. Add the shallot, scallion, cilantro, and mint, and combine.
In a small bowl, combine the lime juice, salt, chili powder and sugar. Pour into the bowl and combine with the chicken. Stir in mayonnaise. Refrigerate until ready to use.
To assemble the wraps, place about three tablespoons chicken salad in the center of the tortilla, close to you. Add a few slices of carrot and cucumber and another tablespoon of chicken salad. Fold the tortilla shell and wrap. Slice at a diagonal, if desired. Keep chilled until ready to serve.
Thai-style Chicken Salad from Gourmet, June 1990, via Epicurious.