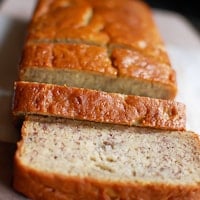 Buttermilk Banana Bread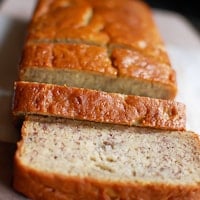 Buttermilk Banana Bread
I think I live with a family of monkeys.  We go through a lot of bananas in this house.  A LOT.  Like 5+ bunches a week.  And we use them all, for the most part.  In parfaits, in smoothies, on oatmeal, just plain, what have you.  Friends who come to our house can never believe that we really do eat the huge pile of bananas we have in the fruit basket.
Once in a while, it does catch up with us, and we end up with some very ripe bananas.  When that happens, it's time to make the family banana bread.
When I first met my father in law, I would have never guessed that he spent any time in the kitchen.  Big guy, career military man, you get the idea.  I was so wrong.  It turns out that he developed the best banana bread recipe.  Ever.  It's moist, it's cake-like, it's delicious.
We must have made dozens and dozens of loaves over the years, and after some time, I have updated his recipe to suit our needs.  I've replaced his call for Crisco with butter.  While Crisco does allow for a light and flaky crumb, I don't particularly like the hydrogenated oils.  I've also found that buttermilk works very nicely.  And I upped the banana content.
One little trick, in case you don't already: make a sling by lining your buttered loaf pans with parchment paper.  When it's time to remove the bread from the pans, it'll be as easy as…um…banana bread.
The next time your monkeys leave you with ripe bananas, give our banana bread a try.  You'll go bananas over it.
This recipe is perhaps one of the nearest and dearest recipes to our family – every time we make it, it reminds us of my father in law, this recipe is, in its essence, his. We hope you enjoy it as much as we do, and think of him!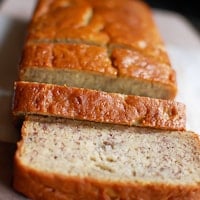 Print Recipe
Ingredients
3 cups flour
1/2 teaspoon salt
1 1/2 teaspoons baking powder
1 1/2 teaspoons baking soda
1/2 cup chopped pecans (optional)
2 cups sugar
1/2 cup unsalted butter, room temperature
2 eggs
1 cup buttermilk (or substitute 1 cup milk with juice of one lemon)
5 – 6 very ripe bananas
Instructions
Preheat oven to 300°F.  Prepare two loaf pans by buttering and lining with parchment paper.
Sift or whisk flour, salt, baking powder and baking soda.  Add pecans if using, then set aside. In a separate bowl, cream sugar and butter. Mix in eggs, one at a time, then add the bananas. Add dry ingredients and buttermilk, alternating until incorporated.  Try to end with the dry ingredient addition, and be sure not to over mix.
Bake in buttered loaf pans for 1 hour or until toothpick comes out clean.