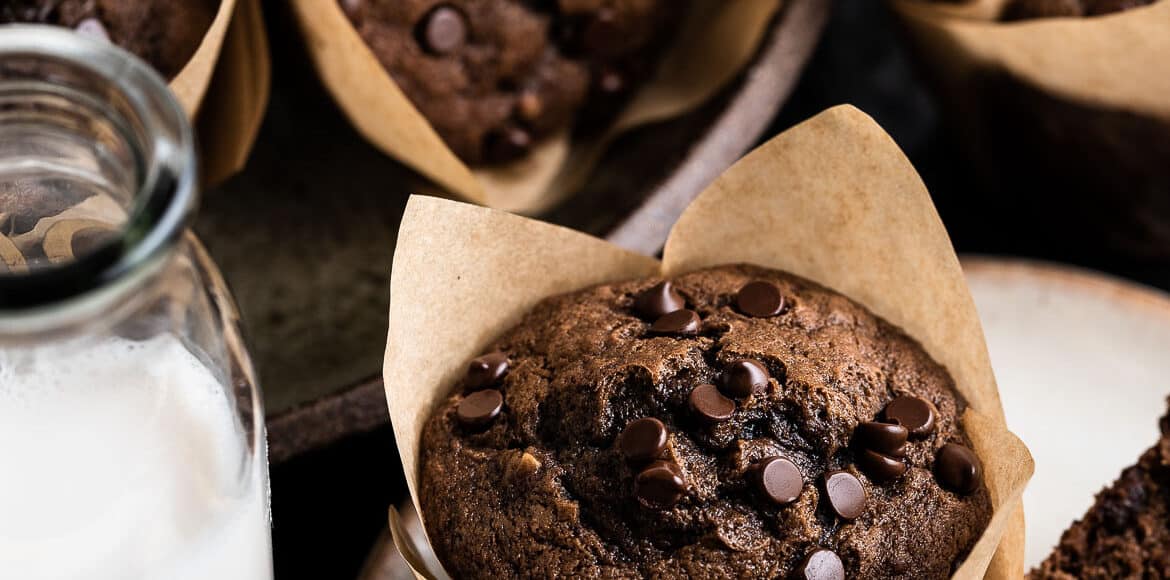 Chocolate Banana Muffins
Chocolate Banana Muffins are like a warm cuddle, chock full of chocolate chips!  Make a batch of these muffins to share with loved ones.  These Chocolate Banana Muffins are the perfect breakfast or brunch treat!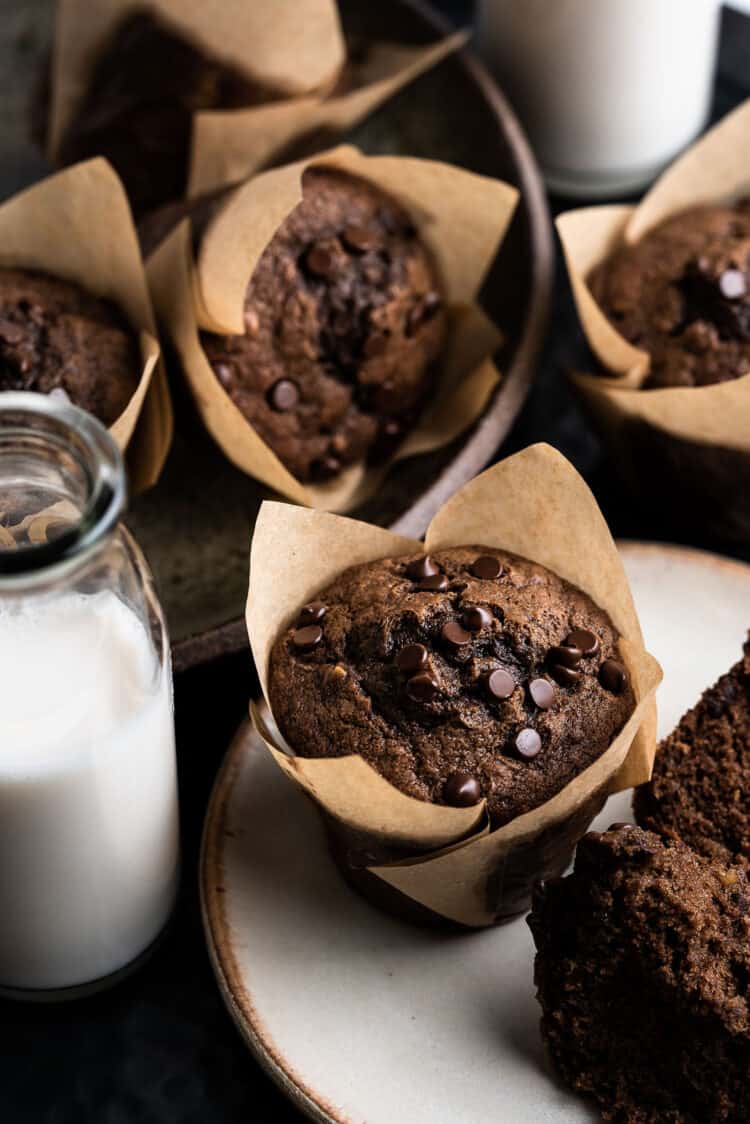 Chocolate Banana Muffins
Chocolate Banana Muffins are like a warm cuddle, chock full of chocolate chips! If you have ripe bananas, you'll love this simple recipe — it's a perfect treat for breakfast or brunch!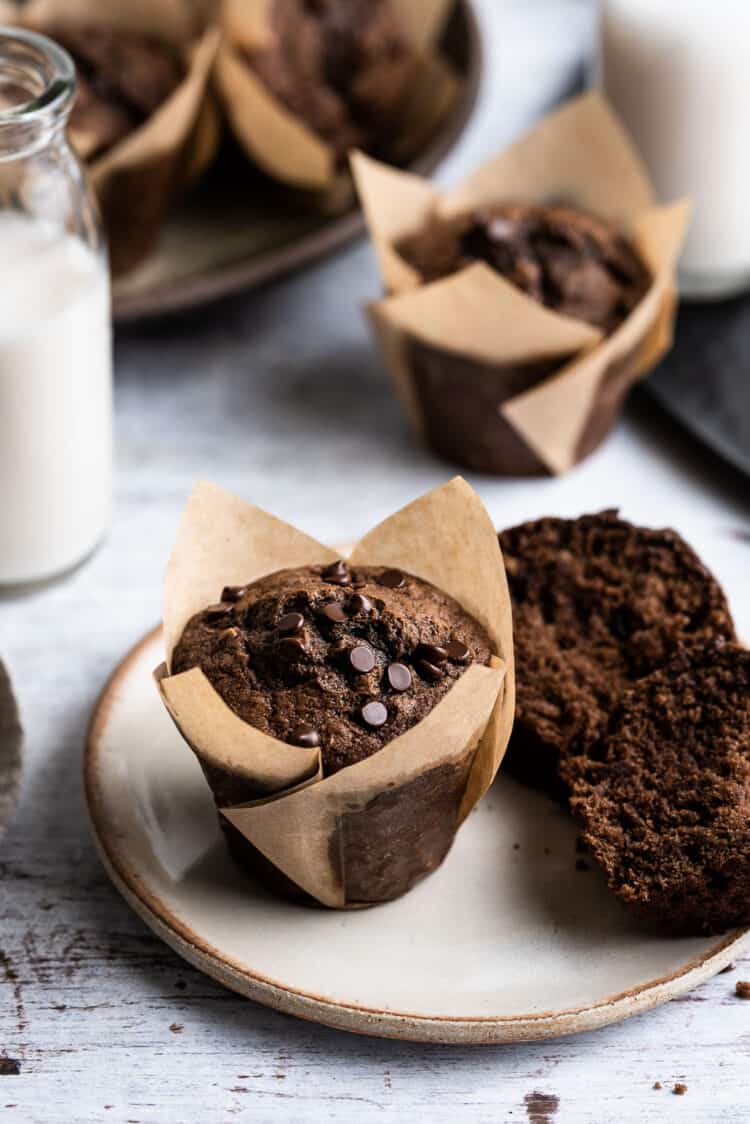 Note: This post for Chocolate Banana Muffins was originally published on July 22, 2012. The recipe has been updated from the archives with updated content and photographs, as well as improved kitchen notes and recipe annotation. I hope you enjoy this favorite from my kitchen.
Each weekday morning, I carve out time for myself. I love rising before the children, sipping my coffee while the house is still quiet. As the children dream in their beds, this is my most productive time. Emails are sent, posts are written, photographs edited. I fuel my body for the morning workout and the busy day that will follow.
But as much as I focus on me, me, me, I have to make time for my son when he drowsily pads into the office, his hair standing on end and hands rubbing his eyes. Cuddling time? he'll ask.
And I nod. For him, his morning starts with a snuggle, and my little guy remains my baby. He'll warm my heart by saying, "I love you so much, I can't even tell." And I hug him tighter because I can't help but wonder how much longer we will have cuddling time. One day, that will surely change.
I love these sweet moments and need to hold on to them. I make treats like these Chocolate Banana Muffins for them – warm from the oven, it's like a comforting cuddle. It's homey, it's rich, and they're made with love.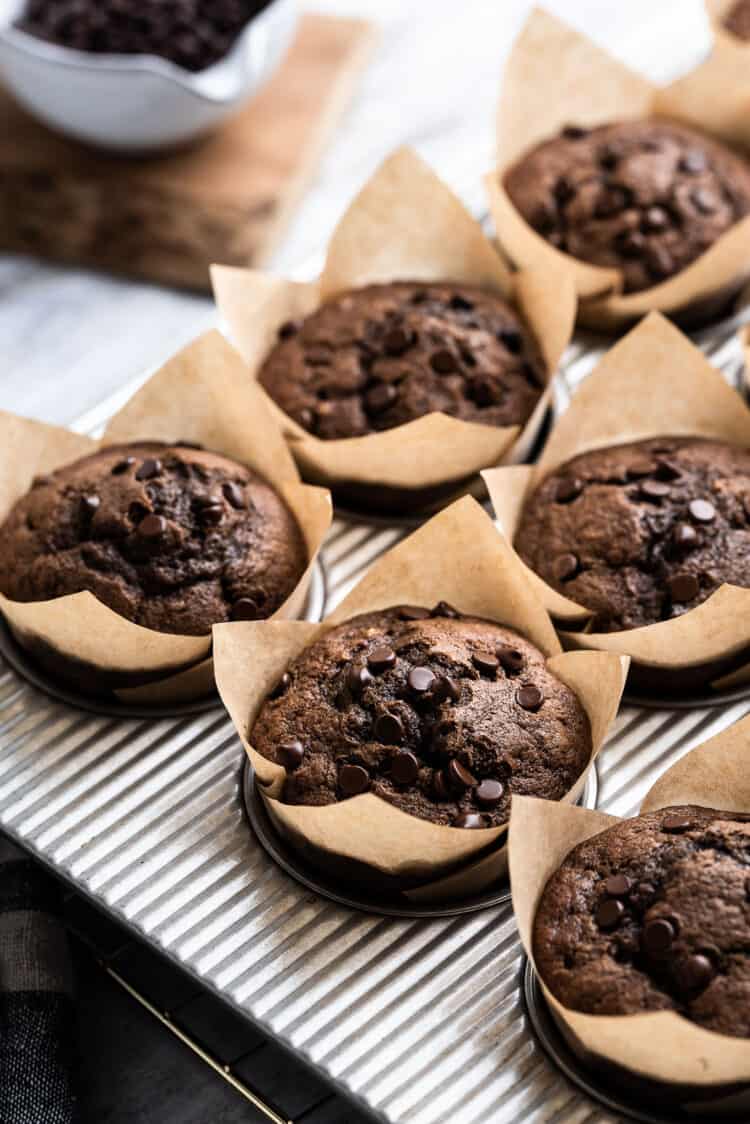 How to Make Chocolate Banana Muffins
When you have a handful of ripe bananas, this chocolate banana muffin recipe is just the remedy! It whips together quite quickly and the scent of chocolate and banana will fill your kitchen, it will be so hard to resist letting them cool!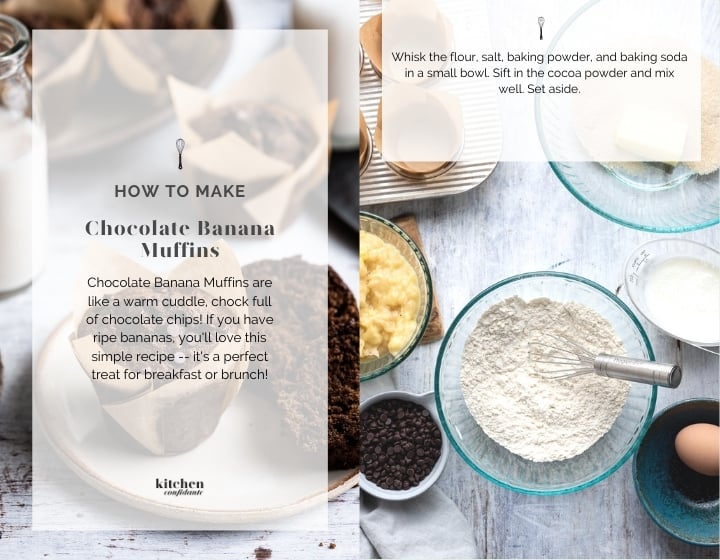 To make the muffins, whisk the dry ingredients together well. Sift in the cocoa powder to remove any lumps and stir into the flour mixture.
Cream the sugar and softened butter, then mix in the egg, followed by the bananas. Remember, use very ripe bananas — you want them to be brown and spotted on the outside, and very ripe and soft.
Melt half of the chocolate chips. I usually use a microwave to melt them in about 3 quick, 20-second bursts, mixing in between. If you prefer a double boiler, you can use that method, as well.
Mix in the dry ingredients and the buttermilk, followed by the melted chocolate. Stir in about half of the chocolate chips, then it's time to drop them into the muffin pan! Top with the remaining chocolate chips and bake away!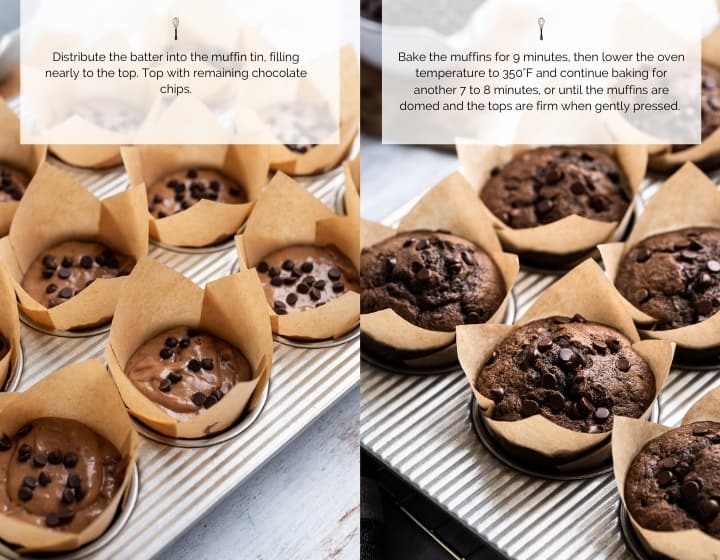 More Easy Breakfast Recipes
Buttermilk Banana Bread
Chocolate Banana Fig Bread
Chocolate Zucchini Belgian Waffles
Chocolate Banana Quinoa Muffins
Chocolate Coconut Oat Porridge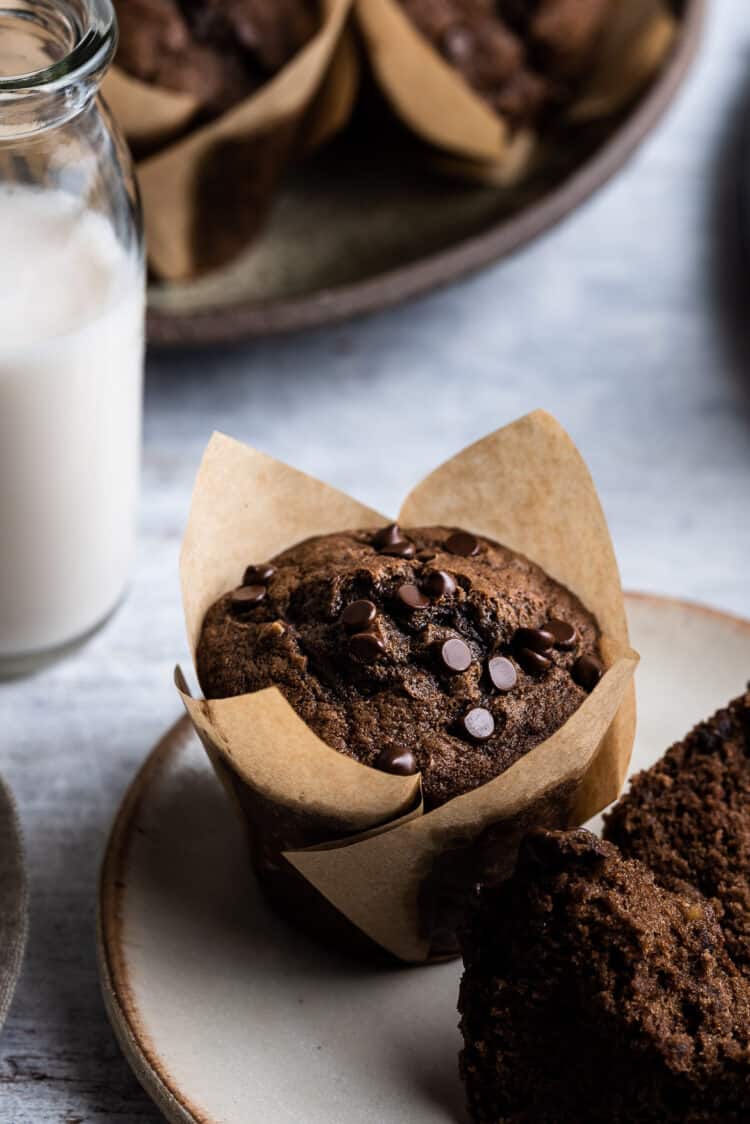 Chocolate Banana Muffins
Chocolate Banana Muffins are like a warm cuddle, chock full of chocolate chips! If you have ripe bananas, you'll love this simple recipe — it's a perfect treat for breakfast or brunch!
Ingredients
1 1/2

cups

all-purpose flour

1/4

teaspoon

kosher salt

3/4

teaspoon

baking powder

3/4

teaspoon

baking soda

1/4

cup

unsweetened cocoa powder

1

cups

granulated sugar

1/4

cup

unsalted butter

softened at room temperature

1

large

egg

room temperature

1

cup

mashed banana

about 3 very ripe, small bananas

2/3

cup

chocolate chips

divided

1/2

cup

buttermilk

room temperature
Instructions
Preheat oven to 425°F with a rack placed in the middle or upper third of the oven. Prepare a muffin pan by lining it with cupcake liners.

Whisk the flour, salt, baking powder, and baking soda in a small bowl. Sift in the cocoa powder and mix well. Set aside.

In a separate bowl, cream the sugar and butter. This can be done with a handheld mixer or stand mixer. Mix in the eggs, blend thoroughly, then mix in the mashed banana.

Melt 1/3 cup chocolate chips in a microwave or double boiler. If using a microwave, melt the chocolate in 20-second bursts, stirring between. It usually takes about 3 bursts in my microwave.

Add dry ingredients and buttermilk to the batter in alternating batches until just incorporated. Try to end with the dry ingredient addition, and be sure not to over mix. Slowly stir in melted chocolate. Fold in half of the remaining chocolate chips.

Distribute the batter into the muffin tin, filling nearly to the top. Top with remaining chocolate chips.

Bake the muffins for 9 minutes, then lower the oven temperature to 350°F (do not open the oven door) and continue baking for another 7 to 8 minutes, or until the muffins are domed and the tops are firm when gently pressed. A toothpick inserted into the center of the muffins should come out clean.
Notes
Chocolate Banana Muffins Tips/FAQs
How ripe should the bananas be? VERY ripe — dark and spotted, soft and fragrant bananas are what you are looking for and will make these muffins sweet and moist.
Why do you bake it at two temperatures? I start the baking process at high heat to encourage as much lift and to get nice domes on the muffins. If looks aren't important to you and you don't feel like watching the clock, you can bake the muffins at 350°F for 18-20 minutes. The tops might be a little flatter, but they will still taste wonderful!
How should I store the muffins? First, cool the muffins completely. Place the muffins in an airtight container lined with a paper towel. Keeping the muffins airtight will help prevent them from drying out, and the paper towel will absorb any excess moisture.
Nutrition
Calories:
233
kcal
|
Carbohydrates:
40
g
|
Protein:
3
g
|
Fat:
7
g
|
Saturated Fat:
4
g
|
Trans Fat:
1
g
|
Cholesterol:
28
mg
|
Sodium:
142
mg
|
Potassium:
135
mg
|
Fiber:
2
g
|
Sugar:
25
g
|
Vitamin A:
188
IU
|
Vitamin C:
1
mg
|
Calcium:
43
mg
|
Iron:
1
mg