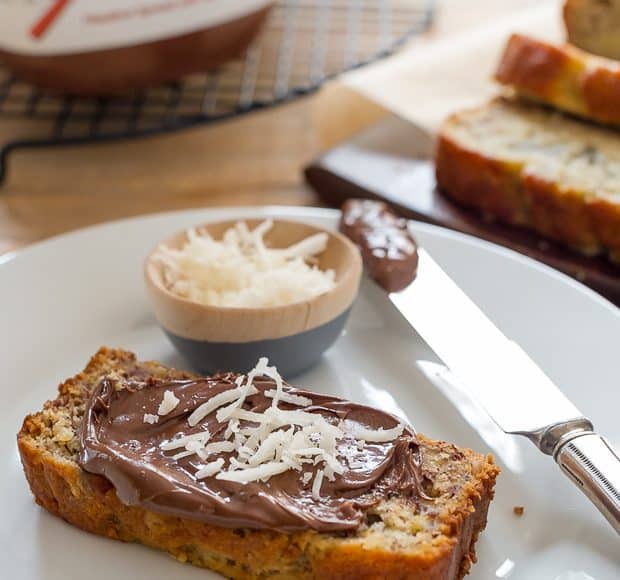 Coconut Banana Bread with Nutella
This is banana bread extreme. It's already a rich banana bread from all the bananas, but add the coconut milk and shredded coconut and it's even better! Spread on the Nutella, and you've got the ultimate slice of banana bread! This post is brought to…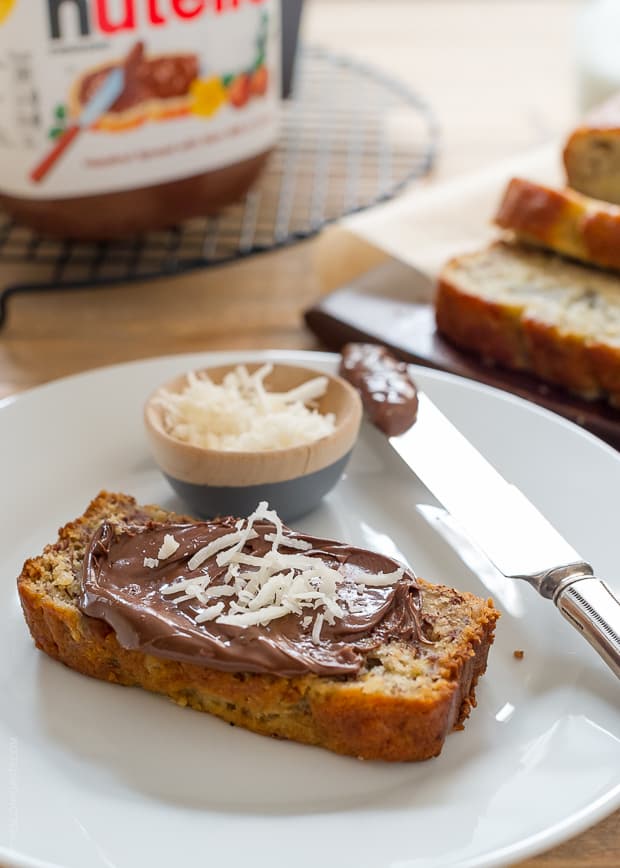 Coconut Banana Bread with Nutella
This is banana bread extreme. It's already a rich banana bread from all the bananas, but add the coconut milk and shredded coconut and it's even better! Spread on the Nutella, and you've got the ultimate slice of banana bread! This post is brought to you in partnership with Nutella.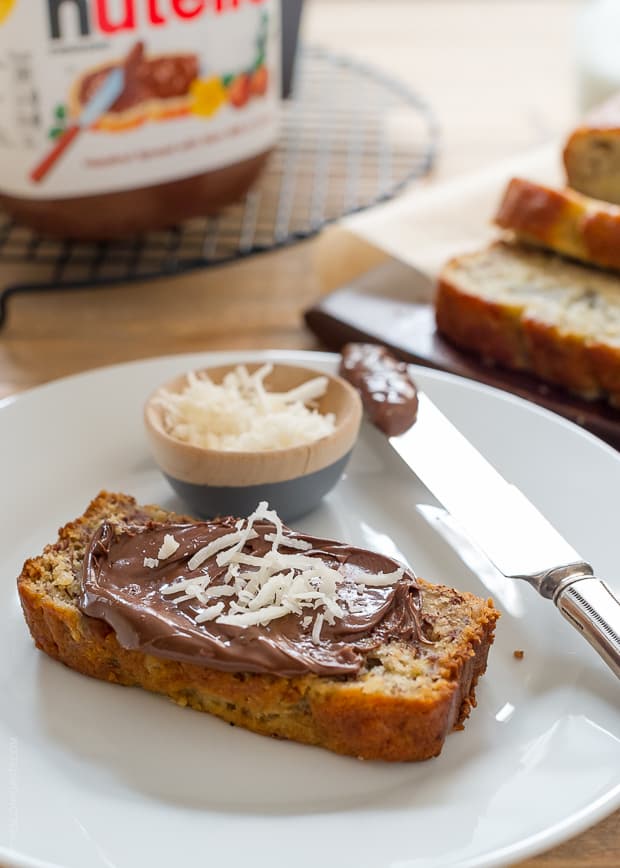 Can you make an educated guess as to where you can most likely find me, on any given day? Monday to Friday, and on weekends, too?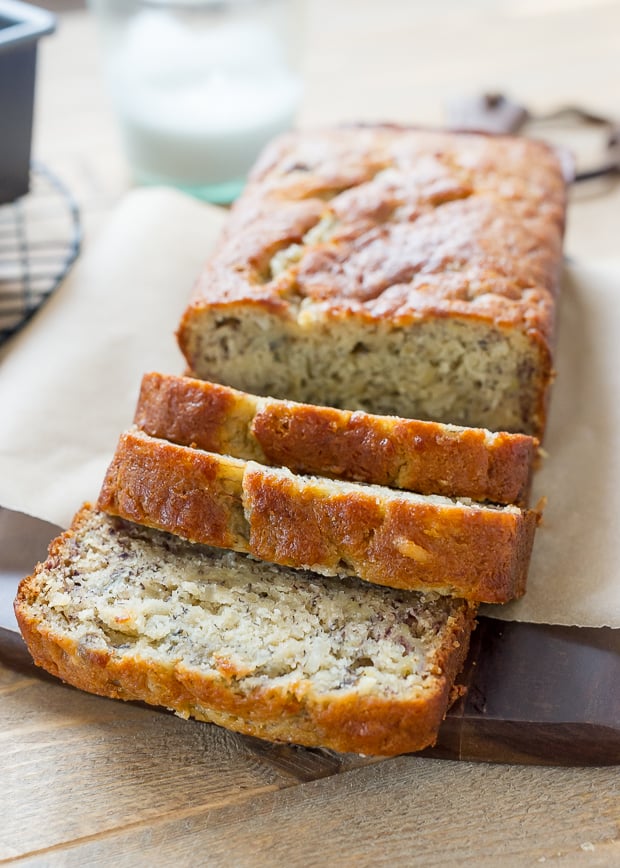 Did you guess my kitchen?
Well, you are correct. That is true. Even before this blog was born, even before my children were born, even before my husband and I met, and even before I graduated from undergrad, you could probably count on finding me in the kitchen. That shouldn't surprise you. This passion for food was one born out of necessity – first, superficially, when I left for college and moved from the dorms into an apartment with a kitchen, and later, more thoughtfully, after my mother passed away, and I found myself cooking for my father, brother and sister. But no matter the circumstance, it is what has always excited me. The sizzling of garlic browning in a pan, the onions wilting to clarity, the stirring of the soup and the rise of its steamy aroma – there is comfort in that. I am the one who finds chopping vegetables therapeutic and the sound of Lynne Rossetto Kasper's voice soothing enough to put me to sleep on many nights.
So when the folks at Nutella asked me to share the passion that makes me happy, I knew this part of me would be the obvious. But there's one other, among several, that you may not know about.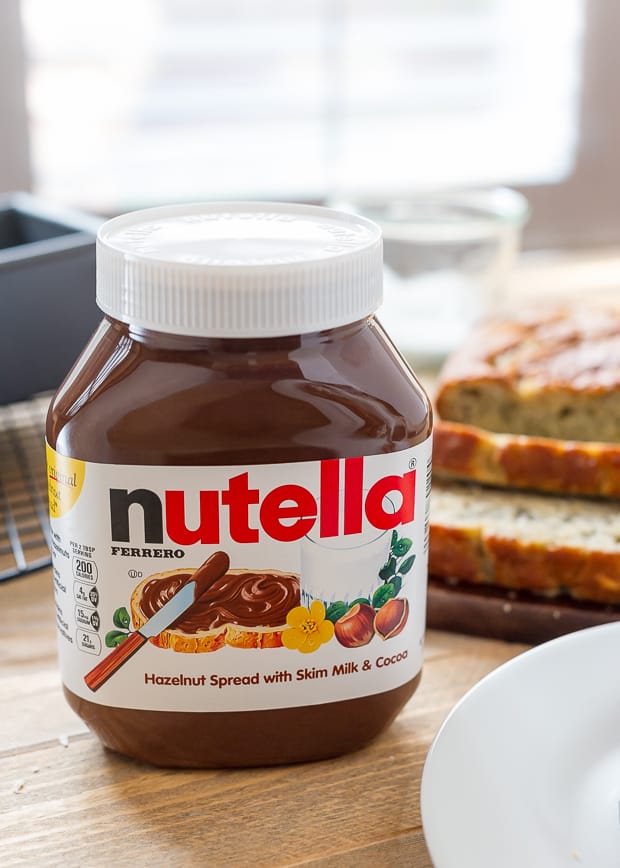 I'm kind of a gym rat. Not the seedy gross kind, mind you. It's just that exercise is important to me, plain and simple. You can count on finding me at the gym each morning if I'm not in my kitchen. It's been important to me for about as long as cooking has been, and it goes hand in hand. Eating homemade and keeping fit, whether it's rollerblading with friends (that, I abandoned after we moved to this more hilly part of the country), taking hikes, or more likely, going to the gym — it is what I need to feel whole, to get me through my day. These days, I opt for classes. They're fun, and they're much better at motivating me than going for a run (I admit to being the worst at motivating myself on a run).
Everyone has a passion. What's yours? What makes you happy?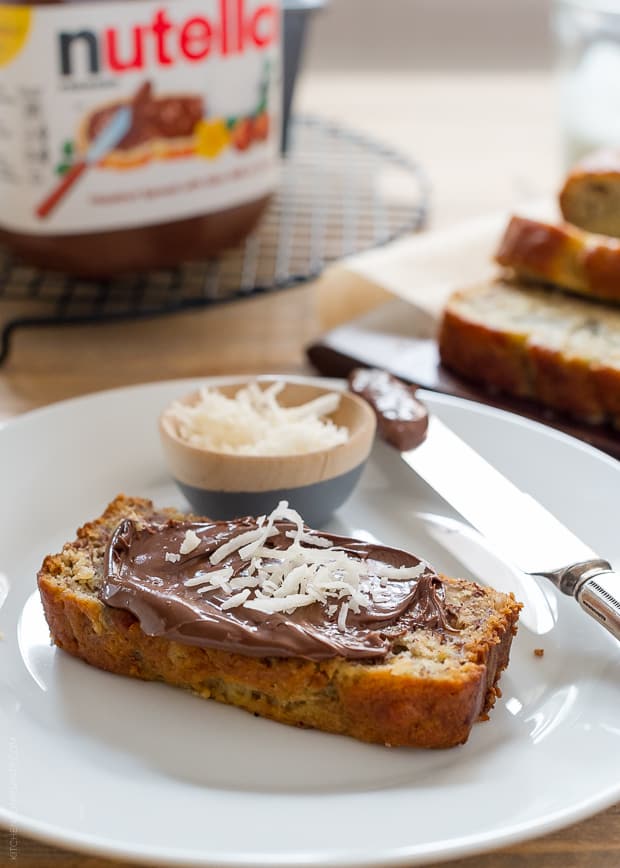 While you think of that, let me share something that I absolutely know will make you happy. This Coconut Banana Bread with Nutella. The coconut banana bread is moist and chewy with lots of shredded coconut, and sure, you could enjoy it on its own. But as you know, when you add some Nutella, you Spread the Happy, and I guarantee you, this will make you smile. I know that it made my family smile (my husband even considers this the best thing he's eaten this month, now that says something).
Something else that can make you smile is The Nutella 'Spread the Happy' Sweepstakes! You should check it out! Visit nutellausa.tumblr.com between now and September 1st and submit a photo of your favorite Nutella combo for a chance to win one of 50 prize packages. What's in the prize package? Fun stuff! Including:
Nutella tote bag
T-shirts
(1) mug
(1) tumbler
(1) spreader
(2) coupons for free jars of Nutella
Nutella® hazelnut spread is a happy start to every day! Pick up a jar of Nutella in the spreads aisle and enjoy it with whole wheat toast, waffles, pancakes, strawberries, bananas and many other foods. Nutella. Spread the Happy™.
Disclosure: Compensation was provided by the makers of Nutella via Mode Media. The opinions expressed herein are those of the author and are not indicative of the opinions or positions of Nutella.
Coconut Banana Bread with Nutella
This is banana bread extreme. It's already a rich banana bread from all the bananas, but add the coconut milk and shredded coconut and it's even better! Spread on the Nutella, and you've got the ultimate slice of banana bread!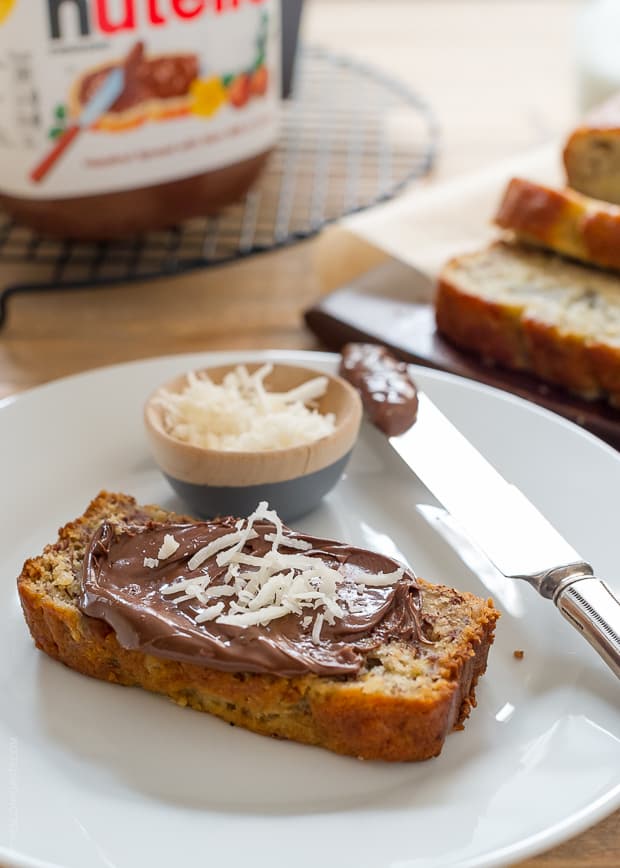 Print Recipe
Ingredients
3 cups flour
1/2 teaspoon salt
1 1/2 teaspoon baking powder
1 1/2 teaspoon baking soda
1 cup shredded sweetened coconut, plus more for garnish
1 1/2 cups sugar
1/2 cup (1 stick) unsalted butter
2 eggs
1 cup coconut milk
5 – 6 very ripe bananas
Nutella® hazelnut spread, for serving
Instructions
Preheat oven to 350°F . Prepare two loaf pans by buttering and lining with parchment paper.
Sift or whisk flour, salt, baking powder and baking soda. Add coconut, then set aside. In a separate bowl or in the bowl of a stand mixer, cream sugar and butter. Mix in eggs, one at a time, then add the bananas. Add dry ingredients and coconut milk, alternating until incorporated, ending with the dry ingredient addition. Be sure not to over mix.
Bake in buttered loaf pans for about 30 minutes or until an inserted toothpick comes out clean. Let it cool slightly before slicing. Serve with a some Nutella and a sprinkle of extra shredded coconut.