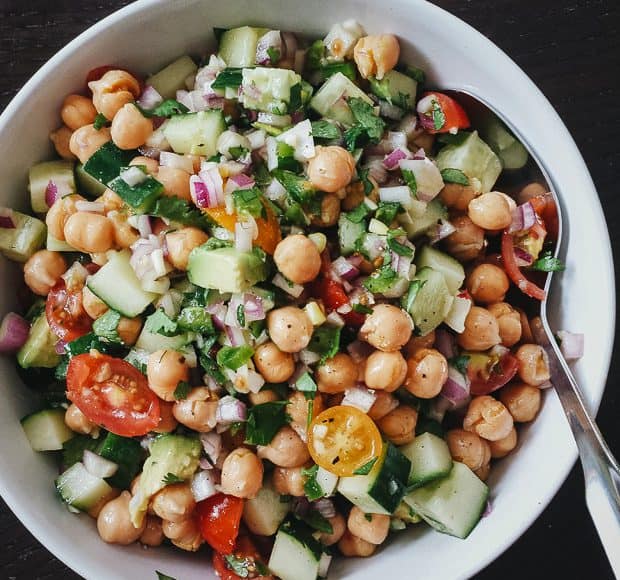 Five Little Things
Five little things I loved this week: Oldies but Goodies: Chickpea Salad I don't know how many times I have made this salad since I first shared it years ago…but it's way too many to count! And with the hot spell we have had this…
Five Little Things
Five little things I loved this week:
Oldies but Goodies: Chickpea Salad
I don't know how many times I have made this salad since I first shared it years ago…but it's way too many to count! And with the hot spell we have had this week, I'm loving it even more. This Chickpea Salad makes the rotation in our meals about once a week, and moreso in the summer, when it's the perfect side dish to anything grilled!
Speaking of Oldies but Goodies: Thriller
As the years have gone by, I've noticed that my little carpool has been developing their musical tastes. In other words, I've lost control of my car radio, and I
am often playing the role of musical diplomat, trying to get everyone to agree on what to listen to on the way to and from school. When our carpooling friends told us that right now SiriusXM Channel 50 is spotlighting Michael Jackson in anticipation of the release of Xcape, I was so excited. Finally, music we can all agree on, for now.
Nearby Treasures
My mother in law was in town for two weeks, and the last couple of days have been filled with playing tourist in our little neck of the Bay Area. We took her to the Farmer's Market at the Ferry Building, and she and I have been visiting all the lovely little spots that I haven't had the time to enjoy. We walked amongst beautiful trees, savored views of Mt Diablo from nearby ridges, smelled the roses in charming gardens, and dined among the grapevines. It reminded me to take a break from the mundane of every day and indulge in something simple every day.
Cherries!

With an exclamation point. They are here, you guys! And they're sweet! The farmer's market has been exploding with them, and I can't tell you how much I wanted to do a happy dance, right in the middle of market.
An Irresistible Bunny
I dare you not to smile while you watch this:

Happy Friday, my friends! Take time to smell the roses and eat those fresh fruits and veggies!