Chocolate Oatmeal Cookies
The trouble with reading memoirs is this: it forces you to consider how much time you have left on this earth to do something good. How many years do you think you have? Me? Well, let's see. I cross a threshold this year, in about…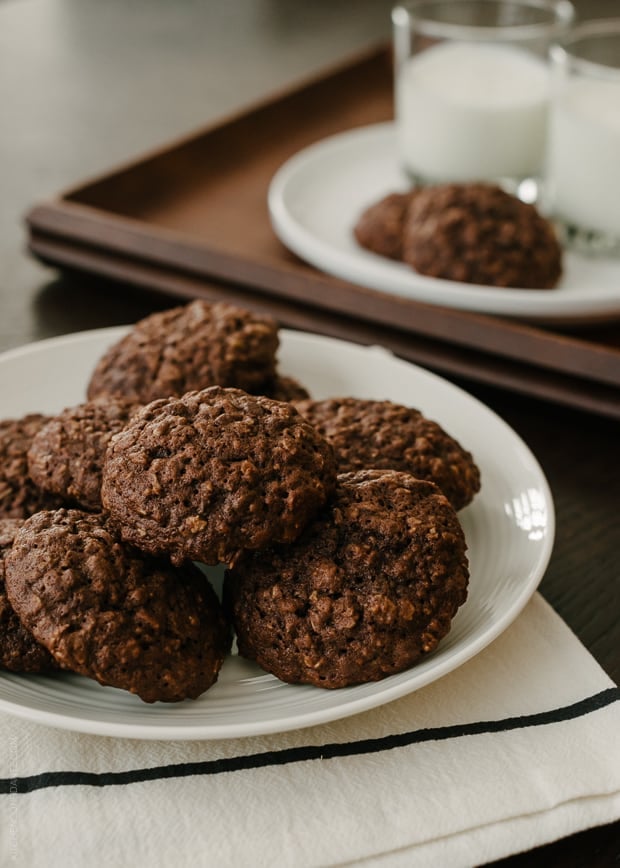 Chocolate Oatmeal Cookies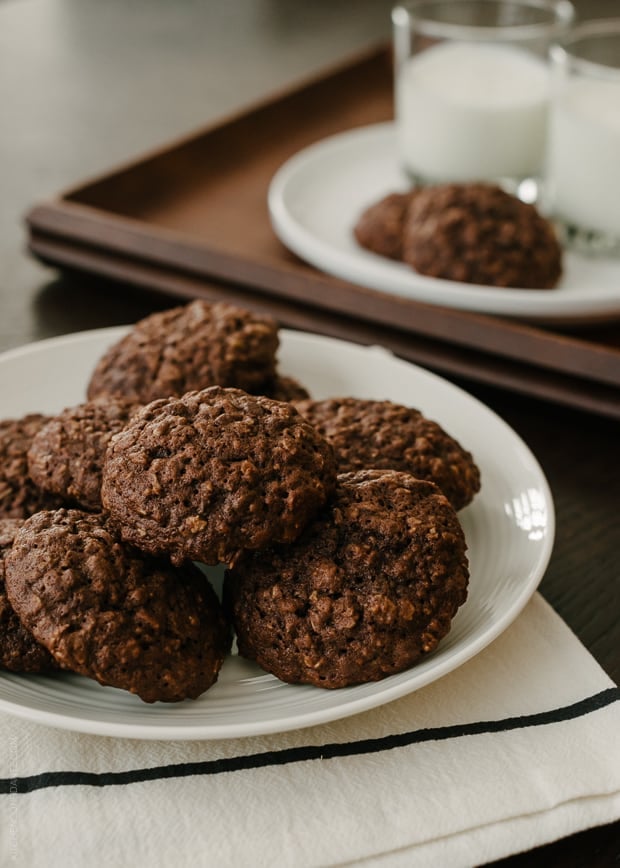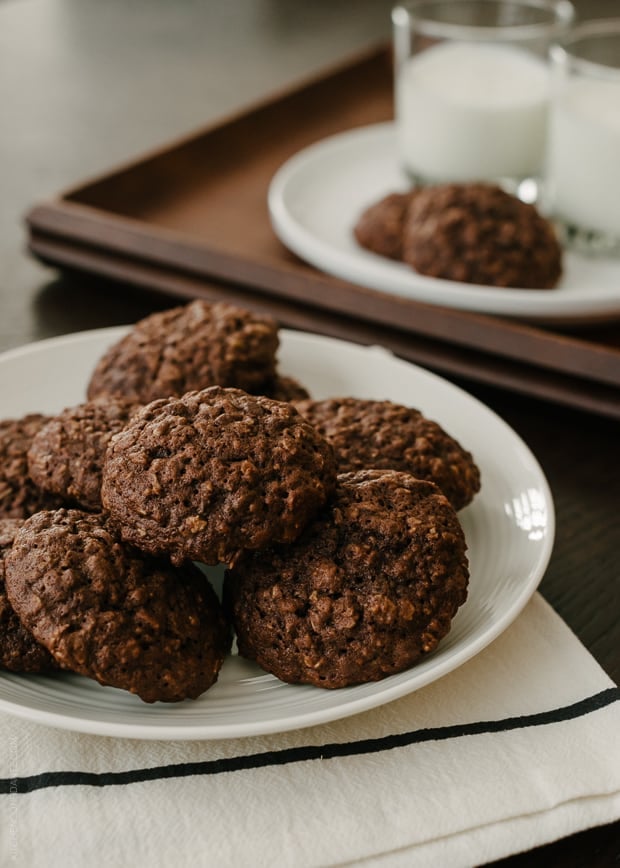 The trouble with reading memoirs is this: it forces you to consider how much time you have left on this earth to do something good. How many years do you think you have?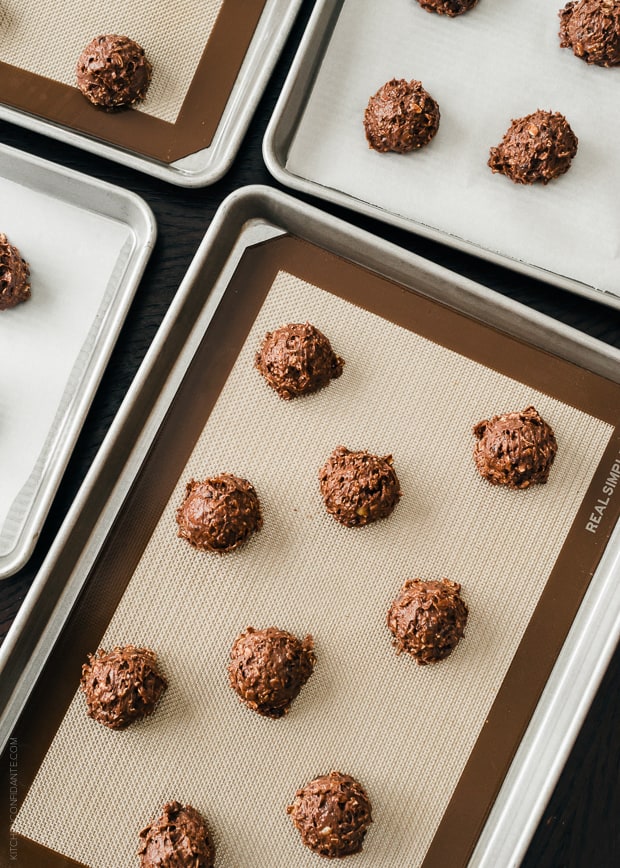 Me? Well, let's see. I cross a threshold this year, in about one month and 7 days, I begin to check the box on the next demographic, the one that includes men and women who are at the midpoint of life. 40 seemed a lifetime away not too long ago, and frankly, I do not feel 40 in the least. That is to say, I don't feel how the twenty-something me expected 40 to be.
The truth is, I feel better than I did at 28, or even 21. Despite the belly button that does not hide that I brought two living, breathing, humans into this world, despite the grey hair I have found, despite the shift in my metabolism I can not deny, I feel stronger, healthier and more me than I have ever felt in my life. I feel confidence, I feel inner peace.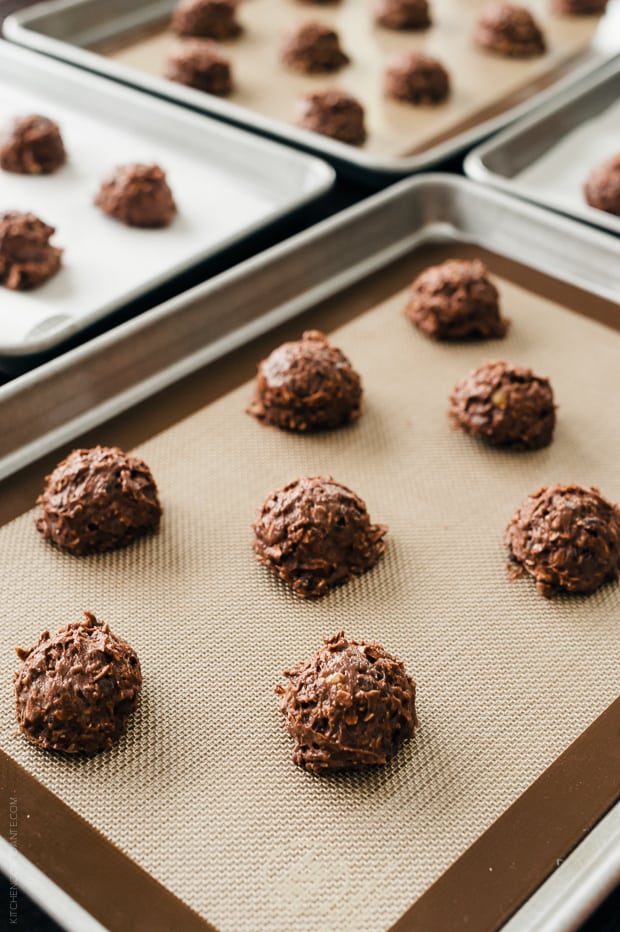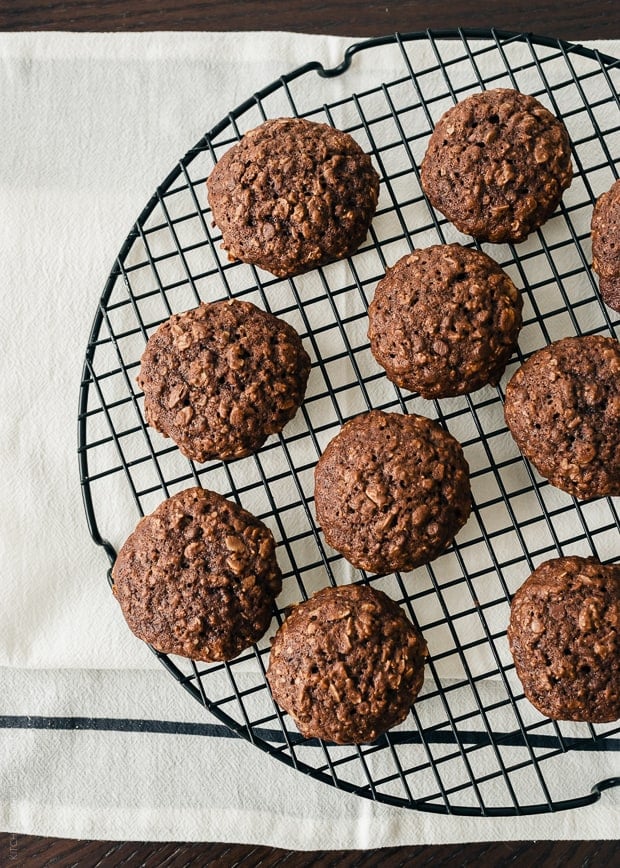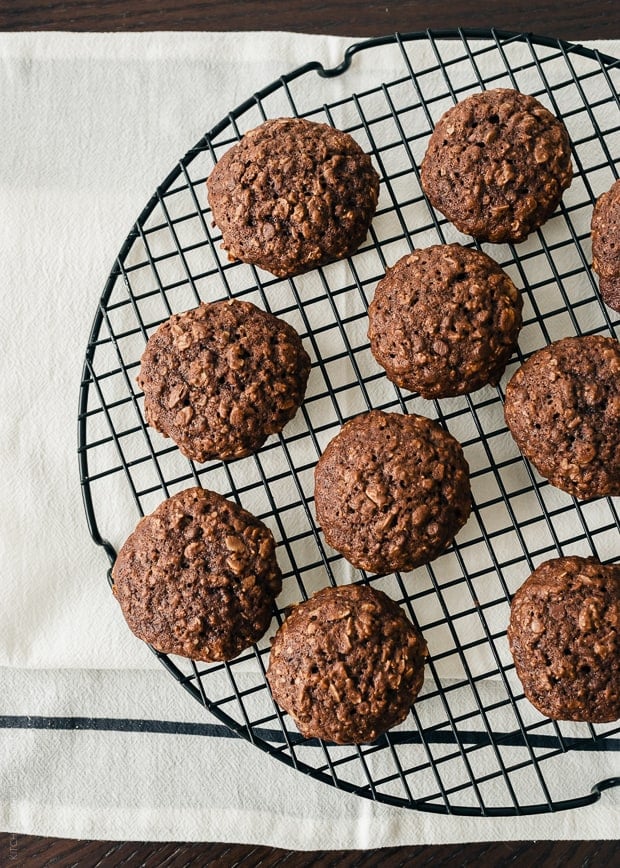 But there is a part of me that wants to hold on to this age, like one might want to do before taking the plunge down a steep slide or ski slope with no end in sight. There is a part of me that fears how many healthy years I may have left in this world – will my fate go the way of my mother, who battled cancer through her forties, only to lose before she or any of us were ready to see her go? Will I age gracefully into my 90's like my great aunt, with grandchildren to make me smile?
When I read a good memoir, I travel through time to the prime of life, through the nostalgic rear view mirror of the author. And I come to realize, now is my prime! Now is what I would write about…if I were to ever write a memoir. And if I did, would it be interesting? Am I doing the things I hope to do before it's too late?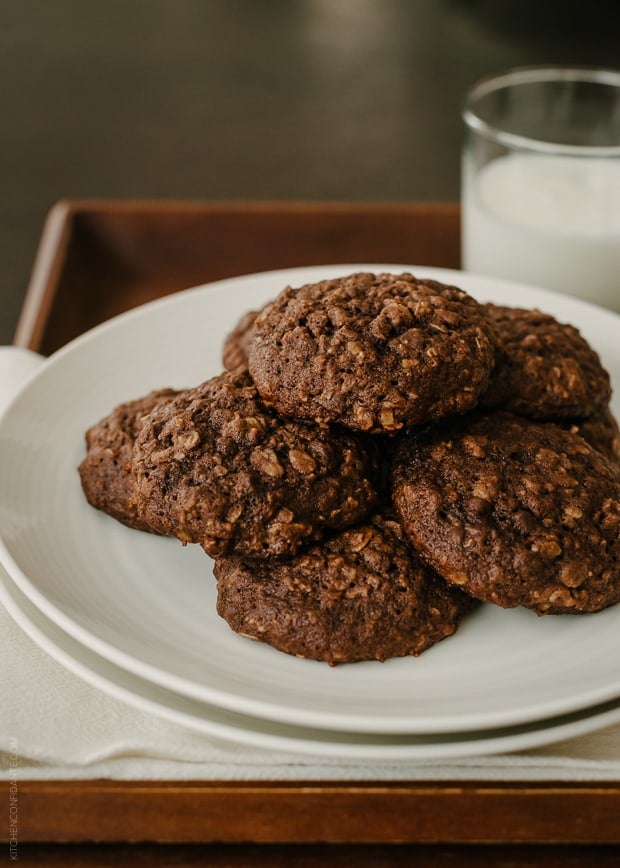 My bucket list used to include lofty goals, thrill-seeking hopes. Jumping off a plane and sky diving. Traveling to Antarctica. But I find them changing. It includes…Slicing into as many ripe tomatoes as I can. Growing artichokes in a garden. Reading my children to sleep each night. Seeing them off before school each morning. Savoring a good glass of wine with my husband. Smelling each flower in the garden. Baking a batch of cookies. Finding the thrill in every day. For as long as I can.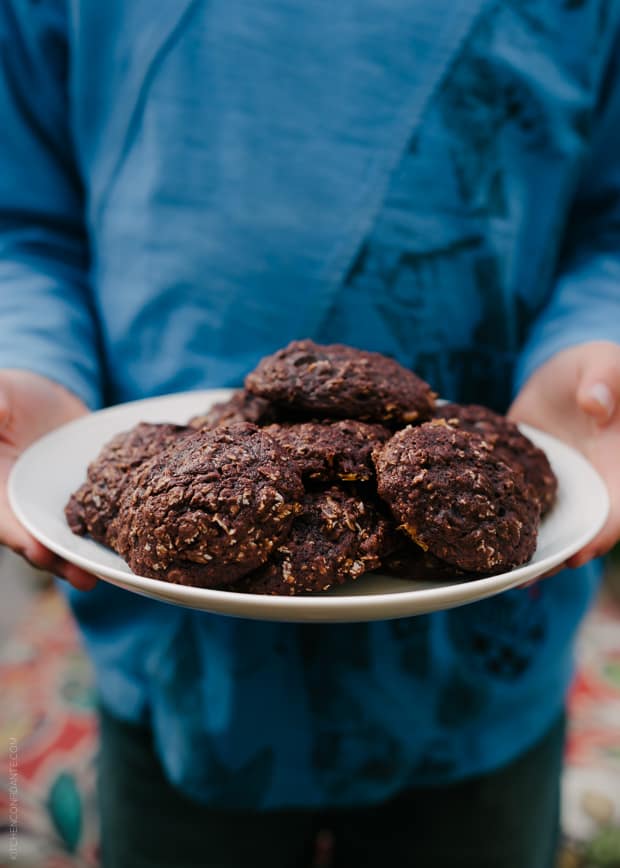 What things are on your bucket list? I hope you consider baking a batch of Chocolate Oatmeal Cookies one of them.
Chocolate Oatmeal Cookies
It's an oatmeal cookie, so it's healthy, right? Well, it was worth a shot. Rich in chocolate but homey with oats, I love having this cookie dough on hand in the freezer for those days when I need a chocolate pick me up.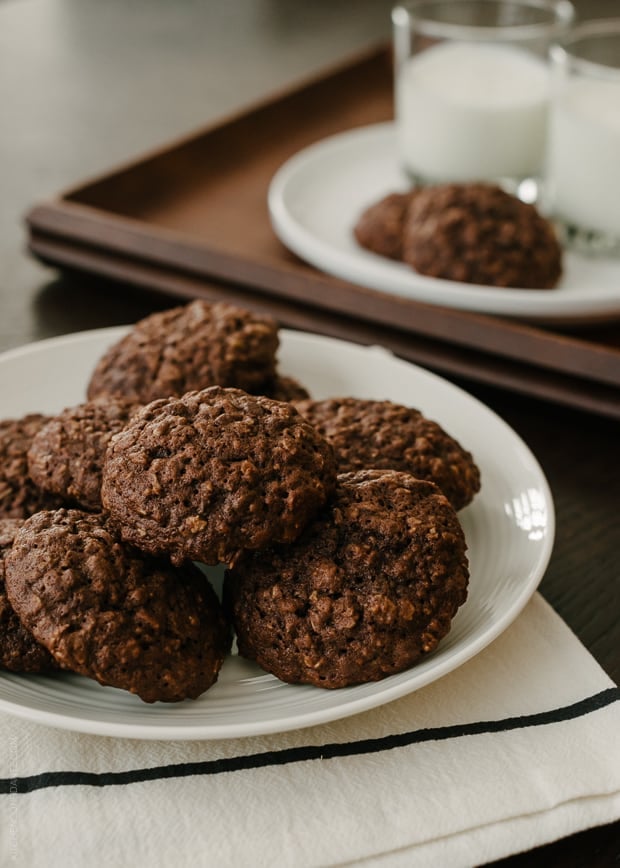 Print Recipe
Ingredients
1 cup butter, room temperature
1 cup brown sugar
1/2 cup granulated sugar
2 large eggs
1 teaspoon vanilla extract
1/2 cup applesauce
1 1/2 cups flour
1/3 cup unsweetened cocoa powder (I like E. Guittard Cocoa Rouge Cocoa Powder)
1/4 teaspoon salt
1 teaspoon baking soda
2 1/2 cups oats
3/4 cup semi-sweet chocolate chunks
Instructions
Preheat the oven to 350°F.
In the bowl of an electric mixer, beat the butter until light and creamy. Mix in the brown and granulated sugars, cream for about 2 minutes. Beat in the eggs and vanilla extract and mix until well incorporated. Add the applesauce and mix well.
In a separate bowl, whisk together the flour, cocoa powder, salt and baking soda. Add to the mixing bowl on low speed until just combined. Stir in the oats and chocolate chunks.
Using a small ice cream scoop (or similar), form rounded balls of dough about 2 tablespoons each and place on a parchment paper lined baking tray two inches apart. Extra dough can be freezed for later baking, if you wish. Bake for 10-15 minutes or until the cookies are baked through but not dry. Remove from oven and let it rest for about 1 minute on the tray. Transfer to a wire rack to cool completely.